Regina Daniels (born 10 October 1998, Age: 24 years old) is a Nigerian actress, brand influencer, film producer, and businesswoman best known as the 6th wife of Nigerian billionaire, Ned Nwoko. With a net worth estimated at N580 million, Regina has made a fortune for herself.
Raised by a mother who is grounded in acting, it only took Regina Daniels a few years to become conversant with the rudiments of the arts. The actress stormed the Nigerian movie industry at the very young age of seven, and it is believed that her mother, who is a prominent member of the Delta State Actors Guild, played pivotal roles in pushing her daughter to stardom within the movie community.
The actress is highly talented and has grown to become one of the most admired actresses in the Nigerian film industry. Asides from starring in movies, Regina has gone on to produce many movies and influence several brands. Let's look at her detailed career achievements and the wealth she has acquired for herself so far.

Profile Summary of Regina Daniels
Full name: Regina Daniels
Date of Birth: 10th October 1998
Age: 24 years old
Place of Birth: Lagos, Nigeria
State of origin: Delta State
Nationality: Nigeria
Marital Status: Married to Ned Nwoko (2019- present)
Children: Munir Nwoko
Education: Igbinedion University Kada, Benin City
Occupation: Actress, film producer, businesswoman
Years Active: 2007 – present
Regina Daniels was born in Lagos, Nigeria, in 1998
She was born on 10th October 1998 into the family of Mr. Jude Ojegwu and Rita Daniels. Against the widespread belief that the actress was born in 2000, it had been revealed that she was born in 1998. This was made known in 2019 after she showed off her PVC on social media when she was campaigning for the Youth Coordinator of Atiku Abubakar. Even though her finger covered part of her birth year on the card, the open part showed that it started with '19.' Hence, a Nairaland fan took it upon himself to verify the information on the INEC website. The result revealed that Regina Daniels was born in 1998, contrary to 2000 on record.
Regina was born in the city of Lagos but originally hails from Delta state. Her mother, Rita Daniels, is a famous face in the movie industry as well. She is an actress and was appointed the chairwoman of the Delta State Actors Guild sometime ago. Rita is said to have been very supportive of her daughter's acting career. Actress Regina came from a middle-class family and was raised in Asaba alongside her five siblings; Samuel, Lawrence, Emmanuel, Ifeoma, and Destiny Daniels. For now, there's no detailed information about what the siblings are up to and where they are, but we believe they are doing well in their respective fields of interest, just like their sister.
She Dropped out of Igbinedion University
Speaking of her education, Daniels perfectly handles both fields (acting and school) well. She spent her formative years in Lagos State, after which her family came down to Asaba in Delta State. There, she attended both her primary and secondary schools. She studied at the prestigious Hollywood International School Asaba, Delta State. Then in 2018, she proceeded to the Okada-based elite institution – Igbinedion University in Benin City, Nigeria, where she started studying Mass Communication.
However, in November 2019, reports had it that the actress had dropped out of the university and switched to an institution based in the United Arab Emirates. She took the news to her Instagram story, where she shared screenshots and photos of herself taking lectures at the university in UAR. But from the indication, it seems the actress takes the courses online.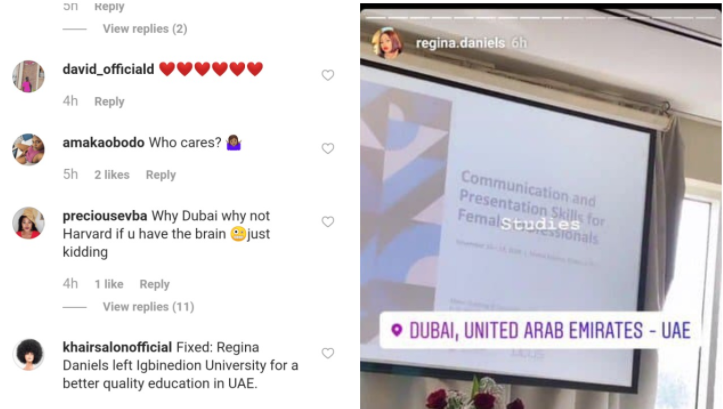 Regina Had Her Professional Acting Debut in 2010
Although she came into Nollywood as a child actor with the widely acclaimed Nollywood movie Marriage of Sorrow, Regina Daniels made her professional acting debut in the 2010 movie titled Miracle Child. Given her impressive performance in the film, she got her big breaks and started getting bigger roles in subsequent blockbuster films, and today, she has become a household name in the industry.
Her involvement in the industry has seen her share screen time with popular Nollywood A-list actors such as Chinwe Owoh, Yul Edochie, Tonto Dikeh, Ngozi Ezeonu, Mercy Johnson, and many others. Even though she is yet to win an award, the budding star has been nominated for so many awards in the entertainment industry. In 2015, she was nominated for the Most Promising Actress at the City Movie Award. Similarly, Regina was nominated at the City People Movie Award for Best Supporting Actress of the Year (English) in 2016.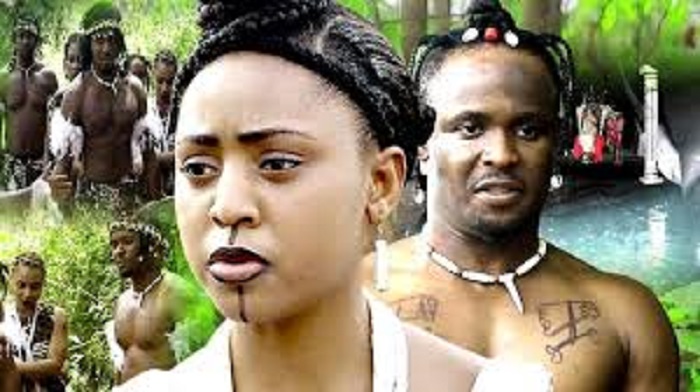 Among her successful and popular film collections are
Dumebi in School
Python Girl
The Bat-Man
The Jericho
Plantain Girl
Jaja the Great
The Jericho (as producer)
Twins Apart (as producer)
Tears of Ojiugo
Amara Queen of the jungle
Resident Evil
Wipe your Sorrows
Royal Covenant
Traditional War (Part 1)
Stronger Than the Gods
The King and The Python
Hanging Coffin
Evil messenger 1 and 2
Queen Rebeca
Shekira: the selfie queen
Eziama: Land of blood
Royal dreams
Pains of Royalty
Land of slaves
Slave girl
The stolen Beads
Naked sacrifice
How Regina Daniels Made Her Impressive N580 Million Net Worth
Her Acting Career Contributed Significantly to Her Net Worth
Unlike most celebrity teenagers, Regina Daniels is quite outstanding and unique. Not just because of her popularity in Nigeria and beyond but also because she has a heart of gold. The teen's first movie, as she once shared, paid her N10,000, but as time progressed, Daniels began scoring lucrative acting gigs that put over N 100,000 in her pockets. In one of her recent interviews, she disclosed that she receives N600,000 per movie and has been working to become a household name in Africa and beyond.
She Earns Decently from Endorsements Deals
Alongside her successful acting career and other business setouts, Regina earns an impressive sum from endorsement deals. Before now, she had signed deals with companies like Blemiviv Skincare, Fizz Herbal Skin Care, House of Lunettes, and Sapphire Scents. In October 2020, she landed a  mouthwatering deal with one of African's most famous hair brands known as 30 under 30 Wig Store.
Furthermore, Regina Daniels was in January 2019 appointed Atiku Abubarkar's Youth Coordinator. The latest deal the actress sealed was in May 2021 with a luxury hair brand, Mummy Glee. The sultry actress took to her Instagram page to announce her excitement to be part of Mummy Glee's brand family. The deal was sealed in an undisclosed amount but is said to be worth millions of naira.
List of Notable brands that Reginal Daniel endorses
Blemiviv Skincare
Fizz Herbal Skin Care
House of Lunettes
Sapphire Scents
30 under 30 Wig Store
Mummy Glee
Her Other Business Interests
The dazzling actress and mother of one has proven to be very hardworking and business inclined. She has ventured into a few other businesses alongside her acting career, which undoubtedly contributed to her huge net worth. In February 2012, she launched Regina Magazine, which has its content as celebrity and entertainment news, fashion and style, fascinating life stories, and glamour. Regina Daniels also collaborates with Sapphire Time, a fashion accessory brand she advertises on her social media pages.
Does Her Husband's Net Worth Contribute to Her Wealth?
While it is known that the beautiful actress has made money for herself through her acting career and other business endeavors, it is also worthy to note that a good part of her net worth was acquired due to her marriage to the multi-billionaire politician and businessman Ned Nwoko. Recall that the actress in 2019 made headlines following the news that she is in a romantic relationship with a man who already has five wives and is 38 years older than her. Shortly after they met, the two got married in a traditional wedding ceremony on 26th May 2019 in the actress's hometown, Anaocha LGA, Delta State.
Ned Nwoko is a Nigerian politician, lawyer, business mogul, and philanthropist who has amassed a huge net worth estimated at $1.5 billion. He acquired his wealth from his numerous businesses such as real estate, tourism, agriculture, oil, arts, etc. He is the founder of Mount Delta, a famous tourist center approved by the Delta State Government. Following her marriage to Ned, Regina became the talk of the town and was mentioned by Google as the most searched actor in the country, topping star actresses like Genevieve Nnaji and Ini Edo. Many simply believed that the actress got married to Ned just for his wealth.
As expected, Regina Daniel's lavish lifestyle got to its peak just after the marriage. Hence, it won't rather be any news to say that her net worth is positively affected and boosted by her husband's massive wealth. Ned is known initially to be a person who loves luxuries. He buys and changes cars for his wives which actress Regina is not left out. So, it is safe to say that Ned Nwoko's wealth decently contributed to Regina Daniel's net worth, too, as marrying a man as wealthy as Ned will be the icing on the cake for her.
The Actress is an Activist and Philanthropist
Regina Daniels founded a charity organization known as Regina Daniels Foundation through which she gives back to society. The foundation located in Asaba, Nigeria, aims to provide financial strength for poor children, the physically challenged, and orphans. Regina Daniels Foundation organizes an annual event for children every 27th May whereby it makes large provisions for good food, learning materials, clothes, etc., to promote the welfare of children living in Asaba and its environs.
On the other hand, the actress is also a passionate activist who prioritizes people's rights and values. She was one of the celebrities who actively supported the #ENDSARS movement in Nigeria. She updated an #EndSARS poster on her Instagram handle, speaking against unjust killings, intimidation, and brutality.
The Beautiful Actress Lavishes on Luxurious Cars
Owing to how often Regina changes cars, it remains a difficult task to say exactly how many cars there are in her garage. However, based on her usual posts on Instagram, it has become apparent that the actress is a lover of Mercedez-Benz. Let's look at her latest car collection, the brands, and how much each one is worth.
1. Lexus RX300
It is reported that this is Regina's first car which she gifted herself after she gained admission to study at the prestigious Igbinedion University, Benin City. While it is unknown how much she acquired the car, a brand new Lexus RX300 today can cost over N4 million.
2. Lamborghini
On her Instagram page, you will see photos flaunted by the actress with this exotic car on several occasions. On another occasion also, she was seen driving the car on a highway while playing one of Timaya's songs.
3. 2016 Mercedez-Benz GL450
The actress has also been spotted with a 2016 Mercedez-Benz GL450, reportedly worth a whopping N20 million. It can go from 0 to 60 mph in 6.6 seconds. Its unique features include a 3.0 liter V6 turbocharged engine, which produces 369 lb-ft of torque and 362 horsepower.
4. Ferrari
The actress, whose nickname is Forever 16, was recently spotted posing behind a white Ferrari car. Considering how much expensive this car is worth, this might be one of her husband's cars. To own a Ferrari car in Nigeria today, one has to cough out a decent N84 million and more.
5. Brabus Adventure Mercedes Benz G Wagon
Regina Daniels purchased this rich Brabus G Wagon in April 2019, and since then, it seemed to have remained one of her favorable automobiles as she is often seen posing behind it. The car, which is also believed to be a gift from her billionaire husband, possesses a customized plate number reading her nickname "4 EVA 16". It is powered by 6.0 liters V8 engine and produces 838 hp with an impressive speed of 260km/h.
6. Rolls Royce
This is yet another luxury car that actress Regina Daniels has been spotted in pictures behind. There is no record of when it is bought or how much they bought it, but Regina would have spent nothing less than N160 million to own this car
7. 2012 Mercedes- Benz C-class
In 2019, Regina shared photos of her new C300 4matic on Instagram with the caption, "My mini baby is here." The car, valued at about N36 million, has some special features like climate control, a leather steering wheel, power windows, and passenger multi-adjustable power seats.
Regina Daniels Has a Strong Social Media Presence
With over ten million followers on Instagram, Regina Daniels is one of the most influential Nigerian celebrities whose posts on social media draw massive reactions and comments. The beautiful Nollywood actress, from her flourishing acting career to her marriage to the billionaire businessman and politician, and the birth of her son, regularly gives her followers and Nigerians updates and something to talk about. She is also active on Twitter as @ReginaDaniels, and on Facebook as Regina Daniels.