Prince Arthur Eze (born on 27th November 1948) is a Nigerian entrepreneur, oil mogul, politician, philanthropist, and CEO of Atlas Oranto Petroleum. The 74-year-old billionaire is among the wealthiest people in Nigeria and Africa as a whole, and he acquired his wealth from the oil and gas sector.
Arthur Eze, who hails from Ukpo in Anambra State, Nigeria, is a well-known billionaire and philanthropist in South-Eastern Nigeria. He is thought to be happily married and has many children. Still, information concerning his family is not open to the public yet, because Eze keeps information concerning his private life away from the media. There is so much to unpack about this business mogul. Let's find out more about him and the controversies he has courted.
Summary of Prince Arthur Eze's Bio 
Full name: Prince Arthur Eze
Nickname: Ozoigbondu, Arthur n'Ukpo
Gender: Male
Date of birth: 27th November 1948
Prince Arthur Eze's Age:

74 years old

Ethnicity: Igbo
Nationality: Nigerian
Zodiac Sign: Sagittarius
Sexual Orientation: Straight
Religion: Christianity
Marital Status: Married
Prince Arthur Eze's Wife: Mrs. Eze
Prince Arthur Eze's Parents: Chief and Lolo Eze
Siblings: Igwe Robert C. Eze (Dr)
Prince Arthur Eze's Height in Inches: 5 feet 6 inches
Prince Arthur Eze's Height in Centimetres: 167.6 cm
Prince Arthur Eze's Net worth: $5.8 Billion
Famous for: Oil and Gas, Politics, and Philanthropy
Prince Arthur Eze's Instagram: @prince_arthur_eze
Facebook: @ Arthur Eze
Prince Arthur Eze is from Anambra State, Nigeria
Arthur Eze is 74 years old. The oil magnate was born into the royal family of Chief and Lolo Eze on 27th November 1948. They hail from Ukpo, Dunukofia Local Government Area of Anambra State. He had a comfortable childhood coming from a royal family, Although there is scanty information on his childhood.
His brother Igwe Robert Eze is the traditional ruler of their hometown, Ukpo, Dunukofia Local Government area of Anambra State. Eze is a generous man, and his generosity is extended to his family members also. His younger brother's children, Prince Onyeka and Prince Olisa, worked for him and partook of his generosity until a misunderstanding broke the bond.
He Studied in Nigeria and the United States
As a boy, Prince Arthur had his early and secondary school education in Soth-Eastern Nigeria. He attended St. Augustine Secondary School, Nkwerre, Imo State, and acquired his WAEC/SSCE in 1970. Later on, In 1974, he enrolled at the California State University, Long Beach, California, where he studied Mechanical Engineering. On returning to Nigeria, he started his company and other businesses he owns and runs to date.
He is a Successful Businessman with Several Ventures to His Name
When he returned to Nigeria, Arthur worked hard to establish many businesses. He acquired several landed properties and established companies in the oil and gas sector and aviation. He also became involved in Nigerian politics under the People's Democratic Party (PDP) and other parties, not as a candidate but as a sponsor. Below is a breakdown of the businesses and establishments Prince Arthur Eze has.
Prince Arthur Eze is the Founder and CEO of Atlas Petroleum International and Oranto Petroleum
Atlas Petroleum International and Oranto Petroleum are the largest oil exploration and production group owned by a private individual in Nigeria. Eze started his companies Atlas Petroleum International and Oranto Petroleum in 1991, with assets in Nigeria, Senegal, Uganda, Equatorial Guinea, Sudan, etc. These are oil companies that serve and have employed both Nigerians and nationals of other African countries. Atlas has 22 oil and gas licenses in 12 places in Africa. These companies operate throughout Africa and have regional offices and representatives in their locations. The companies are sister companies registered in Nigeria, with their main branch in Abuja, Nigeria.
Atlas/Oranto group has impacted host countries in the African continent. It is Africa's largest indigenous explorer and has continued to impact the jurisdictions. Arthur Eze founded this as an individual and has dominated that space for a long time now. This is the primary source of the wealth of one of the wealthiest men in Africa.
Prince Arthur Eze Owned an Airline
Triax Airlines was a domestic airline located in Enugu State, Nigeria. The billionaire established it in 1992 after the deregulation of airlines in Nigeria. The airline operated from 1992 to 2000 with three Boeing 727 jet airliners. The reasons why this airline ceased to function are unknown to the public.
In addition to His Businesses, Arthur Eze is Involved in Politics
Arthur Eze is not a politician, as he has never contested to hold public office. However, he has always been involved in Nigeria's politics from the onset. He has supported some candidates of his choice, and he has continued to sponsor candidates from PDP and other parties. Reports have it that he started godfatherism in Anambra state when he sponsored Senator Ekwunife in 2005.
Arthur Eze's involvement in politics is not restricted to one political party. He supports whoever he wants to sponsor, not minding the political party he comes from. Eze donated $100 million to support PDP candidates in Anambra State. His generosity is not just to the less privileged, he also gives to support what he stands for in politics.
A Look at Some of the Controversies Arthur Eze has Courted Some 
Arthur Eze has been involved in some controversies over the years. Most of these controversies are related to his political involvement. Let's take a look at some of the scandals he has been involved in over the years and how he came out of them.
Arthur Eze Told Peter Obi to Withdraw from the 2023 Presidential Race
In December 2022, Prince Arthur Eze made a controversial comment concerning the Labour Party presidential candidate, Peter Obi. He said that Obi should withdraw from the presidential race, as he is not qualified for the seat, and that Atiku is better for the Igbos. In addition, he said that he would support Chukwuma Soludo when it is time for an Igbo man to ascend to that ultimate office. The political god-father wished it was Soludo that was running for the Presidency so that he would give his full support.
Many Igbos were angry at this statement and slammed him for his comments. In reaction to what he said, Peter Obi said that Arthur Eze is entitled to his own opinion and urged his supporters not to be demoralized. Obi also added that Arthur is a respected father in Igboland and Nigeria as a whole, and his opinion should also be respected as there is freedom of speech in the country. Obi choose to interpret the comment as a push to be more serious in the presidential race.
He Claimed that Peter Obi Rigged the Elections in 2013
It is as if there is a personal quarrel between Arthur and Peter Obi. In 2013, after the conclusion of the gubernatorial elections in Anambra State, Arthur accused Obi of having rigged the elections in favor of Willie Obiano. Peter Obi was the outgoing governor of the state and was accused of using his powers as the governor to rig the election in favor of his party's candidate, Willie.
Eze also blamed Obi for the irregularities that took place on election day and accused him of poor infrastructural development in the State. These were revealed to get the INEC (Independent National Electoral Commission) to cancel the elections and repeat the process.
However, Obi denied the accusations saying that he did not rig the elections and that APGA won free and fair. After much deliberation, Willie Obiano later emerged as the winner and became the governor of Anambra State.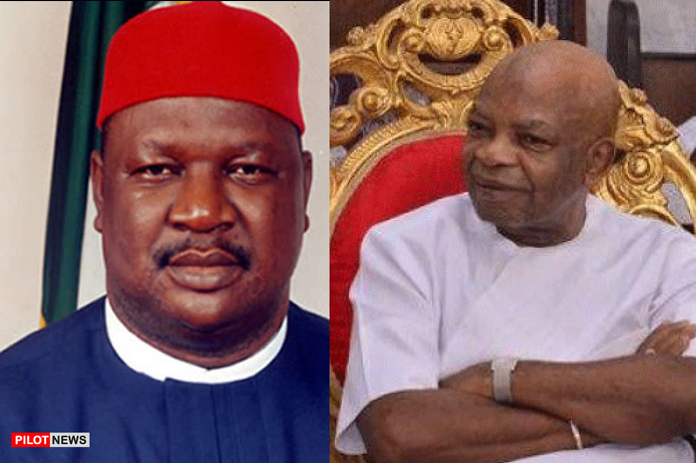 Arthur Called Anyim Pius Anyim the Worst Senate President
In 2020, Arthur accused Anyim Pius of being selfish when he was in office and called him the worst Senate President. Anyim is the former Secretary to the Government of the Federation (SGF) and Senate President, and he had accused Arthur Eze of always chasing contracts. This did not go down well with Eze. When he heard this, he slammed Anyim and exposed his weaknesses when he was in power.
Eze accused Anyim of not doing anything for his people when he was in power. He said that the only road Pius built was the one that led to his community. He also said that Anyim becoming the Senate President was a historical mistake as he did not deserve the position. Arthur noted that Anyim is the worst Senate President Nigeria has ever had.
Arthur's aide Mr. Okpala Okechukwu took the mantle and continued to slam Anyim saying that his tenure as SGF and Senate President was filled with emptiness and that he attained the level by mistake. He also accused Anyim of making his comments as a result of jealousy. Finally, Okpala said that Prince Eze is far beyond Anyim, and both of them cannot be compared in any way. The two heavyweights continued their war of words until southeast governors urged Eze to cease fire.
Prince Arthur Supported the Presidential Pardon for Alamieyeseigha
During President Goodluck Ebele Jonathan's regime, his government granted a presidential pardon to Alamieyeseigha, former governor of Bayelsa State. The people did not welcome this with a good heart and started to speak ill of the president. In the heat of this controversy, Arthur Eze spoke up in favor of the president's decision, saying that it was God who directed Mr. President to do such. He said that Goodluck did that because he feared God and reminded the people that God says we should be merciful.
People also criticized Eze for donating N1 billion to a church in Jonathan's hometown. In his defense, Arthur said that God blessed him with wealth, and he gave it to God, not Goodluck. He said that God used the president to bless the people of Otueke, therefore, he gave the money to God in thanksgiving for what he had done for the people of Otueke.
Arthur is Alleged to have Called Abia Stinking State
The Sun News reported in 2014 that Eze called Abia State a stinking state. This happened on the occasion of the Abia at 23 celebrations. At that time, Theodore Orji was the governor of the state, while Orji Uzor Kalu was his predecessor, and they were not on good terms with each other for reasons best known to them.
It was gathered later that Eze never called the state such names. Those that attended the occasion reported that he only referred to the expressway (Enugu-Port Harcourt expressway) as being bad and urged the federal government to come to their aid and do something about it. Eze made it clear that he was misunderstood by the news media and never said such a thing. Theodore revealed that it was his predecessor, Kalu, who was using the Sun News to ridicule his administration and say horrible things about the state.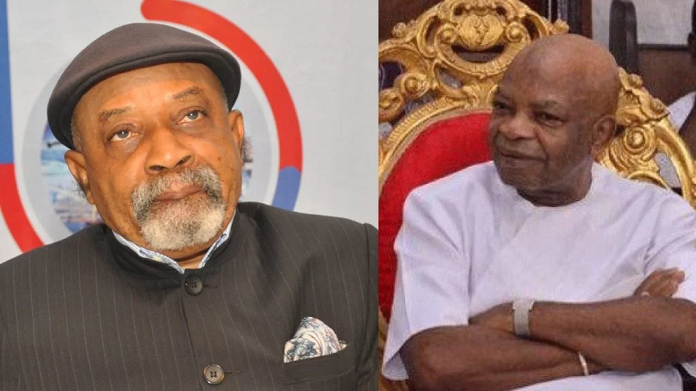 Eze Called Chris Ngige Accidental Minister
In 2020, Prince Arthur called the Minister of Labour and Productivity, Dr. Chris Ngige, an accidental minister. This was a result of Ngige's advice to banish the 12 traditional rulers in Anambra.
These traditional rulers had previously visited Abuja to meet with President Muhammadu Buhari and thank him for all he has done for the South East in terms of development. Unfortunately, they could not meet with him, and they didn't inform the State governor before embarking on the trip. On their return, Anambra State Governor Willie Obiano suspended them for acting without his authority. Dr. Ngige called for their banishment but received a backlash from Artur Eze.
In reaction to this, Arthur said that Ngige's emergence as the minister of Labour and Productivity is a historical mistake. This is so because anyone that occupies a position such as his should be one with a sound mind, well-educated, and articulate. He added that Ngige lacks these and should not be a minister. He said that it is not in the constitution of Nigeria to banish anyone for trying to commend the President of the country for the job he was doing. Eze also called Ngige's behavior irresponsible and accused him of lacking public decorum and social comportment.
Prince Arthur Eze's Wife is Not Known 
Information has it that Prince Arthur Eze is married, and his union is blessed with children. However, there is no information on his wife, what her name is, and whether she is still alive or dead. Also, there is no information on whether he has any children. The children many writers mistake to be his, Prince Olisa Eze, and Prince Onyeka Eze, are his nephews. Reports have it that he has a woman who goes by the name Amaka Lucy Oraka in his life. The woman has two sons who are in Canada. We are not sure if the sons are his or not.
Olisa Berlus Eze is the Chief Executive Officer of Excellence Hope Initiative (EHI), entrepreneur, and investor. His brother Prince Onyeka Eze is the founder of the Osisioma Foundation. On 11th November 2020, the EFCC arrested Princes Olisa and Onyeka on allegations leveled against them by their uncle, Prince Arthur Eze. Arthur sued them for breach of trust against him and his company finances. They were accused of embezzlement of funds, and the EFCC arrested and detained the princes for months before the case was charged to court.