Bianca Ojukwu (Born: 5 August 1968; Age: 54 years old) is a Nigerian diplomat, lawyer, businesswoman, politician, and the wife of the late former Biafran leader, Chukuemeka Odumegwu Ojukwu.
Bianca's name gained wider public recognition after she became the wife of Ojukwu. Before then, however, she was a multiple international pageant titleholder. She won the Most Beautiful Girl in Nigeria award and was crowned Miss Africa. She was then the first African to win Miss Intercontinental.
Ojukwu would later launch a career in politics, serving as a presidential advisor and Nigeria's ambassador to Ghana and Spain. Here are some interesting facts about the former beauty queen you must know.
Bianca Ojukwu's Biography Summary
Full name: Bianca Odinakachukwu Olivia Odumegwu-Ojukwu
Nickname: Bianca Ojukwu
Gender: Female
Date of birth: 5 August 1968
Bianca Ojukwu's Age: 54 years old
Ethnicity: Black
Nationality: Nigerian
Sexual Orientation: Straight
Religion: Christianity
Marital Status: Married
Bianca Ojukwu's Husband: Chukwuemeka "Emeka" Odumegwu-Ojukwu
Bianca Ojukwu's Children:  Afamefuna, Chineme, Nwachukwu Ojukwu
Bianca Ojukwu's Parents: Christian Onoh, Caroline Chinweolu Onoh
Siblings: Dr Josef Umunnakwe Onoh
Bianca Ojukwu's Net worth: $5 million
Famous for: Being Odumegwu Ojukwu's Wife
Bianca Ojukwu's Instagram: @biancaodumegwuojukwu
How Old is Bianca Ojukwu?
Bianca Ojukwu is 54 years old. She was born on August 5, 1968. She won the Most Beautiful Girl in Nigeria award in 1988 at the age of 20, and by the time she was 21, she was already the Miss Africa title holder.
At the age of 44, in 2012, Bianca became Nigeria's Ambassador to Spain. Four years later, when she was 48 years old, she received a master's degree in International Relations and Diplomacy from Alfonso X el Sabio University in Spain.
Now, the 54 years old former beauty queen is Nigeria's permanent representative to the United Nations World Tourism Organization. She was appointed as Secretary of the Truth, Justice, and Peace Committee by the Governor of Anambra State, Prof. Chukwuma Soludo, in April 2022.
Bianca Ojukwu is From Which State?
Bianca is an indigene of Enugu State. She was born in Enugu Ngwo, a community under Udi local government in the present-day Enugu State. She also grew up in the rural community of Ngwo alongside her siblings – Lilian, Josephine, Nuzo, Gabriel, and Josef.
Although she began her education abroad, attending Pontefract, St Andrews College, Cambridge in Cambridge, and Cambridge Tutorial College, where she obtained her A-levels, the ex-beauty queen obtained her first major degree certificate from the University of Nigeria, Nsukka. There, at the insistence of her father, she studied and obtained a degree in Law after which she went to Law school.
Bianca is currently living with her family in Anambra State, where she was married to the former leader of the defunct Biafran state, Chief Chukwuemeka Odumegwu Ojukwu.
Who was Bianca Ojukwu's Father?
Bianca Ojukwu's father was Christian Chukuwuma Onoh, popularly known as CC Onoh. He was, until his death on 5 May 2009, a businessman and lawyer who became governor of Anambra State in 1983 at the end of the Nigerian Second Republic. Bianca's father was born on April 27, 1927, in Enugu Ngwo, Enugu State.
He had his degree in Law from the University of Wales at Aberystwyth in 1957. He joined the public service back in Nigeria shortly afterward and was known to hold offices such as member House of Representatives for Enugu Constituency, the first indigenous chairman of the Board of the Nigerian Coal Corporation, Board member of the Nigeria Railway Corporation, and administrator of Enugu Capital Territory, among many others.
One of the biggest offices Bianca's father was known to occupy was that of the governor of Anambra State. He was elected into office in October 1983 under the National Party of Nigeria (NPN) platform, and though his term in office was brief, he was known to make a meaningful impact on the lives of people.
CC Onoh married his wife, Mrs. Caroline Onoh, and their union was blessed with six children, including Bianca Odinakachukwu Olivia Odumegwu-Ojukwu. He died on May 5, 2009, at the age of 82. He is said to have nineteen grandchildren, including Candice Onyeama, the award-winning British producer, script-writer, and director and daughter of Nigeria's Foreign Affairs Minister, Geoffrey Onyeama.
Who was Bianca Ojukwu's Mother?
Bianca Ojukwu's mother is Mrs Caroline Onoh (Mmili-Aku; Nee Eke). She was born on December 26, 1935, as the first child of Anselm Eke, one of the first indigenous railway engineers and train operators in Nigeria. She was the only child of her mother, who passed away when she was barely two years old.
Not much is known about Caroline Onoh's academic achievements, but she was popular as the wife of the former governor of old Anambra State, and mother of Nigeria's immediate past Ambassador to the Kingdom of Spain and Nigeria's Permanent Representative to the UNWTO, Bianca Odumegwu-Ojukwu. She died in June 2016 at the Enugu State University Teaching Hospital (ESUTH), Park Lane, Enugu, after a brief illness.
Bianca Kicked off Her Career as a Lawyer
Bianca studied law to satisfy her father's wish for her to join the family business, and just after she graduated from law school, she practiced the profession briefly before quitting to establish a business and make herself available for her home as well. She established a cosmetics business named Bianca Blend and an interior decorating outfit Mirabella.
Bianca also established the non-government organization Hope House Trust, centered on rehabilitating juvenile offenders in Enugu.
Her Success in Pageantry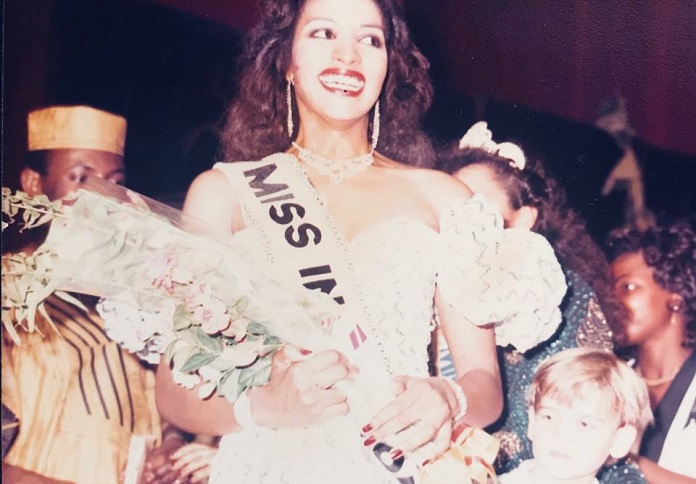 While it is not clear what inspired Bianca Ojuku to join pageantry, her enormous beauty and body shape, among many other things, helped her in the Miss Martini competition sponsored by the Italian brand of drink. In December 1988, she was awarded Most Beautiful Girl in Nigeria. By the following year, she won Miss Africa 1989 pageant held in the Gambia.
Winning the 1989 beauty pageant served as a source of encouragement for Ojukwu to further contest in pageantry. She, therefore, represented her country in Miss World in Hong Kong and Miss Universe in Mexico in 1989. She gained further popularity when she participated in and won the Miss Intercontinental. She was then named Miss Congeniality at the now-defunct Miss Charm International in Russia, where she was also a semi-finalist.
In December 2018, Bianca celebrated the 30th anniversary of her emergence as the Most Beautiful Girl in Nigeria in 1988. Recounting the opportunities it brought to her, the 54 years old said it offered her a wonderful opportunity to visit over 20 countries of the world in the space of one year. These countries include 12 European countries, Singapore, Japan, Russia, Taipei, Dubai, the Republic Of China, and Hong Kong.
Back home in her country, Bianca received a political appointment as Senior Special Assistant on Diaspora Affairs under President Goodluck Jonathan's administration. In 2012, she was reappointed as Nigeria's Ambassador to Ghana and later Ambassador to the Kingdom Of Spain.
Bianca Ojukwu's Political Ambitions
Bianca Ojukwu is currently a member of the All Progressives Grand Alliance, APGA – a political party that was founded by her late husband, Chukwuemeka Odumegwu-Ojukwu, and which is dominant in the South Eastern part of Nigeria, particularly in Anambra State where it has maintained political power for over a decade.
In 2014, she was adopted as the party's National Leader, and in 2022, the Anambra state governor Prof Chukwuma Soludo appointed her as Secretary of the Truth, Justice, and Peace Committee. She would, alongside 13 others, identify the remote and immediate causes of the agitations, restiveness, violence, and armed struggle in the South East since 1999.
When Did Bianca Marry Ojukwu?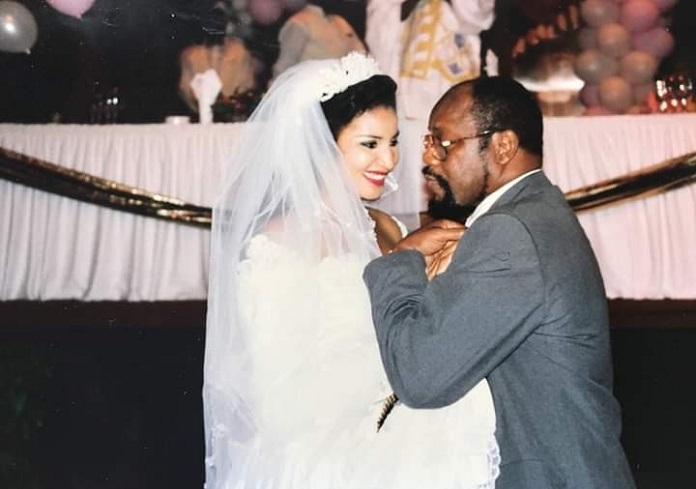 Bianca married Ojukwu on November 12, 1994, and she remained his wife for 17 years before his death in 2011. Bianca was not Ojukwu's only wife but was one of the three wives of the former Igbo leader. Her co-wives are Njideka Onyekwelu and Stella Onyeador.
Bianca is, however, the only surviving wife of Ojuwku, as the former military leader lost two of his wives in one year. His second wife, Stella, reportedly died in her sleep with no traces of any major illness. She died in 2010, and her burial was held in her home in Banana Island, Ikoyi, Lagos.
Ojukwu's first wife, Njideka, died in April 2010. She died at the age of 77 after a brief illness at her residence in Onitsha, Anambra State. Njideka was the mother to the former Anambra State Commissioner for Special Duties and Transport, Mr. Emeka Odumegwu Ojukwu (Jr.)
How old was Bianca when Ojukwu Married Her?
Bianca was 26 years old when she married Chukwuemeka Ojukwu in 1994. Although she was known to be in a relationship with the former military leader since 1989, the two officially became a couple in 1994. At the time, Ojukwu was 61 years old.
Bianca was 22 years old when she first met Ojukwu, who at the time was in his mid-50s. The relationship between Bianca and Ojukwu drew people's attention, especially as regards their wide age gap. The former ambassador said it never mattered to her and her husband, especially because they had a lot in common that united them despite people's assumption that it was bizarre.
The exact circumstances that brought Bianca and Ojukwu together may not be known, but it is said that the former military leader was a friend and close associate of Bianca's father. But despite their close political ties, Bianca's father still did the needful to ensure his daughter was rightfully married.
Bianca once revealed that her father asked her late husband, Dim Odumegwu Ojukwu, to pay an 'impossible bride price' of 100 pre-independence copper coins on her before their marriage. C.C. Onoh, who was a notable Igbo leader and businessman, had initially opposed his daughter's bid to get married to the late Biafran leader.
According to the former beauty queen, her father requested the "impossible bride price" so the military leader would know her worth and value it. Though those copper coins were difficult to get, her husband saw to it that the required amount requested by his inlaw was provided.
To this, he dispatched "people to various parts of the country in search of them (It cost so much more to source the coins than they were actually worth). This awed her father, who gladly gave his approval for their marriage in 1994.
Bianca describes her husband as a man who was not just romantic and poetic. He was a typical gentleman who, by virtue of his education and interactions in life, was raised as an aristocrat, so he tended to focus more on the classics, the arts, literature, music, and so on.
Bianca and Ojukwu were first married at the church, and their traditional marriage came years after. Their wedding ceremony came first largely because the bride's family opposed the union. The traditional marriage happened after the birth of their children.
A Brief History of Bianca's Late Husband,

C. Odumegwu Ojukwu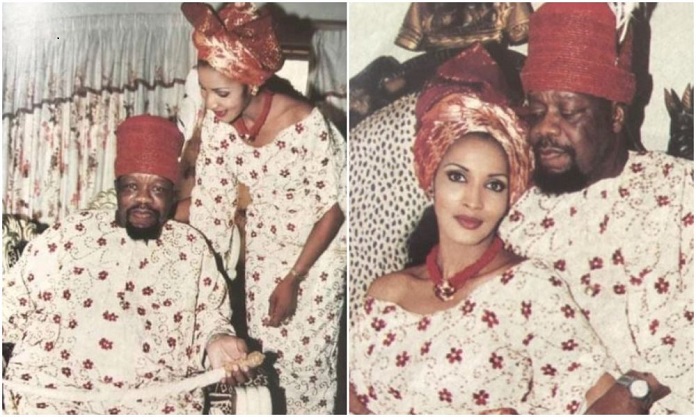 Chukwuemeka Odumegwu-Ojukwu was a former Nigerian military officer and politician who was active as a politician from 1983 until his death in 2011 at the age of 78. He was known to serve as the military governor of the Eastern Region of Nigeria in 1966 and the president of the secessionist Republic of Biafra from 1967 to 1970, which declared independence from Nigeria during the Nigerian Civil War.
Ojukwu hailed from the present-day Nnewi, Anambra State, in south-eastern Nigeria, but he was born in Niger state, northern Nigeria, and he had his secondary education in Lagos state, western Nigeria. He died in 2011 in the United Kingdom after a brief illness.
Who are Bianca Ojukwu's Children?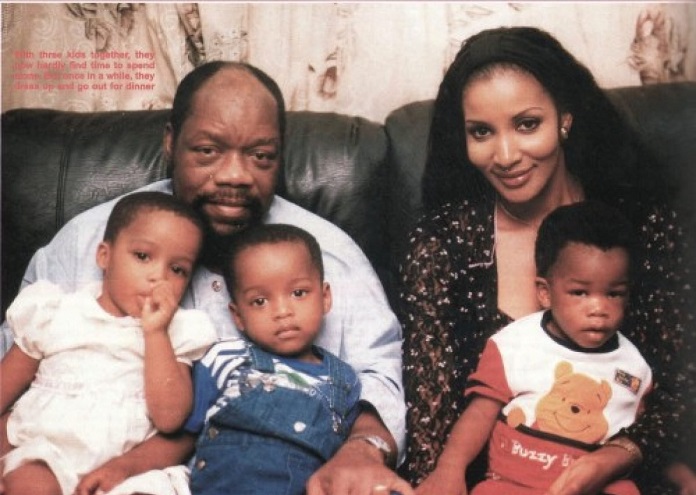 The widow of the late Igbo leader, Chukwuemeka Odumegwu Ojukwu, is blessed with three children, namely Chineme Ojukwu, Afemefuna Ojukwu, Nwachukwu Ojukwu. Miss Chineme Ojukwu is Bianca's only daughter, and Afamefuna is her twin brother.
Bianca's children are all based outside Nigeria. Chineme is said to be based in the United Kingdom, where she is known to be a graduate of Business Administration from the prestigious University of Brighton. Her brother Afamefuna is reportedly an engineer doing quite well in his career abroad.
Bianca Ojukwu's Awards and Recognitions
Bianca Olivia Odumegwu Ojukwu has received several awards for her contributions to the growth of her society in various ways. She is said to hold many traditional titles in her native land, as well as the highest chieftaincy title conferred on women in her region.
One of the earliest awards she was known to receive was the prestigious award of African Most Outstanding Ambassador in the Diaspora 2014 in the Netherlands by the Voice of Achievers.
The Voice Magazine Annual Award Ceremony is notably one of the most prestigious and highly-rated awards in Europe. The ceremony is usually used to recognize and honor African Achievers and Friends of Africa who have distinguished themselves in their areas of calling for the advancement of their countries, Africa, and humanity at large.
The former beauty queen has received several other similar awards. They include the following:
A Certificate of Merit by El Mundo Diplomatico following her efforts towards providing effective platforms for constructive engagement between Nigeria and Spain
Africa's Outstanding Ambassador in the Diaspora by Dutch magazine The Voice in 2014
 "Ambassador of Excellence" Award by the Government of Anambra State, Nigeria, at its Silver Jubilee commemoration in 2016.