May Yul-Edochie (born September 16, 1983, Age: 40 years old) is the first wife of Nollywood actor Yul Edochie. She is a Nigerian entrepreneur and CEO of DKK Investment.
May is Yul-Edochie's wife of many years, and although she is popular for her marriage to him, she has made a name for herself in her own right as a successful businesswoman and brand influencer. As a result, she is listed among the most notable celebrity wives in Nigeria. Here are facts you should know about May Yul-Edochie
Summary of May Yul-Edochie's Bio
Full name: May Yul-Edochie
Nickname: May
Gender: Female
Date of birth: September 16, 1983
May Yul-Edochie's Age: 40 years old
Ethnicity: Igbo
Nationality: Nigerian
Zodiac Sign: Virgo
Sexual Orientation: Straight
Religion: Christianity
Marital Status: Married
May Yul-Edochie's Husband: Yul Edochie
May Yul-Edochie's Children: Kambi, Karl, Victory Zane Chukwubuike, Dani
May Yul-Edochie's Parents: Mr and Mrs Aligwe
Famous for: Being Yul Edochie's Wife
May Yul-Edochie's Instagram: @mayyuledochie
Where Is May Yul-Edochie From?
May Yul Edochie hails from Anambra State in South Eastern part of Nigeria. She was born into the family of Mr. and Mrs. Aligwe on September 16, 1983, and is currently 40 years old. She has siblings but details about them have not been revealed.
May grew up in Lagos state, Nigeria, and had her secondary education at Airforce Secondary School, Ikeja. To further her education, she moved to Rivers State, Nigeria where she attended the University of Port Harcourt to obtain a degree certificate in Computer Engineering.
May is Yul Edochie's Wife of 18 Years 
May is Yul Edochie's first wife. She has been married to the Nollywood star since October 2004. Her husband, Yul Chibuike Daniel Edochie, also hails from Anambra State, and he is the son of the famous Nollywood veteran Pete Edochie. The couple first met in 1998 while they were undergraduates at the University of Port Harcourt, Rivers State. They dated for six years from their university years all through their post-graduate years.
May got married to her husband at the age of 21. Yul was barely 22 years old at the time and was finding his feet in the entertainment industry when they agreed to settle down as husband and wife.
An interview her husband, Yul, once granted had him explaining that his reason for getting married quite early was to avoid all forms of distraction while he walks his career path. He also gives credit to May for being supportive of his dreams even when he had nothing to begin a family with her.
Their marriage remained solid for many years and they never failed to celebrate their wedding anniversary every year. During their 17th-year marriage anniversary, Yul took to his verified Facebook page to share photos of himself and his wife, appreciating her for loving and supporting him.
One of his captions read "17 Years Wedding Anniversary. Na God, oo. Big Congratulations to us. I thank God for His grace. Thank you to my dear wife @mayyuledochie for the love and support always. Truly appreciated. I love you."
May is Blessed With 4 Children
May's marriage to Yul produced a daughter and three sons; Danielle, Kambilinachukwu Leo Yul-Edochie, Karl, and Victory Zane Chukwubuike Yul Edochie. Her first child and daughter Daniele, was born on 14th of April 2005 and she is currently 18 years old.
May's first son, Kambilinachukwu was born in May 2013, however, he died on March 30, 2023, after suffering a seizure while playing football with his schoolmates. Although she is quite famous on various social media platforms, May tries to keep her family off the media.
She flaunts pictures of her children on the media but she is careful not to leave further details about them except for her first and only daughter, Danielle, who is a University student and runs her own Instagram account.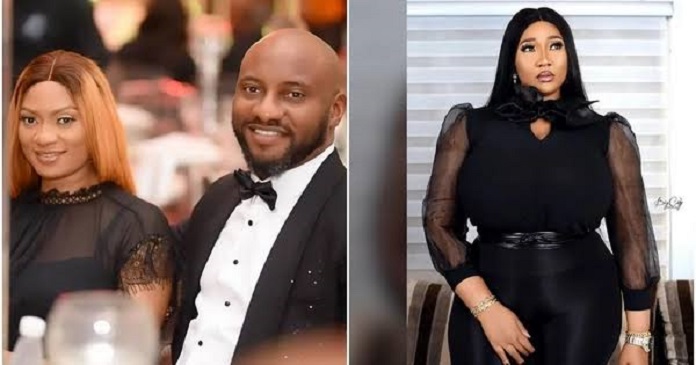 Is May Edochie Still Married to Yul Edochie?
May Yul Edochie is still married to her husband of 18 years, Yul Edochie. However, there are rumours about her making moves for divorce.
May's marriage to Yul has experienced some hiccups. The controversies involving their marriage heightened when May's husband surfaced with the news of his child with co-Nollywood actor Judy Austin.
Judy and Yul were allegedly dating secretly for a while before Judy took in for the actor and had a son named Star Dike Munachimso Yul Edochie. Few months after it was alleged that the actor married Judy and the news was welcomed with mixed feelings.
Amid the social media stir caused by the news of Yul Edochie's second marriage, May reacted to the controversy by calling for God's judgement on the marriage. "May God judge you both," May wrote in the comment section of her husband's post on Instagram.
Yul Edochie reacted by first apologizing to his wife, May, for hurting her. He further noted that his second marriage was not intended to disrespect or replace her, adding that he would always love her. May responded to her husband's comment by affirming that she would not be forced into accepting polygamy because it goes contrary to her faith, beliefs and values.
"To reaffirm my stands, I will not be cajoled into accepting polygamy, which goes against my beliefs, faith, and values. I will not be numbered in a home that we started building with love, faith, tears, hopes, and prayers in a catholic marriage of 18 years following a long-term premarital relationship," she wrote while appealing to her husband to stop bringing their family issue, which she termed "show", to social media.
What Does May Yul-Edochie Do For A Living?
May is not an actress like her husband nor does she have any business with the entertainment industry. While it is not clear how she began her career journey, it is safe to say that she has a strong entrepreneurial spirit, as she is successfully running her own business.
May Edochie is the Chief Executive Officer of DDK Investments, an investment firm she owns and runs by herself. Aside from making much income from her business, May also makes meaningful income from brand endorsement deals. She has signed many endorsement deals with companies like Realitypross, Misiano Skincare, and more.
Also a well-known philanthropist, May owns May's Oasis Foundation – a Non-government Organisation poised at reaching out to widows, the Less privileged, and victims of violence both in Nigeria and the Diaspora. Aside from all these, she is a supportive wife to her husband, sticking with him and helping him achieve his career both in politics and the entertainment industry.