Tonto Dikeh (born 9th June 1985) is a 37-year-old Nigerian singer and actress who gained public attention after becoming the first runner-up on the reality show, The Next Movie Star. She became an actress following her role in Holy Cross.
The Nigerian Nollywood film industry, like any other entertainment industry in the world, has its share of drama, scandal, and controversy. However, some of Nollywood's finest seem to be plagued by controversy and hit the news with a new scandal more often than others. One such celebrity is Tonto Dikeh, a 37-year-old talented, confident, and beautiful actress and singer who has been involved in more controversies than any other damsel in Nollywood.
This light-skinned actress, who has graced the screen in several movies, has been in the limelight for controversial issues almost as much as her acting career. This, however, does not overshadow the fact that she is an exceptional actress and is very daring, taking on roles that many would not. This piece will shed more light on her biography, age accomplishments, relationships, controversies, and her son.
Tonto Dikeh's Profile Summary
Full name: Tonto Charity Dikeh
Nickname: Tontolet, Poko, Mama King, King Tonto
Gender: Female
Date of birth: 9th June 1985
Tonto's Age: 37 years old
Ethnicity: Ikwere
Nationality: Nigerian
Zodiac Sign: Gemini
Sexual Orientation: Heterosexual
Religion: Christian
Marital Status: Divorced
Tonto's Husband: Olakunle Oladunni Churchill (m. 2015-2017)
Tonto's Children: King Andre Omodayo Churchill
Tonto Dikeh's Parents: Mr. Sunny and Mrs. Veronica Dikeh
Siblings: 5, including Tatiana Dikeh and Charles Dikeh
Tonto's Height in Inches: 5ft 4inches
Tonto's Height in Centimetres: 163cm
Tonto's Weight: 68kg
Tonto Dikeh's Net worth: $1.6 Million
Famous for: Acting, Singing, Songwriting
Dikeh's Instagram: tontolet 
Facebook: Tonto W. C. Dikeh
Tonto Dikeh is 37 Years Old and Hails From Rivers State, Nigeria
Tonto was born on 9th June 1985 and is currently 37 years old. At her age, she has achieved great feats, made lots of investments, name, and fame for herself. The popular Nollywood actress is from the Obio-Akpor Local Government Area in Rivers State. She comes from the Ikwere tribe of the State. As a child, she lost her mother to the cold hands of death at the tender age of three and was brought up by her stepmother. She is the third child out of five children born to her father by his two wives.
Having been privileged to be born into a wealthy family, the actress was provided with everything she needed while growing up. She was also showered with lots of love from her parents. Tonto had her early education and University education in Rivers State. She is a graduate of Petrochemical Engineering, a degree she acquired from the Rivers State University of Science and Technology.
At 21, Dikeh Started Her Acting Career and Became a Household Name
One of the earliest attempts made by the actress at entertainment was participating in a reality TV show called The Next Movie Star in 2006. She emerged as the first runner-up in the competition. This was a stepping stone as it paved the way for her in the entertainment industry. She started searching for contracts in the Nollywood industry and eventually landed some for herself.
It is a fact that Tonto Dikeh got her big break after becoming the first runner-up on the reality show, The Next Movie Star. However, her second movie, Holy Cross, persuaded producers and directors to start casting her in more productions. This movie is also what made her very popular in the Nollywood industry. Her performance in the movie bought her more roles and brought her to the limelight in the movie industry. She then stared in movies like Pounds and Dollars, Tea or Coffee, Dirty Secret, among others.
List of Some of Tonto Dikeh's Movies
Since her entrance into the industry, Tonto has starred in over 50 movies. Here's a list of some of the movies she has featured in and the year of production.
Divine Grace – 2007
Final Hour – 2007
Games Fools Play – 2007
7 Graves – 2007
Before the Fall – 2008
Strength to Strength – 2008
Native Son – 2009
Missing Child – 2009
My Fantasy – 2010
Criminal Widow – 2013
Then Terror of a Widow – 2013
Throne of War – 2014
Battle of the Queens – 2014
Is Tonto Dikeh Still Acting?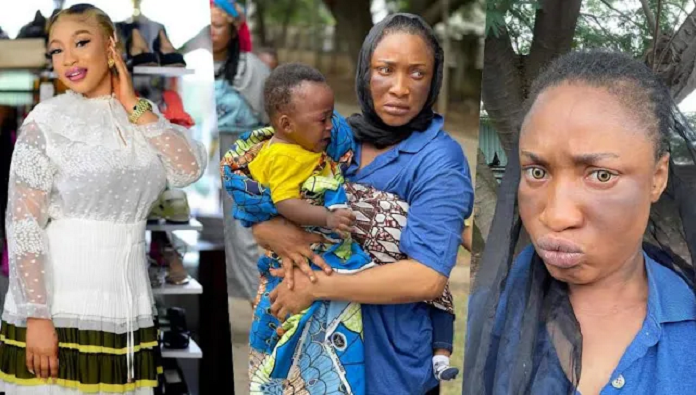 Yes, the Nollywood diva is still acting. As it is the norm with some Nollywood stars and celebrities in general, they go for a break from their career once in a while for reasons best known to them. The actress Tonto Dikeh went for a long break from acting but returned in 2021 with the movie Beggars Children. With this return, she may revive her acting career and continue to star in more recent movies.
Besides Acting, Tonto Started Her Music Career at 27
Tonto has explored the music and movie arms of the entertainment industry. In 2012, and at the age of 27, she entered the music industry with the release of her first two singles, "Hi" and "Itz Ova." Before releasing her songs, she featured Patience Ozokwor on a music video made for Amaco Investments. In 2014, Tonto was signed to D'banj's record label called DB Records, but she exited the label the following year. She has released a host of other songs featuring some notable Nigerian Singers.
List of Some of the Songs Released by Tonto
"Sugar Rush" featuring D'banj – 2015
"Ekebe" – 2014
"Sheba" featuring Solid Star – 2013
"Jeje" – 2013
"Crazically Fit" featuring Terry G – 2012
Tonto Dikeh's Awards and Recognitions
Throughout her career, Tonto has received some awards and recognitions. Below is a list of some of her awards and nominations.
She was listed among the 100 Most Influential Women in Africa in the 2021 Women Power Conference Awards.
In 2021, she won the Global Humanitarian Celebrity Award in the iGlobal Impact Awards.
Best Actress (English language film) in the Afro Hollywood Awards
Actor of the Year in 2012 The Future Awards
In 2021, Tonto was honored as the United Nations Noble International Ambassador for the United Rescue Services.
Why Tonto Dikeh Is Considered a Controversial Actress
Actress Tonto Dikeh is one of the Nigerian celebrities who has been involved in many controversies all in one year. Again, she enjoys heating up the internet with controversial posts and talks. In 2021, for close to six months, the actress was trending on News, blogs, and social media. She updated her fans on every step she took at the period, which got her into more trouble. Let's look at some of the controversies she has been yoked in and how she came out of them all.
Controversies Courted by the Actress and How She Came Out of Them
For a start, Tonto boasts of being a controversy queen. She has had many controversies with many people, from her colleagues to her husband. It is worthy of note that after her separation from Churchill, she never allowed him a moment of peace until the Actors Guild of Nigeria threatened to sanction her if she did not stop. Again, after breaking up with Prince Kpokpogri, she continued to bug him with court cases. Also, her former bestie Bobrisky has had issues with her, and they fight dirty on social media. Below are some other controversies among the too many she has involved herself in.
Rumors about Tonto Dike Being a Lesbian
It has once been rumored that Tonto Dike is a lesbian. These rumors have made their rounds linking her to Ini Edo and Halima Abubakar. A scene in the movie Strippers in Love has her kissing another girl fueling the rumors. To add to the already existing rumor, she once admitted to having a crush on Rita Dominic. That crush can be summed up as admiration or twisted to mean something else.
Too many things have been said on this topic to know what is true and what isn't. The outcome of the rumor is unknown. The only obvious truth about Tonto is that she is a heterosexual as she has been in a relationship with men. Whether she is bisexual is not confirmed yet by any proof.
Her Feud with Mercy Johnson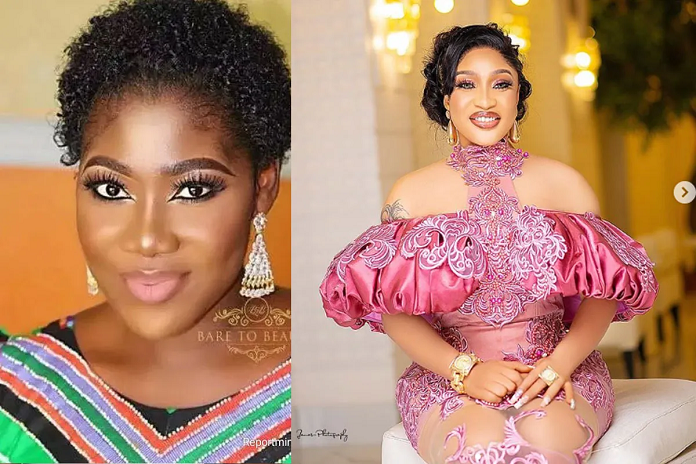 Tonto Dikeh has had a controversy with her fellow actress Mercy Johnson which reports say is due to demand. Mercy Johnson had taken time off to give birth to her daughter Purity, during which time it seems that Tonto Dike raked in the bucks. Following Johnson's return after her maternity leave from acting, Tonto released an insulting post about her marriage. In the post, Tonto says that Mercy's daughter is a witch and Mercy Johnson and her husband have gone bankrupt. She claimed that her husband pushed her out to resume acting so that she could sustain the family.
When fans saw the post, they didn't take it likely with her and fought for Mercy Johnson on her timeline. The actresses quarreled for years, and in 2017, Tonto Dikeh apologized to Mercy Johnson for insulting her, her husband, and her daughter. Mercy accepted the apology with the comment that motherhood had dawned on her and changed her conception about life.
Suicide Controversy
The star actress never ceases to keep social media and her fans busy. When it seems her news is fading from the internet, she brings up a fresh topic. Tonto Dike revealed that she had attempted suicide. She later wrote on a social page about it encouraging people to talk to God about their problems if they have no one else and that people are bigger than their pains and problems and that suicide is for cowards.
Tattoo Controversy
The celebrity is a big fan of body arts and has a large tattoo on her back, which caused controversy with people saying it had an Illuminati element. She also has 57 letters tattooed on her body, 57 stars, and 570 lines and curves. She admitted to being in love with her body and showed off her back tattoo to the world on her Twitter page. The rumors died down, and her fans seem to have gotten used to it.
Controversy About Tonto Dikeh Bleaching Her Skin
The light-skinned diva has admitted to bleaching her skin but says the key is doing it right to avoid health complications. Before bleaching, she was fair-skinned, but she didn't like the color. Dikeh wanted a brighter skin color, and she got it. She gave her reason for bleaching as wanting to enhance her skin's lightness as she likes being fair. However, many believe this was an attempt to make her more eligible for movie roles.
Tonto Dikeh's Dating Life is not as Successful as Her Career
Celebrities are known to be moving from one relationship to another. It is rare for them to stay in one relationship for a very long time. However, some celebrities like Chioma Chukwuka Apotha keep their private life away from the camera, and their marriages have lasted longer. Others like Omotola Jalade Ekeinde have one of the longest-lasting marriages in the Nollywood industry. Tonto has been in several relationships, she has even married once, but they all shattered. Here's more about her marriage and other relationships.
Tonto has been romantically linked to many superstars, including Iyanya, Wizkid, and 2Face. However, at the ELOY Awards, she made an entrance flanked by Sexy Steel and Michael Awolaja. Michael is the man behind all of the customized Rolex and diamond iPhones that Tonto rocks. In her acceptance speech, she said that he was her boyfriend keeping in line with the high-flying men she has been associated with.
2face Idibia's Unforgettable concert got tongues wagging, thanks to a rather racy performance with Tonto Dike. The performance was released by Flytime TV, showing the two getting hot and heavy.
Her Marriage to Olakunle Churchill Ended After 2 Years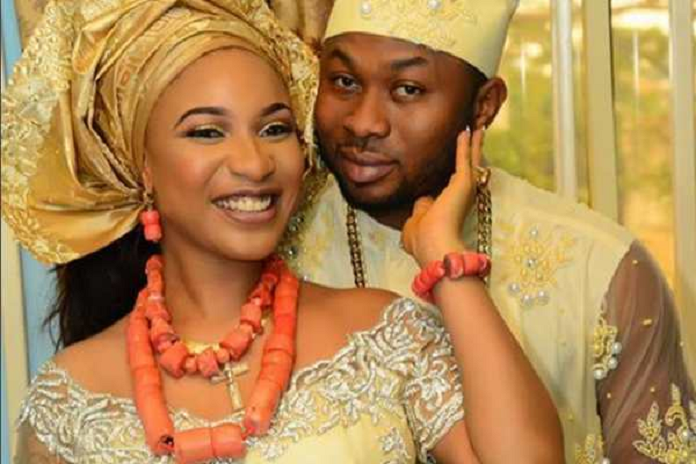 As most women dream of getting married someday, the star actress got married to the man she thought was meant for her. They started dating in 2014, and their traditional marriage ceremony happened in 2015. Two years later, their marriage was blessed with a son. When they were together, the couple and news about them flooded the internet and social media platforms. While some were happy for them, others only waited for the usual breakup story, which did not take time to come.
Cheating Allegations and Domestic Abuse Led To Their Divorce
In 2017, Tonto's husband, Olakunle Churchill, was accused of having an extramarital affair with his P.A. Rosy Meurer. Tonto also confirmed that he abandoned her and her son for his new girlfriend. Tonto also revealed that during Rosy's birthday that year, Churchill bought her a car as a gift and addressed her as Mrs. Churchill in a birthday post.
In another post by Olakunle, it was revealed that his relationship with Rosy was two years old then. All these led to the breakup and end of the marriage between Tonto and Olakunle Churchill. The marriage was dissolved over extramarital affairs and allegations of domestic abuse.
Has Tonto Dikeh Remarried?
Not yet. In June 2021, Tonto came open with the man she was in a relationship with and was planning something bigger with. His name is Prince Kpokpogri, a politician from Delta State. The two love birds shared precious gifts and posted their loved-up pictures all over the media.
However, the relationship hit the rocks sooner than later, and both partners parted ways. Tonto did not let go easily as she accused Kpokpogri of planning his way into her life, extorting her, having the sex videos of all the ladies he has dated on his phone, and deceiving her with a marriage proposal. They went to court and gradually resolved their matter. Currently, Tonto is still single and has not announced the entrance of another man into her life.
Beyond Her Career and Scandals, The Actress Is Also a Proud Mother of One
Tonto Dikeh welcomed her son BabyX in February 2016. Currently, she has only one child and is not talking about or planning to have another one anytime soon. Tonto is so fond of her son King Andre Omodayo Dikeh, and she never hesitates to buy expensive gifts for him. For his fifth birthday, Tonto purchased a real star for him and gifted him the certificate of the star bearing his name. She mentioned that her son has everything he needs as a kid and more; that's why she got him a star. The son is so precious to her, and she never hesitates to write sweet and heartwarming notes for him on his special occasions. Andre has signed endorsement deals with some baby lotion companies at such a young age.