Patience Ozokwor (born 14th September 1958) is a 64-year-old award-winning Nigerian actress, fashion designer, and gospel singer who is best known for her roles as a wicked mother-in-law in many films she has appeared in.
We all know Patience Ozokwor, aka Mama G, as that extremely devious woman in Nollywood movies. Many people have come to hate her because of the characters she plays, but Patience is much more than that. To close friends, family members, and others who get to know her, the woman is something completely different.
One of the best actresses in the history of Nollywood, she is also a singer and a fashion designer. The 65 year old is a household name and one of the most recognizable and influential people out of Nigeria. Her achievements speak for her talent and the world has come to recognize her for all she has done to grow the Nigerian film industry. Her journey to stardom was, however, not a smooth one but she was able to sail through despite all the challenges.
Profile Summary of Patience Ozokwor
Full Name: Patience Ozokwor
Date of Birth: 14th September 1958
Age: 65 years old
Place of Birth: Ngwo, Enugu
Ethnicity: Igbo
State of Origin: Enugu State
Nationality: Nigerian
Education: Institue of Management Technology, Enugu (IMT)
Occupation: Actress, Singer, Fashion Designer
Marital Status: Widow
Children: 8 (3 biological and 5 adopted)
Years Active: 1999 – present
Patience Ozokwor Was Born 65 Years Ago in Enugu State
Patience Ozokwor was born on the 14th day of September 1958 in Amaobo village, Ngwo, Enugu State in the eastern part of Nigeria. It is known that she is not the only child of her parents as she had occasionally talked about how she grew up alongside her siblings. However, not much is known about them given the fact that none of them became popular just like her. Also, details about her parents' identities are not revealed but she once mentioned that her mother was a famous trader in their village back in the days.
She Attended A Polytechnic In Enugu
Though she was born in her hometown in Ngwo, Patience moved to Lagos State with her family where she spent her early years. She attended Abimbola Gibson Memorial Primary School before enrolling at Methodist Girls Secondary School. After her secondary education, her family relocated to Enugu as a result of the Nigerian civil war. Following her return, she went on to attend the Teachers' Training College.
In further pursuance of her education, Ozokwor proceeded to the Institute of Management and Technology, a popular polytechnic in Enugu where she obtained a degree in Fine and Applied Arts. After graduation, she decided to try out teaching even though it was not what she wanted in life as a career. She taught at WTC Secondary School in Enugu for four years before she got a broadcasting job.
The Ace Actress Had a Burning Passion For Acting Right From a Young Age
For Patience Ozokwor, acting did not start in recent times. Growing up, she had so much passion and interest for not just acting but writing and reading novels as well. Her uncle would give her novels to read and tell the stories afterward. These experiences exposed her to the world of literature and creativity. She was also registered in a drama club in her community – Takwa Bay Children's Club which helped her socialize with other children and eventually contributed to the self-confidence and boldness she had from a young age.
Again, while in Afikpo Teachers Training College, Mama G had a literature teacher who taught her and a number of other students drama, and then made them present a single play each semester. On most occasions, she was made to play Hamlet in the Shakespeare play of the same name. And since other schools used to pay to watch Hamlet, she became extremely popular among students during her college life. Not long after, she began assisting school dropouts to continue their education and also helped them develop entrepreneurial skills in different things.
She Had a Brief Broadcasting Career
Before starting as an actress, Patience Ozokwor first did some work in radio drama. She worked with the Federal Radio Corporation of Nigeria (FRCN), Enugu as a radio announcer and newscaster. During her stay at FRCN, she did not hesitate to join radio theatre, taking part in several media and entertainment activities. However, following the shutdown of FRCN, she left to engage in some petty trading before she met Chika Okpala, aka Chief Zebrudaya, who helped her get into Nollywood. She was making confectioneries and became quite popular in her area in Enugu due to the quality and taste of her products.
Patience Ozokwor Started Her Professional Acting Career In 1999 At 48 Years Of Age
Patience Ozokwor got her breakthrough after Chika Okpala's crew assigned her a role in a commercial without her having to audition. She also did a commercial with Pete Eneh which moved Chief Zebrudaya and a number of other Nollywood directors. It was then that she was asked to get into the industry, but she refused because she was shy and felt the film industry would give her superfluous exposure. After several attempts of failed persuasion, they eventually managed to pull her to Nollywood.
Looking at her career as an actress, the screen queen rose steadily after taking part in the commercials and a soap opera titled Someone Cares on the National Television Authority (NTA). Given her acting prowess, she got the opportunity to be invited to act in her first movie which was in 1998. A year later, she did her second movie called Authority which propelled her to the limelight and made her the African-movie-icon that we all know today.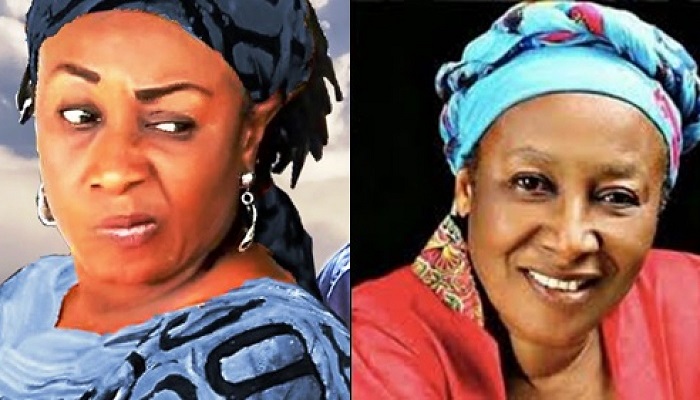 Patience has played different roles in Nollywood movies. She has even acted the role of a mother to almost every known Nollywood star, including Ini Edo, Van Vicker, Ramsey Nouah, Rita Dominic, Kanayo O Kanayo, Oge Okoye, and the rest. Her usual role as a wicked mother-in-law really made her stand out in the entertainment industry
Three of Mama G's Best Movies
Patience Ozokwor is unarguably one of the most famous actresses in the Nigerian movie industry. Even if you are not a fan of Nigerian movies, you could have heard of the name Mama G. With a career that has spanned over three decades, the Nollywood icon has featured in more than 250 Nollywood films. Let's look into the best three of such movies which contributed largely to the fame and popularity she enjoys today.
1. Old School (2002)
Who can possibly forget Old School, the movie where the actress earned herself the nickname Mama G. The film is a definition of everything a comedy movie should be and even more. Old School is one of Patience Ozokwor's best and most popular movies ever. The movie came out just a year after Nkem Owoh's Osuofia In London and was simply a Knockoff of the previous.
In one of her interviews, the actress said that though the movie had a small script, it was a very challenging one but by the time they finished, it came out wonderfully well and earned her the name Mama G. The movie gathered positive reviews and decent sum in domestic gross, making it one of the movies that helped Mama G rise to stardom.
2. Blood Sisters (2003)
In Blood Sisters, Patience Ozokwor had a shift from her usual role in movies. She played a kind and doting mother to Omotola Jalade and Genevieve Nnaji. This is a captivating story of two sisters growing up in a world of poverty where selfish desires were the order of the day. Though it was hard to believe, it is also very interesting watching Patience in the movie where she ended up not being wicked, or poisoning and killing someone.
3. Chief Daddy (2018)
Another popular movie of the star actress is 2018's Chief Daddy. The movie tells the story of Chief Beecroft, a billionaire industrialist who lives a flamboyant life like there is no tomorrow. When he eventually died, there is a scramble to know who gets all the money and properties. Patience in the movie was one of the household staff. The film got exceptional positive reviews with a box office success of over N387.5 million, making it one of the highest-grossing Nigerian movies.
List of Patience Ozokwor's Other Popular Movies
Pretender
Blood Sister
Last Miracle
Billionaires Club
Police Woman
Mama G in America
My Mother, My Marriage
Royal Palace
Crying Angel
Behind Closed Doors
Soul on Fire
Living in Pain
The Return of Mama-G
Sweet Mama
Area Mama
Unfinished Business
Indian Doctor
The Evil Queen
Critical Queen
Heart of a Slave
The Plain Truth
Alice My First Lady
Lionheart
The Wrong Money
Strength to Strength
Missing Child
Open & Close
Deep Water
Turning Point
The Enemy I See
World of the Mind
After the Proposal
To Rise Again
The Wedding Party 2
Her Awards and Recognitions
Over the course of her career, the legendary actress has earned multiple awards and recognition for her works and contribution to the growth of Nollywood. The most enviable among others was she being among 100 Nigerians honored with the Centenary Award by the government at the celebration of amalgamation of southern and northern protectorates. Her other awards include the following:
2012 – Best Actress in the African Collaboration Category, 'Untamed' Ghana Movie Awards
2013 – Best African Collaboration – Best Actress, 'Slave Boy', Ghana Movie Awards
2014 – International Acclaimed Artist, Centenary Awards by President Goodluck Jonathan
2014 – Best Actress in a Supporting Role, 'After the Proposal' Africa Movie Academy Awards
2018 – Actress of the Year, Independent Newspapers Limited Awards