Michelle Obama's height is 5 feet 11 inches (1.8 meters or 180 centimeters). She is very much taller than the average American woman.
A lot has been said about the uniqueness of Michelle Obama in comparison to other First Ladies the United States ever had, including her height, unique sense of style, physical fitness, and lots more. In all, one striking physical feature that will wow you is her height. Mrs. Obama's height of 5 feet and 11 inches makes her tall enough to be singled out in every congregation.
Michelle LaVaughn Robinson Obama is an American lawyer and writer who was born on 17th January 1964 and married to the former and 44th president of the United States of America, Barrack Obama. She is also the first African-American to become the First Lady of the United States. In this article, we will reveal everything there is to know about the former First Lady's height, and how she manages to maintain her body features.
Michelle Obama's Bio
AGE: 59 Years Old
BIRTHDAY: January 17, 1964
BIRTHPLACE:  Chicago, Illinois, United States
BIRTH SIGN: Capricorn
ETHNICITY: African-American
HEIGHT: 5 feet 11 inches (1.8 meters or 180 centimeters)
WEIGHT: 68 kg
BODY MEASUREMENTS IN INCHES: Bust (36 inches), Waist (27 inches), Hip (38 inches)
DRESS SIZE: 8 (US) or 38 (EU)
HAIR COLOUR: Black
EYE COLOUR: Brown
SHOE (FEET) SIZE: 11.5 (US)
How Tall is Michelle Obama?
Michelle Obama is a tall woman with an athletic body build and a pear-shaped form. Speaking in an interview with an American television host, Jimmy Kimmel, Michelle noted how she gets noticed very often because of her 5 feet 11 inches frame. The elegant lady has a slender upper body in comparison to her lower body, meaning that most of her body fats are stored in the lower part of her body. It makes a lot of sense that the woman has the kind of height and body structure she has as her brother also has the same body structure and height.
Michelle Obama's Height Compared to the Average Height of Women in America
Standing tall at an impressive 5 feet 11 inches, the former US First Lady is definitely among the tallest women in America. According to research, the average height of an American woman is 5 feet 4 inches, so you can imagine how towering she looks in comparison to other American women.
To further highlight how tall Michelle Obama really is, an average American man stands at 5 feet 9 inches. This shows that she is not only taller than most women in America but also very tall in comparison with men.
Michelle Obama is the Tallest First Lady the United States Has Ever Had
Former US president Barrack Obama's wife has also left people questioning her age with her never-ending physique which is the envy of many. Michelle Obama sometimes steps out for public appearances in a pair of high heels which undoubtedly adds considerable heights to her. However, it is known that she has a fondness for flats as she appears more often in them.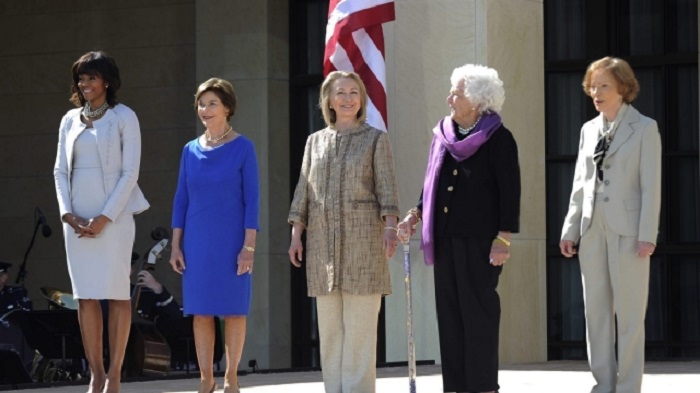 Michelle is a towering figure compared to the wives of other former US presidents. Comparing her height with other US First Ladies, Michelle Obama is among the tallest to ever call the White House residence. In fact, no other First Lady is taller than her. With her height, she towers over all other first ladies the US ever had to date, except Eleanor Roosevelt, who just like Mrs. Obama, stood at a fairly remarkable 5 feet 11 inches. She is taller than the fourth First Lady of the United States Dolley Madison who measured 5 feet and 4 inches in height.
She is also taller than former president John F Kennedy's wife, Jackie Kennedy who was 5 feet 7 inches tall, and Melania Trump who stands at 5 feet 9 inches tall. Also, Michelle is taller than Hillary Clinton who is 5 feet 5 inches tall, Nancy Reagan at 5 feet 4 inches, Bess Truman who was 5 feet 9 inches, and even Laura Bush who is 5 feet and 4½ inches, among many other US former First Ladies.
Comparing Michelle Obama's Height to that of Her Husband and Daughters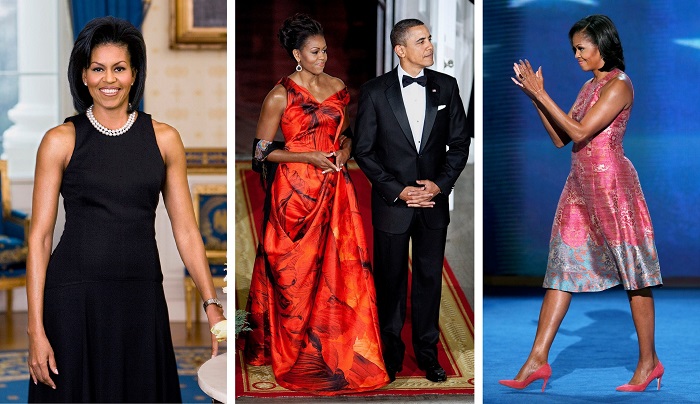 Even though men and women are equally judged as tall, men are objectively judged taller. Michelle Obama is very tall for a woman while her husband Barrack Obama is just tall for a man. From a mere look, Michelle may be perceived as taller than her husband Barack Obama, but if judges were asked to estimate heights objectively in feet and inches, Barack comes out on top. With a height of 6 feet and 1 inch, Barack Obama is only two inches taller than his wife.
Comparing the former First Lady with her two daughters Malia and Sasha, Michelle is taller than Sasha while Malia is taller than her. The former president's first daughter Malia, at 25 years old has grown to become the tallest president's daughter in recent history, towering at 6 feet 1 inch. Sasha on the other hand, (22 years), standing at 5 feet 9 inches is two inches shorter than her mother. Her two daughters are considered very tall as women.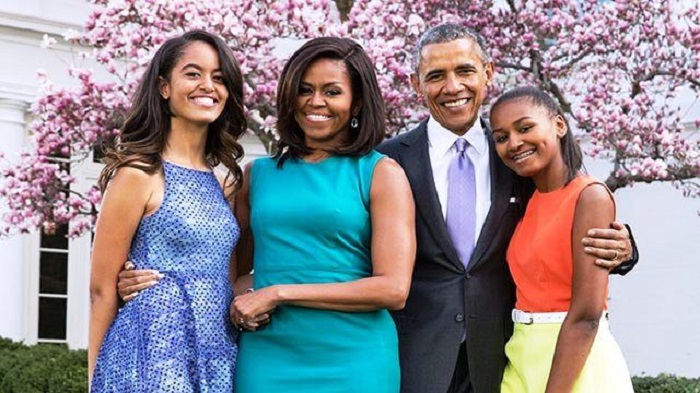 Michelle Obama's Weight and Other Body Measurements
Considering the amount of time and energy she puts into fitness, it is no surprise that Michelle Obama has a pretty good shape. She has a slim build and weighs 77 kilograms which makes her look perfect in any dressing. Mrs. Obama also takes pleasure in playing sporting activities like tennis and basketball. She has a really nice physique with her other body measurements said to be 36-27-38. Her shoe size is 11 (US), 40-41 (EU), and 8 (UK).
Michelle Obama Does not Joke with Her Body Fitness
Mrs. Obama is known for her outstanding love for physical fitness. In October 2019, she posted on her Instagram page a featured picture of herself at the gym wherein she holds a medicine ball over her head with a fierce facial expression. It doesn't always feel good at the moment. But after the fact, I'm always glad I hit the gym , the caption reads.
Michelle does not only engage in strength training but is also big on SoulCycle classes. She had been spotted severally with her daughters at classes in Washington, D.C.
However, the former First Lady at 57, said she is now mixing things up in the workout department due to her age. She started exploring new things during the COVID-19 pandemic by teaching herself lap swimming. She further shared that as she's approaching 60, the high-impact exercise, like strength training and SoulCycle she used to do no longer work for her. So, she now spends more time in one of the low-impact exercises like swimming.
Albeit, whichever way she does it, whether by lifting weight or doing cardio, Michelle Obama does not mess around with her fitness routine. Her trainer Cornell McClellanv once mentioned that she prioritized fitness and doesn't ever miss a workout. Her program, Let's Move is dedicated to solving the obesity problem within a generation, so that children born today will grow up healthier and be able to pursue their dreams. She sure loves to exercise her body and uses her spare time to do just that. Hey, those toned arms aren't any magic!
The Former First Lady Has Been Criticised About Her Body
Surprising that even a First Lady could struggle in order to feel good about her body? Yes! Here is the former First Lady opening up in an interview with Oprah Winfrey on fighting societal expectations and how she manages to accept her body despite criticisms from people. As the first black person to occupy the office of the first lady, Michelle received scrutiny, especially during the campaign trail in the White House. According to her, people called her all sorts of names when she was campaigning for her husband. Read her words:
They called me un-American, and this stuff sticks with you. Men talked about the size of my butt. That stuff hurts, and it makes you sort of wonder, what are people seeing? And look, I'm a black woman in America. And you know, we're not always made to feel beautiful. So there's still that baggage that we carry, and not everyone can relate to that
However, Michelle said that she drew her motivation from her father who died at the age of 55 in 1991 as a result of Multiple Sclerosis. She has also taken it as a responsibility to forever do her best in taking care of her body, She said, "I need to make sure that this body, that God gave me, that I'm taking care of it the best that I can and that it will serve me well as I get older."
What You'll Find in Michelle Obama's Diet that Helps Her Keep Fit
The former First Lady's diet has no doubt helped her fitness journey. She leads by example through her nonprofit initiative Let's Move which shows healthy eating can be easy and fun as well. At the age of 57, Michelle Obama looks about two decades younger than she really is and this clearly shows how much she practices what she preaches in terms of approaches to diet and staying active. Despite her high-profile career and busy schedule, she brings out time quality time for meal planning.
According to the wife of Barrack Obama, her typical day starts with scrambled eggs, turkey sausage, and grapefruit for breakfast, vegetable-rich turkey chili for lunch, and Roast chicken and seafood for dinner. She revealed that she loves nuts, veggies, and hummus, Ezekiel toast with almond butter, and even French fries for snacks. She believes that choosing a healthy diet is not all about deprivation but about balance and moderation. "…as long as you eat fruits and vegetables at every meal, you'll be okay if you have pizza or ice cream every once in a while. The problem when the treat becomes a habit"
In conclusion, her menu is high in protein, fruits, and vegetables. She also includes wiggle room to make the table interesting and listens to her cravings when she really feels like eating pizza.