Omoni Oboli is a celebrated Nigerian entertainer who functions as an actress, director, producer, and scriptwriter. She is known for her featured roles in various motion pictures in Nollywood. The 45-year-old actress holds the record for being the first Nollywood actress to win Best Actress in two international festivals. She is also among the best female Nollywood entertainers who have committed their lives to aid the poor.
The actress has wandered into various career endeavors other than her acting profession. She is a skilled writer and a businesswoman. As a writer, she is the author of The Stars Are Ageless.
Profile Summary of Omoni Oboli
Full Name: Omoni Oboli (nee Ukey)
Date of birth: 22 April 1978 
Age: 45 Years Old
Place of birth: Edo State
Nationality: Nigerian
State of origin: Delta State
Alma mater: University of Benin
Profession: Actress, Director, Producer, Scriptwriter, Author, Businesswoman
Active years: 2009 – present 
Marital Status: Married
Spouse: Nnamdi Oboli
Children: 3 (Tobe, Chizi and Gozi)
The 45-Year-Old Actress Is From  Delta State, Nigeria
Omoni was born in Benin, the capital of Edo State, but she is a descendant of Mosogar ancestry, a small village in Delta State. As an April baby, Omoni celebrates her birthday every 22nd of the month. She spent her formative years living in the Delta Steel Complex at Aladjain Delta state and attended Delta State primary school 3, Ovwian-Aladja. Unlike the larger Warri society, which lacked the necessities of life, the Aladjain community had all the facilities that made for a great community, making Omoni and her sibling live a somewhat sheltered life.
After successful graduation, she was enrolled into the state-owned technical high school, where she not only became the school's head girl but was also admired as the leader of her school's drama and debating clubs. Omoni's active skills in arts helped her find her way in the show business. During her high school years, she produced and directed most of the drama performed in her school. Even after graduating from high school, she never lost sight of those activities that make her happy.
Her Parents Separated When She was very Young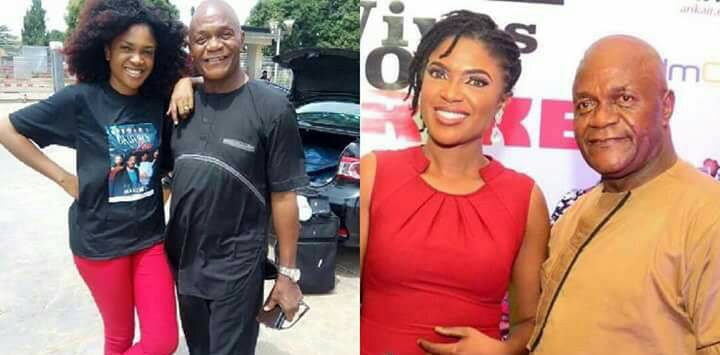 Omoni Oboli grew up in a broken home, but unlike most victims of homes like hers, she never lacked the presence of her parents, which is why she speaks well of them until today. The actress's father is late Chief Matthew Eriyovwe Ukey, who used to work as a commissioner at the Delta State Civil Service Commission. He died in 2017 in an auto crash along the Oghara/Mosogar bridge in Ethiope-West Local Government Area. He was laid to rest in his hometown of Mosogar, Delta State. His burial ceremony was held on June 2, 2017.
Omoni's mother's name is Elizabeth, popularly called Lizzy. She had two daughters with late Chief Matthew Eriyovwe Ukey before they separated. Omoni was only a baby when her parents separated, and her mother was left to take care of them. Even though she has passed away, Omoni always sings her praises. She describes her as a warrior mother who would sacrifice herself for the future of her children. Lizzy had two daughters. While working so hard to provide for her daughters, she also ensures she is part of their every life.
During the premiere of the movie 'Moms at War,' Omoni shared that she chose to direct the film to honor her mother. The actress also honored her mother during her 40th birthday on 22nd April 2018. In addition, she established a feeding initiative called – Sister Lizzy's Kitchen through the Omoni Oboli Foundation. The initiative, which was established to feed 500 children every week, was named after her late mother.
Omoni Oboli Reportedly Has One Sibling – A Sister
Omoni Oboli has a sister whose name is currently not disclosed. During the burial of their father, the two sisters were unsurprisingly spotted together. However, when it comes to knowing who is the older of the pair, no clear information is given. Some sources name Omoni as the younger, while other sources refer to the popular actress as the older of the sisters.
That notwithstanding, from Omoni's description of co-actress Ufuoma McDermott as the baby sister she never had, we can conclude that Omoni is younger. Also, judging by how sparingly there is public information about Omoni's sister, it is clear that she is not in any way as popular as the Nollywood star is.
She Started Her Acting Career At Age 18 in 1996
Omoni may not have known how much a skilled actress she is until she got her first professional acting role in the 1996 film Bitter Encounter, where she had a lead character as a secretary. Playing a role in the film alongside two of Nollywood's giants, Liz Benson and RMD, significantly impacted the young actress's life. It gave her confidence a major boost and helped her see the Nollywood industry as a home for her exceptional acting skills.
The youngster had barely completed high school when she had her first screen role, but her acting skills paved the way for her to gain more acting roles. In one year, she had appeared in films like Shame, Not My Will, Destined To Die, and Another Campus Tale. While Not My Will Offered Omoni her first leading role, Hilda Dokubo's movie, Another Campus Tale brought her to the limelight. Omoni Oboli's early life and early school years were no doubt happy and eventful ones. It helped her build her love for acting.
Omoni Oboli Bagged Her First Degree at 22
While most youngsters in Omoni's shoes would prefer to enjoy their early breakthrough in a highly competitive industry as Nollywood, Omoni instead saw the need to further her education as a better option. So she gave her acting career a pause to obtain her first degree. Then relocating to Benin city where she was born, Omoni gained admission into the prestigious University of Benin to study Foreign Languages with a major in French.
Completing her four-year course, she graduated with a 2nd Class Upper division at the age of 22. In addition, her choice of the French language as a course of study was a huge plus as it did make her multi-lingual. Her English and French language proficiency could further help her gain acting roles in any foreign films.
Having obtained her first degree, Omoni realized that she would need further training in the field for her to go far in her acting career. So, in 2010, she left Nigeria for the United States of America (USA), where she enrolled at the New York Film Academy. After a 4-week workshop, she was offered a certificate of excellence in digital editing.
Highlights of Omoni Oboli's Academic Qualifications
Delta Steel Company Primary School – Primary School Leaving Certificate
Delta Steel Company Technical High School – Secondary School Leaving Certificate
University of Benin – Second Class Upper in French
New York Film Academy – Digital Editing
Omoni Oboli Returned to the Movie World a Decade After
Many would expect Omoni's quick return to her acting business with her level of academic success, but it took Omoni about a decade before returning to the show business. She returned to the screen in 2009 after getting married to her husband Nnamdi Oboli and having her three sons. Upon her return, Omoni realized she couldn't easily find her place in the industry. So, while trying to fit into the evolving entertainment world, she began to exploit the option of film production.
It took Omoni only a short period before she found her feet in the industry, and this time not just as an actress but also as a producer. She got her debut role in Kunle Afolayan's The Figurine: Araromire. The 2009 movie had her sharing the screen with A-list actors like Ramsey Nouah and Funlola Aofiyebi. The following year, she appeared in Anchor Baby (2010). 2014 and 2015 were her perhaps most prolific years as she had more movie roles than she expected, and her roles in these movies helped her shine further in the Nollywood industry.
All the movies that aided Omoni's rise in the film world include:
Entanglement
As Crazy as it Gets
Lunch Time Heroes
Render to Caesar
The First Lady
Bent Arrows
Brother's Keeper
The Duplex
Wives on Strike
Feathered Dreams
The Figurine
Fifty
My Wife and I
Being Mrs. Elliot
Anchor Baby
The Wedding Party 2
Okafor's Law
Wives on Strike 2
Moms at War
Omoni's Career As a Director and Producer
In addition to her successful acting career, Omoni Oboli has attained a great measure of success as a director and producer, having produced many well-received Nollywood movies. In 2014, she debuted as a director and a producer via the comedy film Being Mrs. Elliot. The film starred the likes of Majid Michel, Uru Eke, and AY. She co-produced the movie with her husband Nnamdi Oboli while she wrote directed it.
Other films she worked behind the camera include First Lady, Wives on Strike: The Revolution, The Rivals (named The Best International Drama), and much more. Omoni Oboli also produced the popular television series Last Year Single. The series is based on three single ladies in their 30s and the drama of finding suitable spouses. It stars Bimbo Ademoye, Toni Tones, and Oboli.
Omoni's The Rivals and Wives on Strike also became known as the first Nigerian movie premiered at the New York International Independent Film & Video Festival since its inception in 2003. Judges at the festival gave The Rivals three out of four-star ratings. One other movie Omoni showcased her skills as a scriptwriter, director, and producer is in the 2016 romantic comedy-drama film Okafor's Law, which starred her alongside Toyin Aimakhu, Gabriel Afolayan, and RMD.
Omoni Oboli's Exploits Outside Acting
Omoni has always been a very active lady with lots of ambitions. Even with her hectic schedule, she can confidently explore other opportunities that come her way. Aside from her successes in the movie industry, Omoni Oboli has also ventured into other various career endeavors:
The Actress Published Her First Book At Age 40 in 2018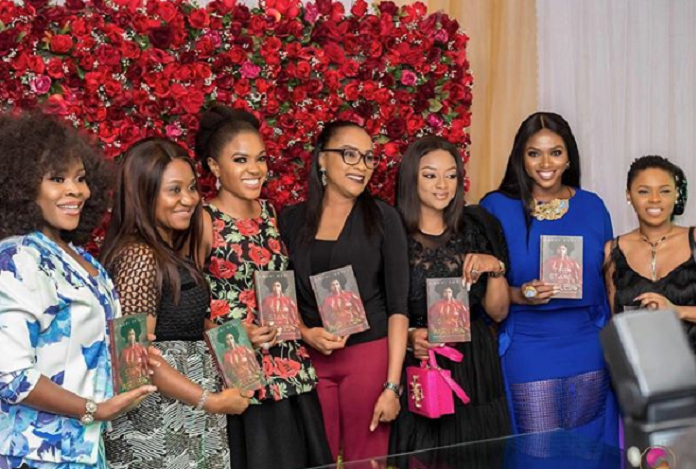 Omoni is no doubt a woman with many talents. She is admired for her talents and how she can harness them to her benefit. To let the world know more about her and how life fared with her, the actress penned down a book she titled, "The Stars Are Ageless: Finding My Light in Life, in Love, and on Set." The book, which sells on Amazon, chronicles the life experiences that shaped the author Omoni into who she is, and more than the world should expect to see in the future. Omoni's book of 107 pages was published in May 2018.
She Owns a couple of Businesses
Omoni is a businesswoman committed to growing the beauty and fashion industry. Out of her love and strong passion for makeup, she launched her beauty outfit Ageless by Omoni 3D Mink Lashes, where she also serves as the company's brand ambassador. In September 2020, the filmmaker launched a branch of the House of Tara, Warri studio.
 Her Humanitarian Activities
Omoni Oboli is a humanitarian who right now runs a magnanimous association in Nigeria. She founded and runs The Omoni Oboli Foundation. The foundation is a non-profitable organization committed to reducing poverty and engaging women in the country. It was founded in 2012.
She Has Signed Many Endorsement Deals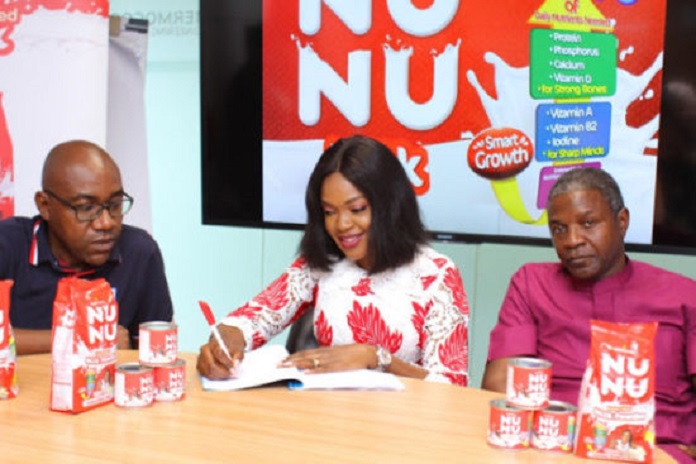 Omoni has a face any business would love to have on their business tabloids. Her talents and physical beauty have earned her several business endorsements.
The companies she endorses include:
LandWey Investment Limited

Nunu Milk

Pedini Nigeria

Royal Caribbean Nigeria

Ageless by Omoni 3D Mink Lashes
Omoni Oboli Awards and Career Achievements
Awards have always been the highest way to recognize people for their works in a particular field, and Omoni Oboli has a few on her award shelf to honor her works as a brilliant actress. But, more than that, some of her directed movies have equally earned several nominations for different awards.
Here are the awards Omoni Oboli has won so far:
2010: Best Actress at the Harlem International Film Festival Award
2010: Best Actress Narrative Feature at the Los Angeles Movie Awards
2014: Big Screen Actress of the Year at the ELOY Awards
2015: Personality of the Year at the Sun Nollywood A

wards