Majid Michel (born 22 September 1980) is a Ghanaian actor. He married his wife, Virna Michel in 2005 and together they have four daughters, two of who are named Zara and Kiera Michel.
The fast rise of Nollywood and the emergence of what is mainly being referred to as Ghallywood are notably instrumental in breaking some Ghanaian actors into the limelight. Even though the Ghanaian movie industry known as Ghallywood isn't as developed and popular as Nigeria's Nollywood, the collaboration of the two industries has seen the rise of great actors like Majid Michel to stardom.
Majid Michel is primarily recognized as one of the leading male actors in Nollywood. He made his acting debut in the film Divine Love, which was a huge success making him a household name across Ghana, along with Jackie Agyemang, John Dumelo, and Van Vicker.

Majid Michel Profile Summary
Full Name: Majid Michel
Date of Birth: September 22, 1980
Age: 43 years old
Place of Birth: Accra, Ghana
Nationality: Ghanaian
Profession: Actor
Parents: Michael Michel-Erawoc (Father) and Paulina Olympio (Mother)
Marital Status: Married
Spouse: Virna Michel
Active Years: 2000 to date
Majid Michel was born to a Lebanese Father and a Ghanaian Mother
Maji Michel is known to be a Ghanian actor, but he originally hails from Lebanon as his father, Michael Michel-Erawoc, originates from the Western Asian country. Aside from Ghana being his birth country, it is also his maternal home. His mother, Paulina Olympio, who passed away in 2014 at the age of 68, is allegedly from Ewe ethnic group. Majid was born in Cantonments, a suburb of the Ghanaian capital Accra. He grew up in Ghana's economic and administrative hub, along with his ten siblings.
Apparently, the actor has six brothers, namely Isaac, Sputnik, Reggie Michael Jr, Aro, and Shawki. His four sisters are Isabella, Roberta, Juliette, and Georgette. Although from a very large family, Majid and his siblings grew up together under one roof in their father's house in Accra. Further details about Michel's siblings are not available, but they are mostly living abroad, according to some media sources. Majid Michel was born on September 22, 1980, and he is currently 43 years old.
The Actor Married Virna Michel in 2005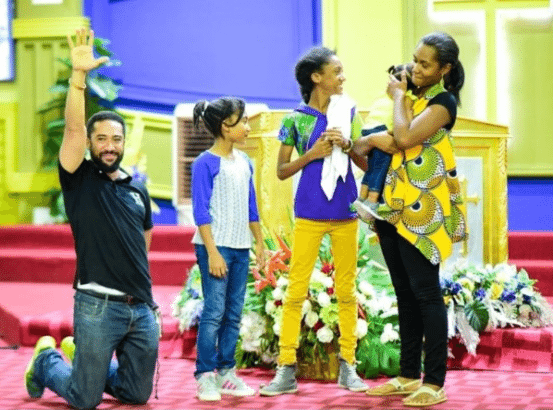 Majid's movie roles could make you have a wrong impression of his personality. Due to his many Casanova roles, many would think that he is a philanderer. At some point in his career, the actor was said to have issues with his marriage on the grounds of infidelity. However, contrary to his public perception, the actor appears to have one of the strongest celebrity marriages in Africa's entertainment industry, being married to his wife, Virna Michel, for almost two decades.
Majid also admits that he has never cheated on his wife and can handle any temptations and deal with desperate fans who would like to date him. As the 43-year-old talented African actor stated, before his wife, he only dated one lady and had no other relationships in his life. He only confessed to masturbation, which he stopped many years ago.
Majid Michel and His Wife are One of Ghallywood's Power Couple
Majid and his beautiful wife had been together long before the actor rose to fame. Even though neither the actor nor his wife had opened up about when and how they met, Majid's confirmation about her being the second lady he ever dated before marriage proves that they have come a long way together.
Virna may not be as popular as Majid. Still, the celebrity actor would seize every opportunity to talk about his wife and how she has been instrumental in his career and personal success. However, he is careful not to divulge any details about her personal life and family background. Some sites say Virna makes maternity wears in Ghana, but neither the actor nor the wife has confirmed this.
The Couple Marked Their 10th Marriage Anniversary in 2015
Virna and Majid got married in August 2005. In August 2015, the couple renewed their vows after ten years of marriage. It seemed impossible to tell that they have been in this partnership for almost two decades now. The event took place at La Palm Royal Hotel in the nation's capital city. It was graced by some of Ghana's celebrated personalities like Yvonne Nelson, John Dumelo, Nadia Buari, and their close friends and family members.
As regards the secret behind their long-lasting marriage, Majid attributes it to God and the character they have built, which is the only secret to a successful marriage. They now live a devout Christian life as the actor is not only a born-again Christian but also a pastor who shares his faith both on social media and pulpits.
They Have Four Lovely Children
In a marriage of nearly two decades, Maji Michel and his lovely wife have been blessed with four beautiful daughters. While further details regarding his children are not available as the celebrity actor tries to keep his family private, we know of his two older daughters, Keira and Zara, one of which may be following his path to becoming a star in the entertainment industry.
In an interview, the actor had once revealed that his eldest daughter had shown strong interest in becoming a movie director. She has, however, appeared in a couple of advertisements, including a viral Gino commercial. He said this could have been why she wanted to become a director after seeing them at work when the ad campaigns were being shot. He added that she might later change her mind.
A Peek Into Majid Michel's Successful Acting Career
Majid Michel has always been passionate about acting, and over the years, he has displayed his talent in such a way that his name has become a household name in the movie industry. There are only a few skilled actors who could surpass Majid Michel when it comes to playing romantic roles. In addition to his dashing looks, Majid's high acting talent and romanesque has earned him lots of credit from producers and viewers alike. His magical and hypnotic eyes send the weirdest kind of sensation on the hypnotized. He knows how and where to look to arouse his love victim.
Majid's acting talent isn't by accident, his father, Michael Michel-Erawoc, was once an actor, and he had an uncle who spent a few moments in the movie industry. At a very young age, it was clear that the young man had entertainment-friendly skills and talents. He was known for his participation in school dramas. Majid attended St. Theresa's Primary School while his secondary education had him move to study at the famous Mfantsipim, a Methodist secondary school in Cape Coast, Ghana.
While in secondary school, Michel was actively involved in theatre and was a member of the school's Drama Club. For his membership in the drama club, he received a Best Actor Award in one of their performances on Emancipation Day in Cape Coast, Ghana.
Michel Began Acting Professionally In 2000
Majid Michel had a stint with modeling. From there, he gradually made his break into the movie industry in 2000. His role in the TV drama series Things we do for love gave him the nickname "shaker." Majid has featured in many Nollywood movies, having made his debut with Ikechukwu Onyeka's Emerald. He subsequently featured in more Nollywood movies such as Silent Scandals, Guilty Pleasure, Somewhere In Africa, Knocking on Heaven's Door, Bursting Out, Omoni Oboli's Being Mrs. Elliot, amongst others.
Looking at most of Majid Michel's movies, it could be deduced that the actor is more of a mechanical actor, walking in the shoes of Hollywood superstar, Al Pacino. Majid reflects Al Pacino's style mostly when he is interpreting erratic roles. He could also be the natural actor, as the case demands. In other words, Majid does justice to role/character interpretations.

List of his Majid Michel's Most Popular Movies
Silent Scandals (2009)
Guilty Pleasure (2009)
House of Gold (2013)
Nation Under Siege (2013)
Matters Arising (2014)
Knocking on Heaven's Door (2014)
Being Mrs. Elliot (2014)
30 Days in Atlanta (2014)
Brother's Keeper (2014)
Champagne (2014)
Road to Yesterday (2015)
Bishop Jerry (Nigerian Movie) (2015)
Amuma (2015)
The Department (2015)
The Mad Man I Love (2015)
Shattered Lives (2016)
Deepest Cut (2018)
His Career Achievements
Majid Michel is an award-winning actor. The Ghanaian sweetheart, who has featured in over 60 movies, has become a force to reckon with in the industry. In 2012, he won the Africa Movie Academy (AMA) Awards for the Best Actor In A Leading Role category. His exceptional display of talent in Somewhere In Africa landed him the award after several nominations in the previous years.