In an industry that has been plagued by incessant divorce cases, a few celebrities have stood out, proving that they can strike a balance in their acting career and family life. One such person is actress Omoni Oboli. While she may be successful in her career, she has equally drawn attention for being one of the celebrities who have proven that marriage could last long and still wax strong. She has been married to Nnamdi Oboli for more than two decades. This has led to praises and respect from fans, admiration from colleagues, and a nod from society.
The actress is perhaps most popular for filling more than one role at once. Beyond her acting career, she is a businesswoman, film producer, director, and writer. Perhaps some of her most popular acting projects include Being Mrs. Elliot, The Figurine, Anchor Baby, and Moms At War. Oboli has quickly become one of the most influential Nigerians in the movie industry with the talent that lets her create legacies and win her awards.
However, many have been asking questions about how she has juggled family life with her career as an entertainer, who her husband is, and what she has done differently to succeed in her career and marriage. This includes becoming the first actress from Nollywood to win Best Actress in two international festivals not organized by Nigerians or Africans. Here's all there is to know about Omoni Oboli's family.
Omoni Oboli Married Her Husband When She Was 21
Omoni and Nnamdi's love story started about the time she started her career in acting in 1996. The relationship lasted 4 years, and when she was 21, Nnamdi, who was 29, proposed to her. When she graduated from the University, Omoni became married traditionally to Nnamdi Oboli on January 20, 2000, when she was 21.
After she turned 22 in April of the same year, they headed for a white wedding on October 28, 2000, and since then, the couple has been together to date. Their union has lasted more than two decades and still counting.
Her Husband, Nnamdi Oboli, is an Optometrist and Businessman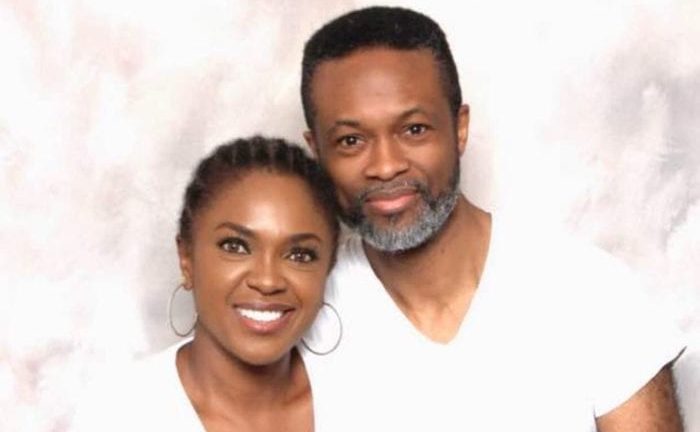 Nnamdi Oboli is a graduate of the University of Benin. As Omoni, Nnamdi is involved in different works of life that include being an optometrist and a businessman who co-founded the Dioni Visions Limited with Omoni – a company that deals with entertainment and accommodates his job as an eye doctor. He is also a life coach and writer whose works mostly focus on marriage and relationships.
Nnamdi is also a columnist for Motherhood-In-Style Magazine and the author of For Better For Us. More to his life, he is also involved in the film as the manager of Omoni Oboli and producer who has worked on the award-winning film, Being Mrs. Elliot, alongside his wife.
Omoni and Her Husband Are Blessed with Three Sons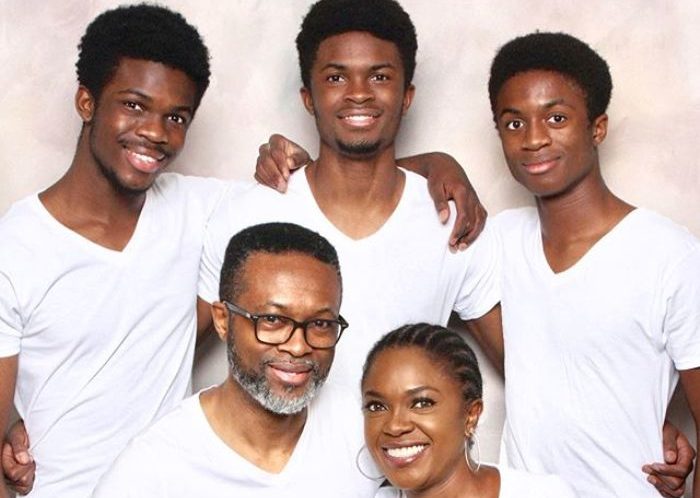 Omoni has three sons from her marriage. The boys have been an important part of her skits on social media. However, they are not triplets and are involved in different things. Learn more about them below.
Tobe Oboli Is An Actor
Tobe was born on October 4, 2001, and is 21 years old. He is the first son of Omoni and Nnamdi Oboli. Tobe is an actor who made his debut in Brother's Keeper, a mover starring Majid Michelle and Omoni Oboli, among others. In addition, Tobe is a major director of many of Omoni Oboli's YouTube videos.
Gozi Oboli Is A YouTuber and Influencer
Born Onyechukwugozi Ufuoma Oboli on July 26, 2003, Gozi is a 20 years old YouTuber and influencer. He is the second of the three children of Oboli.
Gozi features in many of her mother's videos, mostly found on her Instagram and Tik-Tok pages. Gozi featured in a video, 'Stop Fighting! Sibling Rivalry During Quarantine' on YouTube. On the same platform, he has been part of many conversational videos with the actress.
Chizi Oboli Is A Dancer And YouTuber
He was born on March 30, 2005, as the last child of Oboli. Chizi, who is 18 years old, has started building himself as a public figure who is a dancer and YouTuber. Away from his own work drawing attention to him, he is regular on the Instagram and Tik-Tok page of Omoni Oboli and Nnamdi.
How Omoni Oboli and Nnamdi's Has Kept Their Marriage Going For 22 Years
Although she had left the movie industry before they became married, Omoni returned after having three children. One would have thought that her return may affect her marriage; Omoni seems to have a love that wax stronger by the day. Her secret? The actress first creates a balance between her love life, family life, and her career. Still, at the center stage of their marriage is understanding between them. Omoni would go on to say that God does a lot of work in keeping her marriage.
More so, Nnamdi and Omoni make deliberate efforts towards putting their family first. This part of their lives shows on their social media platforms, where they share their happy moments. Also, they have chosen to become a team and support each other's dreams. Together, they have a company that deals with Omoni's entertainment and Nnamdi's eye services.
With their children, The couple would live no stone unturned to create time for them. On many occasions on Omoni's Tik-Tok, she shares videos of her different moments with her husband and children.
Their Marriage Has Faced a Few Controversies
Many controversies have come up surrounding the marriage of Omoni Oboli and Nnamdi. This is due to her acting career, where she sometimes poses as someone's wife, girlfriend, and even a pimp. On social media, she has been a center of backlash for kissing actors on set on different occasions. However, the actor and her family do not seem to mind, especially because her husband has described himself as her biggest fan.
Omoni Oboli Has Been Active in Nollywood Since 1996
She was born in Benin City, Edo State, on April 22, 1978. However, she hails from Delta State. Omoni lived most of her early life in Benin City, where she attended primary, secondary, and the University of Benin. She graduated with a bachelor's in Foreign Languages before proceeding to New York Film Academy.
In 1996, Omoni debuted in the Nigerian movie industry. She featured in Bitter Encounter (1996) and Shame, among others. However, Omoni left the movie industry to complete her education, and upon that, she became married. She stayed away from entertainment for almost a decade until her return in 2009. She has featured in many A-list Nigerian movies that include The Figurine (2009), Anchor Baby (2010), Wives On Strike (2015), The Wedding Party 2 (2016), Love is War (2019), and Òlòturé (2019), among others.
Apart from acting, she has directed movies that include Being Mrs. Elliot, The First Lady, and Wives on Strike. Her career has earned her accolades like the Best Actress Narrative Feature at the Los Angeles Movie Awards (2010), and Best Actress at the Harlem International Film Festival (2010). She also won the award of Big Screen Actress of the Year (2014), among others.