Damini Ebunoluwa Ogulu, famously known by his stage name Burna Boy, is an award-winning Nigerian music sensation who has a net worth of $17 million. Besides his music career, Burna Boy makes money through live performances, endorsements, and other endeavors.
Burna Boy is one of Africa's most valuable export to the world as far as music is concerned. The Grammy Award-winning singer has been enjoying an incredible music career, through which he has engraved his names in people's hearts with his many hit singles and albums. To this effect, he has also raised for himself a whopping net worth of $17 million. Burna Boy's net worth has undoubtedly earned him a worthy position among the richest young music artists in Nigeria and the entire African continent.
Burna Boy's fast rise in the music industry and his compelling net worth have attracted the preying eyes of many who wonder how he pulled such massive financial weight in a short time. The singer is regarded as one of the few Nigerian artists with many talents. Hence, he can improve his net worth via many sources. Here's a breakdown of how the Kilometre-crooner realized his jaw-dropping net worth.
Burna Boy's Music Career is His Major Source of Income
Nigeria's music industry is one of the fast-rising industries in the anti-African continent. As a major contributor to youth employment and empowerment, its current value doesn't only represent "food for the soul'' but also "food for the pocket." Luckily, the likes of Burna Boy have leveraged the industry to their own benefit. Unlike 2face, Timaya, and P-Square, who broke out from their averagely poor background to the amazing fame they currently enjoy, Burna Boy's family played a great role in his career choice.
His passion for music is something he got from his parents and family in general. His grandfather Benson Idonije did manage the legendary Nigerian singer Fela Anukulapo Ransome Kuti, whom he grew up to love and emulate his songs and music style. His interest in the music genre grew further when he relocated with his parents to Lagos, Nigeria. While he was at Corona Secondary School, Agbara, Lagos State, he decided to pursue his dream in music.
After completing his secondary education, his parents enrolled him in a school in the UK, but he dropped out to return to Nigeria, where he began his music career. Since his break into the Nigerian music industry in 2010, he has released five projects with countless hits.
He Launched His Professional Music Career in 2012
 In 2012, he made his much-anticipated introduction into the Nigerian music industry, dropping hit songs such as Like to Party, Yawa Dey, Run My Race, and Tonight. The songs were also included in his first album L.I.F.E. Almost a decade since his debut as a local artist, Burna Boy has propelled himself into becoming a successful international artiste, collaborating with top international artists such as Diddy, Sia, Major Lazer, Beyonce, DJ Snake, Pop Smoke, Sam Smith, Justin Bieber, Ed Sheeran, Stormzy and more. He has also collaborated with other internationally recognized African artists such as 2Baba, Wizkid, AKA, DJ Spinall, Dbanj, Sarkodie, Sauti Sol, Master KG, and others.
His talent and good music could hardly go unrecognized both within the shores of Africa and overseas, earning him accolades from top award organizers such as the Grammy Awards, BET Awards, MOBO Awards, MTV Europe Music Awards, AFRIMMA, MTV Africa Music Awards, The Headies, Soundcity MVP Awards Festival, All Africa Music Awards, among many others. He even became the first Nigerian artist in the UK to have his song certified silver after his "African Giant" album was certified silver. This means that the album sold over 60,000 copies. The song 'Own It' featuring him and Ed Sheeran has a two-time platinum certification for selling 600,000 copies.
The exact amount Burna Boy makes from each of his hit songs and albums is unknown, but from his debut album studio album L.I.F.E, which sold 40,000 copies on the first day of its release on 12 August 2013, down to Outside, his third studio album, which had a fusion of mostly afrobeat, dancehall, reggae and road rap, and his 4-track collaborative EP, which blended his upbeat melodies with DJDS' slinky trap beats, we could say without doubts that the singer has a master craft strategy on how to make music work for him.
Burna Boy is just a few years old in the music industry, but he has released five studio albums, two mixtapes, and two EPs, and he has succeeded in making the Afrobeats sound global.
His top-selling albums will include:
L.I.F.E

(2013)

On a Spaceship

(2015)

Outside

(2018)

African Giant

(2019)

Twice as Tall

(2020)
In addition to making successful music albums, the multi-award-winning Afrobeat singer has also received accolades for his hit singles. Some of his singles are rated among the best-selling singles in the music world. A good example is his 2018 single "On The Low,'' which earned him a gold plaque after selling 100,000 (or more) copies.
Burna Boy's hit singles include the following:
On the Low

(2018)

Killin

Dem

(2018)

Anybody

(2019)

Like to Party

(2012)

Tonight

(2012)

Run my Race

(2013)

Yawa Dey

(2013)

Won Da Mo

(2013)

Don Gorgon

(2014)

Dangote

(2019)

Check and Balance

(2014)

Heaven's Gate

(2017)

Ye

(2017)

Gbona

(2018)

Odogwu

(2020)

Wonderful

(2020)

Monsters You Made

(2020)

Real Life

(2020)

Way too Big

(2020)

Kilometer

(2021)
His best-featured Songs include 
AKA –

All Eyes on Me

(2014)

Sarkodie –

Special Someone

(2014)

Larry Gaaga –

Baba Nla

(2018)

Major Lazer –

All My Life

(2018)

Sauti Sol –

Afrikan Star

(2019)

Dave –

Location

(2019)

Beyonce –

Ja Ara E

(2019)

DJ Snake –

No Option

(2019)

Stormzy, Ed Sheeran –

Own It

(2019)

2Baba –

We Must Groove

(2020)

Pop Smoke –

Enjoy Yourself

(2020)

Master KG –

Jerusalema remix

(2020)

Sam Smith –

My Oasis

(2020)

Wizkid –

Ginger

(2020)

Sia –

Hey Boy

(2021)

Justin Bieber –

Loved by You

(2021)
His list of Eps
Redemption

(2016)

Steel & Copper

(2019)
Burna Boy Also Makes Money From Live Performances
Music artists make a huge income is through live performances, and Burna Boy is not left out among the top celebrities called to grace the stages of top events. Thanks to his ever-rising fame, he counts it as a privilege to appear in more stages than some of his peers in the music industry. The Afro Music star is said to charge around N10 to N15 million per show.
In 2019, his artistry saw him perform at the One Africa Music Festival held in New York. Two years later,  in March 2021, he was among the artists that performed for the 63rd Annual Grammy Awards Premiere Ceremony broadcast. This is just one of the many notable events he has been featured in. In 2021, the Nigerian Afro-fusion rapper would play his first show ever at the Hollywood Bowl on Oct. 8 as part of his Space Drift World Tour. It is currently one of only three U.S. stops on the tour, which will see him perform in New York City and San Francisco. He would also be performing live at the Governors Ball, ONE Musicfest, Outside Lands, Parklife Festival, Primavera Sound Festival.
Other Ways Burna Boy Accrued His Net Worth
Burna Boy's net worth of $17 million is also a product of many other business ventures outside his successful music career. The music star reportedly has about 1 billion Naira worth of investments ranging from treasury bills and fixed deposits to EU bonds with Standard Chartered Bank. This is quite expected, considering his rapid rise to fame and wealth.
He owns a Fashion Line
Owning a clothing line looks like a new business strategy for most Nigerian celebrities. We've seen stars like Rugged Man, Tiwa Savage, Olamide, Wizkid, Peter Okoye own either clothing line aside from their music career. Interestingly, Burna Boy has joined the league.
In October 2020, the African Giant, as he calls himself, launched a clothing line called Boohooman. He teamed up with UK-based online retailer boohooMAN to create an exclusive collection of high-fashion streetwear. The boohooMAN and Burna Boy capsule is reportedly an exclusive curation of hype streetwear, with a very sentimental part of Burna Boy's world. This follows the artiste's intention to bring a strong cultural reference to his Nigerian heritage. Over a hundred of their outfit so far has a "B" logo customized on it as a show of BoohooMAN's collaboration with the Odogwu-crooner.
His Burna Bank in New York
Thanks to his partnership with Spotify, a Swedish digital music service provider, Burna Boy now owns his own bank in the buzzing city of New York. The bank named "Burna Bank" was inspired by the artwork of Burna Boy's latest studio album, African Giant. It features a unique ATM, specially made to dispense Burna notes, which can be exchanged for album-related merchandise.
Burna Boy's Net Worth Also Comes from Endorsement Deals
Brand endorsements are other good measures where Burna Boy's net worth grows. With over 7 million followers on Instagram, 2 million on Twitter, and more on other social media platforms, there's no doubt that Burna Boy is perfect for marketing companies' brands. He is one of the hottest artists in Africa, and as a merit of his fame both home and abroad, Burna Boy has worked with top brands from around the globe. One of his biggest deals signed to date is his deal with Standard Chartered Bank, where he also has an EU bond.
The African Giant crooner is currently the bank's digital bank brand ambassador. This was unveiled in an event held at the bank's headquarters in Victoria Island. His role will include promoting Standard Chartered Digital Bank in Nigeria by lending his voice and image rights through marketing and other engagements. Burna's deal with Martell Cognac is another big deal earning huge money for the star artiste. He is said to earn between $7,000 to $15,000 when he signed the deal in 2019.
Here's a complete list of Burna Boy's endorsements:
Martell Cognac
Globalcom 
Star Lager Beer
Universal Music
Peps
Is Burna Boy the Richest Artiste In Nigeria?
The Nigerian music industry boasts some of the richest artists like Wizkid, Burna Boy, and Davido. These three are arguably the richest in the industry, but over time, fans are torn with questions on who among the three artists is the richest. Burna Boy's unique music style makes him stand out, and it defines his originality. Irrespective of how often he changes and mixes his music genres, Burna Boy sure knows how to carry his massive fanbase along.
According to multiple online sources, Burna Boy's net worth comes third compared to that of Wizkid and Davido. The richest of the trio is said to be Davido, whose net worth estimate at $40 million. Wizkid comes second with a net worth estimated at ₦30 million. Following a little behind is Burna Boy's net worth estimated at $17 million.
Summary of Burna Boy's Income Sources
Music
Live Performances
Fashion Line
Burna Bank
Endorsement Deals
Other Business Endeavors
Burna Boy Has Received Several Awards and Accolades
Burna is a recipient of various awards and prestigious nominations. His biggest award so far is the Grammy award, which he received at the 63rd Grammy Awards in March in Los Angeles, thanks to his 'Twice as Tall Album' won Best Global Music album. His other prestigious awards include Soundcity MVP & African Artiste of the Year 2020 Awards, All Africa Music Award, Best African Act – MTV Europe Music Awards, The Headies, BET Awards, and many more.
Here is a complete list of Awards Burna Boy has won so far
2013 – Nigeria Entertainment Awards for Best New Act of the Year
2014 – Nigeria Entertainment Awards' Album of the Year
2015 – MTV Africa Music Awards for Best Collaboration
2015 – All Africa Music Awards for Best African Collaboration
2018 – African Musik Magazine Awards (AFRIMMA) for Best African Dance Hall/Reggae Act category
2018 – Nigeria Entertainment Awards for Album of the Year category
2018 – Soundcity MVP Awards Festival for Listener's Choice and Song of the Year, Best Male MVP, African Artiste of the Year category
2018 – BET Awards for Best International Act category
2018 – The Headies  awards Song of the Year, Artiste of the Year, and Best Collaboration category
2018 – MTV Europe Music Awards for Best African Act category
2019 – Future Awards Africa for Future Award Prize for Musi and Future Prize for Young Person of the Year category
2019 – African Muzik Magazine Awards for Artiste of the Year, Best Male West Africa category
2019 – All Africa Music Awards for West African Male Artiste of the Year and Artiste of the Year in Africa category
2019 – Ghana Music Awards for African Artiste of the Year, Crossing Boundaries with Music
2020 – Soundcity MVP Awards Festival for Best Male MVP, Song of the Year, African Artiste of The Year
2020 – African Musik Magazine Awards for Best Collaboration
2020 – BET Awards for Best International Act,
2020 – Edison Award for Best World Album, Best International Act
2020 – MOBO Awards for Best International Act
2021 – Grammy Awards for Best Global Music Album
2021 – Global Music Awards Africa for Artiste of the Year
2021 – BET Awards for Best International Act
What Does Burna Boy Spend His Money On?
Similar to most celebrities worldwide, Burna Boy is not left out on living a lavish lifestyle. He is often on trips to various luxurious countries, some on tours and others on vacations. As an A-list artiste, Burna Boy is never caught off-fresh, as he is always seen rocking all kinds of designer outfits.
Among the things, Burna Boy spends his money on are houses. The self-proclaimed African Giant and currently one of the most popular musicians in Africa has many mansions both in Nigeria and other countries. So far, we have been able to uncover two of the houses he owns, one in Lekki, Lagos, Nigeria, which cost about ₦150 million, and a house in Beverly Hill, Los Angeles, California, USA.
His Car Collection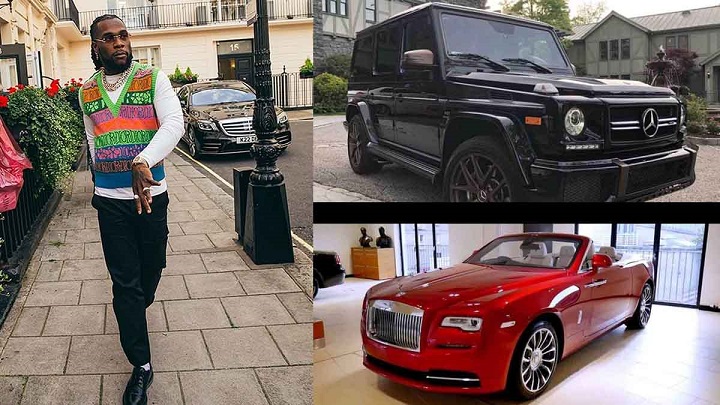 Burna Boy is a car lover, not surprising why he has many fast cars parked in his garage.
Here is a list of the cars Burna Boy drives and how much each cost:
Bentley Continental GT – ₦200 million
Range Rover Autobiography – ₦175 million
Rolls Royce Dawn Convertible – ₦125 million
2013 Ferrari 485 Italia – ₦100 million
Mercedes Benz G Wagon – ₦25 million
Lexus SC 430 – ₦18 million
Ford Edge Sport – ₦15 million