Kemi Afolabi (born on April 28, 1978; age: 45 years old) is a Nigerian actress, movie producer, and media personality who became popular following her role in the 2004 Yoruba movie Obirin. Kemi's net worth is estimated at $600,000.
Kemi is one of many Nollywood actors who dabbled in acting by chance but are today making waves in the industry. Not only is she one of the famous faces in Nollywood, but she is also among the most significant scriptwriters, directors, and producers the industry would ever have. To know more about Kemi Afolabi, here are the facts we have to share with you.
Kemi Afolabi's Biography Summary
Full Name: Kemi Afolabi
Nickname: Kemi
Gender: Female
Date of Birth: April 28, 1978
Kemi Afolabi's Age: 45 Years Old
Ethnicity: Yoruba
Nationality: Nigeria
Zodiac Sign: Taurus
Sexual Orientation: Straight
Religion: Islam
Marital Status: Married
Kemi Afolabi's Husband: Wale Adesipe
Kemi Afolabi's Children: Darasimi Adesipe
Kemi Afolabi's Net Worth:

$600,000

Famous for: Nollywood Actress
Kemi Afolabi's Instagram: @kemi_afolabi_fanpage
How Old is Kemi Afolabi?
Kemi is currently 45-years old. She was born on April 28, 1978, in Lagos, Nigeria, but she hails from Ogun State, in the Southwestern part of Nigeria. She is the first of three children of her parents. Sadly, there is no information regarding any of her siblings that's available.
However, we know of her husband, Wale Adesipe, who is a building contractor and engineer based in the United Kingdom. The two first met at a family function, and they currently have a daughter named Darasimi Nadia Adesipe.
Talking about her education, Kemi attended Tunwase Nursery & Primary School and her secondary school education at Our Lady of Apostles School and A-Z International School, all located in Lagos state, Nigeria. After completing her secondary education, she gained admission to the University of Lagos, where she graduated with an LLB Honours degree in Law.
Who is Kemi Afolabi's Mother?
Kemi's mother is not so popular as her daughter hence there is little or no information about her. However, she is known as Iya Anota, a name her daughter often calls her. This follows a recent post by the actress where she celebrated her mother during the international women's day celebration.
The actress described her mother as a rare germ, a strong and powerful mother who she would love to have in her next world.
Kemi Afolabi Began Acting in 2004
Kemi Afolabi officially began her acting career in 2004. Her first role was as the lead actress in the popular Yoruba movie, Obinrin. Her interest in acting began after she was initiated by students of the Department of Creative Arts to join them in their theatre production, which she accepted. It was after the role she portrayed in the theatrical drama that she decided to focus on acting instead of law.
Shortly after portraying a role in the Yoruba movie Obirin, she took a role in yet another movie titled Alagba, after which she took a surprise hiatus from the industry to possibly pay attention to her marriage and home.
Following her return in 2013, Kemi dedicated her time to movie-making. Although she appeared in a couple of English-speaking movies, she seemed to receive more roles in Yoruba films. She soon started writing scripts and taking up movie roles. So far, she has starred in over 140 Yoruba movies, including Oreke Mulero and Omo Pupa.
List of Kemi Afolabi's Movies to date
The Wedding Planner Shola (2022)
Mosadoluwa Balikiss (2020)
Gold Statue Capone's Wife (2019)
Ayomi Sandra (2015)
Actress. Omotolani (2022)
The Wedding Planner Shola (2022)
Okun Ibi (2022)
Ajulo (2021)
Metomi (2021)
Orisa Bi Iya (2021)
Ete Moyin (2021)
Olukoya (2021)
Iran Mi Susan (2020)
Kemi's work has made her famous and earned her some awards. During the 2016 City People Awards, she was named the best Yoruba actress. The following year, she was named the most popular actress in the industry.
In 2016, Kemi was named the most Prominent Actress and was awarded the Yoruba Movie Producer of the Year award at the City People Awards.
Kemi Afolabi Net Worth
Kemi Afolabi's net worth is estimated at $600,000. Her financial achievement comes from her long years of acting experience and contributions to the Nigerian movie industry. This has thus earned her a place among the wealthiest and most successful Yoruba actors in the industry.
While a greater percentage of her earnings comes from her acting career, Kemi also makes a reasonable income as a producer and scriptwriter. She also has a film production company known as Kaas and Dee Entertainment. The company was established with the sole objective of creating high-quality content material that may entertain and educate viewers.
Is Kemi Related to Murphy Afolabi?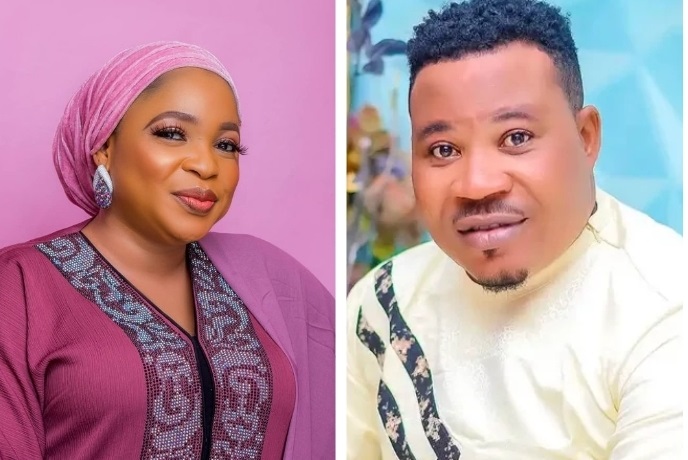 Kemi and Murphy's relationship has long generated heated arguments on social media. This is because many have assumed the two to be either related by blood or by marriage. Unfortunately, Murphy Afolabi is neither Kemi Afolabi's husband nor sibling. The two are renowned actors notable for giving sterling performances in the Nigerian movie industry. The thespians only share similar names and professions.
Like Kemi, Murphy is a renowned actor, producer, and scriptwriter, but unlike the actress who hails from Ogun state, Murphy hails from Osogbo in Osun State. While details of Murphy's personal life is kept secretly away from the public, there are no stories about the two that suggests them being a couple at any time in their life. However, the two share a very cordial and professional relationship.
Controversies Over Kemi Afolabi's Religious Belief
Questions about Kemi's religious choice have long sparked some rumors over the internet. Recently, she was rumored to have dumped her Islamic religion to seek healing in a church. This rumor followed a recent revelation about the actress's battle with Lupus.
While the actress has confirmed her struggle with the autoimmune disease, which has reportedly caused a lot and left her with a few more years to live, she equally debunked the rumor that she visited Christ Embassy in search of healing. She maintained that she is a Muslim, and there was never a time she visited the church for healing.
To further put the question about her faith to rest, Kemi made a video of herself doing her personal Islamic supplications. She also added that the picture circulating on social media is not her and that she has a personal relationship with Allah and does not need anyone (pastor or prophet) to get through to him.