Mariya Dangote is the last of the three daughters of Aliko Dangote, Africa's richest man and the founder of Dangote Groups. She is a lawyer and businesswoman born in the 1980s. She holds a key position as executive director of operations at Dangote Sugar Refinery PLC, and her net worth is estimated at $5 million.
Beyond her career achievements and being a member of one of the richest families in Nigeria, Mariya is also a mother and wife. There is more to be unveiled about her as you read further.
Summary of Mariya Dangote's Bio 
Full name: Mariya Aliko Dangote
Gender: Female
Date of birth: 1980s
Ethnicity: Hausa
Nationality: Nigerian
Sexual Orientation: Straight
Religion: Islam
Marital Status: Married
Mariya Dangote's Parents: Aliko Dangote (father) and Zainab Dangote (mother)
Siblings: 3 (2 biological sisters (Fatima Dangote and Halima Dangote) and an adoptive brother (Abdulrahman Fasasi))
Mariya Dangote's Net worth: $5 million
Famous for: Being Aliko Dangote's daughter
Mariya Dangote's Instagram: @mariyadangote
Mariya Dangote is the Third Daughter of Aloko Dangote
Mariya Dangote's exact age is shadowy but she was born in the 1980s as the third of the three biological daughters of Aliko Dangote and his first wife, Zainab Dangote. She was named after her maternal grandmother, Mariya Dangote (nee Dantata).
Her parents are divorced and her father became married to Mariya Muhammad Rufai who became her stepmother until they also divorced.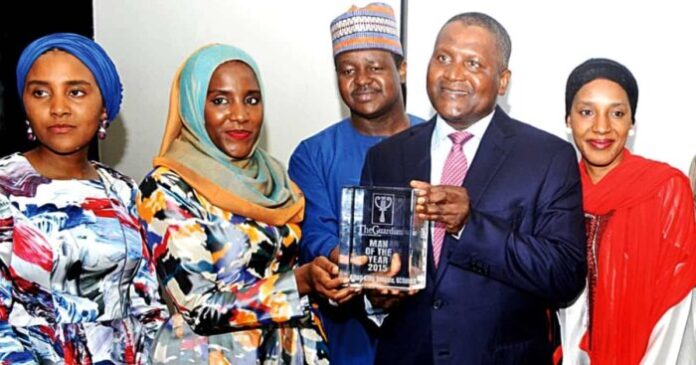 Mariya has two older sisters named Fatima Dangote and Halima Dangote and both of them are also businesswomen and work with their father's company, Dangote Group. She also has an adoptive brother, Abdulrahman Fasasi, who is equally a businessman and an employee at the Dangote conglomerate.
Mariya is a native of Kano State but resides mostly in Lagos, where her father has built a large part of his empire. Lagos has been central to her family as her father moved there when he was 20 and soon started building his enterprise and raising his family.
As we already know, Mariya hails from one of the notable rich families in Nigeria. Wealth in the family is traced to her great-great-grandfather, Alhassan Dantata, who was a one-time richest man in West Africa before he died in 1955. She is also the great-granddaughter of another serial and wealthy Nigerian, Alhaji Sanusi Dantata. Her other famous wealthy family members are Aminu Dantata, Sani Dangote, and one of the richest farmers in Nigeria, Usman Dantata.
Her father's place in bringing her family to the limelight is on a high ground. He is Africa's richest man whose net worth is $17.2 billion at the time of this report. He is also Africa's largest producer of cement and owner of the largest refinery in Africa.
Mariya Dangote's Education
Mariya attended some prestigious schools within and outside of Nigeria. After completing her primary and secondary schools, she obtained a law degree from Bayero University, Kano. She then headed for the Nigerian law school. She was then called to Bar and became a lawyer.
In 2014, she went to Coventry University, West Midlands in England, and graduated in 2015. From the institution, she obtained a Master's in Business Administration. Apart from the schools she attended, Mariya has availed herself of local and international professional training programs relating to law, business, and leadership.
Her other specialties include sugar processing, business strategy, advancement, alternative dispute resolution, and productivity optimisation.
Mariya Dangote's Net Worth
Mariya's net worth is estimated at $5 million. She earns from different sources, including working for one of the biggest black-owned conglomerates in the world.
Although there is a slight difference concerning her net worth as sources have different claims, our report here is calculated based on her vast achievement. This is to say that the billionaire daughter's net worth compilation in this report is based on her assets, financial records, and of course cash.
In this regard, here is a breakdown of Mariya Dangote's net worth.
How Mariya Dangote's Net Worth Grew 
She served as a Group Strategy Lead at Dangote Industries Limited
Mariya was a group strategy lead at Dangote Industries Limited. She held the position from 2016 to 2019 and it has contributed to her wealth. Even though she has not given an insight into how much she has earned in her position as group strategy lead, there are claims that the average salary of a group strategy lead in Nigeria is between ₦3 million to ₦15 million per annum.
Since she held the position for 3 years, she may have earned between ₦9 million to ₦45 million as her salary.
She Started Work at Dangote Sugar Refinery in 2019 and Became an Executive Director in 2023
The last child of Aliko Dangote started another phase of her career at Dangote Sugar Refinery in 2019. She served as the director of Strategy/BIP support.
In July 2023, it was announced that she was elevated to the position of executive director of operation for Dangote Sugar Refinery. Her position comes with more fortune which results in her $5 million net worth.
Although it is difficult to trace her salary as an executive director, Dangote Sugar Refinery is the largest in Sub-Saharan Africa.
Mariya Dangote is a Board Member of Dangote – Peugeot Automobiles Nigeria Limited (DPAN)
Mariya, the last daughter of Aliko Dangote is on the board of Dangote – Peugeot Automobiles Nigeria Limited (DPAN). The company is a joint venture with the Dangote Group and five northern states, and it sees to the assembling of Peugeot cars.
The plant in Kaduna State had the capacity to assemble 120 cars daily in 2022 and the number may have added over time.
The company is worth over ₦3 billion. Mariya's shares in the company are not known but sitting on the board means that she may be earning millions yearly.
Is Mariya Dangote Married?
Contrary to the popular opinion that Dangote's daughter Mariya Dangote is not married, she is a wife and a mother. However, she keeps the details of her spouse and children private.
Even at that, it may not be farfetched that she is married to a Hausa and Islamic elite in Kano State. This assertion is based on the fact that her older sisters are married to elite men. While her sister, Fatima, is married to a rich pilot named Mohammed Abubakar, Halima is also married to a wealthy Northerner named Sulaiman Sani Bello.
Halima met her husband in the United Kingdom and they were married in Kano in 2008.