Halima Aliko Dangote is the daughter of Aliko Dangote, the famous Nigerian Billionaire, and his wife, Zainab Dangote. Halima's net worth is estimated at $500 Million; she is a  businesswoman, and executive director, of commercial operations of Dangote Group. 
Halima Dangote is one of Dangote's children who have followed in her father's steps in the business line and have attained various career successes. Currently, she leads several of her father's companies, including the board of Dangote Group. She is also a member of Women Corporate Directors, described as the world's largest membership organization and community of women corporate board directors.
Halima Dangote's Biography Summary
Full name: Halima Aliko-Dangote
Gender: Female
Ethnicity: Hausa
Nationality: Nigerian
Sexual Orientation: Straight
Religion: Islam
Marital Status: Married
Halima Dangote's Husband: Sulaiman Sani Bello
Halima Dangote's Children: 2
Halima Dangote's Parents: Aliko Dangote and Zainab Dangote
Siblings: Mariya Dangote, Fatima Dangote, Abdulrahman Fasasi
Halima Dangote's Net Worth: $500 Million
Famous for: Aliko Dangote's Daughter
Halima Dangote's Instagram: @halimadangoteofficial
Halima is the Daughter of Aliko Dangote and his Ex-Wife, Zainab
Halima is the second daughter of the famous Nigerian businessman and industrialist. Aliko Dangote. Although the exact date of her birth is not known, some online sources stipulate her to be in her early or mid-40s. Some sources also claim that she was born on April 10.
Hlima is Hausa Muslim; her grandmother Mariya Sanusi Dantata is the daughter of businessman Sanusi Dantata, while her grandfather Mohammed Dangote, was a business associate of Dantata. She also shares lineage with the famous businessman, Alh. Sanusi Dantata, one time Africa's richest man and a former elder statesman.
Halima has two sisters, namely Mariya and Fatimah. She also has a brother, Abdulrahman Fasasi, whom Aliko Dangote adopted as his son. Mariya is Dangote's eldest daughter, which means that she is Halima's older sister, while Fatima is the youngest of the girls.
Halima Dangote's father, who is currently 66 years old, married her mother, Zainab, in 1977, but they are no longer together following their divorce several years back.  After Zainab, Dangote got married to another woman named Mariya Muhammad Rufai. However, they got divorced though the dates of the wedding and divorce are unknown.
She is a Certified Marketer and Business Administrator 
After obtaining her primary and secondary education in Nigeria, Halima traveled to the United Kingdom to study for a bachelor's degree in marketing. She also obtained an MBA from Webster Graduate School in England. Other related programs she did include the Program for Leadership Development (PLD) at Harvard Business School; the Executive Development Program at the Kellogg School of Management; and Finance and Accounting for Non-Financial Executives at Columbia Business School
Halima Dangote's Educational Qualifications
Bachelor in Marketing (BSB)
Master of business administration (MBA)
Program for Leadership Development (PLD)
Executive Development Program
Finance and Accounting for Non-Financial Executives
Halima Began her Career at KPMG Before Joining Her Father's Company
Halima Dangote began her career in 2008, upon successful completion of her education.  As a  certified Marketer and Business Administrator, she got her first job at KPMG, where she worked as a Business Analyst. She later left the multinational professional services network to join her father's business.
Making her way into her father's Company, Dangote Industrial Limited, Halima did her best serving in various positions and ensuring she contributed to the growth of the family business. In 2019, she became the new group executive director of commercial operations of  Dangote Group – the largest conglomerate in West Africa and one of the largest on the African continent. The group is said to employ over 30,000 people and generate revenue of over $4.1 billion per annum.
She Sits on the Board of Several Companies that Make Up the Dangote Group
Hlim's professional experience of over twelve years has seen her hold various important positions in the Dangote group. One of her biggest achievements was turning Dangote Flour Mills, a Dangote group subsidiary, into a profit-making venture using several initiatives. One of those initiatives was the company's introduction of World 'Puff Puff' Day, which is celebrated annually on October 27.
The company also broke the Guinness world record for the world's largest puff-puff pyramid as it fried two metric tonnes of flour, which is the equivalent of 40 bags of flour, each 50kg—a total of 2,000 kilos, in 2018. World Puff-Puff Day was an initiative of the Dangote flour miller to celebrate the confectioners who fry the delicacy, the consumers who enjoy the snack, and the sellers who make a living from selling it.
Halima has also served as a director of NASCON Allied Industries PLC, a member of the Dangote Group of companies that manufactures salt, food seasonings, and other related products. She is a trustee of the Aliko Dangote Foundation and a non-executive member of the board of directors. She is also a board member at Endeavor Nigeria and the president of the board of the Africa Centre in New York. Her passion for women's empowerment helped her join the Women Corporate Directors (WCD).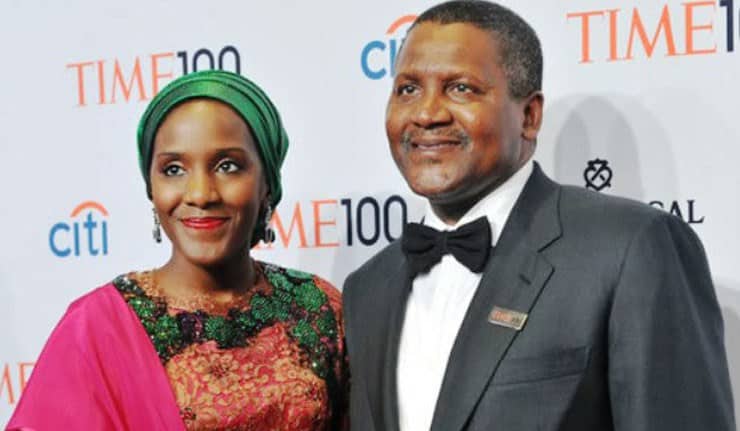 What Is Halima Dangote's Net Worth? 
Halima Dangote's net worth is estimated at $500 million. She garnered much of her wealth from her various career endeavor in the Dangote group of companies. As a certified Marketer and Business Administrator, Halima has led her father's company to achieve various financial growth.
Her father, Aliko Dangote, is, till today, the richest man in Africa and one of the richest in the world, with over $13.5 billion drawn from his multiple companies across Africa. There is no gainsaying that Halima played an important role in her father's financial rise by heading one of his biggest firms.
While details of her other business engagements are not known, it is a fact that the young businesswoman is making a huge income spearheading Dangote Industries Limited's expansion drive within the next few years. She is also the Board President of The Africa Center (TAC) in New York.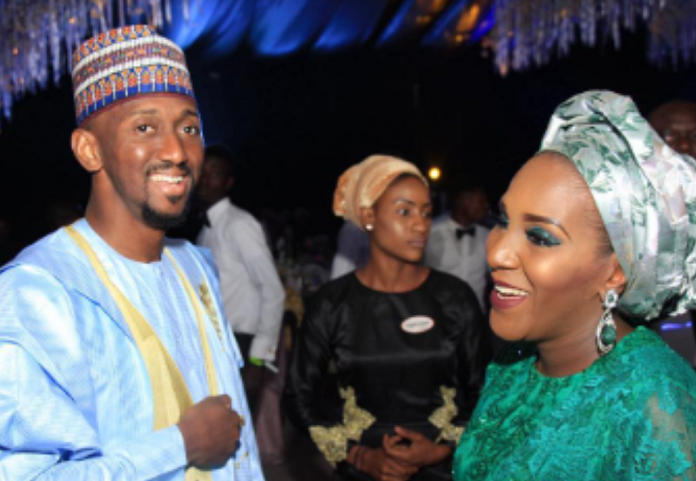 Halima Dangote is Married With Two Children 
Aliko Dangote's daughter, Halima Dangote is married to Sulaiman Sani Bello. They got married in August 2008 and are currently blessed with two children.
Halima met her husband Bello while schooling at the University in the United Kingdom. Her husband is said to have vast experience in Information Technology & Telecommunications, Oil and Gas, Power and Energy, and the Aviation and Logistics sectors, with an interest in the Marine sector. He is a member of the British Computer Society (BCS), UK.
Sulaiman Bello currently serves as a Director on the board of different companies, including Mainstream Energy Solutions Limited, Dornier Aviation, Allstream Energy Solution Limited, Sublime Group of companies, Sanbel Training and Vocational Center, Trans Sahara Energy Services Limited and Hydropolis Investment Limited.