The recent drive by the Federal Government of Nigeria, through the Ministry of Communication and Digital Economy, to have a comprehensive identity database of Nigerians has led to increased awareness of the National Identification Number (NIN) and its importance. The importance of establishing an integrated National Identity Database (NIDB) and getting everyone registered on it can't be overemphasized.
In recognition of its numerous benefits, the government of Nigeria has mandated its citizens to register on the database as failure to do so will have consequences attached to it. However, the enrollment rate for the number is still low. Some Nigerians (especially those in diaspora and those in rural areas) know little or nothing about obtaining their NIN. In this piece, we would trash out everything about NIN and how one can easily get the number.
What the National Identification Number is All About
As earlier stated, NIN is an acronym for National Identification Number. This is a set of special non-intelligible number combinations assigned to every individual who successfully enrolls for the National Identification Scheme. This National Identity Number (NIN), eleven (11) digits in all, is a set of unique numbers in that no two individuals have the same number. It is the identity of an individual. The agency charged with the responsibility of enrolling individuals is the National Identity Management Commission (NIMC). Once an individual is successfully enrolled, their data is stored once and for all in the National Identity Database (NIDB).
At the enrollment centers, vital data about individuals are captured. Their names, height, head-to-shoulder capture, 10 fingerprints, and other demographic information are gathered and stored in the database with a unique number – the NIN. Once a NIN is issued to an individual, it can't be assigned to another individual even at the demise of the individual it was originally assigned to. The only thing that happens here is that the number is retired for life upon presenting a death certificate to the commission.
NIN is Important for Various Reasons
As stated earlier, the importance of having the NIN and, by extension, registering on the National Identity Database (NIDB) can't be overemphasized.
Government use it for National Planning
The government needs to have concrete evidence of the number of its citizens to cater to their needs and security. This will inform the government's decisions when it comes to allocating resources to critical sectors such as defense, health, education, economy, infrastructural development, and the rest.
Your Phone Lines Can't be Activated Without Being Linked to Your NIN
The Federal Government recently directed every mobile phone user in the country to link their Subscriber Identification Module (SIM) to their NIN or risk being banned from making and receiving calls through the Nigeria Communication Commission (NCC). Mobile Service Providers were also directed to temporarily suspend the sale of SIM cards so people could register and link the mobile phone numbers they already have to their NIN. Reports in many quarters say the government aims to use this medium to curb criminal activities, especially those carried out using the internet and mobile phones.
Exam Registrations
There was also an announcement from examination bodies like the Joint Admissions and Matriculation Board (JAMB) and the West African Examination Council (WAEC) that new candidates would need the number to be eligible to sit for their exams. This has seen a surge in the number of enrolments for the NIN recently.
It is a Valid Identification Number
For individuals, the National Identification Number (NIN) is their unique identity. This number is a valid means through which citizens' identities can be established and verified. It binds all the records on an individual on the National Identity Database (NIDB).
Organizations use it to Verify the Identity of Individuals
The National Identification Number also makes identity verification for a host of organizations easier and faster. Recently, government agencies, security outfits, financial institutions, telecom service providers, examination bodies, international associations, Visa processing boards, and other corporate and non-corporate organizations require the NIN to identify individuals. All they need do is check the number (if provided by the individual) on the National Database, and all information concerning such individual is revealed. This is why the National Identity Management Commission (NIMC) advises people not to give out this number except for legitimate transactions.
Here is why You need the National Identification Number 
Every Nigerian needs to have the NIN. Just as your phone number enables people to contact you, your NIN allows people, organizations, and government agencies to verify your identity seamlessly. Perhaps you have been wondering why you should obtain your NIN. Here are some of the reasons why it's necessary:
Obtaining the updated NIN slip and the National e-ID card.
Opening Bank Accounts, upgrades, and other bank-related transactions.
Obtaining a driver's license.
Tax payments.
Purchase and sales of properties (lands, houses, and others).
International Passport, Visa, and travel applications.
Enrolling in the National Health Insurance Scheme (NHIS).
Enrolling in pension schemes.
Application for jobs in the civil service sector.
Enlistment into any branch of the Nigerian Military, Police Force, and other paramilitary agencies.
Registration of WAEC, NECO, and JAMB examinations.
Access to State welfare packages.
Accessing personal loans, grants, and drafts.
Uninterrupted use of mobile network service in Nigeria.
If you haven't obtained your NIN now or don't even plan on doing so, you should rescind your decision and go for your personal National Identity Number (NIN) today so you won't be left stranded when you need it the most. Here are some vital things you should know about NIN registration.
Who is Eligible to Register for NIN?
Every citizen and a legal resident of Nigeria from age 0 upwards can obtain their National Identification Number at any NIMC office closest to them. By Nigerian citizen, as defined by the Nigerian Constitution, refers to people who were born in the Country, who were born outside the country but had at least one Nigerian parent or ancestor, foreigners who have lived in the country and have naturalized, and children of foreigners who were born in Nigeria.
As a result, Nigerians in the diaspora can register for and obtain the National Identification Number. It's also imperative to note that children between the ages of 0 – 15 can't enroll for the number independently. They have to come to the center with at least one parent who already has the NIN and some supporting documents.
How to Register for the National Identity Number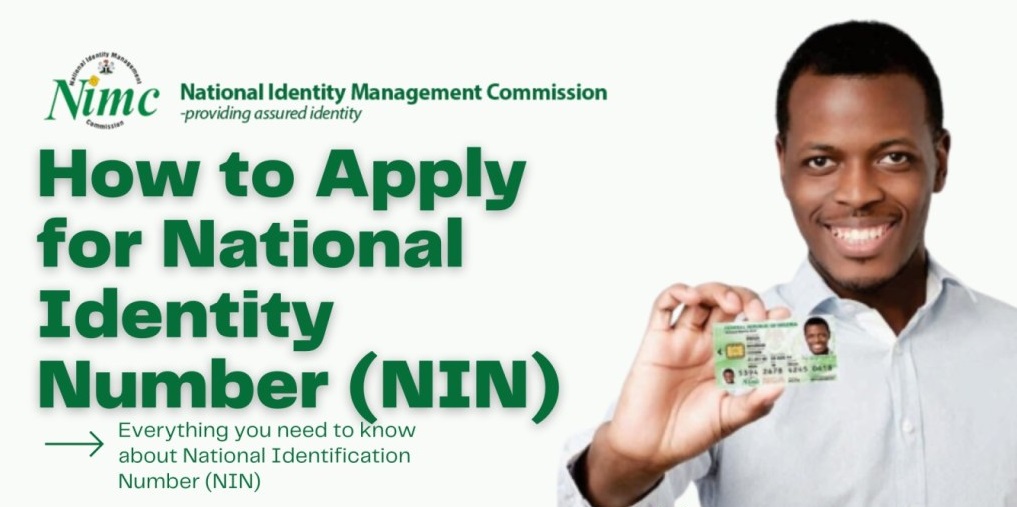 Registering for the National Identification Number isn't as difficult as many people think it is. This thought is the major reason why some people put it off to another day or don't even do it at all. Having had some bitter experiences in the past when trying to obtain some national documents, it's no surprise that many are still apprehensive of this scheme and feel they would go through a hectic, time-consuming process and end up getting the number in a year or two years but that isn't the reality.
Online NIN Registration
All applications for National Identification Number now start online. The very first step to take when registering for NIN is to do a pre-enrolment on the NIMC's pre-enrolment platform. After the pre-enrolment, physical verification and data capture are done in any NIMC office near you.
The pre-enrolment is done in two ways. The first is by filling this online form. On the platform, you will be required to fill in your demographic details in block letters then print out your summary sheet, which has a 2D Barcode on it, which you would take to the NIMC's office. The second way is to download the pre-enrolment form and fill it out manually. This form, in the form of a PDF, can be accessed here. More information about pre-enrolment can be obtained here.
Continue Your Registration at NIMC Enrolment Centers
The next step is to visit the NIMC office nearest to you. You can check NIMC's office closest to you here. You can also enroll at some accredited government and private institutions recently approved by the Federal Government to aid the NIMC. Check out the list of accredited agents here. At the enrolment centers, you would be asked to provide the printout of your filled pre-enrolment form and the supporting documents. Some of the supporting documents you have to take along with you are:
Birth certificate or Declaration of age.
Old National ID Card.
Nigerian International passport.
Valid immigration documents.
Driver's License.
Voter's card (Temporary or Permanent).
Registered/recognized private organization staff ID card.
Certificate of Origin/Indigeneship letter.
Letter of attestation to a religious or traditional leader.
NHIS ID card.
Government staff ID card.
School ID card (private/public).
Tax Clearance certificate.
On presentation of any of these documents, the enrolment officer would scan the bar code to reveal the demographic data you provided during pre-registration. You would be asked to check and confirm if they are correct.
On confirmation, you would proceed to provide your biometric and further demographic details. Data such as your face-to-shoulder picture, height, your 10 fingerprints, and your signature would be captured, amongst others.
The registration officer would then input these data into the system, asking you to confirm before submission. Your supporting documents would be scanned alongside and submitted altogether.
Upon successful submission, the officer prints out the Transaction ID Slip, which contains a unique transaction ID. This Slip is important because it is with it you get to claim your NIN slip, especially if it's not printed the same day.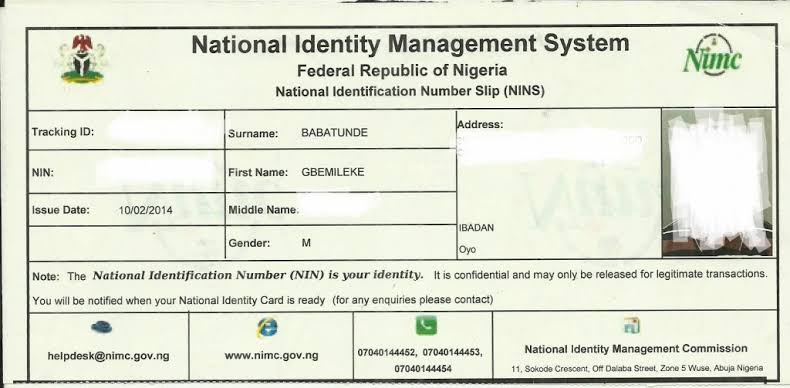 NIN Issuance
Although you can get your National Identification Number the same day, it may sometimes take up to 3 days after biometric capture before it is ready. This is why it is essential to keep your Transaction ID Slip safe. It shows that you have completed the enrolment process. Your National Identification Number comes in a slip called the National Identification Number Slip (NINS).
It's a rectangular slip that shows your full name, gender, address, National Identification Number (NIN), and your Tracking ID, another important number. Your tracking ID is a 15 digit code that comprises letters and numbers that helps to check whether your National e-ID card is ready for pick up. To check about the readiness of the card, you have to access NIMC's ID tracking platform here, fill in your details and click on proceed. You would see if your card is ready for collection here.
How to Register for NIN if You Live Outside Nigeria
Nigerians in the diaspora aren't left out of the National Identification Number registration scheme. There are dedicated NIMC-approved NIN enrolment centers in many countries in the world. To know where to enroll as a Nigerian in the diaspora, click here for details on how to begin registration and the accredited centers.
In collaboration with mobile service providers, the Nigeria Communication Commission (NCC) has also created channels for Nigerians abroad to integrate their SIM into their NIN. This can be done by using the recently launched NIMC app and some other apps launched by some mobile service providers, which can be downloaded on Google Play Store and Apple Store.
Steps for Linking Your NIN to Your Airtel, MTN, 9Mobile, and Glo Phone Numbers 
Linking your National Identification Number to the four major telecom service providers of Airtel, MTN, 9Mobile, and Glo isn't hard and doesn't take much time. You don't have to present any document or visit their office. You can do this right from the comfort of your home. The various procedures for linking your NIN to your SIM are highlighted below:
Airtel NIN Registration
For Airtel users, there are 3 methods of registering your Airtel SIM card with your National Identification Number. You can do it on the telecom company's website or remotely on your airtel SIM by dialing a special code. In addition, you can also link your National Identification Number to your Airtel SIM on the Airtel mobile phone app.
1. Register on Airtel Website
Visit the Airtel website here and input your NIN and other vital details and click proceed. You will receive an OTP to confirm that the Airtel phone line is yours and with you at that time and further instructions on how to supply your NIN on the website.
2. Register on Your Phone
The other method is to dial *121*1# on your Airtel line to submit your NIN. Input 1 for "NIN Capture" and send. Enter your 11-digit NIN and send. Then wait for a confirmation message. If an error message returns, wait for some time and try again.
3. Register on the Airtel App
Another convenient way of linking your Airtel phone number to your National Identification Number is through the Airtel app. Download the app if you don't have it already, input your phone number, get an OTP to verify that the SIM is yours, input the OTP, and log in to the app. You will be prompted to link your NIN with your phone number on the app if you don't have it already. On the other hand, you can also head over to your profile section on the app and input your NIN.
MTN NIN Registration
If you are an MTN user, there are two methods you can use to register your NIN on the MTN network. Either you do it on their website, or you do it on your phone by dialing a code.
1. Register on the MTN Website
Go to the MTN NIN registration website here and enter your name, MTN phone number, NIN, and email address. Click on 'submit' to send and wait for feedback from the network. On the same website, you can also see a regularly updated list of all accredited NIN registration centers in the 36 states of Nigeria.
2. Register on Your Phone
Another method is using the more convenient USSD code *785# and follow the instructions there. Make sure you input your correct National Identification Number.
3. Register on the MTN App
You can also link your NIN to your MTN number through the myMTNApp, available on Play and Apple Stores. Download the app if you don't have it already and proceed to register on it with your mobile number. You will be asked to link your number with your NIN if you have not done so already. Afterward, input your NIN and wait for feedback, and if it comes in positive, you are good to go.
9mobile NIN Registration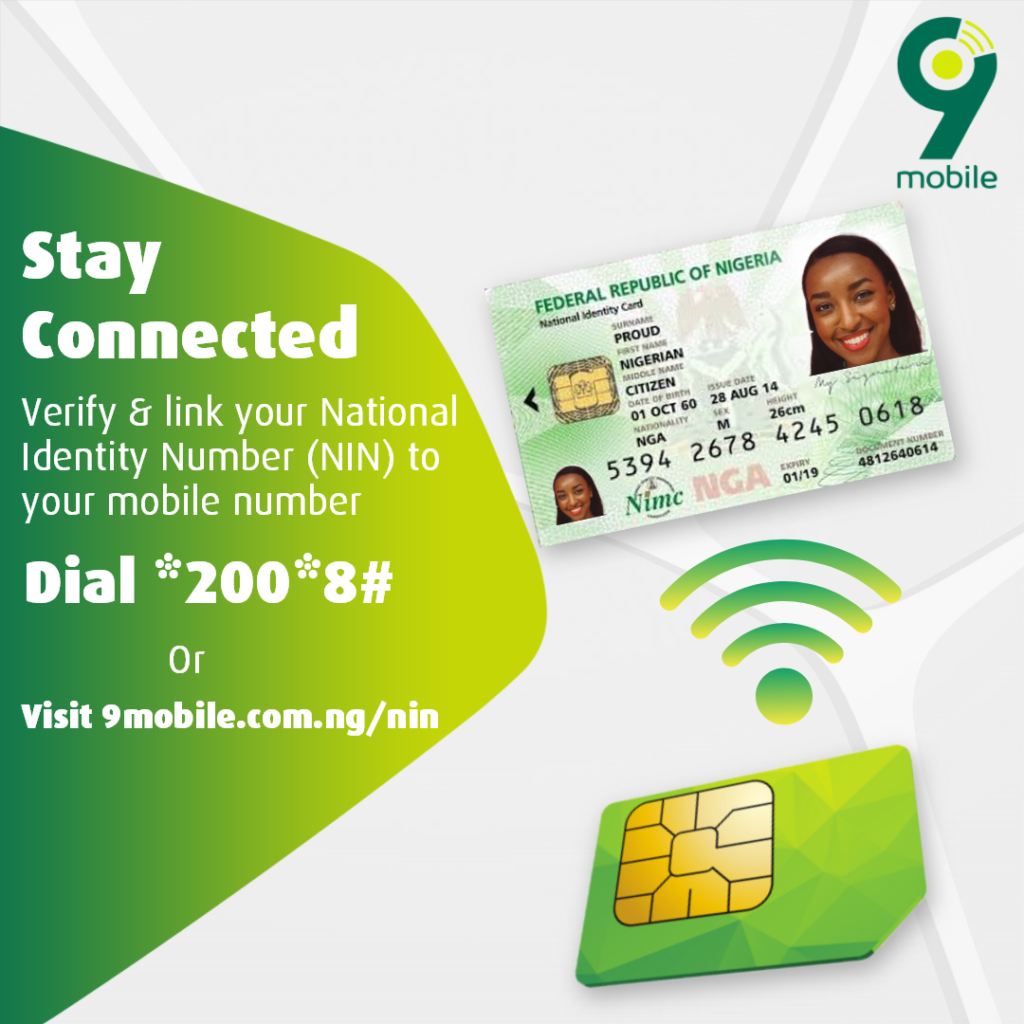 Like all other telecom networks in Nigeria, 9Mobile has 3 methods you can use to supply your NIN and link your 9Mobile phone numbers to your NIN. You can either do it on the company's website, use a special code they provided or do it on the 9Mobile app.
1. Register on the 9Mobile Website
If you are on 9mobile, all you need to do is visit the 9Mobile NIN registration website here, click on 'Verify and Link your NIN now,' fill in the required information and submit.
2. Register on Your Phone
The second method is to dial the USSD code *200*8# and follow the commands there to submit your details. Like always, endeavor to supply your accurate NIN number.
3. Register on the 9Mobile App
Another convenient method to link your National Identification Number to your 9Mobile number is via the 9Mobile app. Open the app and head over to your profile section if not prompted to link your NIN. You will see easy-to-follow instructions on linking your NIN to your 9 mobile number on the app.
Glo NIN Registration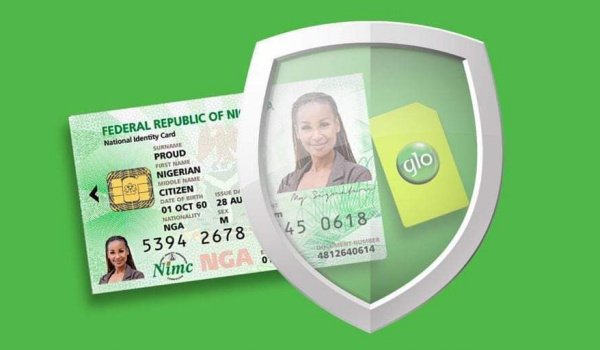 To make linking Glo lines to the National Identification Number convenient for Glo customers, there are four ways through which they can link their NIN to their SIMs. It can be done on the Glo website, dialing a special code, texting your NIN to a special number, or linking your NIN to your Glo number/s on the Glo Cafe app.
1. Register on the Glo Website
The steps to register on the Glo website involve visiting the registration portal here, filling up your information, and submitting.
2. Register on Your Phone
The second method is dialing *109*yourNIN# (for instance *109*90123456789#) and following the resulting prompts to submit.
3. Text Your NIN
The third way is to send a text containing only your NIN to 109. For instance, '90123456789' to 109. You will receive a reply which you are to follow. You could also send your NIN in this format "UPDATENIN NIN FirstName and LastName" to 109. For instance, send "UPDATENIN 12345678912 John David" to 109.
4. Register on the Glo Cafe App
Like the other telecom networks, you can also link your NIN to your Glo line on the app. Log in to the app or download and register on it if you don't have it already. You will be prompted to link your National Identification Number with easy-to-follow instructions.
The NIMC Mobile App
Aside from linking your NIN to your various mobile phone numbers to your NIN via their respective mobile applications, there is also the NIMC mobile app, which you can use to link your mobile phone numbers to your NIN all at once. You can download the android version of the app here.
Why You Must Link Your NIN to Your Phone Number/s
The Federal Government of Nigeria mandated every mobile user to link their National Identification Number to their mobile numbers and even gave deadlines for all to do so. On many occasions, these deadlines have been extended to allow more people to link their NIN. The recent deadline is on the 31st of October, 2021. Will the government embark on punitive actions at the expiration of the grace period? Well, we have to wait and see.
The directive to link NIN to SIM generated lots of controversies. Some claim the government monitors the people too much, while others say it's a waste of time since people have already registered their SIMs and the Bank Verification Number (BVN) system is already in place. But looking at it from an informed perspective, you can tell that the government has people's interests at heart. In the long run, the people would benefit from this scheme.
The high rate of kidnap for ransom, cyber-crimes, and fraud by people who claim to be bank staff was aided by the relatively loose security on telecommunications. To curb this menace, the government had to roll in this program. The government and its security agencies can easily identify scammers, thieves, kidnappers, and other criminal elements. On the other hand, criminals would think twice before using their mobile numbers to transact any illegal business.