Segun Arinze (born 24th September 1965; Age: 58 years old) is a Nigerian actor and singer. He is currently married to his wife, Julie Arinze, after his first marriage to actress Ann Njemanze crashed.
The now 58-year-old actor is a reminder of the golden age of Nollywood. The success Segun Arinze has enjoyed in his career as an actor is almost evocative of the growth the Nigerian film industry has enjoyed. However, asides from acting, Segun Arinze is also a singer, acting coach, film director, and producer. He has grown and is doing well in the Nigerian entertainment scene.
Summary of Segun Arinze's Bio
Full name: Segun Padonou Aina
Gender: Male
Date of birth: 24th September 1965
Segun Arinze's Age: 58 years old
Ethnicity: Yoruba/Igbo
Nationality: Nigerian
Zodiac Sign: Libra
Sexual Orientation: Straight
Religion: Christianity
Marital Status: Married
Segun Arinze's Wife: Julie Arinze (m. 2008), Anne Njemanze (m. ?–2010)
Segun Arinze's Children: 6
Siblings: 6
Segun Arinze's Net worth: $3.8 million
Famous for: Actor, Singer
Segun Arinze is a Lagos State Native
Segun Arinze was born on 24th September, which currently makes him 58 years old. He originally hails from Badagry in Lagos State, Nigeria. His mother is of the Igbo tribe, while his father is of the Yoruba tribe. Segun is the eldest child of his parent's seven children. But, not much information is available about his siblings' identity and what they do for a living.
Though a native of Lagos State, Segun is not a "Lagos boy." He was raised in the city of Onitsha, Anambra State; his maternal home by her parents, and that was where he had his primary education and obtained his First School Leaving Certificate. The name of his mother is Lydia Padonu, and she is a fashion designer.
For his secondary school, Segun Arinze attended Victory College of Commerce in Ilorin, Kwara State, and then moved to Taba Commercial College in Kaduna State, where he completed and got his West African Examination Certificate. Furthermore, he acquired his tertiary education at Obafemi Awolowo University, Osun State. Therein, he graduated with a Bachelor's Degree in Dramatic Arts.
Before He Became a Nollywood Actor, Segun Had a Thriving Career in Music
Segun Arinze's career first took off in music. After he graduated from the university, he professionally ventured into the entertainment industry as a musician. In 1992, he released his debut album titled Dream. Although the album didn't particularly give him massive success, it introduced him to the public and shot him into the limelight. Segun has since released a few other songs, including Your Turn, Moonlite Dance, The Mood, etc.
He Got His Big Break as an Actor in 1996
Not long after, he started singing, and while he was in Ilorin, Segun luckily got a role in a movie, Silent Night. In the movie, he played the role of Black Arrow and since then has been known by the nickname Black Arrow.
Silent Night is a 1996 Nollywood classic movie produced by late filmmaker Chico Ejiro. With this movie, Segun Arinze made it to the limelight as an actor and rose to prominence at the same time.
Furthermore, his role in Silent Night earned him a nomination at the Africa Movie Academy Awards for Best New Actor and Most Promising Act to Watch at Golden Icon Movie Academy Award. Segun Arinze has featured in more than 250 Nollywood movies. He mostly features in action thriller movies and is best known for playing the character of a criminal, assassin, terrorist, kidnapper, villain, and armed robber.
Segun has featured in movies alongside Nollywood actors, like Saint Obi, Gentle Jack, Jim Iyke, Genevieve Nnaji, Ramsey Nouah, Stephanie Okereke, and many others. He possesses great expertise in interpreting movie scripts and has won not only awards but many awards.
List of Segun Arinze's Movies and TV Shows
Lovers Day
Anini
Extra Time
Fragile Pain
Women in Love
Across the Niger
Darkest Night
To Love a Thief
Silent Night
Church Business
Chronicles
30 Days
The Complete Half
Family on Fire
Invasion
TATU
Vuga
An eye for an eye
Deepest Cut
Gold Statue
The Island Movie
Blood Sisters
Fine wine
Across the Niger
Blogger's Wife
Tanwa Savage
Cold feet
Who's the boss
A Place in the Stars
Merry men: The real Yoruba demons
Segun Arinze's Awards and Recognition
Over the course of his acting career, Segun has been severally recognized for his contribution to the growth of entertainment in Nigeria.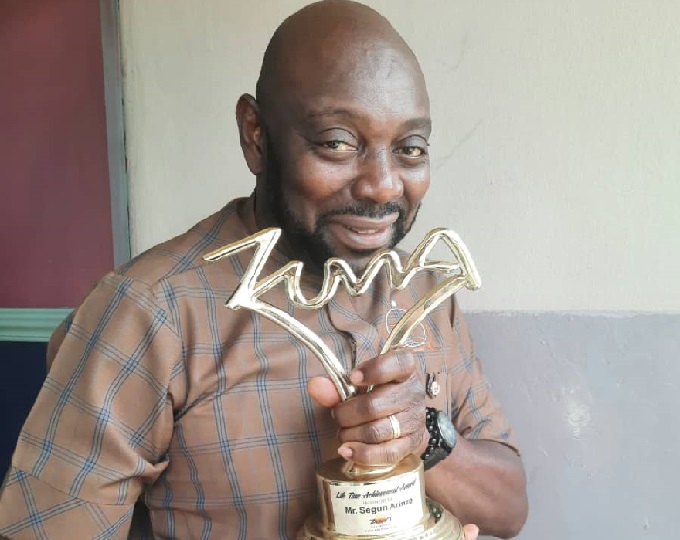 Segun works as an acting coach with the African international film festival
Former President of the Actors Guild of Nigeria (AGN)
He works as an entertainment consultant and voice-over artist
In 2016, he won a City People Movie Special Recognition Award for his outstanding contributions to the growth of Nollywood in Nigeria
Is Segun Arinze Still Actively Acting?
Yes! Segun Arinze is still active in the Nollywood industry and has not retired or quit his acting career. However, he is no longer commonly seen as he was used to before. Segun has remained very relevant in the industry, having diversified his endeavors into film production and directing. Hence, it seems he now focuses more on the latter rather than appearing on the screen.
Moreso, besides acting and production, Segun Arinze is an acting coach. He currently works with a prestigious African international film festival, where he uses his wealth of knowledge to train Nigeria's next generation of actors. He previously served as the national president of the Actors Guild of Nigeria (AGN).
Segun Arinze is Currently in His Second Marriage
Segun Arinze was previously married to a fellow Nollywood renowned actress Anne Njemanze but the marriage was shortlived. It is unknown which year they got married, but they finalized their divorce processes in 2010 and went their separate ways. But before the marriage crashed, the couple had a beautiful daughter Renny Morenike together.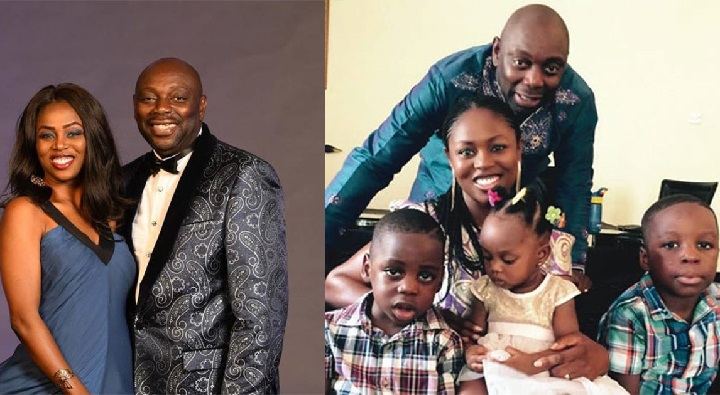 Two years before Segun officially divorced his ex-wife Ann, in 2008, he got remarried to his beautiful wife, and the marriage has been blessed with three lovely children; two boys and a girl. Simply known as Julie, Segun's wife is a native of Oguta in Imo State. She is said to be a lawyer and a staff at Schlumberger, Nigeria's multinational company. The couple, together with their children, have since been living happily.
He has a Total of Six Children From Three Different Woman
It is no longer news that the Nollywood veteran is a father of six children. Segun revealed during a chat he had with Thisday that he has six children (3 boys and 3 girls) from three different women, including his ex-wife Anne, current wife Julie, and another woman whose identity he did not disclose.
The names of his children with Julie are Ayo (born on 10th February 2011), Femi (2nd March 2012 in Texas, USA), and Victoria (25th August 2014 in America). Then from his ex-wife Anne, he has a daughter Renny and two other children (a boy and a girl) with an unidentified woman.
Renny was born on 10th May 1997 and is currently 26 years old. She graduated from the university in 2008 at the age of 21. Nothing is known about the two children he had with a different woman.