Kate Henshaw AKA Kate Henshaw-Nuttal (born 19th July 1971, Age: 52 years old) is a Nigerian actress, TV personality, politician, and fitness enthusiast. She is among the elite group of actresses who have significantly contributed to Nollywood's enduring reputation for creative excellence. The 52-the year-old award-winning actress has amassed an estimated net worth of $1 million over the years.
The mother of one celebrated her 50th birthday on 19th July 2021 in a grand style. At 50, she glows and is fit as a result of her fitness classes. Her daughter is not in the picture because she wants her to have a life away from the spotlight. Let's find out more about her and how she makes her money.
Profile Summary of Kate Henshaw
Full Name: Kate Henshaw
Date of Birth: 19th July 1971
Age: 52 years old
Place of Birth: Cross River State
Nationality: Nigerian
State of Origin: Cross River State
Education: St. Mary's Primary School, Ajele, Lagos; Federal Government Girls College, Calabar; University of Calabar; and School of Medical Lab Sciences, Lagos University Teaching Hospital (LUTH)
Occupation: Actress, TV Personality, Fitness Expert, and Politician
Marital Status: Divorced
Children: 1
Net Worth: $1 million
Kate Henshaw is From Cross River State, Nigeria
Born on 19th July 1971 in Calabar, Cross River, Nigeria, Kate is the oldest of four children. She grew up in Lagos State and Calabar, where she completed her primary and secondary education. Her parents, Etubong Etim and Therese Henshaw, are from the Henshaw royal family in Cross River State. Apart from that, nothing much is known about her parents and siblings, as she is not the type that flaunts her family life on social media. She does not want her popularity to affect the lives of her loved ones negatively.
She is a Medical Microbiologist
Kate Henshaw had her primary education at St. Mary's Private School, Ajele, Lagos. Her secondary education was at Federal Government Girl's College, Calabar. After her secondary education, she moved to the University of Calabar, where she spent a year studying remedial studies. She then joined the School of Medical Lab Sciences, LUTH (Lagos University Teaching Hospital) in Lagos, where she studied Medical Microbiology.
How Kate Henshaw Accrued Her $1 Million Net Worth
Like other Nigerian actors, Kate Henshaw makes money from her acting career, endorsement deals, and TV shows. In addition, she earns from her career as a politician. All these contribute to the estimated net worth of $1 million she enjoys today.
Kate Has a Career in Acting
She started her career in the Entertainment industry in 1993 when she auditioned for the lead role in When the Sun Sets. Her talent won her the role, which became her first appearance in a major Nollywood movie. Although her success wasn't immediate, it was from there that she created the actress she became and later evolved into a superstar. She has appeared in over 100 movies, including Aremu the Principal and Above the Death.
Kate Henshaw is one of the highest-paid Nigerian actresses. She was paid N30,000 for her first movie role in When the Sun Sets. As she mastered the art more and became perfect in it, her paycheques rose too. Although the exact amount she is paid per role is unknown, we can conclude that with her fame and contributions to the industry, she is one of the highly paid actresses. And her acting career, no doubt, contributed mainly to the wealth and fame she now enjoys.
List of Some of Her Notable Movies
Consequences
Do Good Series
When the Sun Sets – 1993
A Million Tears – 2006
Games Men Play – 2006
Show Me Heaven – 2007
The Meeting – 2012
Broken Tears – 2008
Fighting for Nothing – 2014
Chief Daddy – 2018
A Few Good Men – 2014
Scars of Womanhood – 2017
Broken Ambition – 2018
The Assassin's Practice – 2013
The Ghost and the House of Truth – 2019
New Money – 2018
4th Republic – 2019
The Wives – 2019
Awards and Recognitions
The increased exposure, acceptance, and recognition allowed Kate to witness massive growth in her career. As a result, she won distinctive awards and recognitions. Below is a list of some of her awards and recognitions.
Nominations
Actress of the Year in the 2016 Late Ambassador Segun Olushola NBMA
Best Actress of the Year (TV) in the 2016 Nigeria Entertainment Award
Best Actress in a Leading Role in the 2018 Africa Movie Academy Awards (AMAA)
Awards
The Africa Movie Academy Award for Best Actress in a Leading Role for Stronger than Pain in 2008.
In 1999, she won the THEMA awards for her role in When the Sun Sets.
Best Actress in the 2015 ZAFAA for her role in Iquo's Journal
The face of Nollywood English in the 2015 City People Movie Awards
She received the City People Movie Special Recognition Award in 2016
Best Actress in a Supporting Role in the 2017 BON Awards
Recognitions and other Achievements
In addition to her film award, the star has had considerable success as a reality TV show judge and has been honored by the Federal Republic of Nigeria.
She was once a judge on Nigeria's Got Talent and is "The Face of Onga." It doesn't look like she will take a break from the screen soon as she continues to excel at it.
She also produced documentaries for Lagos State tax advertisements and the Akwa Ibom State government.
Kate is the patron of one of the oldest orphanages in Lagos State, the Little Saints Orphanage.
She was named a judge on the New CBS global talent show, representing Nigeria as one of the international judges at The World's Best talent show.
She was honored in 2011 by the Nigerian Federal Government as a Member of the Order of the Federal Republic (MFR)
Before Acting, She Worked as a Model and Salesgirl
Before she started acting, while still in medical school, Kate Henshaw worked as a model and salesgirl at the International Trade Fair and Lagos motor fair. It was on one of her working days that she met JT Tomwest, who invited her for an audition. She attended the audition out of curiosity and eventually got the role in When the Sun Sets.
After school, she worked at the Quality Assurance Lab of the Nigerian Bottling Company, Ikeja. She also worked at the Bauchi State General Hospital. Later on, Kate worked as a Client Service Executive for Opa Williams. She didn't go back to practice her profession; instead, she continued acting until she got to where she is today. She does not miss her medical profession.
Kate Henshaw's Political Career Also Adds to Her Net Worth
At first, Kate revealed in an interview that she would not go into politics unless it were free and fair, as she did not have money to buy her way in. Later in 2015, she declared her intentions of going into politics. She wanted to represent Calabar Municipal, Odukpani Federal Constituency, under the Peoples Democratic Party (PDP) at the Federal House of Representatives. However, she lost the post at the primaries.
The actress-turned-politician was later appointed to be the Special Adviser, Liaison, Lagos, by the Governor of Cross River State. And in an interview in 2014, she revealed that she would be in politics for eight years. If she decides otherwise, we will find out when the time is right. Although what she makes from her career is unknown, it contributed significantly to her net worth.
The Actress Also Earns from Endorsement Deals
Endorsement deals come in different sizes and packages, and the prices are mouth-watering. Kate bagged a whole lot of them, and that has significantly contributed to her net worth. Here is a list of the companies she endorses.
Henshaw signed an endorsement deal with Onga Seasoning and became a brand ambassador of Onga.
She is a brand ambassador of  Globacom telecommunication company
A brand ambassador of Blessing's Perfume, UK
Brand ambassador of Samsung Mobile Nigeria
Ambassador of Action Aid Nigeria
Is Kate Henshaw Still Acting?
The actress made a name and fortune for herself through acting. But as it stands now, she is not fully into acting anymore. She still contributes to the movie industry once in a while, but she has not starred in any recent movie. She has not made it open that she has stopped acting. Therefore, we may see this as one of those breaks celebrities go for and later makes a big come-back. Until then, she works as a television show host, a judge for some reality TV shows, with Hollywood, a fitness expert, and a brand ambassador for some companies.
Kate Henshaw is a fitness fanatic. For her love of fitness, she spends quality time at the gym. She follows interesting fitness personalities on Instagram and has had to deal with fans who call her muscular due to her intense workout videos calling them ignorant. The fitness expert launched her YouTube channel KATESFIT4LIFE, where she posts videos of her fitness sessions for people to join the exercise from their homes. The channel has over 2.51K subscribers.
The Actress Enjoys Giving Back to Society
The veteran Nollywood actress has a thing for helping people, especially the less privileged. In 2015, she helped a girl who had breast lumps out with her operation bills. Before now, in 2008, she declared her intentions to partner with Project Alert. Project Alert is an NGO (Non-Governmental Organization) that fights for women in violence against women, widows, and young girls. She wanted to support women through the organization instead of flagging her charity organization.
She was married to Roderick James Nuttal for 12 Years, and They Had a Daughter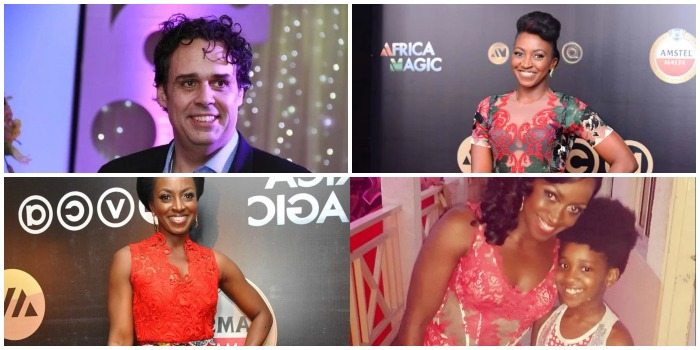 Kate Henshaw had one of the longest celebrity marriages in Nigeria. She was married to Roderick James Nuttal, after which she added Nuttal to her name. They got married in 1999. The couple was together for 12 years, but the union shattered in 2011. The actress has a daughter, Gabrielle Nuttall, with her ex-husband. Roderick Nuttal is the Managing Director of Ledrop Nigeria Ltd. The company is an agency for Jack Daniels and Piper Heidsieck Champagne. He has moved on with his life after their divorce and has remarried.
During her break up with her British husband, Kate was not in a hurry to share what went wrong. Some reports claimed that it was due to different cases of infidelity on Roderick's part. According to the speculations, Rod was making out with his secretary Angela Gordon. Kate, who was already suspecting that her ex-husband was cheating, unexpectedly came to his office – after she had earlier told him that she was going to Lekki – and caught them red-handed.
Other reports, however, claimed the divorce was a result of several cases of infidelity against Kate by her husband. Rod had accused Kate of having an affair with some famous people in both political and entertainment circles. Nobody is sure of what might have led to their divorce, but the ex-lovers have cited irreconcilable differences.
Kate, who shows a calm attitude towards her divorce, tries not to badmouth her previous relationship. According to her, there were some great moments in it, for which she remains grateful. She believes everything has its place and time; after all, nothing terrible happened to her in the course of the affair. Some people were harmed in relationships much more. Therefore, to her, everything that happened was for the better. She accepted this situation and has moved on with her life. To her, it is better to begin anew than try to right an old wrong. Therefore, she probably will love a new relationship than getting back with her ex-lover.
Is Kate Henshaw in any Relationship Now?
Some of the men who were pointed at for having an affair with the stunning actress included the former Governor of Rivers State, Rotimi Amaechi, former Governor of Cross River State, Donald Duke, and comedian, Bright Okpocha popularly known as Basketmouth (one of the funniest Nigerian comedians), amongst others.
Ayo Sonaiya, Chief Executive Officer of R70 Media in the United States, who owns a record label and artistes promotions outfit, was also reported to have dated the popular actress. However, there is no man in her life now. Currently, Kate has diverted her love from a man to her daughter, her fitness, and the less privileged.
The talented actress has many goals and dreams, so there was simply not enough time to throw a pity party for herself or get into a new relationship. One of such goals is to be fit and sexy as she is among celebrity single moms looking hotter than some single ladies. The presence or absence of a husband or boyfriend does not affect what kind of person she is and her ambition. According to the actress, not being in any relationship is just a circumstance and not what determines who she is or will become.
Kate's Daughter, Gabrielle Nuttal, is not Exposed to Social Media
Kate was more worried about her daughter during her divorce. Knowing that children suffer due to fights between parents, Kate became more concerned about her daughter during her divorce than she was for herself. To make it easier for the little one, who she says is one of her biggest achievements, she decided she would sacrifice everything to give her the best that she can.
She wants her daughter to have a quiet and normal life like other children. Kate has not brought her daughter into the spotlight because she doesn't want her to have a public life. She wants her to choose her path when she grows up.