Lagos State University (LASU) is one of the prestigious state universities in Nigeria. The university is located at Ojo and was founded by the enabling law of Lagos State in 1983. Established under the first executive governor of Lagos State, Alhaji Lateef Jakande, it was not until 1984, under the military leadership of group the captain Gbolahan Mudashiru, that the university started running. It began with 375 undergraduates, 200 pre-degree science (PDS) students, 55 academic staff, and 37 senior administrative staff.
LASU is one of the affordable state universities in Nigeria, and it has a large landmass and campuses to accommodate many students. The institution has four campuses: the main campus located at Ojo, Badagry Expressway; the second is for Faculty of Engineering, located at Epe; the third campus is for College of Medicine, located at Ikeja; and the fourth campus is located at Surulere, all in Lagos State.
Among the university's notable alumni are Chioma Chukwuka, Akpororo, Seun Akindele, Eniola Badmus, Ada Ehi, Ruggedman, Rukky Sanda, and Annie Macaulay-Idibia among others. If you wish to study at Lagos State University (LASU), here's all you need to know about the school, its admission portal, school fees portal, and course registration portal.
List of Faculties and Departments in Lagos State University (LASU)
The Lagos State University currently has over 40,000 students and many academic and non-academic staff. It runs academic programs for undergraduates, postgraduates, and distance learning programs. Aside from the School of Post Graduate Studies, it has 13 faculties, schools, colleges, and over 70 departments. In addition, the university offers certifications in 79 Entrepreneurial Courses. If you are looking for an institution with various courses, LASU is the place for you.
Below is the list of available courses for Undergraduate Admission to UNILAG
Faculty of Arts
Department of African Languages, Literatures and Communication Arts
Department of Religions
Department of English
Department of Foreign Languages
History and International Studies
Department of Philosophy
Department of Theatre Arts and Music
Faculty of Clinical Sciences
Department of Anesthesia
Department of Behavioural Medicine
Department of Community Health and Primary Health Care
Department of Surgery
Department of Medicine
Department of Obstetrics and Gynecology
Department of Paediatrics and Child Health
Department of Nursing
Faculty of Education
Department of Educational Foundations and Counseling Psychology
Department of Educational Management
Department of Human Kinetics, Sports and Health Education
Department of Language, Arts and Social Sciences Education
Department of Science and Technology Education
Faculty of Engineering
Department of Aeronautics & Astronautics Engineering
Department of Aerospace Engineering
Department of Chemical & Polymer Engineering
Department of Electronics and Computer Engineering
Department of Mechanical Engineering
Faculty of Law
Department of Business Law
Department of International and Islamic Law
Department of Jurisprudence and International Law
Department of Law
Department of Public and Private Law
Faculty of Management Sciences
Department of Accounting
Department of Business Administration
Department of Banking and Finance
Department of Insurance
Department of Industrial Relations and Personnel Management
Department of Marketing
Department of Management Technology
Department of Public Administration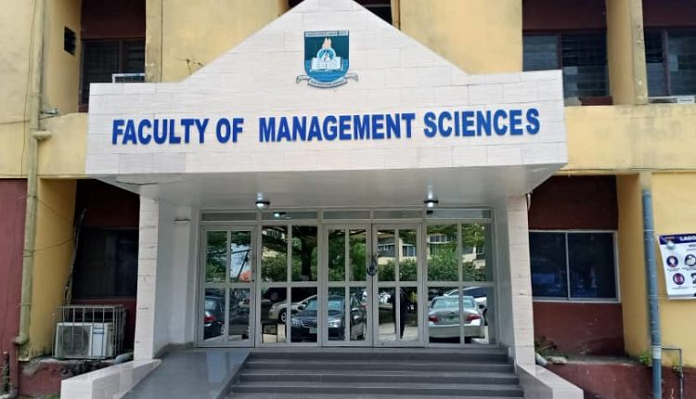 College of Medicine (Basic Medical Sciences)
Department of Anatomy
Department of Chemical Pathology
Department of Medical Biochemistry
Department of Hematology and Blood Transfusion
Department of Pharmacology
Department of Physiology
Department of Pathology and Forensic Medicine
Department of Medical Microbiology and Parasitology
College of Medicine (Dentistry)
Department of Child Dental Health
Department of Oral Pathology/Oral Medicine
Department of Oral and Maxillofacial Surgery
Department of Preventive Dentistry
Department of Restorative Dentistry
Faculty of Science
Department of Biochemistry
Department of Botany
Department of Mathematics
Department of Chemistry
Department of Computer Science
Department of Fisheries
Department of Microbiology
Department of Physics
Department of Zoology and Environmental Biology
Faculty of Social Sciences 
Department of Economics
Department of Geography and Planning
Department of Psychology
Department of Political Science
Department of Sociology
School of Communication
Department of Broadcasting
Department of Journalism
Department of Public Relations and Advertising
Department of Mass Communication
School of Agriculture
Department of Agriculture
Department of Agricultural Economics
School of Transport
Department of Transport Management and Operations
Department of Transport Planning and Policy
Department of Transport Technology and Infrastructure
Lagos State University (LASU) Admission and Students Portal 
The LASU admission portal is always open during the period of admission. Once admission is completed for the session, the portal closes. The Lagos State University admission portal is where so many purposes are carried out: admission list, forms, and all online admission is carried out there. Also, students' portal, school fees payment, and other student-related operations are found there. In fact, you can find all related information about Lagos State University in the portal.
Lagos State University offers admission to both UTME and Direct Entry students. In addition, it also offers admission to pre-degree and post-graduate students. If you are an aspirant of LASU, here's information on the things you need to apply for admission at the university. It is important to note that LASU does not accept second-choice candidates. If it is your dream school, you better make it your first choice.
Below is a List of the Requirements  for UTME Admission 
UTME are expected to possess the following to be considered for admission.
The candidate must be at least 16 years old at the time of application.
Five Credits in five different subjects in their O'level result, including English and Mathematics. The O'level may be either WAEC, NECO, GCE, or their equivalent. It is important to note that the institution accepts two sittings, and you can combine WAEC and NECO. But it does not accept two sittings for Medicine and Dentistry candidates; it must be in one sitting.
Candidates must purchase the LASU Post UTME form and score high in the examination.
The candidate must choose LASU as their first choice of institution.
Candidates must score not less than 190 in their UTME examination
The candidate must meet the stipulated cut-off mark of the course they applied for.
Direct Entry Admission Requirements
Direct Entry (DE) students must have five credits in five different subjects in their O'level, including English and Mathematics. The O'level may be either WAEC, NECO, GCE, or their equivalent. For added advantage, the candidate must have GCE A/L.
Candidates must possess a minimum of Upper Credit in their HND or ND. And candidates with distinction may have the edge over others.
Candidates must participate in the Post UTME exercise.
In addition, you are expected to meet the cut-off mark for the department and course you applied for to be considered for admission.
How To Use The LASU Admission Portal
Candidates who have successfully been offered admission into the university will proceed to the portal to pay the acceptance fee and other requirements. Candidates who are offered provincial admission in the Regular with Entrepreneurship Training will accept the admission offer with 50% commitment within a specified period of time.
How to Check Your Admission Status
Go to LASU admission portal
In the space provided, enter your JAMB registration number and your Surname
Click Login
Locate and click on the Admission Status icon
How to Pay LASU Acceptance Fee
Here is a step-by-step procedure on how to pay the Lagos State University acceptance fee.
Go to the LASU e-payment portal
Fill in your UTME Registration number

ID Type is Student/Alumnus
Fill the study type – Full-Time Undergraduate
Purpose of payment: Acceptance fee
Fill in your Current Valid Email Address
Input your valid phone number
Click submit

The next page will display your records and the amount you are to pay
Click submit and continue to the next step
Click on Make Payment. This will reflect the payment on remita platform

Pay with your card by following the instructions or
Pay at the bank by following the instructions.
Keep your RRR code and payment receipt safe once you have completed the payment on the portal. This payment and any other official payments in the university are made through this e-payment portal.
LASU School Fees 
The Lagos State University is one of the state universities in Nigeria with relatively low school fees. Their school fees have been increased and reduced many times. The state government is interested in keeping the school fees low so as to have more of their indigenes in school. Whenever the school increases its school fees, the state government interferes and reduces it.
Their school fees for new students range from the acceptance fee of N20,000 to the Medical Screening fees of N10,000. Returning students are to pay other fees apart from the acceptance fee. Unlike other universities in Nigeria, LASU's school fees do not vary from faculty to faculty. No faculty pays higher than others for any reason. It is important to note that LASU accepts payment by installments; you can either pay half or make the full payment.
Also, unlike other state universities in Nigeria, LASU does not give special treatment to indigenes; both indigenes and non-indigenes pay the same school fees. They receive some bursary sponsorship from the government, which is the same amount as their regular students' school fees. The Lagos State Indigenship Verification Commission (IIVC) is a body responsible for verifying the Lagos State University indigenes and qualifies them for the school fees bursary. In essence, the indigenes pay the same school fees amount as others but receive the school fees grant from the government through the school bursary.
More so, the school fees are not the same for regular students and special students. Regular students are those students who have not taken up any entrepreneurship training; they are called Stream 1 students. While special students are those regular students who have taken up extra entrepreneurship training, they are also called Stream 2 students. Consequently, special students pay a higher amount than regular students.
School Fees Schedule for the 2021/2022 Academic Session
The new school fees structure started with the 2019/2020 session. However, old students are to continue paying N25,000 until they graduate. Below is a list of school fees schedule for the 2021/2022 academic session for new students and returning students.
First-Year Students
Regular Student (Without Entrepreneurship Training) – N57,048.50
Special Students (Regular students with Entrepreneurship Training) – N150,000
Second-Year to Final-Year Students
Faculty of Arts – N57,048.50
Faculty of Social sciences- N57,048.50
Faculty of Sciences- N57,048.50
Faculty of Law- N57,048.50
Faculty of Basic Medical Sciences – N57,048.50
Faculty of Engineering- N57,048.50
Faculty of Education- N57,048.50
School of Clinical Sciences – N57,048.50
How to Pay School Fees in the LASU Payment Portal
Lagos State University uses an electronic payment portal to process all its fees. Any payment you make must start and end in the portal; any other means is not legal.
Below is a step-by-step procedure on how to use the LASU e-payment portal
Go to the e-payment portal
Click on the type of payment you want to make. For undergraduate school fees payment, click on Undergraduate
Input your matric number or Jamb reg number if you are a new student
Choose payment, i.e., Full-time Undergraduate Debt
Click continue
Review your entry details and fill in any required details
Click on "Generate your RRR"
Copy and print the RRR invoice page
Click on "Make Payment"

when the remita portal opens, review your payment details. If there's a mistake that needs to be corrected, start all over again from step 1

Click on Submit if all details are correct
Then enter your card details and complete the payment.

Be sure to print the receipt or proof of payment once the payment is completed.
LASU Course Registration Portal
In every state and federal university in Nigeria, courses are registered online and manually. Online course registration is a prerequisite to writing examinations. The LASU courses registration portal is a place where LASU students register their courses online. To access the course registration portal, you must have paid your school fee, either full or part payment. You register fresh courses online; you can also add and drop courses in the portal if need be.
Before proceeding with the online course registration, you must make available the correct courses for the semester and their unit loads. Find out the compulsory courses and the electives in order not to make any mistakes. Then proceed to the course registration portal.
Step-by-Step Procedure on How to Register Your Courses in the LASU Portal
Go to the school website
Navigate to Student Services
Click on Undergraduate Registration
Choose course registration

It will lead you to index here

Enter your Matric Number, Surname, and submit
Click on course registration
Click on the departmental page and open the approved courses
Choose your courses and cross-check before submitting
Then print acknowledgment slip as your proof of course registration