Eniola Badmus is a Nigerian actress, script writer, and a social media influencer from Ogun state born on September 7, 1976, and currently aged 46 years old. She gained public attention in 2008 following her appearance in the movie Jenifa.
Eniola Badmus is not the regular average Nollywood actress, her talent obviously speaks for her. The big and bold actress has made a name in both Nollywood Yoruba and English movies and this didn't happen overnight. "Enibad" (as she is fondly called by her fans) first trained as a theatre arts student before getting started as an actress. Even at that, she had to sojourn for close to a decade before she had her big break in the industry.
Eniola Badmus Bio Summary
Full Name: Eniola Badmus
Nick Name: Enibad, Gbogbo Bigz Girl
Date of Birth: September 7, 1976
Age: 46 years old
Place of Birth: Lagos State
State of Origin: Ogun State
Ethnicity: Yoruba
Nationality: Nigerian
Religion: Christianity
Occupation: Actress, Radio Personality
Net Worth: $2.5 million
Height: 1.75M
Eye Color: Dark Brown
Hair Color: Black
Eniola Badmus Is From Ogun State But Grew Up In Lagos State
Eniola Badmus was born on September 7, 1976, in the Center of Excellence in Nigeria, Lagos State, but she hails from Ijebu Ode in Ogun State, in the Western Region of Nigeria. While details about Eniola's mother are yet to be uncovered, we know of her father whose name is Pa. Olalekan Badmus Ogunsina. He died of natural causes on March 2, 2020. His last words to Eniola were prayers he made to her on his death bed, just before he gave up the ghost.
Eniola is the first of two children of her parents. Her younger sibling is Oluwatomisin Badmus. She goes by Tomi Badmus for short. Her identity was unveiled by the star actress who could not help but sing her sister's praise during one of her birthday anniversaries. Tomi is a graduate of the University of Lagos. She is not into acting or any form of entertainment and therefore is in no way famous like her big sister is.
She grew up in Lagos and had all her basic education there. Upon completing her secondary school education, she moved to Ibadan, in Oyo State where she studied theatre arts at the prestigious University of Ibadan (UI). After obtaining a BA in theatre arts, she moved to Lagos State University (LASU) for a second degree, this time, in Economics.
She Began Acting Over Two Decades Ago
The star we know today as "Enibad" is one of the many actresses who figured out their acting talent in their early years. To further prepare herself for the career, she opted to study theatre arts at the university. And it did not take long before her dreams came to fruition. While it is not clear where the actress had her first work experience before starting her acting career, apparently, she joined the Nigerian movie industry in the year 2000.
With her mind preset on pursuing her dream of becoming a professional actress, Eniola Badmus knew all she had to do was to focus on her ambitions. To show how committed she was to become an actress, she immediately registered under the Nigerian movie industry shortly after she graduated from school.
After Eight Years, She Had Her First Major Career Success
Eniola Badmus got her first acting role in 2000 but it was only a minor one. She continued to take on more minor roles until 2008 when she hit the spotlight with a major role in Funke Akindele's Jenifa. It was from here that she earned the nickname "Gbogbo Bigz Girl". Her role in Jenifa did change her career from that moment onward.
The year 2008 was indeed her breakthrough year. Just after starring in Jenifa that helped kick off her impressive acting career for good, she also starred in the Omo Ghetto franchise which was the sequel to the 2010 trilogy film Omo Ghetto. Enibad's role as "Busty" in the gangster comedy film helped to cement her breakout in the Yoruba movie segment of Nollywood. The actress is still maintaining her role in the second film of the Omo Ghetto franchise co-directed by Funke Akindele and JJC Skillz.
Jenifa and Omo Ghetto movies were pivotal in Eniola Badmus' rise to fame in the Nigerian movie industry. And even till now, she still receives loads of recognition for her roles in both films. Both films can very much serve as her best works so far. The Omo Ghetto 2 (also known as Omo Ghetto: The Saga) stands out as the highest ever grossing film in the Nigerian film industry with over ₦468 million at the box office, as of January 2021
Upon making huge success in the movie industry, Eniola Badmus has gone ahead to feature in a lot more Yoruba and English-speaking films. So far, she is said to have starred in more than 200 movies over the course of her just over 2 decades acting career.
Eniola Badmus' Most Notable Movies
Jenifa
Omo Ghetto
Village Babes
Blackberry Babes
and Mrs. Ibu
Police Academy
Ghetto Bred
Oshaprapra
Omo Ghetto the Saga
Funke
Eniola Badmus Is A Multiple Award Winning Actres
It is only natural that when one is doing well in any profession, the good work gets recognized and that individual receives accolades for a job well done. Eniola has so far been an exceptionally talented Nigerian movie sector and she sure deserves some accolades for her hard work. So far, the actress has been nominated for a total of seven awards and she has won four.
Best Crossover in a Film at 2011 Best of Nollywood Awards.
Best Actress of the Year (Yoruba) at the 2014 City People Entertainment Awards.
Best Comedic Act at the 2015 Golden Icons Academy Movie Awards.
Best Actress in Africa at the 2015 Black Entertainment Film Fashion Television and Arts.
Her Brand Endorsement Deals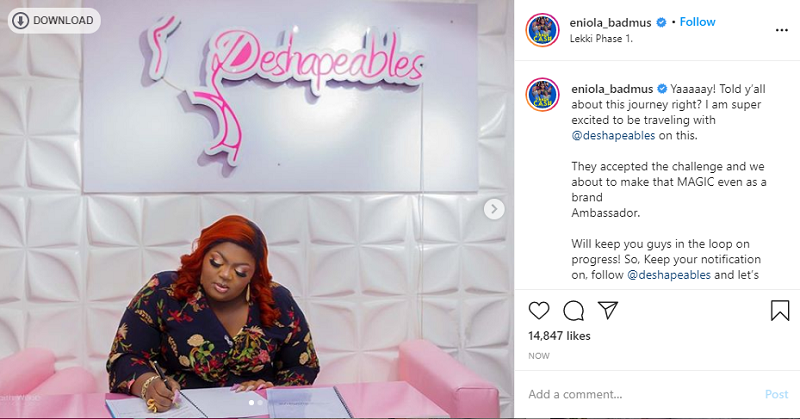 Aside from movie roles, endorsement deals are part of the ways celebrities like Eniola Badmus flex their muscles. To think of it, the bold and beautiful actress has a handful of deals. One of her latest was signed in July 2020, she bagged the deal with weightloss company "Deshapables". This came after she called out weight loss companies that claim major body transformation within a short period to stop using lanky people to advertise weight-loss food, pills, e.t.c. Instead, she said they should use people like her. Accepting the challenge, the weight loss company "Deshapables" signed a deal with her and she promised to give updates on how effective the product is.
In another feat, Eniola Badmus became an ambassador for the Lagos State Waste Management Agency in April 2021. Her appointment as the agency's ambassador is aimed at improving the state's environmental agenda and also using her image as a familiar and favorite face on TV to win the support and compliance of the people in keeping sanitation laws.
In summary, Eniola Badmus has signed endorsement deals with the likes of –
Indomie
Peak Milk
Western Lotto
Deshapables
 Ritefoods
Lagos State waste management agency (LAWMA)