Peter and Paul Okoye, also popularly known as P Square are Nigerian R&B duo of identical twin brothers, famous for their talent for singing and dancing. They produce and release their albums through Square Records managed by their elder brother, Jude Okoye.
In December 2011, they also signed a record deal with Akon's Konvict Muzik label and in May 2012, they signed a record distribution deal with Universal Music South Africa.
 Biography, Age
Paul and his twin brother Peter were born on November 18, 1981, in Anambra State, eastern Nigeria, and they grew up there for a while before their parents decided to move to Jos, Plateau state, Nigeria. The two are natives of Ifite Dunu, Anambra State of Nigeria. They had their basic education at St. Murumba Secondary School, a Catholic school in Jos where Peter and Paul joined the school music and drama club. They began singing, dancing, and mimicking songs by MC Hammer, Bobby Brown and Michael Jackson.
Music Career History
Their artistic talent and precise dance routine soon made them household names in the city of Jos, where they performed at school functions and other occasions.
Later in 1999, Peter and Paul attended music school to develop their skills on the keyboard, drums, bass and rhythm guitar. Their work includes the soundtracks for a number of films like Tobi, Mama Sunday, Moment of Bitterness and Evas River.
P Square also enrolled at the University of Abuja in the later part of 1999 to study Business Administration. The Smooth Criminals which was originally made up of 5 performers including Peter and Paul disbanded when its members left to various other universities.
Subsequently, Peter and Paul formed their own group called "Double P", "P&P", and "Da Pees", until they eventually settled on "P Square". They were initially managed by Bayo Odusami aka Howie T, a seasoned concert promoter and the CEO of Adrot Nigeria Limited.
Career Take Off (2001 – 2003)
In 2001, "P Square" won the "Grab Da Mic" competition, and hence, Benson & Hedges sponsored their debut album, titled Last Nite, which was released under Timbuk2 music label. They were also nominated as "Most Promising African Group" in the Kora Awards three months after the release of their debut album. They eventually won the 2003 Amen Award for "Best R&B Group"
2005 – 2010
P Square relocated to Lagos In 2005, they released their second album, Get Squared under their own label, Square Records. This album was marketed nationwide by TJoe Enterprises, although they were still managed by Howie T of Adrot Nigeria Limited.
P Square released their bestselling album so far Game Over late 2007 which sold over 8 million copies worldwide, followed by their fourth studio album, Danger released in 2009.
The album features collaborations with 2 Face Idibia, J Martins and Frenzy. The first single called "Danger" is a hip-hop song with cutting synths and a frog bass baseline similar to an Eminem song.
2014 – 2016
P Square released a single track featuring the top American Artist T.I on August 29, 2014 – which went viral on TV & Radio stations as well as the internet. Double Trouble was also released on September 14, the same year.
On 24 February 2016, News of how Globacom decided not to renew its Ambassadorship deal with the duo, albeit renewing the contract with other Ambassadors, broke out. This was as a result of a fallout between the company's representatives and Peter, one-half of the P Square twins, during the grand finale of the Dance with Peter talent hunt show.
Family Controversy and Latest News
P Square had hinted at their separation following a rift between the brothers since 2015.
Their music career has often been referred to as a family business as they hired their elder brother Mr Jude Okoye to be the group's manager. Peter, who recently announced his break up from the group in an interview, initiated another name, Mr P, while Paul took that of 'Rudeboy.'
During the interview, Peter informed the media that he has fired Mr Jude for his inability to give the group a proper brand and structure. The brothers also had differences in opinion regarding what Peter perceived as lopsidedness in the individual input of songs which was getting featured on their joint albums with Paul getting a lion share of his songs selected.
The fact that the duo shared all their career revenues equally with brother and manager, Jude, did not go down well with Peter. According to him, managers get 15% – 25% of an artist's income, therefore the same should apply to Jude.
Although, Jude had openly tweeted that he has stopped managing P Square, on March 17, 2016 (quote: "Please i stopped being Psquares management for over a month now (for the 4th time). Let me be at PEACE. Thank you"), Peter still keeps an open mind the P Square might get back together.
Fans and well-wishers of the P Square brand also wish the same.
P Square Net Worth, Private Jet, House
Prior to their official breakup, the music duo was among the top powerful celebrities in the country. Before their separation, the duo occupied the number one spot as richest musicians in Africa with a net worth of over $150 million and over $150,000 per show in Africa.
In 2010, P Square was named Artist of the Year at the Kora Awards in Ouagadougou, Burkina-Faso while the brothers were in London for a concert at the Troxy. They received a sum of $1 million as the award winners, in Ebibiyin City. They became Globacom Ambassadors for their sponsorship with 'DancewithPeter' (a talent hunt) TV Radio entertainment programme and were given Range Rover SUVs.
The twins also earn hugely from contracts, music downloads, different ads, and others, thus, they live a very luxurious lifestyle with different car brands and houses. One of their cars is Hummer Jeep H2 which is worth $120,000. In 2014, they bought a house in Atlanta, adding up to their list of landed properties in various cities in Nigeria including Jos and Port Harcourt. They also have a mansion worth N750 million in Lagos. The twins also bought houses next to each other in Atlanta, USA.
Among their list of luxury possessions is the announcement of their newly acquired private jet. The singing duo reportedly bought the private airbus from an undisclosed Arabian and it's worth several millions of dollars.
Read Also: Phyno Biography, Age, Net Worth, Dating, Girlfriend, Married
Personal Life
P Square – Peter and Paul Okoye – are both married, each with kids. Peter got married on November 17, 2013, to his longtime girlfriend, Titilola Loretta Omotayo – a marketing representative.  Lola met Peter in Enugu while the P square music group was still starting. The couple now has two kids; son Cameron and daughter Aliona. Cameron was born in 2008 before their wedding in 2013.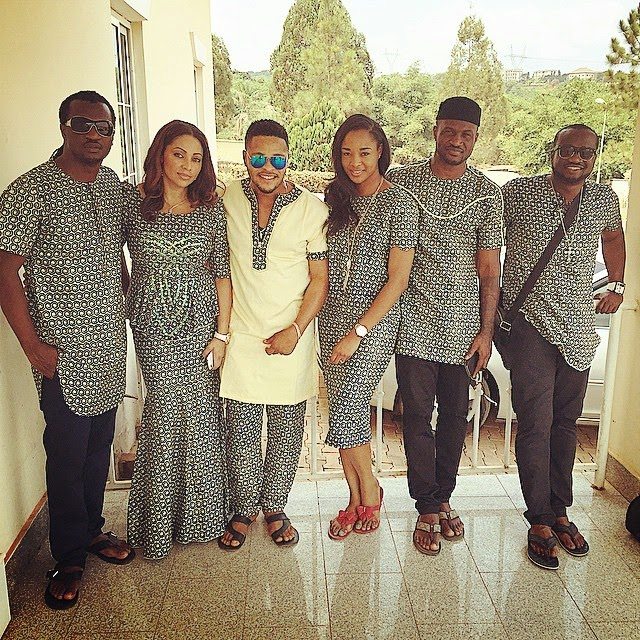 On March 22, 2014, Paul Okoye got married to Anita Isama whom he met in 2004 while attending school in the University of Abuja. They have a son Andre.