Since their split, Mr P has released 9 singles and one album and has a net worth of about $11 million while Rudeboy has released 8 singles and 2 albums, and has a net worth of about $16 million. This brings their combined net worth to $27 million with Rudeboy being the richer of the duo. 
The defunct singing sensation consisting of twin brothers Peter and Paul were a force to reckon with in the Nigerian music industry. They took the game to great heights bringing joy and melody along. Unfortunately, for some reason, the duo had to go separate ways in 2017 as the rope could no longer tie the broom. They took different stage names; Peter opted to be called Mr P, while Paul went with the solo name Rudeboy. They have since prevailed in their solo careers.
Many of their fans hoped for a day when the two will reunite and come out with fresh hits and some long-awaited collaboration with artists like Usher Raymond. Sadly, that day never came, and we are forced to accept that there is no redemption for P. Square. Let us see how well they are doing as solo acts and the richest of these two.
Rudeboy or Mr P – Who is More Successful As a Solo Artist?
After their infamous split in 2017, they went separate ways. The journey to fame has not been an easy one, but they have taken up the baton and are heading for the finish line, which is out of sight. They both have worked hard to prove themselves against all odds that they can survive even while walking alone.
Mr P
Mr P is the group's dancer, and there were several concerns if he would make it as a solo artist. However, on 20th October 2017, he officially released his debut track titled "Cool it Down," the track was welcomed with great enthusiasm, and his second track, "My Way," was so successful it was No 1 in the UK top 40. In April 2021, he released his long-anticipated album "The Prodigal," which is a mind-blower. For the records, Mr P was the first to release a solo track after the split from P. Square.
Discography of Mr. P include
Singles
Cool it Down (2017)
For My Head (2017)
Ebeano (2018)
Zombie (2018)
Wokie Wokie (2018)
My Way (2018)
Too Late (2019)
One More Night (2019)
Karma (2019)
Albums 
Odo
Paloma
I Do
Boyfriend
Just Like That
I Love You
I No Like Trouble
Prodigal
Smooth Criminal
Blessed
Lola Diego
Grow Old
Eh Lo
Nobody
Fly Away
Follow My Lead
Collaborations
Mr P has featured artists such as Niniola, Nyanda of Brick and Lace, Teni, Patoranking, DJ Switch, Simi, Wande Coal, and Tamar Jackson. He has had concerts in Europe, Canada, and America, and it was a life-changing experience for him. He is quoted to have stated how he enjoys his solo career, saying it gave him more money and allowance to work as he likes.
Rudeboy
Rudeboy is the singer of the defunct P. Square. He has a sweet voice that will put angels to sleep while they snore on top of their voices. He waited several months to see if there was a chance to reconcile with his brother, which never happened; Rudeboy had to move on, for the past is not where to get stuck. His genre of music includes Afrobeat, Dancehall, R&B, and Hip Hop.
On 20th November 2017, Rudeboy released his debut single "Fire Fire," and he later released "Nkenji Keke." These tracks were an instant success as they proved that he still had the juice. On 19th September 2020, he released the critically acclaimed track "Reason with Me," which got over 20 Million views on YouTube.
His discography includes:
Singles
Features
Album
Rudeboy Hits Vol. 1 2020
Together
Reality
Chizoba
Double Double
Woman
Collaborations
He has worked with other top Nigeria and international artists, including Sarkodie, Phyno, Yemi Alade, Olamide, Akon, Nasty C, Demarco, Harry Song, Reminisce, and Star Signs.
Rudeboy or Mr P, Who Has More Endorsement Deals?
Peter Okoye, professionally known as Mr P, is a Nigerian singer, instrumentalist, Television personality, songwriter, social activist, and dancer. He is the eldest of the twins, and he has an estimated net worth of about $11 Million. He makes money from music, tours, and his numerous endorsements.
The singer has endorsement deals with Merrybet, Adidas, Kia Motors Nigeria, Nutricima, MTN Yello, Glo Nigeria, Olympic Milk, and Skols. He also owns a Football Academy and a dance TV show called Dance with Peter. Mr P has houses in choice locations like Banana Island, Lekki, and Ikoyi. He is also a big fan of cars and has cars like Range Rover, Mercedes Benz G Wagon, Porsche 718 Cayman, Jeep Wrangler, amongst others, in his formidable collection.
Paul Okoye, professionally known as Rudeboy, was the second half of P-Square and younger brother to Mr P. He is a singer, songwriter, and record producer. With an estimated net worth of about $16 Million, he makes his wealth from music, concerts, and endorsement deals. Rudeboy is the founder of Fire Department Inc, a record label he established in 2019.
His major endorsement deal is with beverage giants Coca Cola worth millions. He has beautiful houses in choice locations like his brother in Ikoyi, Banana Island, and Lekki Phase 1. He also has a fleet of cars, including a Range Rover Vogue, BMW X6, Mercedes Benz C Class, Jeep Wrangler, Lamborghini Aventador Roadster, and Lamborghini Huracan.
Obviously, they did well as a group and are doing well as solo acts. However, fans still hope for the possibility of their return/reunion to get the band back to work.
A Look At Who is Richer Between Mr P and Rudeboy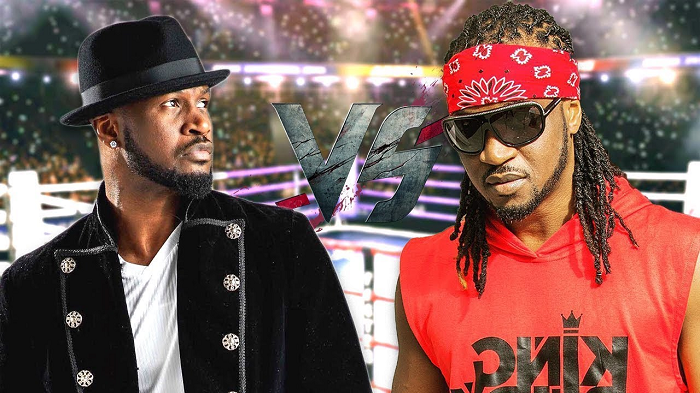 The two artists have done well for themselves, as can be noted by the number of tracks they both have released so far. However, it is worthy to note that the track "Reason with Me" by Rudeboy resonates with the fans the most. The song entails how ladies go after money, not minding if their man has potentials; when shit hits the fan, and the man succeeds in life, they want to return as if they kept a position for themselves.
Interestingly, Rudeboy has the most popular songs amongst the two of them, i.e., "Reason with Me, Audio Money and Woman," compared with "Wokie Wokie, Too Late and One More Night." However, Mr. P has more endorsement deals than his brother, and he has produced more tracks than his brother Rudeboy. He started producing music before his brother.
They both have record labels that they are in charge of; Mr P has P. Classic records while Rudeboy has Fire Department Inc. Little is known about their investments outside music, but Paul is in the Real Estate business. With all that said and a net worth of about $16 Million, it is safe to say that Rudeboy is richer than his brother, Mr P, whose net worth is $11 Million.