Yemi Alade (born 13 March 1989), is a Nigerian singer, songwriter, actress, and activist who gained public attention in 2009 when she won the Peak Talent Show. She is best known for her 2014 hit single "Johnny".
With over 14.8 million social media followers and fans hovering over her social media handle, Yemi is a darling and a delight to behold among her fans across the African continent and beyond.
The pretty and talent-driven singer has made an indelible mark in Nigerian Afropop music as she is highly appreciated and loved within the Nigerian entertainment scene. The Shekere singer announced her entry into the Nigerian music industry for the first time in the year 2009 when her incredible talent won her an award in the Peak Talent show. She has since then become widely known and highly influential with as many as five hit albums to her credit.
Biography and Profile Summary of Yemi Alade
Name: Yemi Eberechi Alade
Date of Birth: 13th March 1989
Age: 34​ years old
Place of Birth: Abia State
State of Origin: Ondo State
Nationality: Nigerian
Parents: James and Helen Alade
Education: Victory Grammar school Lagos
Alma Mater: University of Lagos
Occupation: Singer, Songwriter, Actress
Genre: Afropop, R&B
Record Label: Effizzy music Universe music
Net Worth: $5 million
Yemi Alade Is Of Mixed Ethnicity
Yemi Eberechi Alade was born on 13th March 1989 to parents James Alade and Helen Uzoma in the eastern state of Abia, Nigeria. Yemi is of mixed Yoruba and Igbo ethnicity. Her father James Alade is a native of Ondo State, in the Western part of the country. He was quite prominent in the past as he is a former Commissioner of Police. Her mother, on the other hand, hails from Abia State in Eastern Nigeria.
Yemi happens to be the fifth child in the family of seven. She was raised along with her siblings under a peaceful family environment of love and strong bonds, created by her parents. Though she was born in Abia State, the singer spent a better part of her childhood and teenage years in Lagos. Owing to the fact that the singer speaks and sings both in Yoruba and Igbo languages, many of her fans seem to be confused as to whether she is an Igbo woman. To clear the air on this, Yemi Alade is of mixed ethnicity and this explains the mystery behind her unique ability to easily surf between these two dominant Nigerian languages fluently.
Who Are Yemi Alade's Siblings?
As we mentioned earlier, the singer is the fifth child in a family of seven. She has four brothers and two sisters. Not much is known about her siblings or their whereabouts or endeavors. However, about two of Yemi's siblings are known by some people. We have not confirmed this, but a certain Jessica Ejiofor whose social media handle we're yet to get is said to be a sister to the singer.
Also, Yemi is said to have a brother in the Nigerian Police Force. His name is Durojaiye Alade. Mr. Durojaiyei is a younger brother to the singer. Taking after their late father, he is an officer of the law and reportedly holds the position of Assistant Superintendent in the police.
The public got to see Yemi's siblings during the burial of her father who died of stroke years back. A family photo that included all her family members surfaced online that period and it was then that the public saw that the singer is one of the youngest. Yemi Alade on her mother's birthday in October 2021 also posted a photo of her with her mother and some of her brothers.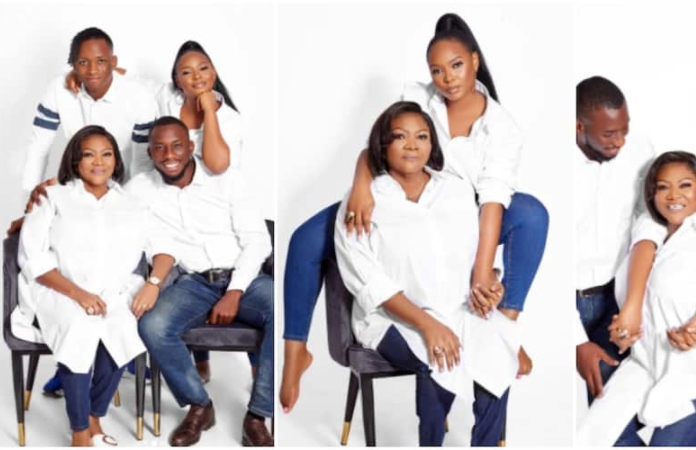 Her Multi-Ethnic Background Helped Shape Her Into The Versatile Act She Is Today
It is true that Igbo and Yoruba are among the most dominant languages in Nigeria. Be that as it may, Yemi Alade has been able to leverage her multi-ethnic background in her journey to fame. She is often referred to by her close associates as the Igbo-Yoruba girl and this tag to her name only inspired her to do more exploits with her god-given talent.
Miss Alade's mixed identity afforded her an added advantage to excel in the Nigerian music industry by widening her horizon through doing a mix of the two languages in her songs. Also, she has made a great impact both in Yoruba and Igbo communities through her music as well as in Africa and beyond. It is also interesting to know that the Shekere Singer also sings in other languages such as French, Swahili, and Portuguese. She was able to do this after touring countries that speak the languages.
Yemi Alade Started Her Music Career At the Age of 20
Upon her graduation from secondary school, Yemi gained admission into the prestigious University of Lagos. Although she had her mind focused on music, she still gave attention to her education and later bagged a degree in Geography. Little wonder, many of her fans have always noticed the positive influence of her education on her musical career.
The queen of Afropop has always loved music. From an early age, she would write about everything life brought her way, as well as other constructions from her deepest thoughts. She would later start her music career in 2009. That year, she participated in and won the Peak Talent Show which earned her wide recognition in the entertainment industry. With this win, she started to gain momentum and soon got signed to a record deal with Effizzie Music Group where she got to harness her potentials and rise to great heights.
Her Hit Song "Johnny" Brought Her Fame and She Became A Household Name
The career progression of Yemi Alade took a positive turn in 2013 upon the release of her hit single "Johnny". The track became a huge success, as it was one of the most played songs of that year. It also topped most music charts across the country. This spontaneously thrust her into fame and made her a household name.
Johnny was released as the lead single of the singer's debut album, King of Queens, officially released in 2014. The song which was comedy themed was produced by Selebobo and directed by Clarence Peters and had appearances by popular stars like Bovi, Alexx Ekubo, and Beverly Osu. Yemi Alade went ahead to release the French version of the same track and became the first Nigerian artist to do a song in French.
Johnny subsequently became the most viewed on YouTube and earned the singer two major award nominations, Best Pop Single and Song of the Year at the prestigious Headies Awards.
Yemi Alade Has So Far Released Five Albums and Two Extended Plays
It is interesting to know that today, the Afropop diva prides herself with five groundbreaking albums, making waves online and offline. Yemi's debut studio album which included the popular 'Johnny' was released October 2, 2014, and was tagged King of Queens. It was a massive success as it got the professional touch of several well-known producers and artists in the likes of Young D, GospelOnDeBeatz, Phyno, and Chidinma among others. Also, she promoted the album through music tours across Africa, and the album was said to have sold over a million copies.
Yemi later dropped her second album, Mama Africa, on 25th March 2016. The inspiration behind the album is to portray the strengths and weaknesses of women in Africa. It also featured different famous African artists and was equally a hit album. Mama Africa which was a massive hit was produced by GospelOnDeBeatz, Selebobo, Coublon, Philkeys, BeatsByEmzo, Mr. Chidoo, Mastercraft, and Rotimi Keys. It had amazing tracks like "Na Gode", "Ferrari", "Kom Kom", "Do As I Do", "Africa", and "Tumbum".
A year after the release of Mama Africa, Yemi Alade thrilled fans with yet another album, Black Magic, which dropped on December 15, 2017. The album also came with more added African vibes. On a different scene, Yemi made history in 2019 by becoming the first African female artist to reach 1 million YouTube subscribers.
Ms. Alade further released two more incredible albums; Woman of Steel that dropped on 30th August 2019 and featured the American hip hop star Rick Ross and other African stars. It was followed by her fifth studio album Empress, released on November 17, 2020, amidst the Covid-19 pandemic that had plagued Nigeria, as well as the whole world.
The ace singer went on to wow the public with yet another body of work in 2021. On August 13, 2021, Yemi Alade released the Extended Play Queendoncom. The album had the following captivating tracks: Ogogoro, Sweety, Ella, Ike, Dada, Fire, and Enjoyment. It has been an interesting journey for Yemi and she has clearly shown that there's no stopping her.
'Shekere' Featuring Angelique Kidjo Was A Big Hit For The Renowned Singer
Included in her Woman of Steel album is "Shekere", a powerful track that she recorded with Angelique Kidjo. Due to her love for Africa, Yemi Alade finds pleasure in collaborating with African stars. Her hit song Shekere was one of such collaborations. The Afropop goddess featured the Beninese veteran artist on the track that was produced by DJ Coublon. Yemi has admitted to being inspired by Kidjo, which is the motive behind the collaboration.
For Shekere, the singer and songwriter showed that she is not called Mama Africa for nothing. Drawing inspiration from different African cultures, Yemi Alade went native as she adorned herself with costumes that represented the Maasai tribe of Kenya. The video was also shot in Kenya and saw Yemi transform into a dance goddess as she combined different African dances.
The song is a remix of Kidjo's legendary track "Wombo Lombo". Reports have it that Shekere was made after the multiple Grammy award-winning Kidjo requested that Yemi Alade reworks her masterpiece. The renowned Nigerian Afropop star who has always admired Kidjo from childhood jumped at the opportunity to do a song with her. The collaboration as we saw, was a huge success and equally amplified the Woman of Steel album.
One of the highlights of the aftermath of Shekere's release was when Yemi Alade gave an outstanding performance of the song at the "Global Goal: Unite for Our Future" concert on June 27, 2020. The virtual concert which was a form of campaign for communities affected by the covid-19 pandemic also saw the performance of A-list stars like Shakira, Miley Cyrus, Jennifer Houston, Justin Bieber and Quavo, and many others.
The 34​ Year Old Singer Has Numerous Awards and Recognitions To Her Name
The bare fact that Yemi Alade is one of the most recognized Nigerian female artists cannot be overemphasized. Therefore, it is not out of place to say that the talented singer has so far garnered as many awards and nominations to last her a lifetime. In fact, she has become such a regular face on the red carpet that there is no single musical award event in Nigeria that she has not been listed in one category or the other.
Yemi has her craft, her drive, and her passion to thank for where she has gotten so far. To mention a few, here is a list of some of her awards:
 MTV Africa Music Award: Best female artist twice in 2015 and 2016
The Headies: Best performer thrice – 2017, 2018, and 2019 consecutively.
Afrima award 2015, 2018: Best Female Artist in West Africa and Best female artist respectively.
Independent Music Awards: Best Album world beat 2016.
The Headies: Hip hop world revelation of the year 2015.
Similarly, Yemi Alade has a long list of nominations. Notable among them include
Best African Act – MTV Europe Music Awards 2015
Best International Act Africa – BET 2015
Artiste of the Year – African Muzik Magazine Awards (AFRIMMA) 2019; The Headies 2015, 2016
Best Live Act – AFRIMMA 2019
Best Female Western Africa – AFRIMMA 2019
African Artiste of the Year – Soundcity MVP Awards; 2016, 2018, 2019, 2020
Digital Artiste of the Year – Soundcity MVP Awards; 2017, 2018, 2019, 2020
Others include nominations at Net Honours, ELOY Awards, MOBO awards, YEM awards, etc. Without any doubt, it could be clearly seen that Yemi Alade is a determined woman who against all odds has risen into greatness as an inspirational singer as well as an epitome of success in the Nigerian music industry, serving as a role model and mentor to vulnerable African women.