Teni (born on December 12, 1992) who is now 30 years old, is said to be the younger sibling of Niniola (born December 15, 1986) who is 36 years old.
These sister celebs have become the focal points of Nigerian social media lately, due to their massive exploits in the music and entertainment industry. Though the duo belongs to different music genres, they always pride themselves among top-rated and famous artists in their separate musical niche, as both sisters have several prestigious awards and nominations credited to them.
Are Teni and Niniola from the Same Mother and Who is Older?
Judging from their dates of birth, Niniola was born on December 15, 1986, while her baby sister Teni was born on December 12, 1992. This goes to show that between Teni and her sister Niniola there exists a significant age gap of 6 years. Thus, Niniola is much older than her sister Teni.
Inasmuch as Teni and Niniola were born in a polygamous family, they were both given birth to by the same parents, retired Brigadier General Simeon Apata (late) and Mrs. Fola Apata. Moreover, they both were raised in Lagos by their parents where they both had their secondary school education at the Apata Memorial High School. The school was established by their father as far back as 1980 at Isolo, Lagos.
The sisters have lived together with their other siblings in their polygamous family during their childhood until when Teni went to the United States of America in pursuit of tertiary education. On the other hand, Niniola got enrolled at the University of Lagos where she also obtained a degree. It may not be out of place to say that the change of environment that Teni experienced has helped in shaping her "radical" perception about life which in turn reflects in her style of music. Interestingly, the sisters have often shared such a strong family bond since their childhood which they still maintain to this moment.
What Inspired the Music Careers of the Two Sisters?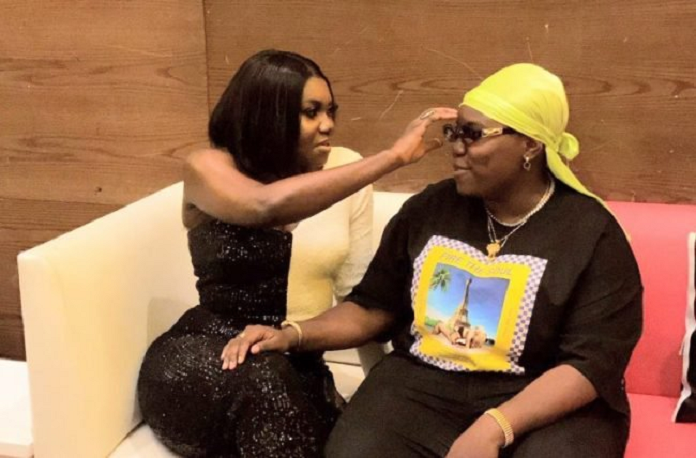 For Niniola, from childhood, music has always been her calling, she is known to be a talented singer who often entertained her schoolmates with music using her unique charming voice, little wonder she became known as "Human radio" while in secondary school. Additionally, Niniola was also part of the school's cultural group and her presence and performance go a long way to spice up the presentations of the group. However, Niniola draws inspiration for her music from foreign music icons such as Dolly Parton, Whitney Houston, Celine Dion, The Cranberries, Madonna, Beyoncé, and Angélique Kidjo.
Niniola kept pushing forward in her quest for music until she finally appeared at the prestigious MTN Project fame contest, which is one of the giant strides that set the ball rolling for the beginning of her music career. Though she only emerged as the third runner-up, in the sixth season of the Project Fame West Africa, it was a big feat for a first-timer.
While for Teni her music was inspired by the likes of Wasiu Ayinde's songs, and this reflects in her songs as well. Though being a versatile person, she draws her inspiration from anything around her for her music and she believes that music is rather spiritual. Teni also shares the view that she can change people's narratives about certain things in life as well as other stereotypes, with her song. Also just like her older sister Ninilola, Teni joined the school band where she played drums. While at home, she would often be heard singing in the corridor as loud as she could. The sisters were restricted from playing with other kids in the neighborhood.
Niniola's Big Break Came with "Ibadi" in 2014
The biggest blockbuster of Niniola's career came after she dropped her debut single title "Ibadi" on March 19, 2014, it was such a commercial and critical hit that it dominated most major music charts within Nigeria. Additionally, her hit singles "Ibadi" and "Gbowode" got listed among the soundtrack for season 2 of Gidi Up, alongside being included in NotJustOk's list of the 15 Artists to Watch in 2015. These singles also got Niniola nominated in the category of the Most Promising Act to Watch at the 2015 Nigeria Entertainment Awards. 
Another giant leap in her music career came in 2017 with the release of the hit single "Maradona" produced by Sarz. This song did not just make waves only within Nigeria but in the whole of Africa. This is evident as the song clinched the no. 1 spot on South Africa's Metro FM chart, for 6 weeks out of the 13 weeks it got listed on the chart. Meanwhile, in 2018 DJ Snake saw the need for collaboration with Niniola to produce "Maradona Riddim," which is a form of a remix of Niniola's Maradona. This also made her win the admiration and cheers of American International musical acts such as the popular rapper Drake and Timberland.
Niniola's Career Awards
Again, in 2019, Niniola was given an international credit, which is a Grammy nomination certificate, for being one of the songwriters and composers of one of Beyonce's tracks titled "Find Your Way Back" in her album. Coming back home, the talented songstress has a list of nominations and awards, which seems endless within and outside the Nigerian music industry. Notable among the awards she bagged include:
All Africa Music Awards Best African Collaboration for "Mbilo Mbilo" (Remix) 2016,
Nigerian Teens Choice Awards: Choice Female Vocalist of the Year, 2017,
Maya Awards: Youth Artiste of The Year 2017,
Glazia Awards: Glazia Persons of The Year 2017,
Ghana-Naija Showbiz Awards: Best Female Act 2018,
2021 The Headies awards were she won the  Best Vocal Performance (Female).
Teni's "Askamaya," "Case," and "Uyo Meyo" made Her Famous in 2016
In contrast, Teni could be said to be a newbie in the Nigerian Music industry, but that has not in any way undermined the fact that she is among the most successful new musical acts in the country. even though just like her older sister Niniola, Music happens to be an early childhood hobby for Teni as well.
The Afropop queen Teni was noticed after the release of her debut single "Amen" produce by Shizzi Magic Fingers in 2016. Despite that, it could be said that it was in 2018 that Teni achieved stardom in the music industry when she dropped her hit-making tracks "Askamaya," "Case," and "Uyo Meyo." The street appeal she infused in these songs gave her the recognition she still enjoys today.
Teni's Career Awards
In terms of awards and recognition, Teni has not fallen short of the expectations as she has been able to achieve far more than her peers within her few years in the music scene. Some of her awards include
The Headies Rookie of the Year Award 2018
Soundcity MVP Awards Festival Best New Artist 2018
Nigeria Entertainment Awards: Most Promising Act to Watch 2018
The Headies Best Pop Single (Case) 2019
The Headies, Best Recording of the Year "Uyo Meyo"  2019
The Headies Viewer's Choice Award 2019
The Headies Best Vocal Performance (Female) "Uyo Meyo" Award 2019
Soundcity MVP Awards, Best female MVP 2020
Who is the Bigger and more Famous Singer Between the Sisters?
With this, it may be quite tricky to fully ascertain who is more famous between these two remarkable music sensations/sisters. Both of them have been able to dominate their different music genres, in which they are both famous, though they both have their strongholds in terms of fan base, recognitions, and entertainment styles despite having their highs and lows.
Even so, it is left at the discretion of their various fans to judge for themselves as to who they perceive as being more famous between Teni and Niniola, following these parameters presented in this review coupled with the fact that no music authority has made any official assessment and declaration on who is more famous among these sisters.