Mercy Kenneth (born: 7 April) is a young, fast-rising Nigerian entertainer, actress, model, dancer, social media influencer, and ambassador to a number of brands, such as Ivy Beauty Skincare. She is most popular for her roles in movies such as Daddy's Daughter, Madams Kids, and Peacemakers.
The uprising versatile outgoing personality who refers to herself as "God's favorite," shows her multifaceted skills by way of delivering effortlessly the variety of roles she plays in her movies. Her talent has been noticed and she has been able to attracts several award nominations, including Next Rated Actress of the Year by National Royal Arts Award 2021.
Summary of Mercy Kenneth's Biography
Full Name: Mercy Adaeze Kenneth Okonkwo
Nickname: God's Favorite Little Smart Girl
Gender: Female
Date of Birth: 7 April
Ethnicity: Igbo
Nationality: Nigerian
Zodiac Sign: Aries
Sexual Orientation: Straight
Religion: Christianity
Marital Status: Single
Schools Attended: Henna-Teck International college
Mercy Kenneth's Parents: Mr. Kenneth Okonkwo & Mrs. Blessing Okonkwo
Siblings: Kenneth Caleb, Kenneth Dalinson, Onyedika Kenneth
Mercy Kenneth's Height in Inches: 5 feet 6 inches (est)
Mercy Kenneth's Net Worth: $50,000 estimated
Famous for: Acting, social media influencer, and brand ambassador
Mercy Kenneth's Instagram: @mercykenneth_
Facebook: Mercy Kenneth
How Old is Mercy Kenneth?
Many online sources state that Mercy is 14 years old. However, this age does not seem to be true, as she graduated from high school in 2021. Going by this and putting in mind that in Nigeria, students rarely graduate secondary school below the age of 15, she may be above 16 years old. 
Mercy Kenneth celebrates her birthday every April 7. She was born into the family of Mr. Kenneth & Mrs. Blessing Kenneth Okonkwo from Anambra State, Nigeria, but resides in Lagos. She has five siblings and is the only girl surrounded by four brothers.
Who Is Mercy Kenneth's Father?
Kenneth Okonkwo is Mercy Kenneth's father. It is important to note that her father shares the same name as popular Living in Bondage actor, lawyer, and politician Kenneth Okonkwo. However, the duo are not related.
Born on October 21, Kenneth Okonkwo, Mercy Kenneth's father, is a pastor who also has a career in the Nigerian movie industry. He is a producer, actor, marketer, and distributor; and the Head of Global Update Movies LTD.
He has been married to Ifeoma Blessing Okonkwo for more than 2 decades, and together, they share 5 children, including Mercy. Mrs. Ifeoma is not in the limelight like her husband. Instead, she is a businesswoman.
Mercy Kenneth's School
The young famous actress has attended schools in Lagos State. Following her primary education, where she obtained a first living certificate, she headed to Henna-Teck International School, Lagos State.
There, she graduated with an O-Level in June 2021 after 6 years.
Is Mercy Kenneth a Twin, and Does She Have Other Siblings?
Mercy Kenneth is a twin and has 4 other brothers. Based on a Facebook post about him, her twin was a boy whose name may have been Goodness Kenneth. Growing up, Mercy and her twin would sing to entertain other kids. However, he later died of an undisclosed cause.
Her siblings have a knack for filmmaking and production and are also involved in the entertainment and movie sector. Here's a list of her brothers and what they do.
Onyedika Kenneth
He is an editor, filmmaker, production manager, script supervisor, and YouTuber. He currently works with Global Update Movies and is also the founder of Shutte Studios.
He attended Henna-Teck International School and went to Covenant University to study English Literature.
Dalinson Kenneth 
He is Mercy Kenneth's elder brother, and he celebrates his birthday on 16 April yearly. He is a Nollywood editor and producer who also works at Global Update Movies. The young Nollywood editor studied chemical engineering at the Federal University of Technology Owerri (FUTO).
Caleb Kenneth and Goodnews Kenneth
Mercy's other brothers are Caleb Kenneth and Goodnews Kenneth. Caleb is an actor who studies at the Nnamdi Azikiwe University (UNIZIK), Awka.
On the other hand, Goodnews is a young and upcoming editor at Global Update Movies.
Mercy Kenneth's Family Pictures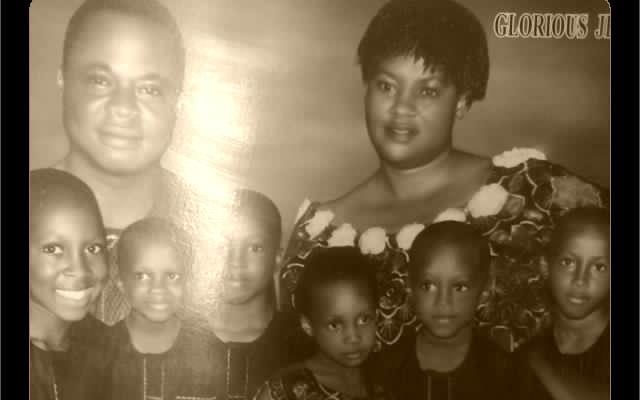 Mercy Kenneth Career
Her career started as a child singer when she made songs like; I Must Go to School, Original Mama, I Will Give You My Best, Let My People, and There is God. She was still focused on music before she ventured into becoming an actor.
She is well known in and around the industry as one who started as a child and teen actress. Mercy Kenneth has worked alongside legends in the movie industry, such as Patience Ozokwor, Ngozi Ezeonu, Kenneth Okonkwo, John Okafor (Mr.Ibu), Yul Edochie, Regina Daniels, Eve Esin, Destiny Etiko. Other actors are Sharon Ifedi, Somadina Adinma, Nonso Diobi, and Ken Erics, to name a few.
As she grew in popularity and acceptance in the industry, so did her followers on social media grow tremendously. She has made a name for herself on social media as a social media influencer. She has also become a brand ambassador of Ivy Beauty Skincare and influences for Mac Hp Service Limited, which sells kids' wear.
List of Mercy Kenneth's Movies and TV Shows
Daddy's Daughter
My Brother's Wealth
Empty Casket
Soldier of the Lord
Trials of Faith
Family Grave
Maiden of Royalty
Peacemaker
Sacrificial Lamb
Akunna
The Pride of A Good Mother
Dairy Of An Orphan
My life's mystery
A Day With An Angel
Child Marriage
The Problem Twins
Sinning Prodigy
 Goddess of Darkness
Money must be Buried
Good girls Gone Bad
You Have My Body
Nneka the Holy Ghost
Release Me
You Have My Body
Comedy Series
Anointed Armed Robbers
She knows how to lie
Natural HIV Package
Pour me water.
Mercy Kenneth's Awards, Recognitions, and Nominations
As part of her career success and achievements, Mercy Kenneth has received several awards. Among them include:
National Royal Arts Award in the category of Next Rated Actress of the Year in 2021
Nomination for Nigeria Women Achievers Awards in the category of Teen Act of the year (2022)
Nomination for The Most Fast Rising Actress of the Year by Mainland TV Fashion Show & Awards (2022)