There are six North Eastern states in Nigeria: Adamawa, Borno, Bauchi, Taraba, Gombe, and Yobe. These states are mostly Muslims, with a minority of Christians and traditional worshipers. While many people in northeast Nigeria speak Hausa and Fulfulde in inter-ethnic settings, other major indigenous languages include Kanuri, Bura-Bapir, and Maafa.
Generally, most languages found in the states fall under different language families like Chaddic, Afro-Asiatic, and Bantu. In terms of economy, North East, which is one of the 6 geopolitical zones in Nigeria, is the poorest. It is also known for incessant terrorist attacks and has been marred by Boko Haram for over a decade.
Regardless, the region is the largest region by size in the country. It is, however, the second least populated geopolitical zone in Nigeria. Its population is over 26 million.
States in North East Geopolitical Zone of Nigeria
1. Adamawa
Capital: Yola
Tribes: Over 70 tribes (Bali, Bata, Bille, Mbula-Bwazza, Fulfulde, Peere, Chamba Daka, Tambo, Bura-Bapir)
Languages: 58 languages (Bacama/Bata (Bwatiye), Bura-Pabir, Fulfulde, Huba (Kilba), Longuda, Mumuye and Samba Daka)
Economic Activities: Agriculture
Adamawa is one of the largest states in Nigeria by landmass, and it is equally the largest in the northeast region of the country. It shares a border with Cameroon, and within Nigeria, it is bordered by Gombe, Borno, and Taraba.
The state has 21 local governments and over 58 indigenous ethnic groups, such as Bali, Bata, Bille, Mbula-Bwazza, Guyuk, Marghi, Mafa, Kwa, Bacama, Bura-Pabir, Ga'anda, Hwana, Lala-Roba, and Ngwaba. Some of these languages are mutually intelligible and belong to the same language family.
These language families are Niger-Congo, Afro-Asiatic, Bantu, Senegambia, and Chadic, among others. Interestingly, some of the languages found in Adamawa State are also found in some West African countries.
However, the most common inter-ethnic languages used in the State are Fulfulde (which is often called Fulani language), Hausa, and English.
Adamawa is not only rich in language diversity but also in agriculture, mineral resources, and waterfalls, among others. As a result, it is known to have the largest economy in northeast Nigeria and the 18th in Nigeria. Its GDP is approximately 2.66 trillion Naira, and it houses notable companies such as Dangote Group, which produces sugar, among others.
The state is notable for its large markets and for the production of agricultural produce and livestock. Some of its notable products are cassava, yams, cotton, groundnuts, millet, and guinea corn.
Some prominent people from this state are politicians Atiku Abubakar, Aisha Buhari, and Bamanga Tukur; army officers Alex Badeh, Aliyu Kama, and Buba Marwa. Others are the founder of the United Methodist Church in Nigeria (UMCN), Done P. Dabale, and actress Teema Yola.
2. Bauchi
Capital: Bauchi
Tribes: 55 (Boghom, Zul,

Karekare

)
Languages: Hausa, Fulani, Gerawa, Sayawa, Jarawa, Bolewa, Karekare, Kanuri, Fa'awa, Butawa, Warjawa, Zulawa, and Badawa
Economic Activities: agriculture (cotton, animal rearing, groundnuts)
Bauchi State was created in 1976, and it is one of the North Eastern states in Nigeria. It is one of the closest states to North Central as it shares a border with Plateau State. It also borders Kano, Taraba, Gombe, and Kaduna.
It consists of 20 local government areas, and the most popular are Bauchi LGA (capital city), Tafawa Balewa, Bogoro, and Toro. Although Hausa and English are the most commonly spoken languages by the populace in the State, indigenous ethnic groups in Bauchi are Sayawa (Zaar), Fulfulde, Karai-Karai, Kir-Balar, Gere, Jarawa, Gera, and Boyawa (Ayah).
Bauchi is a commercial and natural resource center. Despite this, it is, unfortunately, one of the poorest States in Nigeria. Some of the natural resources found in the state are crude oil, limestone, iron ore, linite, and gypsum.
The state generates NGN1,6 trillion GDP and has some major landmarks such as Yankari National Park, Sumu Wildlife Park, The Abubakar Tafawa Balewa Stadium, and The Emir's Palace.
Some notable people from this North Eastern state are politicians such as Bala Muhammed, speaker of the 13th Speaker of the House of Representatives of Nigeria Yakubu Dogara, and actors Paul Sambo and Fatima Washa, among others.
3. Borno State
Capital: Maiduguri
Tribes: Chibok, Kamwe, Marghi
Languages: Kanuri, Jere, Babur, Shuwa Arabic, Yerwa Kanuri,  Wandala
Economic Activities: Agriculture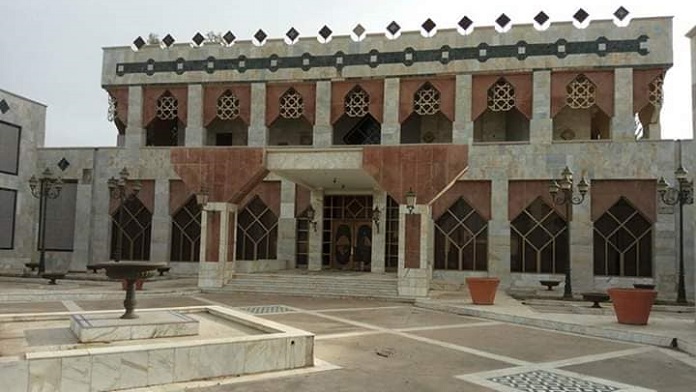 Borno state is the second largest Nigeria state by area, and it shares borders with Yobe, Gombe, Adamawa, Niger, Cameroon, and Chad. The state is mostly known for suffering from insurgency, which has lasted over a decade.
Nonetheless, it is also famed for its cultural and religious diversity. In terms of religion, there are mostly Muslims, Christians, and traditional worshippers.
The State is not chiefly a Hausa indigenous area. Instead, many people speak the language but ethnic groups that are indigenous to Borno are Dghwede, Glavda, Guduf, Laamang, Mafa, Mandara, Afade, Yedina (Buduma), Kanembu, Waja, Kyibaku, Kamwe, Kilba, and Margi, Kanuri, Shuwa Arabs. The most populated ethnic groups in the state are Kanembu and Kanuri.
Some of these languages are also found in other northern Nigerian States and in neighboring countries such as Chad and Niger Republic.
Sadly, there are worries that some of these languages may go extinct in Borno as there is migration and populace reduction due to the incessant terrorist attacks in the State, mainly by Boko Haram.
Borno has 27 local governments, but its economy has suffered over the years. In fact, it is recorded as one of Nigeria's poorest states. Its GDP is also one of the lowest, making about ₦1.96 trillion. Despite this and in recent times, it is recorded as one of Nigeria's states to have one of the most performing governors under the leadership of Professor Babagana Umara Zulum.
Borno relies on agriculture and trade for its economic growth. Maize, sorghum, cowpea, and rice are commonly cultivated in the area. Also, fishing is central to the people.
Some renowned people from Borno State are Nigeria's Vice President Kashim Shettima, the late Abba Kyari (Buhari's former Chief of Staff), Islamic cleric Shaykh Sherif Ibrahim Ibn Saleh al-Hussaini; and Hausa actors Maryam Yahaya, Muhammed Nur and Halima Atete.
4. Gombe State
Capital: Gombe
Tribes: Waja, Tangale, Tera, Fulani, Bolewa, Kanuri, Jukun, Cham, Tula, Pero/Shonge and Kamo/Awak
Languages: Hausa and Fulfulɗe, Tera and Tangale
Economic Activities: Agriculture and Trade
Gombe State was formed from Bauchi in 1996 as one of the 6 North Eastern States in Nigeria. There are 11 local governments in the State, and the people are mostly traders and farmers, while others focus on being civil servants.
From their careers, among other things, the State generates taxes that amount to its ₦5.20 GDP. It also houses schools, industries, and other notable things that attract investments and boost its economy.
Some of these include the notable Federal University Kashere, Gombe State University, Federal College of Horticultural Technology, Dadin Kowa, Federal Polytechnic, Kaltungo, and Performance College of Health, Science and Technology, Billiri. Others are Federal Teaching Hospital Gombe (FTHG), Gombe Geographic Information System, Killang Hill, etc.
More about its economy, Gombe citizens are known to also be farmers. It is one of the largest producers of beans in Nigeria. Other farm produce from Gombe are tomatoes, cotton, yam, and rice.
It is also recognized for producing a popular aphrodisiac, goron tula (snot apple), which is found in Tula LGA of the State. Other things the state has are natural resources such as Uranium, Coal, Limestone, and Gypsum.
Moving to languages found in Gombe, the State is mostly inhabited by Fulfulde speakers. However, other ethnic groups are Kanuri, Jukun, Tangale, Tera, Bangwinji, Centúú, Dadiya, Dera, Dikaka, Dza, Kyak, Longuda, Moo, Tangale, Tso, Waja, Bolewa, Tula, Kamo, ushi, Moo, Loo Wurkun, and Jara.
Regardless, like many other northern Nigerian States, Hausa is commonly spoken by people of different ethnic groups in Gombe.
Gombe is home to famous people such as controversial therapist Jaaruma, politician Mohammed Danjuma Goje, Deputy Secretary-General of the United Nations
Amina Mohammed, novelist Helon Habila, and actor Ali Nuhu.
5. Taraba
Capital: Jalingo
Tribes: Áncá, Batu, Buru, Fum, Lamnso', Lidzonka, Limbum, Mambila, Mbembe, Tigon, Mbongno, Mvanip, Nde-Gbite, Ndunda, Nshi, Somyev, Viti, Vute, Yamba, kaka, Mashi, Bete, Wapan, Mashi, and Bete,
Languages: Fulfulde, Ichen, Acha, Tiv, Jukun Takum; Kapya, Kpan, Kuteb, Lufu, and Yukuben
Economic Activities: Agriculture and trade
Created in 1991 and named after the Taraba River, Taraba State was formed out of the former Gongola State by Ibrahim Babangida. The state has 16 local governments, and it shares borders with Plateau State, Adamawa, Bauchi, Gombe, and Cameroon.
The boasts of having some of the most languages found in any State in Nigeria. Some of its major ethnic groups are Jukun and Kuteb. Others are Fulfulde, Fam, Gbaya, Jibu, Jukun Takum, Kam, Mumuye, Ndoola, Chamba Dakka, Chamba Leko, Tiv, Wapan, Mashi, Bete, Kapya, Kpan, Kpati, Kuteb, Lufu, Yukuben, Fulfulde, Áncá, Batu, Buru, Fum, Lamnso', Lidzonka, Limbum, Mambila, Mbembe, Tigon, and Mbongno.
The people of the state are mostly known for engaging in farming, and they produce crops such as tea, coffee, groundnuts, and cotton. Another major economic activity in Taraba is fishing. In fact, the state is known for having a yearly fishing festival known as the Nwunyo Fishing Festival in Ibi, Also, it has produced some of the biggest fish ever caught in Nigeria.
With these and more, Taraba has been able to have a relatable good economic ground and is one of the richest northeastern states. It also generates a GDP of over 2 trillion Naira.
Some famous Taraba State indigenes are Former Nigeria's Chief of Army Staff
Theophilus "TY" Danjuma, Jolly Nyame – Former Governor of Taraba state, and Catholic Archbishop Ignatius Ayau Kaigama.
6. Yobe
Capital: Damaturu
Tribes: Bade, Duwai, Yerwa Kanuri, Bolewa Ngamo, Maaka, and Bade.
Languages: Kanuri, Fula, Karai-Karai, Ngizim, Bura-Pabir, Shuwa Arabs, and Zarma.
Economic Activities: Farming, trading, animal rearing
Agriculture and mineral deposits are the major things the indigenes of Yobe State tilt towards. Some of the mineral deposits are gypsum and kaolin, while agricultural produce found in the state are gum arabic, groundnuts, beans, and cotton.
Also, its largest town, Potiskum, has the largest cattle market in West Africa. All these are key to the economy of the northeastern state, and its GDP is ₦1.09 trillion. Sadly, as in the case of its neighboring Borno, it has been marred by insurgency, mainly Boko Haram, and it is also one of the poorest states in Nigeria.
Besides that, it can pass for a tourist state with some of its attractions, including Gooya Valley, Ngazargamu, Dagona Birds Sanctuary, Gujba Forest Reserve, and Dufuna Canoe.
Yobe has 17 local governments and shares similar languages with other northeastern states. These ethnic groups are Bade, Duwai, Kanuri, Yerwa Kanuri, Fula, Karai-Karai, Ngizim, Bura-Pabir, Bolewa Ngamo, Maaka, and Bade. Other languages in the State are Shuwa Arabs and Zarma.
Some famous Yobe state natives are Adamu Ciroma, former Minister and Governor of the Central Bank of Nigeria; Alwali Kazir – former chief of army staff; Usman Alkali Baba, Nigerian inspector-general of police; and politician Ahmed Lawan.