Aisha Buhari is the wife of Muhammadu Buhari, a Nigerian politician who has been President of Nigeria since 2015. The personality of the 52-year old Aisha Muhammadu Buhari will always be greeted with so much love and respect not just because of her status as Nigeria's first lady and wife to a prominent retired military leader but also because of her enormous beauty and outspoken nature for which she has become a role model for women and an advocate for women's rights and children's rights.

Profile Summary of Aisha Buhari
Full name: Aisha Halilu Buhari
Date of birth: February 17, 1971
Age: 52 years old
State of Origin: Adamawa
Marital status: Married
Husband: Muhammadu Buhari (m. 

1989

)
Occupation: Beauty therapist
Aisha Buhari is from Adamawa State, Northeastern Nigeria
Aisha (née Halilu) was born on February 17, 1971, into a Muslim family in a small city in Adamawa State, North-east Nigeria. While nothing much is known about Aisha's biological family background, especially regarding the names of her parents, and her position in the family, it is public knowledge that her father was a civil engineer, and her mother is a descendant of the Ankali family, renowned farmers. 
Aisha's biography will not be complete without mentioning her paternal grandfather, Alhaji Mohammadu Ribadu, who was a renowned politician and Nigeria's First Minister of Defense. His father is Ardo Hamza, who is Aisha's paternal great grandfather, was also known as a district head. This proves that Aisha grew up in an affluent family. Her family background did help to shape the life and future of the now famous Nigerian first lady. 
Aisha Is a Master's Degree Holder
Aisha's stance as one of the highly learned women from the country's Northern region gives huge credit to her family's academic prowess. Being raised by parents with sound western education, she joined the few women from the region who gained rare access to quality education.
Aisha had her basic and secondary education in Adamawa State before proceeding to Ambrose Ali University (AAU), Ekpoma, where she successfully completed a course and bagged a (BA) Degree in Public Administration. To her degree, Aisha added a master's degree in international affairs and strategic studies from the Nigerian Defence Academy, Kaduna.
Picking interest in beauty therapy, Aisha traveled to the United Kingdom for a Diploma in Beauty Therapy at the Carlton Institute of Beauty Therapy, Windsor. She later moved to Dubai, United Arab Emirates (UAE), where she bagged a post-graduate diploma in cosmetology and beauty from the Academy Esthetique Beauty Institute of France. Aisha also undertook a Counselling Course on Co-Dependency in the United Kingdom and is specialized in  Permanent Make-up, Mesotherapy, and Micro-dermabrasion.
Highlights of Aisha Buhari's Educational Certification
BA Degree in Public Administration from Ambrose Ali University (AAU)
MA degree International Affairs and Strategic Studies from the Nigerian Defence Academy, Kaduna
Diploma in Beauty Therapy from the Carlton Institute of Beauty Therapy, Windsor, UK
Post-graduate diploma in Cosmetology and Beauty from Academy Esthetique Beauty Institute of France
Aisha is Businesswoman and Beauty Therapist
Learning all about beauty therapy for Aisha wasn't for the fun of it nor her benefit alone. She turned her passion for beauty into a lucrative business that now fetches her fortunes. Having added so much academic knowledge and skills to her long-groomed passion for beauty therapy, Aisha launched her own business known as Hanzy Spa. It is a beauty salon that has found its roots in Kaduna and Abuja.
Aisha is also the founder/managing director/principal of Hanzy Beauty Institute, located in Kaduna State. The beauty institute, which was established in 2015, is a Vocational training center specializing in Cosmetology and Beauty Therapy. Aisha Buhari was also a resource person to the National Basic Technical Education (NBTE) on beauty therapy and cosmetology.
She took part in the curriculum development of small-medium enterprises for NBTE and has published a book titled Essentials of Beauty Therapy: A Complete Guide for Beauty Specialists, which has been recommended as a text for the NBTE curriculum. She, however, pause her business life following the emergence of her husband as president of Nigeria.
Her role as the First Lady of Nigeria
Aisha's presence in politics began in 2015 in the year's general election that brought her husband Muhammadu Buhari to power as Nigeria's democratically elected President. While supporting her husband's political career, Aisha became more popular for her vocal advocate for women's rights and girl child education. Her advocacy for girl-child education is, of course, honed by her experiences growing up in a region where girls and women are educationally disadvantaged.
Although she only officially adopted the title of "First Lady" about five years after President Buhari scrapped the office, Aisha would use her position as the president's wife to speak against activities that are detrimental to the womenfolk. She also became internationally popular for her criticism of child marriage and homosexuality.
A Look at Aisha Buhari's Accomplishments
Aisha Muhammadu Buhari may not be so much into politics as he husband. Still, she is one person who has actively utilized her position as the first lady to make some remarkable accomplishments.  As a woman, she tried to focus more on touching the lives of women and children, especially the girl-child. Her activism for women's rights and girlchild education led to her establishment of the Aisha Buhari Foundation, an organization concerned about the welfare of Nigerian women and children.
Future Assured Programme
Prompted by a passion for bettering the well-being of women and children, Aisha established Future Asure Programme with the hope to make a difference in the lives of women and children by addressing challenges in the area of reproductive, maternal, newborn, child, and adolescent health. The program has so far seen over 750 less privileged persons in Adamawa being empowered.
Other remarkable accomplishments she has made through the program include:
She constructed a fully equipped maternity complex at the Daura General Hospital, where she sponsored several surgeries and child health care.
Construction of the Aisha Buhari Foundation Maternity wing in Yola as part of her to improve healthcare services, particularly to women and children nationwide.
She launched the Notore Green Schools Initiative on June 17 as part of her efforts to get more youths into agriculture to address food shortages and make agro-businesses more attractive and beneficial to Nigerians. This initiative was in 2019 supported by the First Ladies of Niger, Gambia, Chad, and Ghana.
A Peek into Aisha Buhari's Marriage and Her Children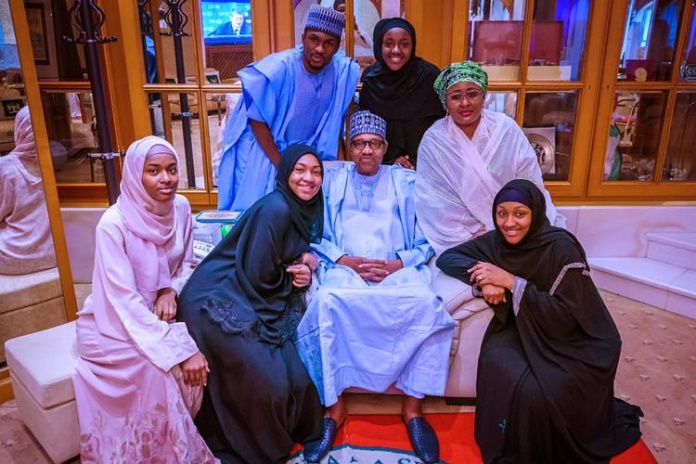 Aisha was 18 years old when she married Muhammadu Buhari, who was supposedly 47 years old at the time. While it was Aisha's first marriage, it was Buhari's second. He married his first wife, Safinatu (née Yusuf), in 1971, the same year Aisha was born, and their marriage lasted for about 17 years, with five children before their divorce in 1988.
Aisha became Buhari's wife in 1989. Although Aisha Buhari is 28-years younger than her husband, she has more formal educational qualifications than him. Despite the huge gap between them, Aisha has remained supportive to her husband, and their union of over three decades has seen them produce five lovely children.
Mohammadu Buhari's children from his first marriage are Zulaihat (Zulai) Fatima, Musa (deceased son), Hadiza, and Safinatu. However, his second wife, Aisha, has four girls, namely Halima Buhari Sheriff, Zahra, Hanan, Zahra, and Amina, and a son, Yusuf Buhari. Meet them below
Halima Buhari
Halima is Aisha Buhari's first daughter. Born on October 8, 1990, she is also the "most learned" of Buhari's children. She attended several schools, including International School, Kaduna, British School of Lome, Bellerbys College, Brighton, United Kingdom, University of Leicester, United Kingdom, and Nigeria Law School, Lagos. She eventually graduated from law school in 2016 and now works as a lawyer.
Halima is also a married woman. She got married in 2012 to her longtime boyfriend, Alhaji Babagana Muhammed Sheriff, who hails from Borno state. The wedding took place in the Yahaya Road Jumat Mosque with several dignitaries present and under very tight security. However, it is unknown if she has a child or not.
Zahra Buhari
Zahra is Aisha's second daughter. She was born on December 18, 1994, and like her mother, she is very outspoken and active on all social media platforms, unlike her reserve siblings. Zahra is quite popular for airing her opinions on national matters, especially regarding her father's presidential decisions. Zahra is also educated like her sister. She started her academic journey at Kaduna International School before enrolling at the British School of Lome. Later, she went to Bellerbys College, Brighton in the United Kingdom, before landing at the University of Surrey, also in the United Kingdom, where she obtained a degree in Medical Microbiology.
Zahra Buhari's current choice of profession is unknown, but it is clear that she is not a practicing microbiologist. She runs a Non-Governmental Organization, ACE, which stands for Assisting, Caring, and Empowering. Through her NGO, she helps and offers free treatment and care to sickle cell children. The organization equally provides education to the less privileged, provides economic empowerment, and healthcare to those in need.
Zahra, like her sister Halima, is a married woman. She married Ahmed Indimi on December 16, 2016. Ahmed is a man with much affluence and Head of the Marketing Department, Oriental Oil, his father's company. From Borno State, Ahmed has a degree in Information Technology and a Master's degree from the same university. Zahra and her husband are blessed with a baby boy. He was born on July 9, 2018, in Madrid, Spain.
Yusuf Buhari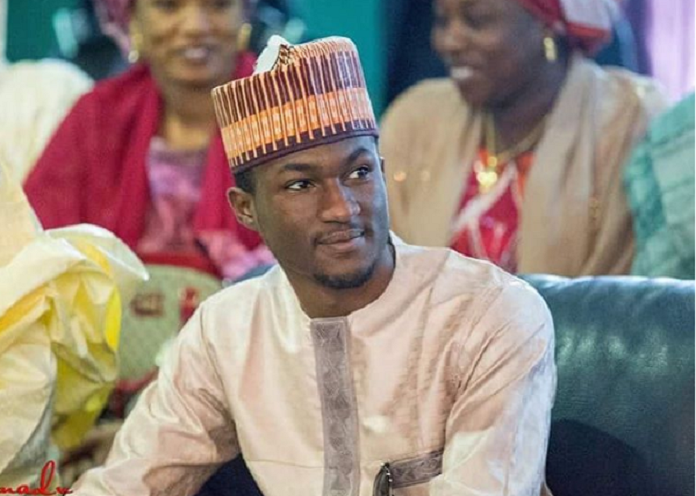 Yusuf is Aisha Buhari's only son. He celebrates his birthday every April 23, and it is believed that he was possibly born in the 1990s. Like his other siblings, he attended Kaduna International School, British School of Lome, and Bellerbys College in the United Kingdom. He graduated from the University of Surrey, Guildford, United Kingdom, in 2016, and he followed up with a master's degree from a university also in the United Kingdom.
Yusuf completed his mandatory National Youth Service Corps in March 2019 and has chosen to go into private business. He is married to Zahra Nasir Ado Bayero, the daughter of the Emir of Bichi. His wife was reportedly 19 years old when they got married Friday, August 20, 2021. The bride is a graduate of architecture from a university in the United Kingdom.
Hanan Buhari
Hanan is Aisha Buhari's third daughter. She was born on August 30, 1998. She started her education at Kaduna International School before moving to England, where she studied photography and media and graduated with a first-class at Ravensbourne University. Hanan worked briefly as a fine art photographer before returning to school to bag a Master's degree in Fine Art Photography from a university in the UK.
Like her sisters, Hanan is married too. She married Mohammed Turad Sha'aban on September 4, 2020. Her husband is the special adviser to the former Lagos State governor and current minister of works. Their elaborate wedding ceremony took place in the presidential villa, Aso Rock.
Amina Buhari
Amina Buhari is Aisha Buhari's youngest child. She was born on September 14, 2004, and she attends Kaduna International School. Amina lives a very private life; hence, there is little information about her in the media space, and some people did not know about her until recently because she has been kept away from the public due to her young age.
Controversies involving Aisha Buhari
Aisha Buhari's name has been involved in several controversies over the years, especially in her husband's reign as the president of Nigeria. One of her most controversial moments was in October 2016, when she made a very shocking remark about her husband and his political party. She said that she wouldn't back her husband in the next election because she isn't impressed with how he's run the government.
Aisha's statement caused an uproar among citizens, and her husband reacted by saying that she only belonged to his "kitchen and the other room." He was quoted as saying;
"I don't know which party my wife belongs to, but she belongs to my kitchen and my living room and the other room."
Her Luxurious Wardrobe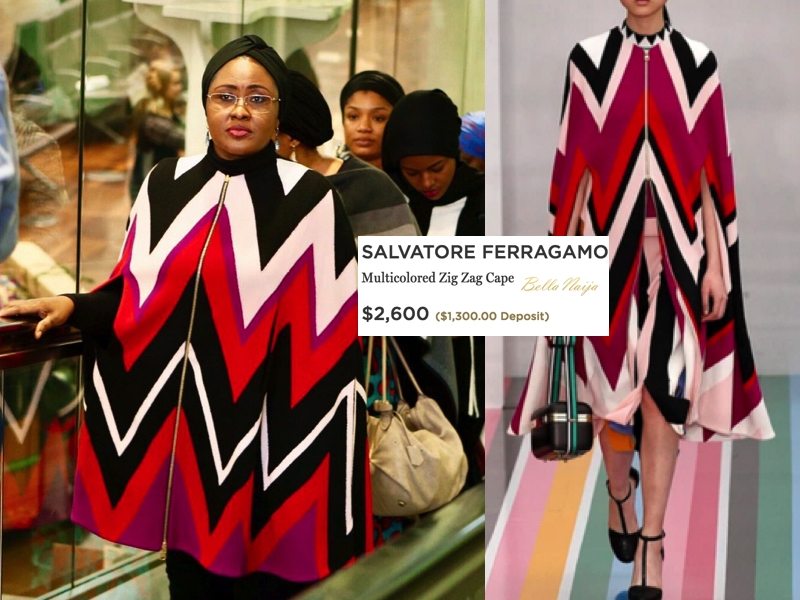 Aisha Muhammadu Buhari has a sophisticated and luxurious wardrobe and has a thing for designer bags, shoes, clothes, and accessories. In October 2016, she got tongues wagging when she was spotted wearing a $2,600 Salvatore Ferragamo cape while on a trip to Brussels, Belgium, for the African Women's Forum.
Before that, she was seen with a designer Hermes Birkin 35cm Porosus Crocodile bag. The bag is reportedly worth between $69,000 and $89,000, that's between N34,500,000 and N44,500,000 using the current N500 to N1 dollar black market exchange rate.
Following her luxurious lifestyle, many accused her of wasting taxpayers' money on herself and her children. However, in response to people's comments about her lifestyle, the First Lady made it clear that she buys and feeds herself and her children from her pocket, not from the nation's purse.