Also identified as IBB, Gen. Ibrahim Babangida GCFR (born 17 August 1941) is a retired Nigerian Army General and politician who ruled Nigeria during the military regime. He ruled Nigeria from August 27, 1985, when he took power from Major General Muhammadu Buhari in a coup, until his departure from office on August 27, 1993, having annulled the elections held on June 12 the same year. Here is all you need to know about him.
Ibrahim Babangida's Profile Summary
Full Name: General Ibrahim Badamasi Babangida (GCFR)
Presidential Office Held: 8th President of Nigeria
Time In office: 27 August 1985 – 26 August 1993
Preceded by: Muhammadu Buhari as Military Head of State of Nigeria
Succeeded by: Ernest Shonekan as Interim Head of State of Nigeria
Previous Office: Chief of Army Staff (In office: January 1984 – August 1985)
Preceded by: Mohammed Wushishi
Succeeded by: Sani Abacha
Date of Birth: 17 August 1941
Age: 81 years old
Place of Birth: Minna, Nigeria
Nationality: Nigerian
Spouse: Maryam Babangida ​(married 1969; died 2009)​
Number of Children: 4 (including Mohammed Babangida)
Alma mater: Royal Armoured Centre
Years of service: 1962–93
Rank: General in the Nigerian Military
Battles/wars Fought In: Nigerian Civil War
Babangida's Early Education
Ibrahim Badamasi Babangida was born on August 17, 1941, in Minna, Niger State to Muhammad and Aisha Babangida who are from the Gwari ethnic group. He schooled at Provincial Secondary School, Bida from 1957 to 1962 and later joined the Nigerian Army on December 10, 1962, when he enrolled in the Nigerian Military Training College (NMTC) in Kaduna.
On September 26, 1963, Babangida graduated as a 2nd Lieutenant, which means he was a regular combatant officer in the Royal Nigerian Army (a few weeks before it was renamed Nigerian Army) with the personal army number N/438 from the Indian Military Academy. Babangida along with General Mohammed Magoro was among the Nigerians to finish from NMTC.
He furthered his military training in January 1966 until April 1966 after registering for a Course 38 of the Young Officers' Course (ARMED) in the United Kingdom. There he received a four-month course in Saladin and gunnery.
From August 1972 to June 1973, he took the Advanced Armoured Officers' course at Armored school, then attended the Senior officers' course, Armed Forces Command and Staff College, Jaji, from January 1977 until July 1977 and the Senior International Defence Management Course, Naval Postgraduate School, U.S., in 1980.
He attained the following ranks: Second Lieutenant (1963), Lieutenant (1966), Captain (1968), Major (1970), Lieutenant Colonel (1970), Colonel (1973), Brigadier (1979), Major General (1983), and General (1987). Babangida also served as a member of the Supreme Military Council from August 1, 1975, to October 1979.
Ibrahim Babangida In The Presidency (1985-1993)
1985 Coup
Babangida took over the government when he was serving as the Chief of Army Staff and a member of the Supreme Military Council (SMC) under the administration of Major General Muhammadu Buhari. The bloodless military coup took place on August 27. He took advantage of the mid-level officers he placed strategically over the years.
During his leadership, he promised to end the human rights abuses prolonged by Buhari's government and to pass power to a civilian government by 1990. However, his administration prolonged one of the worst human right abuses the country ever saw.
General Babangida played a key role in military coups which Nigeria saw (in July 1966, February 1976, December 1983, August 1985, December 1985 and April 1990).
1990 Coup Attempt
On April 22, 1990, an attempted coup was carried out against Babangida. The coup was led by Major Gideon Orkar. Babangida was at the Dodan Barracks, the military headquarters and presidential home when rebel troops attacked and took over the main entrance of his home. He fled through a back route.
During the short period of recess, Orkar and his collaborators controlled radio transmitters in Lagos. They took the time to broadcast a vehement critique of Babangida's government, accusing it of widespread corruption and autocratic tendencies, and they also expelled the five northernmost and predominantly Hausa-Fulani Nigerian states from the union, accusing them of seeking to perpetuate their rule at the expense of the predominantly Christian people of Nigeria's middle-belt citing, in particular, the political neutralization of the Langtang Mafia.
Messy Transition to Civilian Rule
In 1989, Babangida legalized the formation of political parties. In November 1991, the Independent National Electoral Commission (INEC) announced on January 24, 1992, that the country would carry out legislative elections to a bicameral National Assembly and a presidential election. A process of voting was adopted referred to as Option A4. The process called for candidates to first go through local level leadership before climbing to a greater height of governance.
Babangida later dissolved all political parties and created two political parties by himself; SDP (Social Democratic Party) and NRC (National Republican Convention). He told all Nigerians to join either of the parties, which the Late Chief Ajibola Ige famously referred to as "two leper hands" did.
After the election, SDP won majorities in the National Assembly in 1992 but was first annulled by INEC.
In April 1993, the SDP nominated Moshood Kashimawo Olawale Abiola (MKO) as its presidential candidate, with the National Republican Convention (NRC) choosing Bashir Tofa to run for the same position. On June 12, 1993, the presidential election was conducted and the result was not announced even though some states, 19 of 30 said Abiola had won.
Babangida hoarded the announcement and decided to annul the elections with his aides. Babangida then issued a decree banning members of NRC and the SDP from contesting the election done in the interest of the nation.
This led to civil disobedience especially in Southwest region from which Abiola hailed. It escalated into the murdering of people mostly from the South East part of the country. Babangida told the two parties to join the interim government.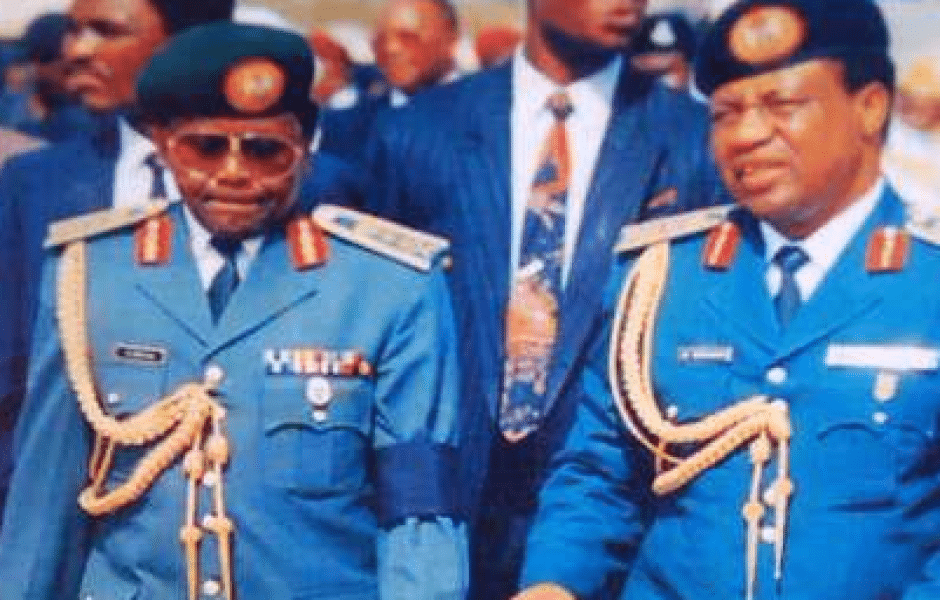 On August 26, amidst strikes and protests that had stopped all economic activity, Babangida declared that he was stepping aside as head of the military regime, and handing over the reins of government to Ernest Shonekan. Within 3 months of the handover, General Sani Abacha seized control of the government while Babangida was on a visit to Egypt.
Ibrahim Babangida's Human Rights Record
Babangida was accused of killing Dele Giwa using a letter bomb. Dele Giwa was a magazine editor critical of Babangida's administration. He was murdered at his Lagos home in 1986.
The killing remains a controversial incident to this day. In 1999, President Olusegun Obasanjo created Human Rights Violation Investigation Commission led by Justice Chukwudifu Oputa to look into Nigeria's years-long of military rule.
However, Babangida repeatedly refused to face the panel for humans rights abuses questions. He cited that the commission and its power to summon him was illegal. His right not to testify was upheld in 2001 by Nigeria's court of appeal which ruled that the panel did not have the power to summon former rulers of the country.
Presidential Aspirations
2007 campaign
On November 8, 2006, General Babangida picked up a nomination form from the Peoples Democratic Party Headquarters in Abuja, Nigeria. His form was personally issued to him by the PDP chairman, Ahmadu Ali. He later withdrew from furthering the race after a widespread criticism.
IBB claimed he stepped down for the "moral dilemma" of running against Umaru Yar'Adua, the younger brother of the late Shehu Yar'Adua (himself a former nominee to run for the Presidency during IBB's military regime) and also General Aliyu Mohammed Gusau, given IBB's close relationship with the latter two. It is widely believed that his chances of winning were slim.
2011 campaign
On April 12, 2010, Babangida's spokesman said he will contest for the nomination of People's Democratic Party (PDP) for the presidency in 2011 elections. He launched his official campaign website on August 9, 2010, where visitors can have direct chat with him.
He was called to quit the bid after a bombing in Abuja during Nigeria's 50th-anniversary celebrations and the consequent arrest and interrogation of the Director General of Babangida campaign, Raymond Dokpesi.
In addition, many said he had a hand in the bombing. In response, he said it would be "idiotic to link" him with the attack. Meanwhile, prior to the bomb blast, a handful of those loyal to him, widely known as "IBB Boys," seemingly urged him to drop from the presidential race so as to avoid being made to look worthless by a non-General.
See Also: 10 Brave Nigerians Who Died in The Service of Fatherland
Ibrahim Babangida's Marriage, Family and Personal life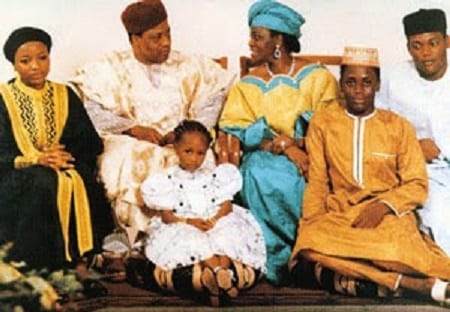 He married Maryam (née King) Babangida (First Lady of Nigeria 1985-93) on September 6, 1969, and they had four children together; Muhammadu, Aminu, Aishatu, and Halimatu. Maryam Babangida passed away in 2009. After a long battle with ovarian cancer, she lost her life on December 27 that year.
Is Babangida Dead or Alive?
The question is frequently asked especially among citizens who are keen about the politics of Nigeria. Like other victims of death hoaxes, Babangida has been reported dead several times by unknown sources. In 2016 information about the death of the former military president spread like wildfire after some sources reported he was dead. But his aide came out to debunk the rumors.
Other Facts You Need To Know AboutThe Former President
The former army general was born on the 17th of August 1941.
He is of Gwari ethnic group in present-day Niger state.
Babangida joined the arme3d forces on December 10, 1962.
He was among the first set of Nigerian NMTC graduates who attended the Indian Military Academy.
He got nicknamed 'Maradona' by the Nigerian press after he 'dribbled' the nation with several promises of handing over power but never did.
He is the second longest-serving head of state in Nigeria after Gowon.