Ahmad Lawan (born January 12, 1959) is a 64 year-old Nigerian politician who served as the Senate President of the 9th National Assembly of the Federal Republic of Nigeria.
Lawan, who has a Doctorate in Remote Sensing from Cranfield University UK, recently made the news for taking a new wife. The All Progressive Congress (APC) politician representing the Yobe North Constituency of Yobe State married Zainab Algoni Abdulwahid in 2021.
Summary of  Ahmad Lawan's Bio
Full name: Ahmad Ibrahim Lawan
Gender: Male
Date of birth: January 12, 1959
Ahmad Lawan's Age: 64 years old
Ethnicity: Hausa
Nationality: Nigerian
Sexual Orientation: Straight
Religion: Islam
Marital Status: Married
Ahmad Lawan's Wife: Zainab Algoni Abdulwahid.
Ahmad Lawan's Children: Ibrahim Ahmad Lawan
Ahmad Lawan's Parents: Mallam Ibrahim Lawan and Hajia Halima Ali
Ahmad Lawan's Net Worth: $10 million
Famous for: Being a Nigerian Senator
Ahmad Lawan's Instagram: @DrAhmadLawan_
Twitter: @DrAhmadLawan
Where is Ahmad Lawan From?
Ahmad Ibrahim Lawan is from Gashua, a community in the present-day Yobe state. He was born on January 12, 1959, to his father, Mallam Ibrahim Lawan, and his mother, Hajia Halima Ali.
Lawan had his primary and secondary education in Gashua, attending Sabon Gari Primary School and Government Secondary School, Gashua, respectively. He proceeded to the University of Maiduguri, where he obtained a degree in Geography in 1984.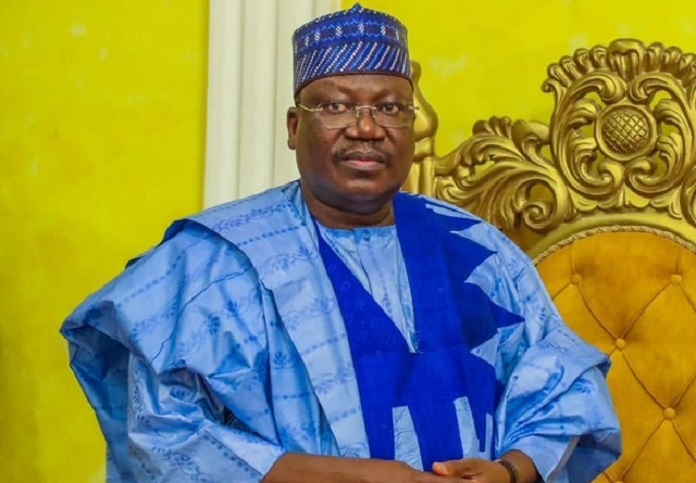 After successfully completing his one-year compulsory service year in Benue State, Ahmad returned to the classroom for a master's degree in Remote Sensing, which he obtained from Ahmadu Bello University, Zaria. He also earned a Doctorate in Remote Sensing at Cranfield University, UK, in 1966.
Ahmad Lawan's Career
Ahmad Lawan is today a renowned politician, but prior to his foray into politics, he had a one-year career in the Yobe State civil service as an Education Officer in the Ministry of Education from 1985 to 1986. He later became a lecturer at the University of Maiduguri, where he lectured for 10 years from 1987 to 1997.
Lawan began his political career in 1999, following his election into the House of Representatives, as the Bade/Jakusko constituency representative. There, he chaired committees such as the House Committees on Education and Agriculture. In 2007, he was elected a Senator to represent Yobe North Constituency on the platform of the All Nigerian Peoples Party(ANPP).
At the Senate, Ahmad Lawan was a member of the National Assembly's Joint Committee on Constitution Review and chairman of the Senate Committee on Public Accounts. In the 2011 general election, he ran for reelection in Yobe North Senatorial District on the ANPP platform and was elected for a second term. He was reelected for the same position in 2015. By 2019, Ahmad Lawan was already marking his 16 years of active service as a Senator of the Federal Republic of Nigeria.
He became Nigeria's Senate President in 2019
Ahmad Lawan's journey to the seat of Senate Presidency began in 2015 after APC zoned the position to northeastern Nigeria based on the party's power-sharing formula among the six geo-political zones at the time. The APC zoning arrangement prevents other senators-elect from other zones from contesting for the seat, and Lawan was the party's choice as he was from the northeast.
But Senator Bukola Saraki from Kwara State, north central, disagreed with the arrangement and declared his candidacy against the party's zoning principle. On June 9, 2015, Saraki became the Senate president with the support of 57 senators, mostly of the opposition PDP.
On June 11, 2019, Lawan regained his lost seat as he was elected and sworn in as the Senate President of Nigeria's 9th Assembly after defeating Senator Ali Ndume by a vote count of 79 to 28. He also became one of the longest-serving lawmakers, having been first elected into the House of Representatives in 1999.
Lawan's Failed Attempt to Become Nigeria's 16th President
Lawan concluded his tenure as the 14th President of the Nigerian Senate and his sixth consecutive session in the National Assembly in 2023. His hope to push his political career further by becoming Nigeria's 16th president was truncated after he lost to Chief Bola Ahmed Adekunle Tinubu at the APC presidential primary.
Ahmad Lawan contested against Bola Tinubu with the belief that he had the popularity and experience to lead the country. His experience of more than two decades in Parliament made him an encyclopedia on the inner workings of the National Assembly and the Nigerian political system.
Lawan believed that his years of deep and passionate involvement in the operations of Parliament at the highest level had enabled him to understand the need for the enhancement and sustenance of good governance.
Meanwhile, after he lost at the presidential primary, Senator Ahmad Lawan sought a returning ticket at the parliamentary chambers, but he lost it to his political ally Bashir Machina who refused to hand over the APC ticket for the Yobe North Senatorial District district.
Bashir Machina won the senatorial ticket at the senatorial primaries in Yobe. However, in a twist of events, the APC submitted Lawan's name to the INEC as its senatorial candidate for Yobe North, making an aggrieved Machina seek redress at the court.
He, however, lost it as the Supreme Court declared Dr. Ahmad Lawan as the APC candidate for Yobe North Senatorial District, citing technical blunders committed by Bashir Machina's legal team. Upon winning the senatorial seat for his district at the 2023 general election, Ahmad Lawan became a member of the 10th Senate.
Controversies Involving the Former Senate President
As a politician, Ahmad Lawan is not free from controversies. One of his biggest controversies revolves around corruption allegations whereby he and other Cabinet members were accused of receiving bribes to expedite the passage of the Petroleum Industry Bill (PIB) in August 2021, despite strong public resistance to some of the bill's provisions.
According to a report from online media, the Senate President and the Speaker of the House of Representatives, Femi Gbajabiamila, were handsomely paid in dollars to ensure the passage of the PIB, which was signed into law on Aug. 16 by President Buhari.
However, in his reply to the allegation, Ahmad debunked the allegation, adding that the alleged 10 million dollars bribe was a product of fake news. He also urged Nigerians to " think positively about their leaders and their governments" and to "speak the truth".
Ahmad Lawan's Wives and Children
Despite being a public person following his illustrious career in the Nigerian political system, Ahmad Lawan is quite private with matters that concern his private life. This is why there are no details of his wives and children. However, as a devoted Muslim, we know that he is married to more than one wife.
The exact number of Ahmad Lawan's children is not known, but we know of his son Ibrahim Ahmad Lawan who got married to his heartthrob Amani Umar, daughter of Alhaji Bala Umar, in December 2019.
Who is Ahmad Lawan's New Wife?
Senator Ahmad lawan's new wife is Zainab Algoni Abdulwahid. Lawan married his new bride in June 2021, and although no further details about the new bride have been revealed, she is said to be a young Shuwa Arab Girl.
Lawan and his new bride wedded at the Sheikh Sharif Mosque in Maiduguri, Bornu State, and according to reports online, he gifted her N100 million a few days after they were introduced to each other. Meanwhile, in July 2021, Zainab relocated from Maiduguri, Borno State, to Abuja. It is, however, not clear if the couple has welcomed their first child.