Atiku Abubakar GCON (born: 25th November 1946 Age: 77 years old) is a Nigerian politician, businessman, and philanthropist from Jada town, Adamawa State.
Atiku Abubakar served as the vice president of Nigeria from 1999 to 2007 and was chosen in May 2022 as the Peoples Democratic Party (PDP) candidate in the 2023 Nigerian presidential election
Atiku Abubakar is one of the Nigerian-born great leaders willing to give his strength to others so they may have the strength to stand on their own. He is a Nigerian politician, businessman, and philanthropist, who served as the 2nd elected Vice-President of Nigeria from 1999 to 2007, as a member of People's Democratic Party (PDP), with President Olusegun Obasanjo.
Atiku Abubakar is keen on the need to restructure Nigeria and has since been giving speeches on it across the country. Hence, he launched the True Federalism Campaign in 2017. He strongly believed that True Federalism would encourage the competition of states to attract investments and skilled workers instead of merely waiting for monthly revenue allocation from the national capital.
Over time, his speeches had gained massive acceptance given the state's interest in having control over their resources, especially the South-East and South-South part of Nigeria. People who love him feel he has a clear plan for Nigeria and insist he is the most qualified in Nigeria to lead Nigerians to the promised land. Thus, he gained himself a warm place in the hearts of many Nigerians. However, the surprising thing is that with the rapid growth in ICT, the present-day generation seems not to know much about him. We bring you all the absorbing facts you should know about this long-established Nigerian politician.

Profile Summary of Atiku Abubakar
Full name: Atiku Abubakar
Age: 77 years old
Date of birth: 25th November 1936
Place of birth: Jada
Ethnicity: Fulani
State of origin: Adamawa State
Education: Ahmadu Bello University
Occupation: Politician
Marital status: Married to four wives
Children: 28
Active years: 1989 to present
Political party: People's Democratic Party (PDP)
Atiku Abubakar is 77 Years Old
Atiku Abubakar was born on 25th November 1946 in Jada town, Adamawa State. He is currently 77 years old. He was named after his grandfather, which is a common practice among the Fulani people, to name their first sons after their paternal grandfathers. Atiku Abubakar had a sister who died at a very young age, and that, in essence, made him the only child of his parents.
He had a very humble beginning and has witnessed huge struggles in life, considering the early death of his father. His father, Garba Abubakar, died after he was jailed for not being able to pay a fine (10 shillings) that was charged by Alkali court for trying to stop Atiku Abubakar from going to school when Native Authority officials had embarked on a compulsory mass literacy campaign in the region. As a result, Atiku said that his mother, Aisha Kanden, singlehandedly raised him.
There Have Been Controversies Surrounding Atiku Abubakar's State and even His Country of Origin
This controversy arose after he failed the 2019 presidential elections. After the 2019 presidential election, which Atiku contested under PDP but failed, he filed a petition against President Muhammadu Buhari, challenging the outcome of the election. During the court case, the APC claimed that Atiku Abubakar was not a citizen of Nigeria by birth and so should not have been allowed to contest the election in the first place. This is against the Nigerian constitution, which prescribes citizenship by birth as a requisite for the office of president.
This bore the controversy about his origin. As earlier stated, Atiku had his place of origin as Jada, a part of Adamawa that was initially a portion of northern Cameroon. This was until 1961 when that part of Cameroun was joined with Nigeria. Meanwhile, he was born in November 1946 before the unification.
Educational Background
While growing up, Abubakar's father wanted him to become an Islamic scholar, herdsman, farmer, and trader – just like him. But contrary to this dream, he ended up a businessman and politician. He started his primary school at the age of eight in 1960 at Jahad primary school. In 1960, he proceeded to Adamawa Provincial Secondary School in Yola and graduated in 1965.
Atiku furthered even after so many life struggles following the death of his father. He enrolled in Nigerian Police College Kaduna and afterward gained admission into the school of Hygiene, Kano, wherein he graduated with a diploma in 1967. For the passion Atiku has for education, he did not stop there, but proceeded to Ahmadu Bello University in 1969 and graduated with a Diploma in Law program. One significant thing about him, especially regarding his education, is that he was a persistent hard worker.
| Level of Education | Institution | Key Facts |
| --- | --- | --- |
| Elementary Education | Jada Primary School, Adamawa | |
| Secondary Education | Adamawa Provincial Secondary School, Yola | |
| Advanced Level Education | Nigerian Police College, Kaduna | |
| Higher Education | Ahmadu Bello University, Zaria | Studied Law |
| Further Studies | – | Attended various short courses, including at Harvard Business School and Georgetown University |
While He was a Customs Officer, Atiku Ventured into Several Businesses
While he was still in college, Abubakar decided to take on the position of tax official at the Regional Ministry of Finance. Then after graduating from ABU, he took his first job as a clerk in Ganye during holiday and used his earnings to buy a house (a thatched mud bungalow with two rooms plus a kitchen and bathroom) worth nine Pounds Sterling for his mother in Ganye, the headquarters of the local government council before joining custom service. Atiku worked for Nigeria Customs Service for twenty years and rose to the position of Deputy Director before his retirement in 1989.
During his time at the Customs Service, Atiku ventured into many businesses to keep himself afloat. Firstly, he began a real estate business, built his first and second house, and today has many landed properties to his name in Yola. Secondly, he made his way into the agricultural sector in 1998. Atiku Abubakar bought 2,500 hectares of land to start a cotton and maize farm, but the business, unfortunately, closed down after five years of its operation. However, he did not relent in trying out his hands in other businesses. Thus, he started the sales of rice, sugar, and flour.
He had a breakthrough in business when an Italian businessman in Nigeria, Gabrielle Volpi, negotiated with him to start a logistic company, Nigeria Container Services (NICOTES). Recall that he is still a civil servant through this time. This raised dust and accusing fingers against Atiku, considering it is an offense for an active civil servant to venture into other business. However, Abubakar was able to defend himself, stating that he is only a shareholder in the company and is not part of its day-to-day activities. Today, NICOTES is widely known as INTEL. Among many other businesses owned by the political legend include a microfinance bank and Adama Beverages Limited, a beverage producing company in Yola.
He Officially Joined Politics in 1989
Atiku Abubakar unofficially came into the world of politics in 1980 at the age of 34 and officially joined in 1989. Before he joined politics officially, he worked behind the scenes on the governorship campaign of Bamanga Tukur, who at that time was managing director of Nigeria Ports Authority. Atiku sought votes for Tukur's behalf and also contributed to the campaign. While in the customs service, he met Shehu Musa Yar'Adua, who had been second in command of the military government ruling Nigeria between 1976 and 1979.
In 1989, he was made the National Vice-Chairman of the Peoples Front of Nigeria, the political association led by Yar'Adua, to participate in the change program founded by Head of State, Gen. Ibrahim Babangida. Among other politicians in the team are Bola Tinubu, Sabo Bakin Zuwo, Rabiu Kwankwaso, Babalola Borishade, and Aliyu Sumaila. He later won the position to be the representative of his constituency at the 1989 Constituent Assembly and was also selected to represent his constituency at the constituency assembly.
He Ran For Governorship Election in 1990
While he was busy growing from strength to strength in politics, Atiku decided to run for the 1990 gubernatorial election of the now-defunct Gongola state. But before the election could hold, the federal government split the Gongola state into two- Adamawa and Taraba state. Atiku fell in Adamawa state and subsequently won the SDP primaries in November 1991 but was unfortunately disqualified from contesting in the election. In 1998, he came back and contested again as the governor of Adamawa State, now under PDP, and won.
Atiku Abubakar's Vice-President Tenure and Presidential Bid
On 29th May 1999, Atiku Abubakar was sworn in as the vice president of Nigeria alongside president Olusegun Obasanjo. Together with the South-African Deputy President, Jacob Zuma, he launched South Africa Nigeria Binational Commission. Atiku Abubakar's relationship with Olusegun Obasanjo turned sour after he declined his intention to amend the constitution, which will allow him to run for the presidency for the third time.
He Has Unsuccessfully Contested for the Nigerian Presidential Office Four Times
In 1992, Atiku Abubakar ran for the Nigerian presidency under Social Democratic Party and came third in the primaries, losing to MKO Abiola and Babagana Kingibe. Action Congress (AC) in December 2006 selected Atiku as their presidential candidate, but INEC omitted his name in the final list of aspirants for the election. INEC gave its reason for committing his name because he was listed by a panel set up by the government to be among corrupt persons in the country. Abubakar filed for defense in the supreme court on the 16th March 2007 and later contested after the court ruled in his favor.
Unfortunately, he came third and lost the election to Umaru Musa Yar'Adua, PDP candidate, and Muhammadu Buhari, ANPP candidate. He never relented but went on to contest for the 2011 presidential election, and this time under PDP. Yet again, he lost at the primaries to Goodluck Ebele Jonathan.
Now, one would think he would decide to quit, but no, Atiku is a relentless man who does not quit until he gets what he wants. In 2018 under PDP, he made known his interest to contest for the Nigeria presidential office. On 7th October, he won the party's nomination at its convention and went ahead to defeat every other contestant with 1,532 votes, leading Aminu Tambuwal, the Governor of Sokoto State, with 839 votes. Unfortunately, he lost the election on 27th February 2019 to President Muhammadu Buhari.
Atiku Abubakar's Awards and Recognitions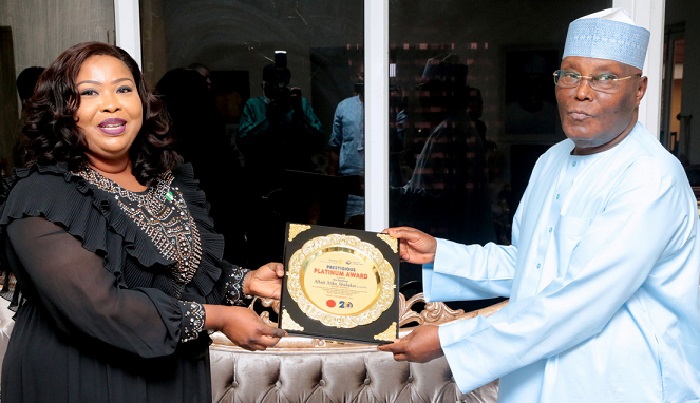 The PDP chieftain has on several occasions been awarded and recognized for his contributions to the nation. In 1982, Alhaji Aliyu Mustafa, Adamawa traditional ruler made him the Turaki of Adamawa state. This particular title was transferred to his son Aliyu in 2017 after Atiku was awarded another chieftaincy title of the Waziri of Adamawa. In 2011, during the 50th anniversary of the US Peace Corps, Atiku Abubarkar was honored with the Harris Wofford Global Citizen Award. Again, following his gross involvement in true federalism, Hall of Grace Magazine awarded him the Hero of Democracy.
Atiku Has also Had a Fair Share of Corruption Allegations and Scandals
The U.S. government accused Atiku Abubakar of money laundering via NICOTES, now known as INTELS. The report stated how he used the company to siphon millions of dollars to his fourth wife, Jennifer Iwenjiora Douglas Abubakar, based in the US. The illegally transferred fund made him an employer of labor and the owner of the American University of Nigeria (AUN), a school whose tuition fees over 99% of Nigerian students cannot afford. The allegation went on to state that Atiku established the school when public universities in the country were collapsing under him and Obasanjo's reign. And poor Nigerian students were languishing at home as a result of strike action by lecturers over poor funding.
According to the US criminal charges, the former Nigerian vice president moved $25 million via wire transfer into more than 30 U.S. bank accounts opened by his wife Ms. Douglas, which include LetsGo Ltd. Inc., Guernsey Trust Company Nigeria Ltd., and Sima Holding Ltd. Till today, Atiku and his wife Jennifer had refused to accept summons to appear before the US court. Instead, they put up their US mansion for sale and moved their family to Dubai.
How Many Wives Does Atiku Abubakar Have?
Atiku Abubakar has four wives. He has been married six times and divorced twice. The names of his current wives are Amina Titi Atiku-Abubakar, Princess Rukaiyat Atiku Abubakar, Fatima Shettima Abubakar, and an unnamed Moroccan woman. Jennifer Iwenjiora Douglas and Saadatu Ladi Yakubu are his divorced wives.
How Many Children Does Atiku Abubakar Have?
Atiku Abubakar has 28 children from his six marriages. Here are the names of some of his children and their mothers:
Fatima, Adamu, Halima, and Aminu were born to him by his first wife, Amina Titi Atiku-Abubakar.
Abba, Atiku, Zainab, Ummi, Mariam, and Rukayatu were born by his second wife, Saadatu Ladi Yakubu.
Aisha, Hadiza, Aliyu, Asmau, Mustafa, Laila, and Abdulsalaam were born to him by his third wife, Princess Rukaiya Atiku Abubakar.
Amina (Meena), Mohammed, and the twins Ahmed and Shehu, the twins Zainab and Aisha, and Hafsat were born to him by Fatima Shettima Abubakar.
Abdulmalik Abubakar, Zahra Abubakar, and Faisal Abubakar by Jennifer Iwonjora Douglas
Abdulmalik Abubakar, Zahra Abubakar, and Faisal Abubakar by Jennifer Iwonjora Douglas
The name of his last wife is not publicly known. She gave birth to one child.
Quick Facts About Atiku Abubakar
Although he has married six women, Atiku is only left with four as he divorced one before marrying others.
He has 28 children from all his marriages.
He has tried to become Nigeria's president in all the elections since 2007.
Before he was selected as vice president in 1998, Atiku was elected governor of his home state, Adamawa.
He has been a member of many political parties in Nigeria, including the PDP, APC, ACN, etc.
Unlike some politicians, Atiku Abubakar has a strong social media presence with over 400,000 followers on Twitter and 500,000 followers on Facebook. He became the second Nigerian politician to be verified on Twitter following Governor Tunde Fashola.
FAQs
Who is Alhaji Atiku Abubakar?
Alhaji Atiku Abubakar is a Nigerian politician and businessman who served as the vice president of Nigeria from 1999 to 2007 during the presidency of Olusegun Obasanjo. He has run for the presidency of Nigeria six times, in 1993, 2007, 2011, 2015, 2019, and 2023 but lost to his opponents.
How Old is Atiku Abubakar
Atiku Abubakar is 77 years old as he was born on November 25, 1946.
Where is Atiku Abubakar From?
Atiku Abubakar is from Adamawa State, Nigeria. He was born on 25th November 1946 in Jada, a village which was then under the administration of the British Cameroons. In 1961, Jada was added to Adamawa State, Nigeria.