Williams Uchemba (born 22nd October 1994) is a Nigerian actor, comedian, filmmaker, social media influencer, motivational speaker, and philanthropist from Imo State. He is known for movies such as Story Story: The African Rideshare (2018), Sugar Rush (2019), and Merry Men 2 (2019), and also for his philanthropic activities. 
There are only a few child actors whose careers would transcend their childhood and still go ahead to make some mind-blowing achievements in their adult lives. One former child actor who can boast of this achievement is Williams Uchemba; a multi-talented Nigerian actor, businessman, UN Youth Ambassador and many other good things. He's just 29 years old but the young man has got a lot of things going well in his life which in turn has become an inspiration to many.
Profile of Williams Uchemba
Full Name – Williams Uchemba
Date of Birth – 22nd October 1994
Age – 29
Birthplace – Abia State
State of Origin – Imo State; Mbaitolu Local Government Area
Ethnicity – Igbo
Religion – Christianity
Nationality – Nigerian
Occupation – Actor, Director, Ambassador
Years Active – 2000 – present
Spouse – Brunella Oscar
Williams Uchemba Hails from Imo State
Uchemba was born to the Uche-Mbah family on October 22nd, 1994, in Abia State, South-Eastern Nigeria; he is, however, a native of Imo State, precisely from Umueze village Obazu Mbieri in the Mbaitolu Local Government Area. He is from the same state with other Nollywood greats like Clems Ohameze, Emeka Ike, Stephanie Okereke, Kanayo O. Kanayo, Genevieve Nnaji, to mention a few.
Uchemba grew up and had his early primary and secondary education in Abia state. After completing his senior school certificate examination, Williams gained admission into the University of Nigeria, Nsukka in Enugu state. There he studied international relations for four years. At the time of his studies at UNN, nothing much was heard of the handsome actor.
He Started Acting at Age Six
As a child, Williams Uchemba started acting in Nollywood movies as early as a 6 year old alongside his younger sister, Sandra, while also schooling. His first movie appearance was in 'The Journey of Dead' in 2000, a movie that laid the foundation for his next role in 2002.acting career.
Following his breakthrough role in the 2000 blockbuster movie, Williams received more movie roles. The Movie 'Oh My Son' was his next role. It also helped him win the Best Kid Actor award at the Africa Movie Academy Award in 2002.
By 2003, Uchemba, who was already becoming a popular name in Nollywood, was cast for a part 1 and part 2 movie, 'Beyond Belief,' a movie rated 4.5 out of 5 on the box office. He continued his acting exploits on 'Dorathy My Love.' The movie was released in 2005, a 2-part movie that also had Sam Loko Efe, Emeka Ojukwu, and Eucharia-Anuobi Ekwu as casts.
In 2006, at 12 years, the good-looking child actor starred as Williams in another top-rated movie, 'The World of Riches,' featuring in the movie original and its sequel. The film directed by Ifeanyi Ikpoenyi also had Clarion Chukwura-Abiola, Clem Ohameze, Ngozi Ezeonu, and Charles Okafor.
At 24, he starred in the movie 'Story Story: The African Rideshare – Rider #3'. He then appeared in movies like Merry Men, Sugar Rush, and Quam's Money. He's also a cast of the upcoming movies: 'Slay' and 'Mamba's Diamond.'
In addition to acting, the young star decided to explore comedic acting. He started by making funny skits and posting them on Instagram and YouTube around 2017/2018.
He became known as the brain behind the #IDontLikeWhatIHate trend that went viral after people started using the hashtag to make their own funny videos on social media. Williams has also featured many other celebrities on his skits, such as Ayo Makun, Don Jazzy, Paul Okoye, and many others.
Uchemba's Notable Achievements
While some child actors make a big impression in the movie industry and then suddenly disappear, the likes of Williams Uchemba tend to stick around. Although he was briefly absent from acting, Williams came to become one of the most successful actors in big blockbuster movies.
Not just that, he was able to spice up his acting career with some other talent that is beneficial in the entertainment industry.  In addition to winning quite a number of awards for his acting talents, Williams has also achieved a lot from his other career paths;
He Owns a Production Company
Williams has had his fair share of movie appearances in Nollywood. Having grown quite big in the industry, the actor set up Prosthesis Entertainment Limited which is a film production company. The company is known to have produced a couple of top-ranking movies in the industry.
Their productions include films titled 'Hands Full of Blood,' and 'Mamba's Diamond'. The actor noted that in one year, he did two blockbusters movies, one grossed N300 million and the other N280 million. That, according to him was the best year in his career so far.
Appointment at the UN Youth Assembly
The actor and comedian recently announced his position as the Deputy Nigerian Youth Representative, Youth Assembly at the United Nations, and not 'UN ambassador in the United Nations as has been rumored. The people that organize the youth assembly are the Friendship Ambassadors Foundation.
He has Many Endorsement Deals to His Name
Williams has more endorsement deals than many of his peers in the Nigerian movie circle.
The Nollywood star has also made huge achievements from the many endorsement deals he has acquired through the years.
He has had deals with big brands like the blockchain and cryptocurrency brand chiji14xchange, Pennek Nigeria Limited, Sapphire Scents and Roxbury Leisure Homes. He was also the brand ambassador for the African Freestyle football championship 2019 among many others.
His Philanthropy
Williams is also known for his philanthropic gestures across Nigeria and Africa. In 2017, the actor started his NGO, Williams Uchemba Foundation, to help people and make the world a better place. In the same year, Williams started the viral Give Challenge, giving out to charities and encouraging fellow celebrities to do the same.
In 2020 April, Williams gave out money and food items to 5,000 plus rural dwellers in Lagos. In May of that year, he built a new house for one of the families living in a slum. He also adopted a boy named Demola.
The 18-year old furniture maker becomes a beneficiary of the actor's humanitarian services after he impressed him with his intelligence during their first meeting. Williams offered him a free University scholarship and the young boy is currently living with him in his home
Williams Uchemba's Awards
Williams Uchemba won his first major award as an actor at age 8, winning the Best Kid Actor award at the AMAA in 2002 for his role in 'Oh My Son.' His subsequent movies won him awards like Most Promising Actor in Nigeria at AMVCA, Most Promising Act to Watch at Best of Nollywood Awards, and Best Actor in a Comedy at City People Entertainment Awards.
 Awards as an Actor
Best Kid Actor award (2002)
Most Promising Actor in Nigeria
Most Promising Act to Watch
Best Actor in a Comedy
Awards for His Philanthropic Gestures
For all of his contributions as a humanitarian, Uchemba has garnered some well-deserved recognition. The following are some of his documented awards:
Individual Social Philanthropist from Social Media Award (2018)
Keynote Speaker Award by Carrington Youth Foundation (2020)
Africa Development Award at Africa trade and investment global summit Washington DC (2020)
Who is Williams Uchemba Married To?
Williams is happily married to Brunella Oscar, a native of Idemili South, Anambra State, whom he married in November 2020. The actor first announced his plans to get married on Saturday, 31 October 2020, and on 14 November 2020, he revealed that his fiancee was Brunella Oscar.
The two had been dating since January 2017 after meeting on Facebook in 2016. Somehow, the actor had managed to keep his relationship secret until this announcement.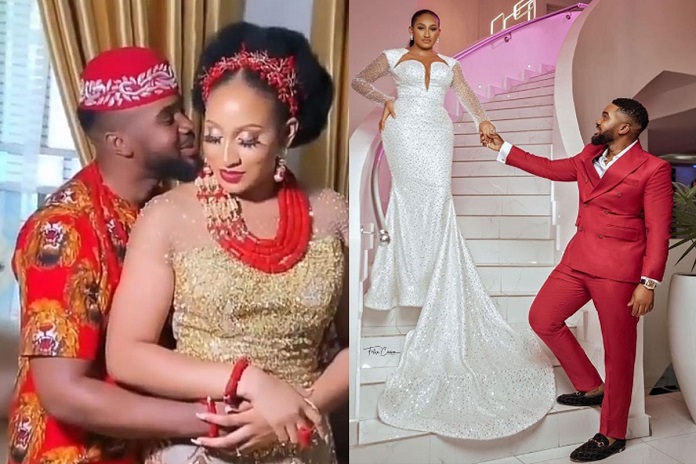 On 21 November 2020, Williams Uchemba married Brunella Oscar after their traditional marriage ceremony on 15 November 2020. The lavish wedding ceremony had Falz, Ayo Makun, Peter Okoye, Banky W, and sensational gospel musician – Frank Edwards as part of his groomsmen.