Falz, whose real name is Folarin Falana is a Nigerian musical artist who boasts of a successful legal career and also bank as a songwriter, actor, and television personality. Falz was born into a family with an extensive law background on October 27, 1990, in Mushin, Lagos Nigeria.
Though a professional lawyer, the singer has won more hearts with the mic than in the law court. He is best known for his funny Yoruba accent and music style, which he calls 'Wahzup Music.' The style is a combination of hip-hop, old-school sound, and funny lyrics.
Profile Summary of Falz
Full Name: Folarin Falana
Known as: Falz or Falz the Bahd Guy
Date of Birth: 27th October 1990
Age: 33 years old
Place of Birth: Mushin, Lagos
Education: University of Reading, United Kingdom
Occupation: Lawyer, Songwriter, Actor, Rapper, Comedian
Net worth: $5 million
Marital Status: Single
Active Years: 2009 to date
Originally from Ekiti State, Falz was Born in Lagos 33 Years Ago
Folarin Falana, more popularly known as Falz, was born into a family with an extensive law background on October 27, 1990, in Mushin, Lagos State, Nigeria. But, he is from Ilawe in Ekiti State. He had his elementary education at St. Leos Catholic Primary School, Ikeja, after which he moved to Olashore International School, Osun State, for his secondary school education. Upon completion, Falz proceeded to the University of Reading, United Kingdom, from where he earned an LLB honors degree in Law after graduation.
He was called to bar in 2012, after graduating from Nigeria Law School in Abuja. The Afro-pop singer is the only son of his parents, who are also human rights activists and lawyers. His career choice as a lawyer was influenced by his parents. They sent him to law school, where he performed well and started practicing afterward.
However, after a few years of being a good lawyer, he decided to follow his passion. Although his parents objected at first, they eventually gave in to his decision.  Despite being a musician, he has not completely abandoned his legal duties. However, due to his busy schedule, he cannot afford full-time law practice. But, he gives legal advice and carries out other minor legal duties. He is also doing well as a human rights activist.
His Parents Are Prominent Legal Practitioners
Falz is the son of a prominent legal practitioner and human rights activist, Femi Falana. Born on December 30, 1958, in Lagos State, the singer's father is the former National Chairman of the National Conscience Party (NCP). He contested for the Ekiti State governorship election in 2007 but lost the political race.
Femi is married to Funmi Falana, a respected lawyer and women's rights activist. She is the National Director of Women Empowerment and Legal Aid (WELA), a reputable non-governmental organization that fights for the right of children and women. Aside from Falz, Mr. and Mrs. Falana have two other children, Folakemi and Foladele. Both are girls, which makes Falz an only male child with two sisters. Unfortunately, there is no information about their personal life or career in the media.
Falz's Musical Career Started in 2009
"The Bahd Guy" has a unique music pattern that is different from any other in the industry. According to him, he developed this style of music because he was looking for a way to make people listen more to the lyrics of his song while also enjoying the beat. He sees the lyrics as the most vital part of any song.
Unlike many singers who knew from childhood that they were born to shine through music, Falz's childhood dream wasn't to become a singer. However, things changed while he was in secondary school, leading him to pick up music as a hobby. From developing himself on some aspects of music, the singer started a music group called The School Boys with his schoolmates and friends. Not long after, precisely in 2009, Falz dropped his debut mixtape titled Shakara: The Mixtapes of a secondary school student.
Two years later, the singer came up with another mind-blowing single hit titled Waz Up Guy. Falz was eventually thrust into small-scale stardom after his single hits Currency and High Class made their way to the music industry and became quite popular. His breakout song titled Marry Me was released in 2015 and was subsequently nominated for the Best Collaboration of the Year award at the Nigerian Entertainment Awards held in 2015.
Falz's music credits, which have won him commendations and many awards in the music industry, include Ello Bae (2015), Stories That Touch (2015), Chemistry (a collabo with Nigerian singer Simi), Soldier, and Jamb Question. The lawyer turned musician also has other projects like Next, and This Is Nigeria, which was released in May 2018. The music video, as gathered, was inspired by American actor/comedian Donald Glover's song This is America. Best known by his stage name Childish Gambino, Donald's song exposed the many challenges in America, which is precisely what Falz did in his own song.
The singer shares unique musical ties with popular Nigerian songwriter/singer Simisola Bolatito Ogunleye, popularly known as Simi. The pair have worked together on three songs which are Chemistry, Soldier, and Jamb Question. Falz has also banded together with a variety of other respected Nigerians artists like Dami Duro crooner Davido, YCee, Olamide, ShowDemKamp, M.I, Reekado Banks, actress/singer Chigul, Phyno, Afropop singer Yemi Alade, US-based Nigerian rapper Cheyenne Hamilton Labesa (stage name Chyn), Reminisce (real name Remilekun Abdulkalid Safaru) and others.
Since he joined the industry, the activist has been giving his fans a non-stop back-to-back hit. His most recent single, Mercy, released in 2021, shows that he is still fully in the music game. Among his countless singles and albums released over the years, some popular ones are;
Singles
Soft Work
Child of the World
One Trouser
Something Light
Foreign
Alakori
Ello Bae
La Fête
The Bahd Guy
Chemistry
Everybody
Wehdone Sir
High Class
Way
Girls
Regards to Your Mumsi
My People
Marry Me
Hypocrite
Celebrity Girlfriend
Marry Me Challenge
Soldier
This is Nigeria
Bop Daddy
Albums/ EPs
27
Chemistry (EP)
Wazup
Stories that Touch
Moral Construction
Awards Falz has Won
As a fruit of the hard work he puts into his music, acting and comedy, the rapper has won several awards.
Some of his awards include:
2016 BET Awards – Viewers' Choice Best New International Act
2016 Africa Magic Viewers' Choice Awards – Best Actor in a Comedy Movie/Series (Jenifa's Diary).
2016 City People Entertainment Awards – Album of the Year
9th Nigeria Music Video Awards (2016) – Best Afro Hip Hop Video (Karashika)
The Headies (2016) – Best Collabo (Soldier)
The Headies (2019) – Best Rap Album (Moral Instruction)
The Headies (2019) – Album of the Year (Moral Instruction)
The Headies (2019) – Best Rap Single (Talk)
Falz is Still Unmarried and Has No Babymama
A while back, the entertainment gossip mill was fussing about a possible relationship between the High School crooner and Joromi singer Simisola Bolatito Ogunleye. Still, the two have severally denied the claim, insisting that they are just friends and have nothing special between them. Though the couple looks cool together and could be easily mistaken for lovers, there's no substantial evidence to prove they are actually dating or probably seeing each other behind the camera.
And while rumor detectives were busy trying to find out if there's actually chemistry between the singers, Falz took everyone by surprise when he shared on his Instagram page that his "actual bae" is Lagos-born singer Chidinma Ekile.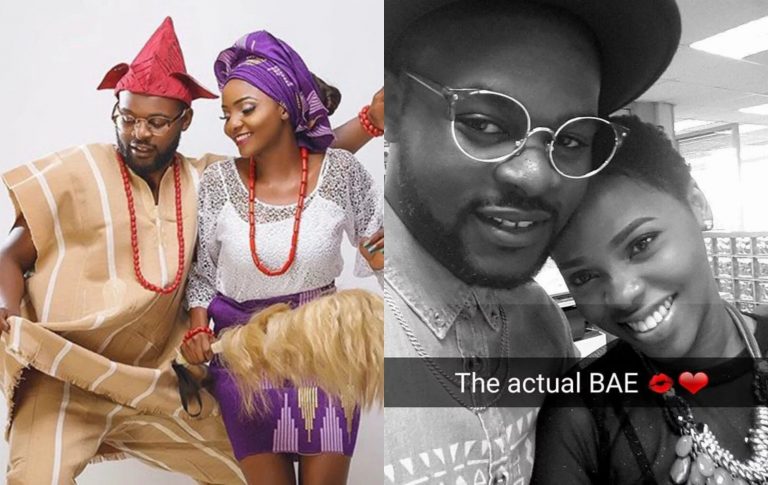 While many believe Falz's revelation is yet another publicity stunt, others were of the view that the two could be in a serious relationship, considering Falz's Instagram video, which captured him kissing Chidinma Ekile on her forehead. Ever since the video made its way to the internet, nothing has been heard about the couple, and they are yet to confirm if they are an item or not. So far, Falz has not confirmed whether or not he is in a relationship. However, he is still unmarried and does not have any child or baby mama.