Chidinma Ekile (born 2 May 1991, Age: 32​ years old) is a Nigerian gospel singer and songwriter popularly known as Miss Kedike. She gained public attention in 2010 after winning the third edition of the Project Fame West Africa competition.
She has since then grown to become an excellent hitmaker and concert performer. Chidinma stunned the Nigerian Entertainment Industry with her raw talent for many years. She has an angelic voice that distinguishes her from other female artists and has gotten to work with big names like Tha Suspect, Olamide, Flavour, and many more.
Chidinma has won lots of awards locally and internationally. Her accomplishments are credited to her creativity and musical prowess. Everything seemed to have been going very well for the singer when she shocked her fans and the public at large by announcing that she was quitting secular music for gospel music. The move, though admired by many, was feared to put her career in jeopardy. But the talented singer immediately started to show that she is good in what she does despite the genre of music she performs in.
Profile Summary Of Chidinma
Full Name: ​​​Chidinma Ekile
Date of Birth: ​​​2nd of May, 1991
Place of Birth: ​​​Ketu Kosofe, Lagos State
Age: ​​​​​32​ years old
State of Origin: Imo State
Nationality:​​​ Nigerian
Ethnicity: ​​​​Black
Education:​​​​ Sociology
Alma Mata:​​​ University of Lagos
Height: ​​​​5 feet 2 inches
Profession: ​​​Musician, Actress
Net Worth: ​​​$3 million
Chidinma Ekile Is Originally From Imo State But Was Born In Lagos
Chidinma was born and bred in Ketu Kosofe, Lagos State. She is the last born child of seven children who all sing. All the names of her brothers and sisters are not known except for her sister Grace who had a publicized wedding in Tanzania in 2015.
The singer's parents are originally from Imo State in the eastern part of Nigeria but settled in Lagos many years before she was born. The Ekile family witnessed the greatest miracle during the time of Chidinma's birth as the singer came into this world as a blind baby; when her family had almost lost hope, she regained her sight after sixteen days.
Chidinma's father, Hillary Ekile, popularly called Pa Ekile, was born in 1950. He was a pious Christian who lived an exemplary life. Her father was a disciplinarian so naturally, he brought up his children in the Christian faith, teaching them the word of God and maintaining a high moral standard in his home. Hillary passed away on 9th December 2014 at age 62. The death of her father left the singer traumatized. Chidinma took time off social media during that period and only made her first statement 19 days after her father's death. She did so to announce that he would be buried in January 2015.
The singer's mother, on the other hand, Martha Ekile, popularly known as Iya Lucky, is still alive. She was born on the 10th of November 1958. She has been her daughter's greatest supporter and role model. In 2014, Chidinma dedicated the track 'Martha' to her mother who watched over her through a very challenging infancy and all through her life. Martha celebrated her 60th birthday on 10th November 2018 and was gifted a home by her loving daughter.
She Fell In Love With Music As A Child
While growing up, Chidinma had a passion for music. At the age of 6, she started singing, and by the time she was ten years old, she was already singing in their local church choir in Ketu, Lagos. Chidinma went to primary and secondary school in Ketu; she attended Livingstone Model College. She later relocated to join her family at Ikorodu. She initially wanted to study Mass Communication at the university but later settled for sociology at the University of Lagos because it was the course of study offered to her.
How Chidinma's Project Fame Run Changed Her Life
Project Fame is a talent hunt and reality television show sponsored and hosted by multinational telecommunication giant MTN; filmed in Lagos and aired in the West African subcontinent. It premiered in Nigeria in 2007. Chidinma had always dreamed of being on the show. With the help of supporters, she obtained the form and soon became part of the show. That move became the genesis of her breakthrough.
Her family and friends were aware of her gift and were confident she would stand out during the course of the competition. She was one of over eight thousand other contestants that applied for the opportunity to showcase their God-given talents with the hope of becoming the newest celebrity. Ms. Ekile was selected among seventeen others in the Fame Academy for ten weeks of vigorous training in vocals and oratory.
Contestants were morally motivated by motivational speakers and also coached by professional musicians and artists. Choreography and rehearsals classes were also organized to teach them the theatrics of music. Chidinma, who was a young dreamer then, declined her initial admission into the University of Lagos because she was advancing in the third edition of the show.
On 26th September 2010, aged, 19 years, Chidinma emerged as the winner of the competition and was the first female to win the competition. The prize for the winner was a brand new 2011 Toyota Rav 4, a cash prize of N2.5 million, and a year production recording deal. This reality show gave her the much-needed musical experience and career advancement she needed. Her triumph was the catalyst that propelled her to international fame.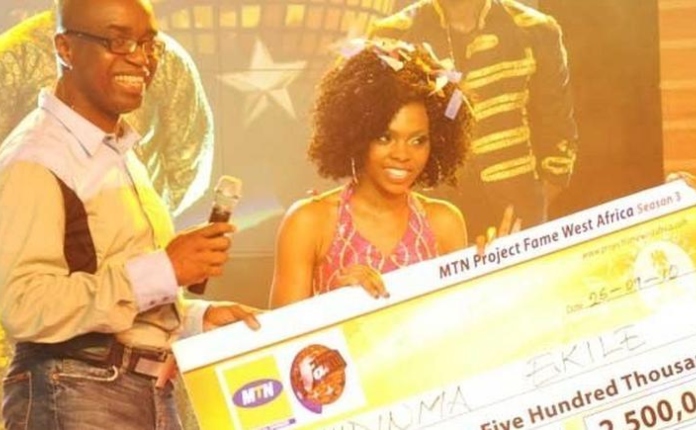 The Height Of Fame She Attained After Project Fame
After the well-deserved victory, Chidinma Ekile began to work on her album "Chidinma". The singer collaborated with several producers like Cobhams Asuquo, Tee-Y Mix, WazBeat, and Oscar Heman Ackah with each of them bringing something unique to the production. On February 22nd, 2011, she released her first two singles "Jankoliko" and "Carry You Go" featuring Sound Sultan. Both songs were produced by Oscar Heman Ackah.
Later on 4th June 2011, she released her first music video, a video for the song Jankoliko. The video was shot by Clarence Peters. On 11 October 2011, she released her album's third single titled "Kedike" (like a beating heart), which was a hit and was widely applauded. The music video for Kedike also shot by Clarence Peters was released in January 2012.
In early 2012, she started working with rapper Ill Bliss under the CAPital Hill Music/The Goretti Company label. She soon released the Illbliss and Tha Suspect-assisted hit single "Emi Ni Baller" in September that year. She also released "Bless My Hustle" featuring Phyno, after which she released "Oh Baby" and "Olorufe". Chidinma Ekile thus became the first female musician to peak at number 1 on the MTV Base Official Naija Top Chart. She was later signed to 2NITE Music Group, a record label led by Flavour N'abania.
Some Of Chidinma Ekile's Awards and Achievements As A Secular Artist
Chidinma garnered tons of awards and recognitions as a secular artist. She won the award for Best Female West African Act in the 2012 edition of the Kora Award. She also won Best Pop Extra Video by Nigeria Music Video Awards in 2013. One of Chidinma's most popular hits is "Fallen In Love", which was released in 2017. Its video currently has over 86 million views on YouTube. As an actress, she starred in the 2017 movie, The Bridge directed by Kunle Afolayan.
In May 2013, she signed a multimillion-dollar deal with telecom giant MTN. she is also a brand ambassador of Molped, a company that specializes in sanitary pads. Chidinma is the founder of NMA Care Foundation, a nongovernmental organization (NGO) that caters to visually impaired children.
Chidinma Ekile's Conversion From Secular To Gospel Music
For a very long while, nothing was heard about the award-winning singer until 2nd May 2021 when she celebrated her 30th birthday and shared fantastic pictures on her Instagram handle. She, however, made a shocking announcement when she said that she was quitting secular music in favor of gospel music. She expressed regret over wasting about 9 years letting the devil win for too long and vowed never to go back to singing secular music again.
She became a turncoat for the better and according to her, now uses her gift to win souls, worship, praise, and work for God Almighty in Heaven. She changed her alias to "Mummy GO" and "End Time soldier", further causing pandemonium among her fans and the public at large. She claimed she had an encounter with God who had been waiting for her all along to invite her to work in his vineyard.
Chidinma said she heard and accepted the clarion call to serve God and win souls for the coming of Jesus Christ. To cement the switch in the gospel genre of music, she released her first gospel song, "Jehovah Over Do" on 2nd May 2021. Her Extended Play was released on 23rd August 2021, the album consists of 6 tracks and a bonus track making it seven tracks.
How Fans Reacted To Her Conversion To Gospel Music
There were mixed reactions from the public after Chidinma's swift conversion. While some saw it coming, others were in shock. But this did not affect the love her fans have for her. However, after the news of her decision to switch from secular to gospel music, many fans have become critical of what she wears and does.
It happened that at a certain time, she posted pictures of her wearing trouser; some fans kept implying that she should dress differently. But others showed her love and support under the post; some hailed her "Minister Chidinma" and "Mummy General Overseer". Although so many fans are expecting her to be dressing totally differently, the singer is showing her fans that one can still be trendy and classy even as a gospel singer.
Some Of Her Songs As A Gospel Artist
Chukwu Oma
Ko S'Oba Bire
Jesus The Son of God
This Love
Jehovah Over Do
Lion and The Lamb
This Love (French Version)
After her conversion from secular to gospel music, Chidinma got signed to record label Eezee Conceptz which has gospel sensation Mercy Chinwo. Her album is produced by Ezekiel "Eezee Tee" ThankGod.
Chidinma's Love Life Has Been A Thing Of Intricacy
It is not clear whether the petite singing sensation is married or just dating. There has been no official report or marriage certificate to prove that she is married. However, she has been spotted wearing a wedding ring on several occasions which has raised a lot of questions.
Although she always tries to keep things professional, Chidinma has been the subject of many complex love stories in the Nigerian music industry. Below are some persons she has reportedly had a relationship with during the course of her career.
Flavor Nabania
After popular Nigerian high-life singer Flavor released the music video Ololufe featuring Chidinma, eyebrows were raised regarding the relationship they both shared. In the video, Flavor and Chidinma displayed lots of sensual acts which pointed to the notion that they could be a couple. Their passionate kiss onset only made fans think they were in an intimate relationship.
However, Flavor later opened up saying their relationship is cordial and professional and that they were no strings attached. As for the sensuality displayed on set, he said they were only acting for the cameras.
Timilehin Bello
Timilehin Bello, popularly known as BigTimi, is brother to Mavin records artiste, Korede Bello. BigTimi is an admirer of Chidinma. On August 22, 2015, the die-hard fan of the singer got down on one knee, looked her in the eye, and asked for her hand in marriage. It is not clear if the two were dating before the heartwarming incident. However, reports that followed the proposal implied that BigTimi simply could not hide his affection for her because he has been crushing on her for a while. The marriage never came to pass but they are still good friends.
Phyno
It was also alleged that the soul sensational singer dated Nigerian rapper Phyno though none of them has confirmed the rumors. The speculations heightened after the two artists collaborated in Chidinma's song titled "Bless My Hustle". The single which was a hit left many wondering if they were an item. However, Chidinma Ekile dispelled the rumors while speaking with HipHopWorld magazine saying they're only friends and nothing more.
Kizz Daniel
There were also speculations in 2018 that the gospel singer and Nigerian singer Kizz Daniel were dating. Chidinma did not deny nor affirm the suspicion but stated that if it were true, the public will know in time. But word on the streets maintained that the two were an item. There were reports at the time that the two went ahead to get matching tattoos to prove their love for each other. Apparently, she got tired of explaining one relationship rumor after the other so she just relaxed and enjoyed the show.