Ayoleyi Hanniel Solomon, professionally known by his stage name Reekado Banks, is a Nigerian songwriter, entertainer, stage performer, and singer with an estimated net worth of $2.1 million. He came to the limelight with his hit single "Turn it up," featuring Tiwa Savage, and gained international recognition with his role in the Mavin All-Star hit track "Dorobuchi." He was discovered by ace Nigerian producer and music mogul Don Jazzy who signed him in 2014.
The rest has been history for the young and talented artist who has found his way into the hearts of Nigerians. His illustrious career has featured the likes of Dr. Sid, Wande Coal, Falz, D'Prince, and Di'ja. Reekado gets his inspirations from acts like Tuface Idibia, MI, and Dj Jimmy Jat.

Profile Summary Of Reekado Banks
Full Name: ​​​Ayoleyi Hanniel Solomon
Date of Birth: ​​​December 6, 1993
Place of birth: ​​​Lagos State
Age: ​​​​​29​ years old
State of Origin: ​​​Ondo State
Nationality: ​​​Nigerian
Ethnicity: Yoruba
Education:​​​​ History and Strategic Studies
Alma Mata: ​​​University of Lagos
Religion:​​​​ Christian
Marital Status:​​​ Single
Status: ​​​​Active
Reekado Banks Was Born And Raised in Lagos State
The prolific Yoruba music sensation Reekado is the last child of six children from a musically inclined family. He came up with his stage name by combining the word "strong" and "wealth." He got the derivative of Reekado from a Spanish name, 'Ricardo' meaning' 'Ruler of kings' and 'Banks,' which is the house of wealth; the names go together to mean 'being rich in musical content.'
He was born into a religious and strict home in Ikorodu Lagos State, Southwestern Nigeria. Reekado's father is a singer and Pastor from Ondo state who brought his children up, teaching them the ethics enshrined in the bible; there was no room for a wayward child to flourish under his watch. His mother is a pastor and a caterer. Both his parents were strict disciplinarians by virtue of their jobs.
Some of Reekado's siblings ventured into music just like him. His older brother, Temi Solomon, is a music producer and manager; he helped coach Banks and managed him up until he stepped into the limelight and even after. At the age of 15, Reekado started writing songs as a hobby. Temi discovered his book of lyrics and began to guide young Reekado on how to make and record music. Reekado's sister, whose name is not known, is a gospel artist. However, the media has very little information about her.
He Started Preparing For His Musical Journey From Secondary School
Banks completed his primary and secondary education in Lagos at the tender age of 14 and began recording his first set of songs produced by his elder brother Temi. He enrolled at the University of Lagos and graduated with a degree in History and Strategic Study. Before coming to the limelight, he would always showcase his musical talent in so many ways and was known by the stage name 'Spicy.'
He made more rap music at the time, but his brother Temi advised him to focus more on singing. Listening to different kinds of music, he later chose Afropop as a genre of music. After his university education, Reekado had to work as a manual laborer at a construction site before his music career kicked off. In 2013, his brother enrolled him in an online talent search organized by Mavin Records.
Temi had submitted Reekado's songs in the search. His distinct voice and knack for creating unique melodies and lyrics caught the attention of music guru and Mavin records boss, Don Jazzy. Fortunately, he was picked out from over 5,000 entries made by different upcoming artists at the time. In 2014 he was unveiled together with Korede Bello and Di'ja as the new official signees for the record label.
The 'Katapot' Singer Got His Breakthrough Under Mavin Records
Reekado Banks broke into the industry after he joined Don Jazzy. His debut single, which was "Turn it up," was released shortly after he joined Mavin, and it was an instant success and an award-winning track. Banks was featured on the critically acclaimed track "Dorobucci," which featured other Mavin artists such as Tiwa Savage, Di'ja, Korede Bello D'Prince, and Don Jazzy himself. Dorobucci was nominated for several awards at the Headies (an annual ceremony that celebrates the Nigerian music industry) and won in the category of Best Pop Single.
The song skyrocketed Reekado to international fame. He also worked with his co-signees in tracks like "Looku looku," and "Adaobi." With these, Reekado started making headways in the music industry. In February 2015, he released the applauded track produced by Don Jazzy, "Katapot." This track was mistaken for a diss track to Wande Coal and D'Banj, who were members of the defunct Mo Hit Records (now Mavin Records). However, the singer cleared the air saying that the track was for his fans and dedicated to those who never wished him well during his career.
Katapot received awesome reviews, reaching 5th place on iTunes in the first seven days of release and winning Headies for 'Next Rated Artiste' and 'Video of the Year' in 2015. Following this victory, Reekado Banks released his debut album Spotlight on September 1, 2016. The album has been described as a masterpiece and an amazing debut for the young man who has built a fan base amongst the young and tech-savvy, backed by the powers of Don Jazzy.
Spotlight, which was fully produced by Don Jazzy, Babyfresh, and Altims in-house, achieved an incredible accomplishment by topping the iTunes Chart less than 24 hours after it hit the internet. It also peaked No. 10 on the list of Billboard World Albums. Spotlight won that year's Headies for Best Album. Since then, Reekado Banks has become a very popular and sought-after artist because of his talent and creativity.

Some Of His Most Popular Songs
Turn It Up ft Tiwa Savage​​​ -2014
Dorobucci​​​​​​​ -2014
Ada Obi​​​​​​​ -2014
Arise ​​​​​​​-2014
Looku Looku -​​​​​​ 2014
Katapot​​​​​​​ – 2015
Sugar Baby​​​​​​ -2015
Tomorrow​​​​​​​ -2015
Koloba​​​​​​​ -2016
Oluwa Ni​​​​​​​ -2016
Standard​​​​​​​ -2016
Hey Stranger -​​​​​​2016
Na Your Boy​​​​​​ -2016
Dangote​​​​​​​ -2016
Ladies and Gentlemen -​​​​​2016
Easy (Jeje)​​​​​​​ -2017
Kiss Me​​​​​​​ -2017
Like with Tiwa Savage and Fiokee​​ -2017
Pull Up​​​​​​​ -2018
Blessings On Me -2018
The talented artist contributed to Tiwa Savage's hit single "My Darlin" and wrote songs for a Kenyan Big Brother Africa contestant in 2010. Reekado gradually became a social trendsetter among his peers with his frequent gimmicks on platforms such as Twitter, Instagram, and Facebook. On December 7, 2018, the musician disclosed that he was leaving Mavin Records because he wanted to move on to greater things.
Reekado Banks Still Maintains His Relevance In The Industry Even After He Left Mavin Records
In his farewell post, Reekado explained that his departure was not due to any dispute with the label but because he wanted to grow his career and broaden his horizon. He expressed gratitude to Don Jazzy for allowing him to showcase his talent and making him a star. He also expressed joy and was ecstatic as leaving Mavin Records was a bold step that would avail him of bigger opportunities and the freedom to go beyond borders to explore his full potentials.
This was the period he sacked his elder brother, Temi Solomon, as his manager. He also disclosed that he let his brother go as his manager because he left Mavin – growth. The artist obviously had the foresight of an eagle and wanted to hit the freeway to see how far he could go. Reekado was then managed by Twenty20 media led by Kamal Ajiboye, Davido's former manager.
A few days after leaving Mavin Records, Reekado unveiled his record label, Banks Music, on December 9, 2018. He made this known via his official Instagram handle. On November 27, 2020, Reekado Banks released his sophomore project, Off The Record. The project is the replacement for the album he called 'Daddy to Many' in 2019. He featured international acts such as Kida Kudz, Attifaya, and EO Banks. The EP has guest appearances from Mr. Eazi, Tiwa Savage, Kida Kudz, Harmonize, etc.
The EP, which consists of seven tracks, contains his 2019 hit song "Rora" and two previously released single in 2020, "Need More" and "You Dey Mad." In October 2021, he came up with another hit single, 'Ozumba Mbadiwe.' It was dedicated to the October 20 #EndSARS memorial commemoration in Nigeria.
Reekado Banks' tracks and albums have added to his worth as an artist and have made him influential in the music industry. His songs are full of exciting musical content, a mixture of different forms and compositions, with top-notch production.
Some Of His Awards
Reekado's awards and nominations are not left out. The musician has bagged several awards in the course of his music career. They include:
Rookie of The Year, The Headies Award, 2014
Next Rated Award, The Headies, 2015
Video of the Year "Katapot," Headies Awards, 2015
Most promising act Of The Year Award (Male), City people entertainment awards, 2015
Revelation of the Year, Top Naija Music Award, 2015
Best Album, Headies Awards, 2016
Revelation Of The Year, Headies Awards, 2017
Hip hop World Revelation of the Year, The Headies Award, 2018
Banks Has His Music Career To Thank For His $2.1 Million Net Worth
Reekado Banks is a successful musician. However, he does not flaunt his wealth on social media or brag about it. But it is no longer news that the musician has a net worth estimated at $2.1 million or even more. He makes loads of money from his album sales. Reekado's album sales snowballed with the release of tracks such as Oluwani, Sugarbaby, and Standard. He has also been featured in several music videos, which boosts his popularity and income.
His performance per show keeps soaring, too; word in the streets has it that Reekado Banks charges nothing less than N900,000 – 1,000,000 per show. While he was with Mavin, he had to share according to the stipulated percentage in his contracts. However, as he now owns a record label, all proceeds go straight to him.
Reekado makes money from his record label, which has attracted several A-list artists and producers who leverage his fame to boost sales. When his contract expired with Mavin Records, he was worth about $1 million. Still, due to hard work, perseverance, and the ability to handle more opportunities, he has increased his worth as he has cemented himself into the Nigerian Hall of Fame.
With his musical influence, he has bagged mouthwatering endorsements. In July 2015, he and other singers inked a multimillion-naira endorsement agreement with multinational Telecommunication giant Globacom, a deal which raked in millions of Naira and kept him smiling to the bank. He also makes money on his monetized YouTube channel, which has over 100 million subscribers.
Is Reekado Banks Richer Than Other Mavin Signees?
There may not be a yardstick for comparing the successes of the young mavin signees, but one thing is sure, Reekado Banks and his former colleagues are all doing well in the industry. Korede Bello, a professional singer and former colleague of Reekado at Mavin Records, has an estimated net worth of about $1.1 million. Korede's track 'Godwin' alone generated over ₦150 million in just the first year of its release. He is a successful artist considering the way his career is moving so fast.
However, his fortune cannot be said to be more than that of Reekado, who earns a lot himself. Hadiza Biell-Olo, professionally known as Di'ja, is a Nigerian singing sensation also signed with Mavin Records. Due to family affairs, the singer estimated to be worth about $500,000 is said to be scarce on the screen these days. This is why many believe that Reekado is doing better; his high record sales and marketability come into play in this case. Reekado was fortunate to be produced by an A-list producer like Don Jazzy. Being a talented artist, it was very easy to manage him.
Reekado Bank's Cars
Reekado is not a fiend for cars, but he has an exotic garage stocked with some exotic cars such as Hyundai iX35. Following his victory in the Headies 2015's Next Rated award, he was given a Hyundai iX35.
The singer also acquired for himself a Lexus SC430 convertible. The all-aluminum construction powered by a 4.3-liter engine is worth about ₦6 million. He also is a proud owner of a befitting mansion in Lagos.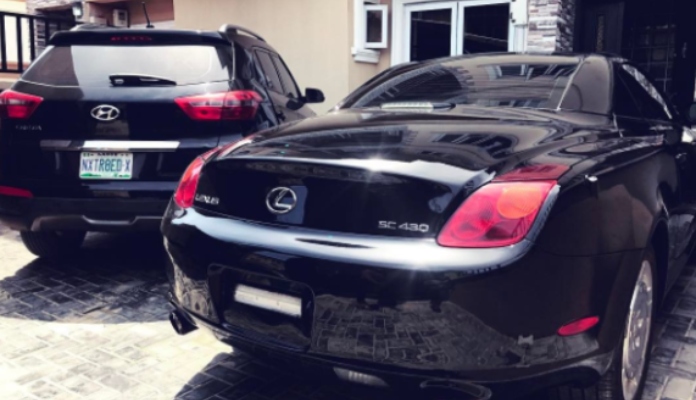 Reekado has said a certain time that he is not one to flaunt his wealth on social media. Speaking to thenet.ng in 2017, the singer revealed he was building a school, although nothing much is known about the said structure. In 2015 the Rora singer bought a duplex for his parents.