Damini Ebunoluwa Ogulu, best known by his stage name Burna Boy or perhaps, African Giant as he proudly calls himself, is a 32-year-old Nigerian singer, writer, producer, and performer. He is undoubtedly one of the top Nigerian singers who has taken the Nigerian music industry to the world through their music styles. Talk about African songs embellished with a unique fusion of Afro-pop, reggae, 'riddim,' and dancehall, and you seek no other but Burna Boy's songs like 'Like to Party,' 'Ye,' 'On the Low,' 'Soke, 'Rizzla,' 'Spiritual,' and much more.
It only took Burna Boy a few years to achieve what most of his contemporaries couldn't achieve in so many years. He stormed the music industry in 2010 and eventually worked his way to the top after two years, carving a niche for himself as one of Nigeria's fast-rising stars to watch out for. Burna Boy has the voice, talent, skills, charisma, and a conquering spirit that has led him through many hurdles in the industry. Guess you really want to know more about this fast-rising superstar and his music career. You'll find all the facts you need to know about Burna Boy in this article. Read on!
Profile Summary of Burna Boy
Full Name: Damini Ebunoluwa Ogulu
Date of birth: 2 July 1991
Age: 32
Place of birth: Rivers State
Nationality: Nigerian
Profession:  Singer, songwriter
Music Genre: Afro-fusion, Afrobeat, Dancehall, hip hop, Pop, R&B
Years active: 2011–present
Marital Status: Single
Burna Boy Hails from Ahoada, Rivers State, Nigeria
Burna Boy may have grown his fame in Africa's largest city of Lagos, but he is certainly not from Lagos State. He was born on July 2, 1991, in Ahoada, Rivers State, South-Southern Nigeria. If you are a fan of his music, you will notice his songs has a fusion of Yoruba, Igbo, and pidgin English. That, of course, is influenced by the environment he grew up in. He grew up with his parents, Mr. and Mrs. Ogulu, and spent most of his childhood in Port Harcourt before his family relocated to Lagos.
According to records, Burna Boy attended Montessori International School, from where he moved to Corona, Agbara, Lagos, for his secondary school education. Growing up in an averagely rich family, Burn Boy had an exciting childhood surrounded by members of his extended family. His father was popular for managing a welding company, and his mother worked as a translator for the Federation of West African Chambers of Commerce. His maternal grandfather Benson Idonije once managed the Afrobeat legend, Fela Anikulapo-Kuti. Even as a child, he was already exposed to music styles that somehow influenced his music style and genre in the future.
Burna Boy Has Only Two Sisters
Burna Boy may not be fond of exposing his family to the public, but he is sure very close to every family member. The famous artist grew up amidst two sisters, namely Ronami Ogulu and Jehovah-Nissi Ogulu. He is the oldest of the three, and his sisters are doing well on their own. Meet them below.
His Younger Sister, Ronami Ogulu, is a Fashionista
Ronami is Burna's younger sister; she is a stylist and is committed to managing his wardrobe for public appearances, performances, and tours. It is unclear when Ronami started her career as a stylist, but it is believed that she's been managing her brother's wardrobe for years. Her approach to styling is radical and uniquely different from the usual style guides, which is why she is being patronized by her brother.
Nissi Ogulu is a Singer and Songwriter
Nissi is a singer-songwriter who has created an enviable niche for herself in the music world. Though not as popular as her brother, Nissi's music is a blend of genres, including funk. Not only is she Spaceship Records' first signing, but she is also currently the only female artiste working under the record label. Nissi is based in London, where she is also popular for her music.
Asides from being a singer, Burna Boy's sister Nissi is a Mechanical Engineer and a graduate of Warwick University, UK. You could also refer to her as a fine artist, creative digital designer, animator, philanthropist, dance aficionado, etc. Like her brother, Nissi was privileged to attend some of the best schools in the city. As a teenager, she attended Corona Secondary School, Lagos, and then The Royal High School, Bath, UK.
Burna Discovered His Singing Talent At Age 10
Burna Boy grew up with a family known for their creativity, which helped him discover his calling in the music world. As a toddler, he would dance and sing whenever his parents took him to a restaurant to eat. Growing into his teenage years, his interest in music began to increase as he grew fond of foreign rappers like Naughty and Busta Rhymes while still enjoying the dancehall of Buju Banton. When he was 10 years old, his friend and classmate gifted him a copy of the production software FruityLoops. Armed with these means, he began to create his own beats on an old computer.
At 17, He Left Nigeria For the UK  to Further his Academic Career
Burna Boy's family sure loves music, but a greater preference is placed on education. Hence, after completing his secondary education, he was moved to the United Kingdom (UK) and was admitted to the University of Sussex to study Media Technology. Shortly afterward, he moved to Oxford Brookes University to study Media Communications and Culture. He eventually returned to his home country in 2010.
Seeing how well her son is passionate about music, Burna's mother, Bose, got him a job as an intern with Rhythm 93.7 FM Port Harcourt. After work each day, Burna Boy would go to the studio to record songs. He always had his generator in his car's trunk as a backup should the power supply go off at the studio. Meeting a mutual acquaintance, producer LeriQ, who had some studio space, Burna began to produce his own songs until he officially launched his professional music career after being signed to Aristocrat records – prompting his permanent relocation to Lagos.
Burna Boy's Meteoric Rise to Fame
Burna Boy launched his career in 2010. He dropped his first record titled: "Shobeedo (Freestyle)" in 2011. The song was followed shortly by 'Burn Notice" and "Burn Identity." The following year, precisely on May 31, 2012, the Afrofusion songwriter released another single titled: "Like To Party" and subsequently its video on September 5, 2012, to the excitement of many music lovers.
Burna's hit single 'Like to Party' from his debut album L.I.F.E eventually became the footstone that saw his rise to fame. Thanks to the massive acceptance of the hit song, the album L.I.F.E. sold about 40,000 copies on the first day of its debut. The album's marketing rights were also sold to Uba Pacific for 10 million Naira. Not only did the album receive largely positive reviews from music critics, but it was also nominated for Best Album of the Year at the 2014 Nigeria Entertainment Awards.
In August 2013, L.I.F.E peaked at number 7 on the Billboard Reggae Albums chart. Other stars featured in his album include 2face, M.I, Reminisce, Wizkid, Timaya, and Olamide.
Overview of His Music Career & Accomplishments
In his little time on the microphone, the singer has managed to pull successful African singers like AKA, Leriq, and Sarkodie to the studio to work with him. This feat alone earned him praises within and beyond the entertainment community. "Like to Party" music video, which ran for 4 minutes and 9 seconds and was shot by Squareball Media services, to date, is considered as Burna Boy's breakout song/video, as it played pivotal roles in thrusting him into immense popularity across Nigeria and beyond.
The Afropop vocalist also boasts another single hit titled "Tonight," released on September 24, 2012, and later backed up with its music video. The music video for "Tonight" was released on December 13, 2012, featuring the singer's innate feelings and heartfelt emotions. Burna Boy's debut studio album is titled: L.I.F.E – Leaving an Impact for Eternity. It was released on August 12, 2013, by Aristokrat Records.
His other musical credits include "Redemption (EP)" (2016), "On a Spaceship" (2015), "Outside" (2018), etc. The star singer described his 2018 album, Outside, as a mixtape because it mostly consists of Afrobeats, dancehall, reggae, and road rap. It peaked at No. 3 on the Reggae Albums chart and was marked as Burna's major-label debut. Burna's next album that came shortly after the widely accepted mixtape was African Giant – an Afro-Fusion mostly described by the singer as his most personal album yet.
Burna Boy has released five successful music albums, namely:
Is Burna Boy the Most Popular Nigerian Musician?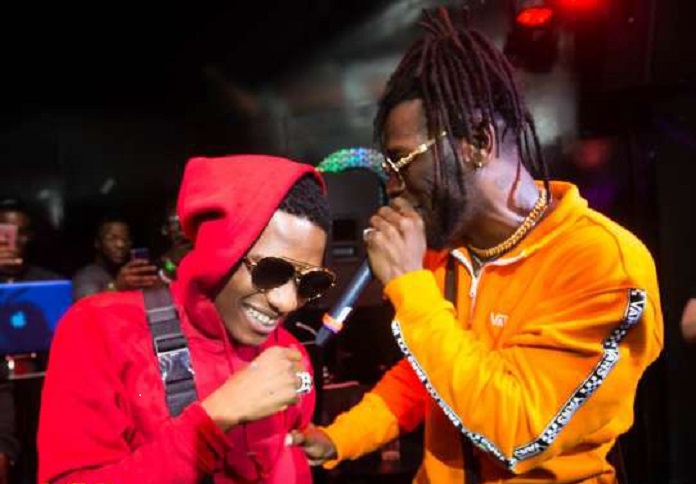 The self-claimed African giant is no doubt a force to reckon with in the Nigerian music industry. He is largely described as a new generation black artist with strong influence from dancehall, British culture, and hip-hop. Since his emergence into the music world in 2013, Burna became one of the most in-demand musicians on the planet. However, his steady release of several hit tracks and albums has seen him rise above his peers and is now recognized as a music business superpower.
Burna Boy is one of the most successful music artists in Nigeria; his consistency in producing Grammy-worthy albums three years in a row and bagging two nominations has earned him a seat as one of the most popular artists in Nigeria. However, his seat as the most influential artist in Nigeria could be argued as the likes of Wizkid has held on to the title for several years.
The Afrobeats singer Wizkid has always been dubbed a music legend for taking after Fela Kuti and contributing immensely to the African sound's global acceptance (Afrobeats). With 65 awards, including a title as the most awarded African artist in BET history, Wizkid is named the best and most influential artist in Nigeria. Next to him is, of course, Burna Boy, with 22 awards and counting. Burna is also named the first contemporary Nigerian musician to win the Grammy award in recent times. He is also the first Nigerian to be nominated back to back in Grammy. His Grammy awards gave him an edge over artists like Davido and D'banj, who have 29 awards each.
Here is a complete list of Awards Burna Boy has won so far
2013 – Nigeria Entertainment Awards for Best New Act of the Year

2014 – Nigeria Entertainment Awards' Album of the Year

2015 – MTV Africa Music Awards for Best Collaboration
2015 – All Africa Music Awards for Best African Collaboration
2018 – African Musik Magazine Awards (AFRIMMA) for Best African Dance Hall/Reggae Act
2018 – Nigeria Entertainment Awards for Album of the Year
2018 – Soundcity MVP Awards Festival for Listener's Choice and Song of the Year, Best Male MVP, African Artiste of the Year
2018 – BET Awards for Best International Act
2018 – The Headies  awards Song of the Year, Artiste of the Year, and Best Collaboration
2018 – MTV Europe Music Awards for Best African Act
2019 – Future Awards Africa for Future Award Prize for Musi and Future Prize for Young Person of the Year
2019 – African Muzik Magazine Awards for Artiste of the Year, Best Male West Africa
2019 – All Africa Music Awards for West African Male Artiste of the Year and Artiste of the Year in Africa
2019 – Ghana Music Awards for African Artiste of the Year, Crossing Boundaries with Music
2020 – Soundcity MVP Awards Festival for Best Male MVP, Song of the Year, African Artiste of The Year
2020 – African Musik Magazine Awards for Best Collaboration
2020 – BET Awards for Best International Act,
2020 – Edison Award for Best World Album, Best International Act
2020 – MOBO Awards for Best International Act
2021 – Grammy Awards for Best Global Music Album
2021 – Global Music Awards Africa for Artiste of the Year
2021 – BET Awards for Best International Act
Why Burna Boy's Music is Unique
From listening to the music of legends like Fela Kuti, Angelique Kidjo, DMX, and Buju Banton, Burna has worked himself into becoming one of contemporary African music's bright stars and the pioneer of an enigmatic genre he dubs "Afro-fusion." Burna delved into the dancehall and reggae music his father listened to and explored the Afro-beat music preferred by his grandfather. As a result of his exposure and discoveries, he created a confluence of genres that would become his signature sound.
Burna's music has always been well-loved among the UK's African community, ever since his 2013 debut album LIFE (Leaving An Impact For Eternity). With his music, Burna is not only promoting a pan-African message, preaching unity, and raging against oppression and discrimination, but he is also influencing a generation of British acts. Reeling through his other UK collaborators – Lily Allen, Jorja Smith, Wretch 32, J Hus, Dave – shows the breadth of his reach. Burna Boy has also worked with many other international stars, including Fall Out Boy, Major Lazer, Damian Marley, Future, Pop Smoke, etc.