Fela Kuti (Full Name: Olufela Olusegun Oludotun Ransome-Kuti, 15 October 1938 – 2 August 1997 ) was a Nigerian singer, composer, bandleader, multi-instrumentalist, political activist, and Pan-Africanist best known as the pioneer of Afro-beat.
Fela Kuti is not popular for nothing: his name is synonymous with Afrobeat (a blend of jazz, soul, funk, improvised vocal, and old Nigerian/Ghanaian highlife); his genre is closely associated with protest; and he is considered the godfather to many notable African artists and Nigerian musicians like Davido, Tekno, Wizkid, Burna Boy, Tiwa Savage, and Yemi Alade.
Over the years, a whole lot of artists have picked up on the musical success of Fela Kuti, who earned himself so much admiration for bringing the African culture and its concerns to the world stage and openly condemning the corrupt military dictatorships in Nigeria at the time through his controversial songs.
To date, the Afrobeat legend is rated as the king of Nigerian music and one of Africa's most essential voices who stood for truth and justice in the 60s and 70s.
Who Was Fela Kuti?
The charismatic multi-instrumentalist was the son of Reverend Israel Oludotun Ransome-Kuti and Chief Funmilayo Ransome-Kuti, who welcomed him into the world on October 15, 1938, in Abeokuta, Ogun State.
Kuti was named Olufela Olusegun Oludotun Ransome-Kuti at birth by his parents. His father who was a school teacher and an Anglican minister while his mother was an anti-colonial activist.
Born into a wealthy family, the musician had a comfortable childhood as well as access to the best education at the time. He had his secondary school education at Abeokuta Grammar School. Upon his graduation, Fela's parents sent him to Britain to pursue a career in Medicine.
On getting to Britain in 1958, the music legend changed his mind and switched to music. He was tutored at the renowned Trinity College of Music, where he particularly developed a strong interest in the trumpet. It was while Fela was still studying in London that he launched his first band called Koola Lobitos. The musical group, at the time, used to play a blend of highlife and jazz with native African drums.
The Afrobeat icon was not the only child of his parents, as he has two brothers whose names are Olikoye Ransome-Kuti and Beko Ransome-Kuti who are both respected medical doctors in Nigeria.
Musicology
After a successful musical education in London, Fela Kuti decided to return to Nigeria. He eventually did in 1963 and later met Sandra Izsadore (also known as Sandra Smith) during a tour of the United States in 1969.
Fela's meeting with the Black Panther Party member had a significant influence on him and eventually gave rise to his decision to switch from his gleeful music pattern to a volcanic and political rebellious-patterned Afrobeat genre.
His first move upon his arrival to Nigeria was to change the name of his band to The Afrika'70. He later adopted the name "Anikulapo" as a replacement to his surname "Ransome". And as time passed, his songs began to reflect more social issues than love lyrics. At that moment, the Afrobeat icon Fela Anikulapo-Kuti was born.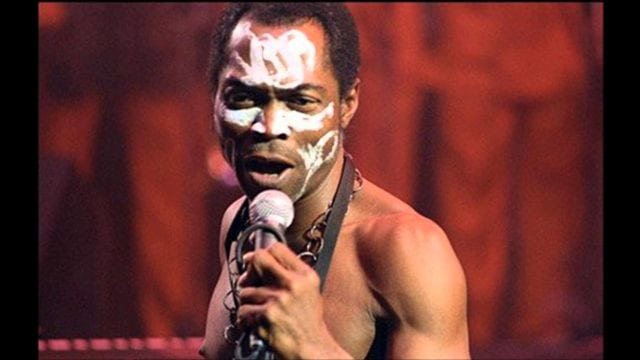 Fela Kuti's band was famed for its call-and-response within the chorus pattern and for performing with two or more guitarists, two baritone saxophones and at times, two bassists.
Besides the simplicity of the musician's songs, they are also known to be very long (each song lasts between 10–15 minutes). Kuti's songs were mostly sung in Nigerian pidgin English, though a few of them are performed in the Yoruba language as well.
Talking about his instruments, the music star usually performs with the keyboards, trumpet, saxophone, electric guitar, and drum solo.
Kuti, until the time of his death, recorded over 20 albums which include Open & Close (1971), Fela Fela Fela (1969), Afrodisiac (1973), Expensive Shit (1975), Fela's London Scene (1971), No Agreement (1977), Beasts of No Nation (1989), Why Black Man Dey Suffer (1971), Confusion (1975), Black President (1981), The Best Best of Fela Kuti (1999), Original Sufferhead (1981), Live! (1971), Zombie (1976), Shakara (1972), Confusion Break Bones (1990), Sorrow Tears and Blood (1977), and much more.
Fela Kuti's Wife and Children
Fela Kuti was a firm believer in polygamy and in accordance with his beliefs, he ended up marrying several women at the same time in the year 1978.
His first wife was called Remilekun (Remi) Taylor. He got married to her in 1960 and their union was blessed with three children; Femi Kuti, Sola Kuti (who died in 1997), and Yeni Kuti. Fela's other children who came from his several relationships with other women are Kunle Anikulapo Kuti, Omosalewa Anikulapo Kuti (a Nigerian-based Lawyer), Motunrayo Anikulapo Kuti (a dancer), and Seun Kuti (a musician).
Read Also: Who Is Falz? His Biography, Girlfriend and Other Facts
A Look at Fela Kuti's Death
Besides music, Fela Kuti will forever be remembered as one Nigerian musical icon who boldly expressed his opinions on continental and international matters without fear or favor.
During his lifetime, Kuti was of the opinion that colonialism is the root of the political and socio-economic and problems that plagued the African people. He was also a candid supporter of socialism and Pan-Africanism and was at the forefront for a democratic and united African republic.
Beyond Africa, he was an assertive critic of the United States of America as well. He once condemned the psychological attack that American organizations like the CIA and ITT launched against developing nations with regards to language.
The Abeokuta-born icon also spoke strongly against terms like undeveloped, Nonaligned countries, and Third World, which he said implied inferiority.
According to records, Femi's constant attack against corruption and the state of affairs in Nigeria and Africa led to his arrest on over 200 different occasions, with the longest being his 20 months jail term after his arrest in 1984.
The human rights activist died on 3 August 1997, in Lagos, at the age of 58, from complications related to AIDS. His passing was announced by his brother, Olikoye Ransome-Kuti, who was a prominent AIDS activist.
Kuti's remains was encased in a five-sided glass coffin and staged for full public viewing, after which he was laid to rest at the site of the old Shrine compound. His funeral was attended by over one million people.
Other Facts You Need To Know about the Musician
1. Fela Kuti's father was a former member of the Nigeria Union of Teachers. In fact, he was the first president of the association.
2. According to records, the musician is Wole Soyinka's first cousin. Wole is a renowned Nigerian writer, the first African to win the Nobel Prize for Literature.
3. Prior to his death, Kuti attempted to make a movie but his effort was thwarted after his house was engulfed by a fire. According to reports, the fire was set by the military government in power at the time.
4. During his lifetime, the Afrobeat pioneer was supported by some famous African leaders including Thomas Sankara of Burkina Faso and Kwame Nkrumah of Ghana.
5. Kuti was a staunch supporter of human rights and a campaigner against dictatorships, especially during the military era in Nigeria in the 1970s and 1980s.
6. Every year, a festival called "Felabration" is organized to celebrate Fela Kuti's life and birthday.
7. The musician formerly worked as a radio producer for the Nigerian Broadcasting Corporation before his music got into full swing.
8. Kuti also banded together with Nigerian highlife icon/trumpeter Victor Olaiya and his All Stars band before fame.
9. From 1958 when Kuti's career started to 1997 when it ended as a result of his death, he performed under the following labels, Barclay/PolyGram, Celluloid EMI Nigeria, MCA/Universal, Wrasse, JVC, Knitting Factory, and Shanachie.