45-year-old Nollywood star, Femi Adebayo, has an estimated net worth of $500,000, making him one of the top 10 richest Yoruba actors in the Nigerian movie industry. He made his wealth from his various endeavors, including acting, endorsements, political career, and other businesses.
Femi Adebayo is a multi-talented star; besides acting, he is also a renowned lawyer, film producer, director, brands ambassador, and special adviser to Kwara State governor on arts, culture, and tourism. Coming from a family that is well-grounded in entertainment, the actor began her career at a very young age. As a result, it didn't take time for him to find his feet in the entertainment. His mouth-watering net worth is a testament to years of hard work and resilience.
Femi Adebayo Is a Lawyer Turned Actor
Femi was born Olufemi Lawal Adebayo on 31st December 1978 in Lagos, Nigeria. He is the son of the popular veteran actor, Adebayo Salami, who is best known for his stage name, "Oga Bello." Femi hails from Kwara in Ilorin state but was born and bred in Ebute Metta, Lagos State. For his secondary education, he attended C&S college before proceeding to the University of Ilorin, where he bagged a bachelor's degree in Law. The actor did not stop there but went further to the University of Ibadan, where he obtained a master's degree in Law.
Despite studying law and practicing it for two years, Femi's love and passion for acting did not grow cold but was eventually fulfilled. He usually followed his father to the film set, where he met popular actors like Jide Kosoko, Iya Rainbow, Late Hubert Ogunde, and others who were also sources of motivation. Though he was not regular due to his studies, he featured in his father's first movie Ogun Ajaye in 1985, and that was the actual beginning of his career.
He Officially Started Acting At The Age of 18
Femi came fully to the limelight in 1996 after his first major role in a movie directed by Tade Ogidan, OwoBlow. Since then, Femi has featured in over 500 movies, both English and Yoruba, in his career that has spanned over two decades. Some of his popular movies are Ladies Gang, Jelili, Iro Funfun, Sonto Alapata, Wura Ati Fadaka, Diamonds in the Sky, etc.
Since his first role in the movie, Owoblow, Femi has taken over the hearts of Nigerians, especially Yoruba film lovers. Femi has been acting for a long time, and his performance on the screen has made him a worthy competitor of 'Best Actor' in the Yoruba movie industry. It is reported that Femi gets a paycheck of N200,000 for every appearance he makes in a movie, but this is just one out of his sources of income.
Besides Acting, Femi Adebayo Earns From Other Efforts 
Femi Adebayo is one out of many people who acquired wealth early. With a net worth of $500,000, the award-winning actor is currently one of the highest-paid Yoruba actors. Aside from his illustrious acting career, he has other businesses and deals, through which he earns decently. His other streams of income include the following:
He Founded J-15 School of Performing Arts At Age 30
Many people would be thinking about the actual meaning of J-15. The CEO, Femi Adebayo, coined the name from his child's birth date, July 15. This is a school of arts he founded in 2008, intending to bring up well-grounded and outstanding actors.
Over the year of its existence, the film school has produced many established actors rocking the boat in the movie industry. Given its influence in society, J-15 won the Outstanding Industry Academy Platform Award by Emperor Nollywood Awards in 2018. So, his net worth has also been cheered by J-15.
Femi Adebayo Became The Special Adviser To Kwara State Governor At 38
Like Desmond Elliot, Kate Henshaw, and Ini Edo, Femi Adebayo has joined the league of Nollywood stars who hold political office. In February 2016, Femi was appointed Special Assistant to the Kwara State governor, Abdulfatah Ahmed, on Arts, culture, and Tourism. He expressed his happiness for the new appointment and urged fans to support him as he transforms his state into one of the most popular tourist states. As a politician, he undeniably earns a decent income, though the exact amount has not been disclosed.
At 45 years, He Earns From Multiple Endorsement Deals
On the trail of his appointment as the SA to the Kwara state governor, the actor signed a deal with Kayode Obembe & Co, a leading property company in Nigeria. More so, the award-winning actor recently signed another multimillion naira deal with a real estate company, T. Pumpy Estate.
Some of his other endorsement deals include:
Ambassadorial deal with an advertising company, Goldmenda Global Investment Limited
An endorsement deal with a motor company, Unique Motors
A mega endorsement deal with popular beverage brand Trophy Beer
Brand Ambassador for Spedy Weight Loss, a beauty company
Awards And Recognition
For a career that has been ongoing for over two decades and still counting, Femi Adebayo has starred in blockbuster movies, which has earned him critical acclaim. He has been nominated for several awards, out of which he has won a few.
(2018) – Best Actor in a Leading Role (Yoruba), Best of Nollywood Awards.
(2018) – Fashionable Actor of the Year, Emperor Nollywood Awards.
(2018) – Best Indigenous Movie 'Etiko Onigedu' Africa Magic Viewers Choice Awards.
(2017) – Best Actor of the Year, City People Movie Awards, (Yoruba).
(2015) – Best Movie Producer of the Year, City People Entertainment Awards, (Yoruba)
(2012) – The Best Yoruba Actor, Best of Nollywood Broadcasting Organisation of Nigeria Awards, (Yoruba).
(2012) – Best Yoruba Actor, Afro Hollywood Awards (17th African Film Awards).
(1996) – Best Upcoming Actor of the Year, The Movie Awards.
Is Femi Adebayo Richer Than Odunlade Adekola?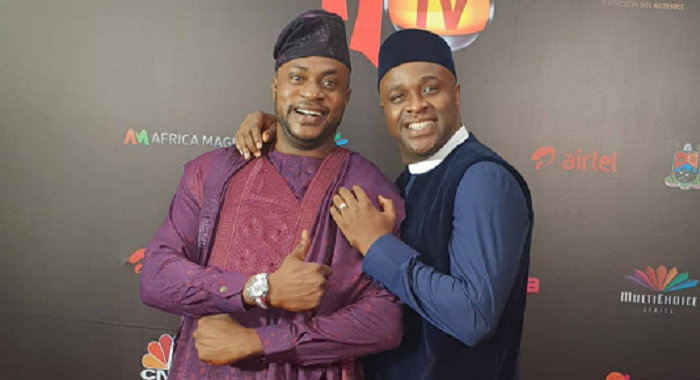 Odunlade Adekola needs no introduction; the veteran actor is one of the biggest Yoruba stars in Nollywood. A prominent actor, Odunlade has featured in numerous highly acclaimed movies, which include Celebrity Marriage, Oyenusi, Taxi Driver, Dognapped, Shola Arikusa, A Million Baby, Wives on Strike, The Vendor, and many others. These are some of his best movies that added to his fame and earned him the 2018 Africa Magic Viewers Choice Awards Best Actor in a Comedy.
Adding to his satisfactory acting career, Odunlade is the CEO of Odunlade Adekola Film Productions, where he coaches young and upcoming actors and actresses. He enjoys numerous endorsement and ambassadorial deals and owns multiple landed properties in the states, which all worth millions of naira. All these and more have led to his fortune of $1 million.
While Femi Adebayo reportedly gets a paycheck of N200,000 in each of his movies, Odunlade charges N400,000 per movie. Adebayo has starred in over 500 Nigerian films, with eight awards to show for his career success, while Odunlade who has equally appeared in over 500 movies, has recorded twelve awards in his name. Interestingly, Femi and Adekola were born in the same year; while Odunlade was born on December 31, 1978 (44 years old), Femi was born on May 5, 1978 (45 years old).
Both actors started their acting career at the same age of 18, but Adekola eventually made more bundles through numerous high-rated films he has featured in and multi-million naira deals he has signed and is still signing. However, with his net worth of $1 million, Odunlade is far richer than Femi Adebayo who has a net worth of $500,000. Nevertheless, they are both successful in their own right.