While "For better or for best" is the new marriage slogan, there is no doubt that being married comes with numerous hurdles. But then, in the midst of all the marital troubles, some couples still find a way to stay happy together.
These couples have stayed glued like a stamp on a letter for over a decade, showing unflinching love for each other. This list includes prominent couples in Nigeria who have been able to manage their marital relationship as well as excel in their career, irrespective of their status.
These selected 10 are the most enviable, most compatible and most talked about Nigerian couples.
Most Amiable Celebrity Couples In Nigeria
10. Fela and Tara Durotoye
Beside every great man is a smart and successful woman. Fela Durotoye is one of the most sought-after motivational speakers in Africa and a best-selling author. His wife Tara, is a lawyer, a leading pioneer makeup artist, CEO of House of Tara International and creator of the Tara Orekelewa Beauty range. The couple seems to complement each other in every way and they share perhaps one of the best romantic stories.
The beauty mogul and mother of three never ceases to use social network platforms to share some tips on relationship and marriage principles. This couple is committed to making each other happy and making it work as they both came from broken homes.
9. Nneka and Isaac Moses
Nneka met Isaac on a movie set in 1996, and since then they have built an empire and unique brand together. The compatibility between this couple is amazing. They present, produce and direct their award-winning culture and tourism TV show, Goge Africa, on television and cable networks.
Nneka once said that it has been easy for them because whatever decision they made was in the best interest of their vision and passion. There is no superiority contest among this two, as Isaac sometimes allows his wife to make the decisions.
8. Richard and Jumobi Mofe Damijo
Romantic serial actor, Mofe-Damijo was married to the late May Ellen Ezekiel, a foremost Nigerian journalist popularly known as MEE. After her death, Mofe-Damijo married former Africa Independent Television (AIT) presenter, Jumobi Adegbesan, a lady desired by many Nigerian men. These two have been through thick and thin, a lot has been heard about their marriage having one or two troubles, hinged on alleged infidelity on both sides.
That Notwithstanding, the love and stability of their marriage seems to be waxing stronger by the day. They have a total of five children, four that they had together and one from Richard's previous marriage with MEE.
Check this out: Top 10 Romantic Nigerian Movies
7. Iretiola and Patrick Doyle
Iretiola and Patrick must have been regarding themselves as lucky to have found each other. They have been married for over two decades now and still have the newness of love blossoming in their union. Their lives revolve around each other and the TV/media industry, hence, they have been enjoying a union that is devoid of interference of third parties. Despite all the glamour and fame, the couple chooses to be down to earth, stay committed to each other and see to the growth of their six children.
6. Charles and Diane Oputa
Charles Chukwuemeka Oputa, popularly known as Charlie Boy is best known for his alternative lifestyle, political views, and television productions, most notably The Charly Boy Show. He and his South-American born wife, Diane are one amazing and weird couple. The law of "like term attracts" is seen to play a huge role in the relationship of these two.
According to Charlie boy, his wife proposed to him 37 years ago, and since then they have been partners in weird things, among others. Although they have been criticized severally by Nigerians, this couple has a high level of respect for each other and still act like new lovebirds, after so many years together.
Check this also: Bizare Intimate Photos Of The Worlds Weirdest Couple – The Oputas
5. Tunde and Wunmi Obe
Showbiz couple, Tunde and Wunmi Obe, popularly known as TWO, are almost everywhere in the entertainment industry. They have carved a niche for themselves from the peculiar nature of their music. They are also believed to be entertainment industry's second most popular celebrity couple, after the Jacobs. They have managed music, their family and have been able to sustain their marriage for over 26 years. They have three children, Modesayo, Ricardo and Andrew Obe.
4. Tuface and Annie Idibia 
These lovebirds were one of the sweet shocks that happened to the Nigerian entertainment a few years ago. With rumours hovering around them about other women interfering in their love life, coupled with Tuface's other children from other women, many saw the possibility of a divorce but were disappointed. Tuface and Annie are growing in love each day, solving their issues privately and managing their two kids in the midst of the other kids.
3. Omotola Jalade and Captain Mattew Ekeinde
Popular Nollywood actress and singer, Omotola Jalade married her husband, Captain Matthew several decades ago. Regardless of the 10 years age difference between them, they have been best of friends and attend almost every social function together. After giving birth to four children; Princess, M.J, Meraiah and Michael Ekeinde, Omotola still looks very sexy and desirable, courtesy of her husband's care and support.
2. Goodluck and Patience Jonathan
A man's greatest weapon is a strong woman – his wife – and former President of Nigeria, Goodluck Jonathan has that as an advantage. The duo has been faced with many challenges, not only the regular ones faced by every couple but also with issues concerning the nation. Yet they still found a way to be there for each other, care for each other and give moral and political support to each other.
1. Olu Jacobs and Joke Silva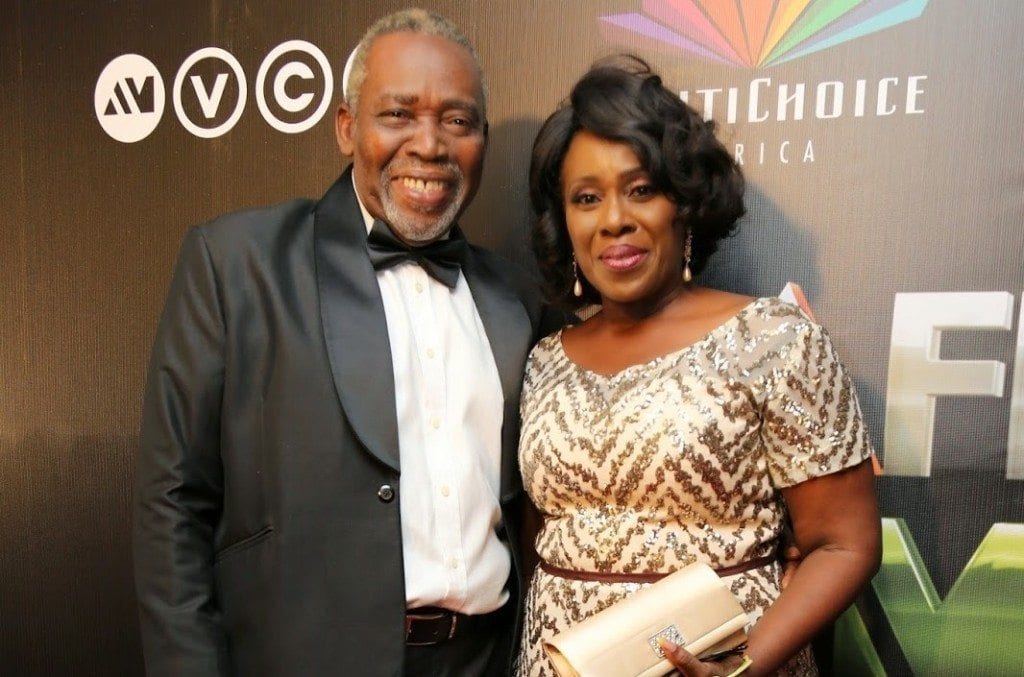 The veteran actor, Olu Jacobs, and beautiful wife Joke Silva are the most amiable couple in Nigeria. They met in a movie set and although Joke Silva did not see herself marrying Olu Jacobs initially, she was captivated by his charm, got married to him, and is the mother of their two children. Just like every couple, especially the ones in the same industry, Olu and Joke have been able to curb any rising issues about their relationship.
So far, they haven't been tagged with any negative rumours of infidelity, and they stand as mentors to other celebrity couples and even non-celebrity couples in Nigeria. Also, they have excelled in their professions as entertainers and has both won numerous awards to that effect.