Vincent Enyeama (born 29 August 1982) is a Nigerian professional footballer who played for French club Lille as a goalkeeper. He was also a member of the Nigerian national team from 2002 until October 2015, serving as its captain from 2013 until his retirement from international football.
He is one of Nigeria's most capped player of all time, ending his international career with 101 caps. Vincent is widely regarded as one the greatest African Goalkeepers of all time and of his era
Who is Vincent Enyeama?
He was born in Kaduna 29 August 1982, raised in a Christian home and hails from Urua Inyang in Akwa Ibom state, south-south Nigeria.
Full name: Vincent Enyeama
Date of birth: 29 August 1982
Place of birth: Aba, Abia State, Nigeria
Height: 1.80 m (5 ft 11 in)
Occupation: Soccer Player
Position: Goalkeeper
Net Worth: N8 billion
Football Career 
Enyeama started his professional career in 1999 with Ibom Stars for which he played in 56 matches.  In 2001 he moved to Enyimba FC and represented them over a period of three years and was an effective element of the team.
In the three years Enyeama was with Enyimba FC, he featured in 100 games and netted 10 goals. During his time at Enyimba International F.C., the club won the CAF Champions League twice.
After three seasons with Enyimba International F.C. and one with Iwuanyanwu Nationale (now known as Heartland F.C.), Enyeama moved to a minor club in Israel, Bnei Yehuda Tel Aviv.
Football Clubs Vincent Enyeama Played For?
In his first season with Bnei Yehuda, the team qualified for the final of the Israel State Cup and achieved fourth place in the Israeli Premier League, which qualified the team for the 2006 UEFA Cup.
In 2007, Enyeama signed for Hapoel Tel Aviv. Hapoel Tel Aviv endured a poor season in 2007/2008, but Enyeama helped the team to avoid relegation and reach the state cup final.
During 2008/09 Hapoel, unexpectedly, almost won the league title, with Enyeama winning the "Player of The Year" award – although he wasn't playing for the team who won the championship. During that year Enyeama became Hapoel's penalty kicker.
In 2009/10 Hapoel won the Double, with Enyeama scoring an advantage goal during the Cup Final, and missing a penalty on the last fixture of the year, where Hapoel eventually managed to score a winning goal on the 92nd minute to win the league.
On 18 August 2010, he scored his first goal of the 2010–11 season with a penalty against Red Bull Salzburg in the Champions League qualifiers.
During that season Enyeama played well on the Champions' League Group Stage with Hapoel, claiming great grades from the press during a game against Lyon and against Schalke 04. That same year Enyeama won the Israeli cup once again.
In June 2011 he moved to French side Lille for an undisclosed fee on a three-year contract. He made his debut on 18 October 2011 against Inter Milan in the 2012 UEFA Champions' League group stage, where Inter managed a 1–0 victory.
In August 2012 Vincent Enyeamhelpa agreed on a one-year loan deal with Maccabi Tel Aviv and was presented to the media by Maccabi's Sports Director Jordi Cruyff at 8 August 2012. At that season he captured 27 appearances in the Israeli Premier League and took part in Maccabi's success to win the championship title.
During the 2013–14 Ligue 1 season, club manager René Girard picked Enyeama as his first-choice goalkeeper ahead of Steeve Elana, who had been the first-choice goalkeeper when Rudi Garcia was the club manager.
With the  of his two centre-backs, Marko Baša and Simon Kjær, Enyeama kept 11 consecutive clean sheets in Ligue 1 matches during the first half of the season.
In December 2013, Enyeama finally conceded a goal, after playing 1,062 minutes of Ligue 1 football, in an away match against Bordeaux, during which he was beaten by Landry N'Guémo's deflected strike in the 27th minute.
He thus came within 114 minutes of equalling Gaëtan Huard's Ligue 1 goalkeeping record, set in 1993, of playing 1,176 minutes without conceding a goal.
See Also: 10 Things You Never Knew About Joseph Yobo, The Nigerian Football Veteran
Vincent Enyeama and the Nigeria National Team
After making his debut for the Nigeria national football team against Kenya in May 2002, Enyeama was selected for the 2002 FIFA World Cup as a cover for Ike Shorunmu. His second FIFA World Cup participation was the 2010 tournament in South Africa.
At the 2013 Africa Cup of Nations, Enyeama deputized for regular captain Joseph Yobo, who stayed on the bench for most of the competition. He led Nigeria to its third continental victory, keeping a clean sheet in a 1–0 defeat of Burkina Faso in the 2013 Africa Cup of Nations Final. He was named to the team of the tournament as the first-choice goalkeeper, conceding only four goals in six matches.
Enyeama was named in Nigeria's squad for the 2014 FIFA World Cup. By March 2015, Enyeama had won his 100th cap for Nigeria in a 1–0 loss to Uganda.
Retirement from International Football
Enyeama retired from international football on 8 October 2015, following a clash with coach Sunday Oliseh at their Belgium camp while the national team was preparing for its friendly games against Congo and Cameroon.
Meet Vincent Enyeama's Family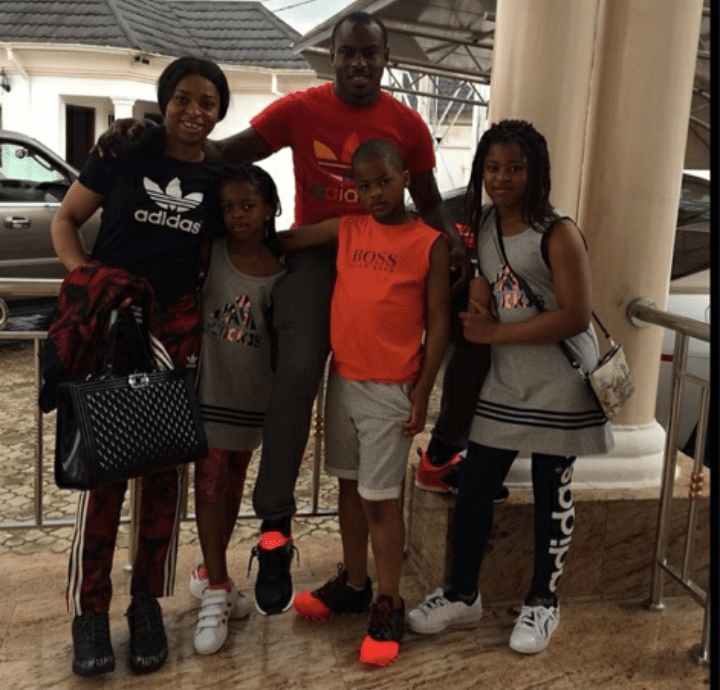 Vincent Enyeama got married to his wife, Promise Enyeama, in June 2006, and they are blessed with three lovely children.
In 2004, the former goalie was involved in a car accident in Uyo, Akwa Ibom state, in which two motorcycle passengers were killed but he came out with only bruises after the car somersaulted twice as it swerved to avoid the motorbike.
Net Worth
The former Super Eagle player's net worth is estimated to be ₦8 billion. Before his retirement, Enyeama was earning an annual salary of €1.8 million. He is rated as one of the top richest footballers in Nigeria.
His numerous property investment properties alongside his salary when he was active even as an independent player Vincent Enyeama's current net worth is estimated to be about ₦8 billion.