Toolz Oniru (Real Name: Tolulope Oniru, born July 6, 1983) is a Nigerian radio personality, talk show host, and presenter. She is popular for hosting The Beat 99.9 FM program called The Midday Show.
Call her Tolulope or Toolz Oniru; she is a royal princess and remains one of the most popular Nigerian radio and TV personalities. She is best known for hosting The Midday Show on The Beat 99.9 FM. Her career has taken her to different stages to host Glo Nigeria X-Factor and The Juice on Ndani TV. She further starred in the Off the Menu TV series in 2019 and had a career with MTV Europe and Walt Disney, and is a business owner.
It is undeniable that her talent is what amasses her the fame she enjoys. It is equally arguable that she is also popular for being curvy and having a catchy voice. In any case, there is more about Toolz than all of these. Here's everything you should know about her.

Profile Summary of Toolz Oniru
Full Name: Tolulope Oniru – Demuren
Date of Birth: July 6, 1983
Age: 40 years old
Place of Birth: London
Occupation: Media Personality, Talk show host
Education: Talbot House Preparatory School, Bournemouth, UK, City of Westminster College, England, London Metropolitan University
Spouse: Captain Tunde Demerun
Children: 2 Oluwafikayomi Babatunde Elisha Demerun
Toolz Oniru was Born in London 40 Years Ago
Toolz Oniru was born in London on July 6, 1982, to the famous Oniru Royal family of Lagos State. She is the daughter of late Oba Abiodun Oniru, and a mother, who although maintains a private life, is a queen and only came to the limelight after Toolz exposed that she was a fan of Funke Akindele and won her mother's love after the entertainer invited the actress to see her mother.
Regarding her education, Toolz Oniru completed her primary education at Talbot House preparatory school in Bournemouth, UK, while her secondary education was in Nigeria. Completing her secondary education, she went back to London to study at the City of Westminster College. Added to her academic achievements is a degree in Business and Mass communication from London Metropolitan University. Toolz Oniru further attended the famous London College of Fashion, where she took a course in lingerie and swimwear design.
Her Family is One of the Wealthiest Monarch Families In South-Western Nigeria
The Oniru Monarchy is said to be the richest monarchy in the South-West with business ventures scattered across different places. The family owns a real estate company, British International School, Lekki, one of the most expensive schools in Lagos, among other properties. Meet her parents and siblings below.
Her Father Was The Oba of Iruland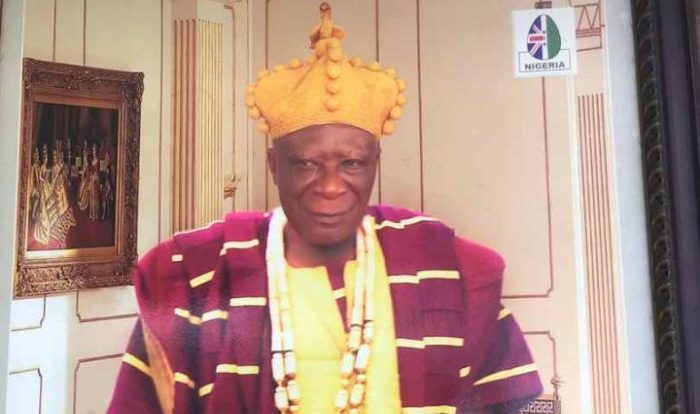 Her father was Oba Abiodun Idowu Oniru of Iruland who was born on September 6, 1937. He was one of the children of Oba Yesufu Oniru, who ruled the Iruland until he died at the age of 120 in 1988. Her father, Oba Oniru, went to St. David's Primary School and Araromi Baptist School on Lagos Island before obtaining his secondary education at the Eko Boys High School.
Oba Oniru joined his father in a family business that was already producing amounts since the 1960s and 1970s. Along the line, the family's wealth grew, and the former Oba Oniru had several investments, some of which include real estate worth billions of naira. The Oba and former businessman shared a close relationship with Toolz. According to the OAP, her father, whenever on any visit to her then resident in the UK, would not hesitate to make breakfast for them. Toolz's father lived for 84 years before his death on September 23, 2019.
Her Brother Prince Adesegun Oniru is The Aremo of Iruland and Former Commissioner of Lagos State
Prince Adesegun is the oldest so of late Oba Oniru, Toolz's father. He is the Aremo of Iruland, a businessman, chairman, and founder of Made in Nigerian 'Ma-IN' Festival. He was also a Commissioner for Waterfront Development and Infrastructure in Lagos State from 2007-2015, and the commissioner for Housing in the State from 2006-2007.
Like Toolz Oniru, Prince Adesegun Oniru attended schools within and outside Nigeria. And like their father, engineering was not far-fetched from his discipline in school, where he obtained his Bachelor's degree from the University of Westminster.
Prince Ademola Oniru is a Business Tycoon and CEO of Oniru Beach
He is one of the brothers of Toolz Oniru. Prince Ademola is the Chief Executive Officer at Oniru Beach, MainBowl VIP Lounge, and MainBowl Studios. Apart from being a businessman, Prince Demola is also a traditional chief known as the Ojele Olofin Ejiwa of Iruland. Although he maintains a low-key life, the Prince is married to a fashion designer and founder of Semilonge Couture, Banke Oniru.
Her Brother, Prince Olumide Ilumo Oniru, is a Businessman and Traditional Chief
Olumide Oniru leaves a private life but attracted the public's attention following a family feud after the death of their father. Like other family members, Prince Olumide is into business and is a director at the I.A. Oniru International Ltd. Beyond that, the Prince holds the traditional titles of the Ojomo Ejiwa of Iruland and the Otun Oba of Ilashe.
Prince Tijani Oniru is a Director at a Real Estate Company
Toolz Oniru's brother Prince Tizani has been subject to several cases in the Oniru family and king of the Iruland. Away from that, the prince is famous for being an entrepreneur like his siblings. He is a director and shareholder at Too Realtors Limited. Prince Tijani Olabisi Oniru is also a white cap chief who is traditionally one of the ministers to the king.
Toolz Oniru Has Other Siblings and Family Members Who are Less Known
Toolz's father had many children, but not so many of them have made it to the public as those mentioned above. They include the following:
Abimbola Oniru is a junior associate at Yonder Consulting, London
Jokotade Oniru is a director at I.A. Oniru International Ltd
Yemisi Oniru
Mustapha Oniru
Muritala Oniru
Bilikisu Onuiru
Maryam Oniru
Her Siblings Have Made it to The News For Controversial Reasons
After her father's death, there was a quest of who would be crown the next Oba of Iruland. As such, it was reported that the children of the late Abiodun Oniru were fighting among themselves. According to reports, Toolz's siblings, Prince Ademola Oniru, Prince Adesegun Oniru, and Prince Tijani Oniru, all wanted the throne even when it was apparent that Prince Adesegunwas is the eldest and probably should have a better chance.
The tussle for power and kingship among the Orinu brothers allegedly contributed to the crowning of an "outsider," Oba Gbalahan Lawal, as King. Although he is from the royal family, the 2020 crowned King of Iruland is not one of the children of Toolz's father. More to the fight among the family members is the battle over the properties of the late Oniru. According to sources, Oba Lawal's followers began posting notices on the properties that belong to Toolz's family.
In anger, her brother Tijani was said to have had them beaten. This resulted in retaliation when the boys purportedly beat Prince Tijani afterward. After the incident, the palace guard who hit him was said to have been suspended. But the story became twister when his brothers, who were said to have visited the palace to lay their complaints, were thrown out by the security guards.
A Look At Toolz Oniru's Career Highlight
Before settling down in her home country Nigeria in 2008, Toolz developed more on her talent while working with MTV Europe and Walt Disney Pictures in the United Kingdom. After returning to Nigeria, Toolz auditioned to be a radio presenter at the Beat 99.9FM following a friend's encouragement to try the new radio station in town. As expected, the audition was successful, and Toolz started hosting her own radio show in April 2009. She currently hosts The Midday Show on The Beat 99.9 FM every weekday.
Toolz is also the host of her talk show The Juice, a platform where she interviews popular African entertainers. The likes of Yvonne Nelson (Ghanian actress), Omotola Jalade Ekeinde (Nigerian actress), Davido (Nigerian pop star), Rita Dominic (Nigerian actress), and a host of other renowned celebrities have all been featured on her show. The curvy entertainer also hosts the X-Factor West Africa, one of the most-talked-about talent shows in Africa. At the 2011 and 2012 Channel O Music Video Awards, Toolz Oniru emerged as one of the judges.
Armed with her blend of natural humor, love for showbiz, and her utmost passion for music, she has been able to excel in her choice of career. This is apparent in her capacity to move from being a radio presenter to Deputy Programme Directo to Group Programme Director of the 4 Beat FM stations in Nigeria. Again, her strong knowledge of African entertainment coupled with her unique presenting skills makes her show one of the most sought-after in the country.
She is Also a Business Director and Founder of a Lingerie Line
In her family-owned business, I.A. Oniru International Ltd, Toolz Oniru serves as a director alongside some family members. In addition, she founded a lingerie line called Sablier – a french word for hourglass. The line caters to the needs of curvy and plus-size women in terms of lingerie and shapewear.
The OAP Has Won Several Awards and Recognition
Tolu Oniru has achieved a lot in her career in the entertainment arena and has series of awards and nominations to show for it. So far, she has won six out of seven awards she has been nominated for.
Highlights of Her Awards
2010 Nigeria Broadcasters Awards – Radio Presenter of the Year – Won
 2010 Dynamix All Youths Awards – Radio Presenter of the Year- Won
2011 FAB Awards – On-Air Personality of the Year- Won
2011 Nigeria Broadcasters Awards – Sexiest Media Personality- Won
2012 The Future Awards – On-Air Personality of the Year- Won
2012 Nigeria Entertainment Awards – Media Personality of the Year – Won
2014 Nickelodeon Kid's Choice Awards- Favourite Nigerian On-Air Personality- Nominated.
Toolz is Married to a Pilot – Tunde Demurun
Tunde Demurun is an airline pilot who works at Aero Contractors. He is the son of an aeronautical engineer and former Director-General of the National Civil Aviation Authority, Harold Demuren, who is still thought of as one of the most powerful Nigerians in the aviation industry. Tunde Demuren is also involved in the runnings of Banky W's EME, which has his elder brother, Segun Demuren, as a co-owner.
He became married to Toolz in 2016 in a heavily celebrated and well-attended wedding ceremony that saw numerous famous people celebrating their love. The two had their grand white wedding in Dubai, and eight months after, their traditional wedding was held at the Landmark Event Centre in Lagos.
She Lost a Pregnancy and Currently Has Two Children
Toolz became pregnant after her marriage and was announced at the wedding ceremony of Banky W and Adesua Etomi in 2017. Months later, the entertainer realized that her baby had to be evacuated. The experience left her in pain, blaming herself, crying, and she ended up seeking the help of a therapist.
However, on December 12, 2018, the OAP welcomed her first son, Asher Demuren, who she fondly calls Chairman. In 2020, she birthed another son, Oluwafikayomi Babatunde Elisha Demuren, who is also called The General. He was born in the United Kingdom at the heat of the Coronavirus pandemic in the world.
Her Marriage Has Been a Subject of Controversy
Toolz's marriage was a picture-perfect one on social media until she made a move that suggested otherwise. First, there was an observation by some social media users that the entertainer was no longer wearing her wedding ring. Then, in a now-deleted Instagram post, she commented, "Those that fly solo have the strongest wings." Although this may not necessarily be that there is war in her marriage, the public gave it a meaning that her marriage may be crashing.
The post was followed by another move – the deletion of her husband's name from her Instagram while leaving only her stage name, Toolz! Although many people suggested that there may be a divorce, the marriage has lasted over a year afterward. This is evident in the Instagram posts of both of them where they share moments, celebrate their children and their anniversary.