Laura Ikeji (born March 15, 1988) is a 35 years-old social media influencer, fashion blogger, reality TV star, and author who first caught the attention of the public as the younger sister of Linda Ikeji, the famous blogger.
Even though she was still making her way to fame as an influencer, most people recognized her at the time as the "over-sabi" sister who was trying to measure up to her more popular sibling. Laura has since surpassed the negativity and established herself as one of the best and most sought-after social media influencers and fashion bloggers in the country.
Even though she still receives a lot of criticism, her dance videos are the one way she now responds to her detractors.
Summary of Laura Ikeji Kanu's Biography
Full name: Laura Nkechi Ikeji Kanu
Gender: Female
Date of birth: March 15, 1988
Laura Ikeji's Age:

35 Years Old

Ethnicity: Igbo
Nationality: Nigerian
Zodiac Sign: Pisces
Sexual Orientation: Straight
Religion: Christianity
Marital Status: Married
Laura Ikeji's Husband: Christopher Ogbonna Kanu (m2017)
Children: 2
Siblings: 6
Weight: 69kg
Laura Ikeji's Net worth: $1.2 million
Famous for: Being Linda Ikeji's sister
Laura Ikeji's Instagram: @Lauraikeji
Twitter: @Lauraikeji
Facebook: Laura Ikeji Kanu
Laura Ikeji is an Indigene of Imo State but Was Born in Lagos
Ikeji was born on March 15, 1988, in Surulere, Lagos, where her parents lived as businesspeople. However, she is an indigene of Nkwere local government of Imo state, which is where both her parents are from. Being that they lived in Lagos at the time of her birth, this is where Laura spent her early life.
From what was gathered, later on, laura and her family did not visit home in Imo state so often. This explains why she speaks Yoruba fairly well and also why she hardly travels home, even as an adult.
For school, she attended Lagos Anglican Girls Primary School, Surulere, and proceeded to Anglican Girls Grammar School, Lagos, where she graduated from. For her higher education, she got admitted to the university of Lagos, where she graduated with a degree in Psychology.
Laura Ikeji has Six Siblings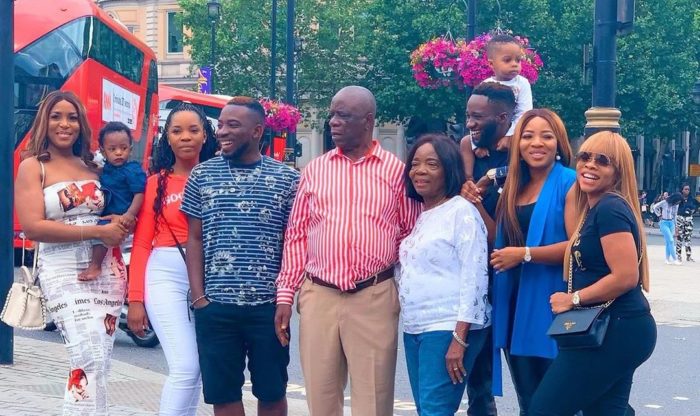 Laura Ikeji's parents have six other children besides her who, over the years, have become almost as famous as Laura and Linda are, albeit in their own different fields of expertise. She has five sisters and a brother. In no particular order, these are her siblings:
Linda Ikeji – Best-known Nigerian female blogger. She is eight years older than Laura. Linda is unmarried but has a son with Sholaye Jeremi.
Vera Shilobad – A realtor and beautician based in San Antonio, Texas. She is married to her caucasian husband, George Shilobod, who is a US Airforce Veteran. Together, they have two kids.
Edna Ikeji – She is one of the least known siblings of Laura Ikeji. She is often absent from family gatherings and meetings, but we do know she is married. Her husband was once mistaken as Linda Ikeji's baby daddy.
Sandra Ikeji – A successful event planner and the CEO of Eventsbysi and Black dove Models. She got married to her husband Arinze in 2020 in a lavish ceremony that set a record with over 200 bridesmaids. Together, they have two children, a boy and a girl.
Peks Ikeji – He is an actor, comedian, entrepreneur, and Laura Ikeji's only brother.
Benita Ikeji – The last of the Ikeji siblings but certainly not the least. She is currently engaged but is super secretive about her personal life.
Laura Has a Close Relationship with Her Elder Sister, Linda Ikeji
Laura is Linda Ikeji's younger sister by a whole eight years. While Linda was born in 1980, Laura was born in 1988, but their ages notwithstanding, they share a really close bond, as is often seen in their social media posts about each other. You'll often see Laura admiring her sister's achievements and oftentimes aspiring to be just as successful.
Linda Ikeji is one of Nigeria's foremost female bloggers. She rose to fame after her blog garnered attention sometime in 2010 but has since become well known as a writer, entrepreneur, and humanitarian. She received some negative attention after she got pregnant after allegedly advocating for celibacy.
The bond between Laura and Linda is quite special because Linda's initial rise to fame drew a whole lot of attention to Laura, who at the time was still starting out as an influencer. This attention, well maximized, led to Laura's current massive success. At the moment, Laura is even more in the limelight than Linda Ikeji herself. This is not surprising considering how famous she has become as an influencer.
Both sisters have worked together on different projects, including Laura's kitchen. Concerning their closeness, she said, "I look up to my sister a lot, Linda is a goal getter, she is very passionate about what she does."
Laura Ikeji Had Some Difficulty Starting out on Social Media 
Laura Ikeji started her efforts as an influencer shortly after Linda Ikeji's rise to fame as a blogger. However, the journey was far from smooth because while Linda was loved by fans of her work, there seemed to be a general dislike for Laura, who many thought of as the ugly duckling.
The dislike for Laura was followed by a hoard of constant criticism for her photos and efforts. The negativity notwithstanding, Laura forged ahead and kept up the pace with her dance videos and fashion modeling efforts. Following her sister's example, she launched a fashion blog name Hey! Laura where she put up all her fashion-related gigs in hopes of growing it.
To aid her efforts, Linda would often post promotional content about Laura on the Linda Ikeji blog to help get more visitors to the site. Even though their efforts achieved some success, because the site picked up sometime in 2012, a good majority of the visitors had more to say about Laura herself than her efforts. She would rise through the efforts of her detractors and keep at it, knowing fully well that even negative attention is good press when it comes to social media. Her resilience paid off.
She is Currently One of The Most Famous Influencers in Nigeria
Currently, Laura Ikeji has established her place as one of the most famous and accomplished social media influencers in Nigeria. Besides the fact that she has the numbers on various platforms to prove this, a careful look through her feeds shows how much it is riddled with her works for different brands.
She started out modeling clothes on her Instagram handle. She grew her brand and style by creating mini dance videos that often showed her vibing to any music while showing off different outfits.
Some of her videos also involved explanations of how to style certain outfits with detailed explanations of why each outfit would be better worn a certain way with certain accessories. Soon enough, she started gaining more attention when it became clear that she knew her onions.
Some things people love about her include the way she talks, the fact that there is no dull moment with her, and her ability to make herself up flawlessly. To top it off, she installs her hair and wigs herself with detailed DIYs for her followers. Her never faltering smile is always in place, waiting to welcome her followers to try something out.
Laura has worked with a mammoth amount of brands over her 12 years as an influencer, but some of the luxury brands she still works with include the following:
Saint Tracys Diamond
HNK_interiors
Buchymix
OctaFX
Susan Channel Beauty
Kukus Hair
GetFitNG
Gtex homes
Payporte
Laura Ikeji's Social Media Handles and Followers
Being that she is an influencer, you will find Lura Ikeji active on just about any social media platform. Below is a more detailed breakdown of her handles and followers.
Instagram –  @Lauraikeji – 3m Followers
Twitter – @Lauraikeji – 24k Followers
Youtube – Laura Ikeji Kanu – 15k Subscribers
Other Businesses Laura Ikeji Has Leveraged Her Social Media Fame on
Many years after she had established her credence as an influencer, Laura took things up a notch when she put down her experiences in building an influencing brand into a book titled How to Make Money on Instagram. The book is targeted at helping young and upcoming influencers avoid some mistakes and better maximize their time and efforts on Instagram for greater gains.
Being that she has always been into fashion, it made sense that she expanded her fashion modeling efforts into the Laura Ikeji Gang boutique, which is currently well known in Lekki, Lagos. In 2018, she took a stab at being an entrepreneur and launched the perfume fragrance line Incomplete. She had first announced its pre-order, which was a well-calculated move because the perfume sold out before its official launch date.
Three years later, in 2021, she went deeper into entrepreneurship with the launch of her very own line of beauty products under LauraBeauty. The line, which included products like lippies, color correctors, and contour palettes, has been on the sold-out lane since she introduced them. This is not so surprising, considering how good she is at influencing generally.
While discussing how hard she has had to work over the years for the knowledge she shared in the book, she said the most she got for being Linda Ikeji's sister was 20k followers, which was not nearly enough. Companies wanted organic followers, which she worked hard for until she hit over 600k followers. She recalled that she had to keep her followers entertained even when she was not in the mood.
Nominations, Awards, and Magazine Features 
For her consistency and outstanding work, Laura has been very visible, even much more so than her sister Linda Ikeji. Her media visibility was sealed with some of the Magazine cover appearances she has been featured in. In 2017, she was mentioned in Complete Sports Magazine's list of celebrities related to footballers, both active and retired.
After the launch of her book in 2018, she had an interview session with The Guardian Life Magazine where she explained what inspired the book and why anyone who wishes to toe the path of influencing on Instagram needs the wisdom she dished out in the book. In the same year, she covered the June edition of Today's Woman Magazine in collaboration with actress Omoni Oboli. Laura was also a beautiful sight on the cover of issue 97 of Exquisite magazine.
Laura is the Host of Her Own Cooking Show, Laura's Kitchen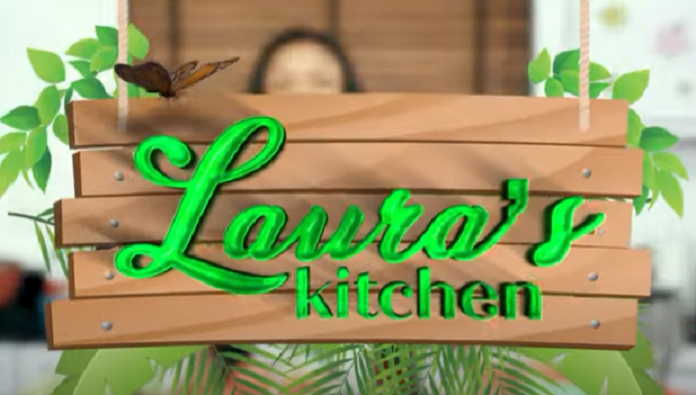 Through her persistence and hard work, Laura has strived to create a unique portfolio that spans across just about all aspects of the media. She scored her very own cooking show working in collaboration with Linda Ikeji TV and The House of Gino. The show, which is titled Laura's Kitchen, was unveiled in 2021 and aired its first episode in June 2022.
The show is particularly unique with the way it shows off celebrity cooking skills and styles as Laura partners with different stars for different episodes. She brought her sassy and playful persona to the show, and she certainly nailed the act because the show is doing really well and is gaining momentum with each episode that airs. So far, the show has aired 10 episodes and featured stars for each one. Take a look:
Laura's Kitchen Celebrity Guestlist
Episode One – IK Osakioduwa
Episode Two – Williams Uchemba
Episode Three – Omoni Oboli
Episode Four – Linda Ikeji
Episode Five – Deyemi Okanlawon
Episode Six – Chigurl
Episode Seven – Eniola Badmus
Episode Eight – Bovi
Episode Nine – Saeed Mohammed
Episode 10 – Ice Prince
Laura Ikeji Married Christopher Ogbonna Kanu in 2017
Ikeji's personal life first started receiving public attention after she got married to her husband Ogbonna Kanu, who is a former footballer but was better known for being Kanu Nwankwo's younger brother. There is no timeline for when they met, but she has revealed that they had been friends for close friends for a long time during their early adult years.
Apparently, they were so close that they each knew who the other was dating at the time. Along the line, when both of their separate relationships packed up, they decided to date each other. She pointed out that because they had been friends all along, their dating period did not have many difficulties.
After dating for a few months, he proposed at a dinner in Sheraton with a few of their friends and family present. At this time, Laura was already expecting their first child together. They had initially planned to wed the next year after she had had the baby, but when her parents refused, they proceeded to have their court wedding right away in January 2017.
Their traditional marriage followed a few weeks later, on the 28th of January 2017, in her hometown Nkwere, Imo State. After her court wedding, Laura received a lot of backlash for photoshopping the pictures her sisters released in an effort to hide her baby bump.
Social media people were quick to point out that the photo editor botched the effort and made it rather obvious that Laura had something to hide. Years later, she made a youtube video explaining that they had gotten married in a haste after her parent's refusal to let her have the wedding after the baby was born.
Scandals Laura Ikeji's Marriage Has Survived
Laura Ikeji has been married to Ogbonna Kanu for 6 years, and in those years, their union has had its ups and downs. The first among the scandals was after her wedding when rumors came up that she had an affair with MC Galaxy.
It was alleged that they dated in 2017, which was the very same year she married Kanu. Galaxy, who was in attendance at Laura's traditional wedding to Kanu, quickly debunked the rumors and cleared the air. He explained that he and Laura are just very good friends and nothing more.
Years later, when it seems like all was at peace, fresh rumors surfaced that Laura's husband Ogbonna had a first wife and another family in the US. This was following a post his baby mama made on social media of the both of them with their kids. Laura Ikeji and Ogbonna were quick to set the record straight with individual statements on their individual social media handles stating that the rumors were completely false.
Laura Ikeji has Two Children With Her Husband
If there is one thing particularly obvious about Laura Ikeji, it would be the fact that she is all about family. She has two kids, a boy and a girl, with her husband. She got pregnant with her first child in 2016, shortly before she got engaged to Ogbonna, and gave birth to him on the 20th of July 2017 in Texas, the United States.
Ryan is 6 years old now. While this was her first child, it was her husband's third. Three years later, on the 28th of February 2020, she had her second child, daughter Laurel who is 3 years old now. Both of her kids feature regularly in her Instagram and Youtube videos.
Even more noticeable is that she has started incorporating them in some of her influencing gigs, especially for kid-friendly brands. Among the brands she uses the kids to influence is Little Town Luxury Kids Store.
Laura is also filling the stepmother role quite efficiently for her husband's other children from his previous relationship with his baby mama. She often refers to them as beautiful and well-trained and posts pictures of their fun time together whenever she visits the US. She regularly commends their mother for doing such a marvelous job raising them.
She Joined The Cast of Real Housewives of Lagos in 2022
In Laura's words, being a Real Housewife of Lagos is all about wealth, glamour, and readiness to have your private life all over the cameras. When the first season of the show was announced, and the cast revealed, there were mixed opinions about Laura's personality even though she fit the description of the show's title perfectly.
Before the show hit the airwaves, she expressed how hesitant she was about having cameras all over her personal space for the world to see. This hesitance was very apparent in how laid back and distant she seemed in the first episode just after the show went live. However, all that soon changed in the subsequent episodes because she soon became the source of all major drama and a part of the biggest beef.
Before the show came to an end, Laura managed to create drama at every turn, lost her cool a few times, fought downright dirty at some point, and even had her family dragged into the fracas. She brought her classy and mean girl persona to the show and gained a lot of followers while at it.
 A Look at Laura Ikeji's Body Transformation Over The Years
Laura Ikeji has not made any revelations regarding her height, however, it is apparent that she is a few inches shorter than her older sister Linda Ikeji. Her weight, on the other hand, has not been steady over the years. At some point after the birth of her second child, she weighed 80kg but worked out tirelessly until she dropped to 69kg. Even then, she expressed her wish to else more fat around her thighs.
Considering the amount of criticism Laura Ikeji received for her looks back when she was still starting out as an influencer, it did not come as a surprise when she started making moves to change her looks. The rumors about a possible plastic surgery procedure started in 2018, but she spoke up and cleared the air saying she never went under the knife.
Since then, she has undergone two cosmetic surgery procedures, one on her nose and the other on her chin. At the time she started, she took her fans through the journey of how she got it while also promoting the good work of her doctor @iamdrbea. The same thing happened when she got her new chin and whenever he went for touch-ups at the clinic.
As is usual, she received a lot of criticism for the surgeries, with many saying she looked better than she did before she got the new nose and chin. Knowing fully well the reactions she is likely to receive, she captioned the post with a warning to move on rather than insult her choices. She has gone ahead to document and share every cosmetic process since then.