Stanley Uzochukwu is a Nigerian passionate business magnate, investor, philanthropist, and chairman/CEO of Stanel Group, a company with interests in the Nigerian oil and gas sector.
In a country littered with examples of poor leadership and crunching unemployment, very few young people hit it big early in life, and Stanley has made of the young entrepreneurial success stories. Stanley credited the secret of his rapid success in business to meeting with and learning from heavyweights and successful people in the country's economy.

Stanley Uzochukwu's Biography Summary
Full name: Stanley Uzochukwu
Gender: Male
Date of birth: 30th July 1982
Stanley Uzochukwu's Age: 41 years old
Ethnicity: Igbo
Hometown: Nnewi
State of Origin: Anambra State
Nationality: Nigeria
Sexual Orientation: Straight
Religion: Christian
Marital Status: Married
Stanley Uzochukwu's Wife: Irene Uzochukwu
Stanley Uzochukwu's Children: 4 girls
Stanley Uzochukwu's Parents: Mr. and Mrs. Bartholomew Uzochukwu
Siblings: Henry Uzochukwu
Famous for: Stanel Group
Stanley Uzochukwu's Instagram: Stanley Uzochukwu
Twitter: UzochukwuStan
Facebook: Stanley Uzochukwu
How Old Is Stanley Uzochukwu and Which State Is He From?
Stanley Uzochukwu is 41 years old, having been born on 30th July 1982 in Calabar, Cross River State, into the family of Mr. and Mrs. Bartholomew Uzochukwu. He is Igbo by tribe and hails from Nnewi South Local Government Area of Anambra State. He has a barrister, brother Henry Uzochukwu who was called to bar in July 2019.
Asides from his, there are no further details about his birth family and what they are up to. Stanley had his early life and education in Plateau State, where he attended Calvary Science School, St. Murumba College, and Emmanuel International College. After that, he proceeded to the University of Jos and obtained a Bachelor's Degree in Botany.
Stanley Uzochukwu was in March 2018 honored with a Doctorate Degree by London Graduate School and Commonwealth University. Also, in 2021, he was appointed a member of the Governing Council of the prestigious Igbinedion University, Okada, in Edo State.
Stanley Uzochukwu's Business Journey Began Immediately After His Graduation From UNIJOS
Upon graduation from the University of Jos, Stanley's first venture into the business world was when he started selling diesel and petroleum, which he supplied to corporate organizations until Stanel Oil was registered in 2012.
First of all, Stanley Uzochukwu credits his early success in business to the mentorship of Tony Elumelu, a Nigerian entrepreneur and investor who owns Transcorp, a publicly traded Nigerian conglomerate with interests in hospitality, agriculture, oil production, and power generation.
The duo met in 2013 when Stanley was starting as an entrepreneur. He gained much encouragement from Tony to keep pushing and not give up on his dream. Another distinguished personality he credits his business success to is the founder and chairman of COSCHARIS Group, Dr. Cosmos Maduka.
The COSCHARIS Group boss revealed Stanley's success stories in one of the Stanel Youth empowerment programs held in Awka. With the permission of Dr. Stanley Uzochukwu, Dr. Cosmos narrated how he empowered Stanley with N150m as a business startup capital.
He Founded Stanel Group in 2017
Stanely Uzochukwu established Stanel Group in 2017. The conglomerate, which according to its corporate profile, is an energy company specialized in marketing Premium Motor Spirit (PMS), AGO (Diesel), and DPK (Kerosine). However, Stanel Group has expanded its tentacles into the production and sales of automobile parts, vehicle consumables, amongst others, for domestic and industrial use.
In July 2017, Anambra State Governor Willie Obiano commissioned Stanel Group's ultra-modern luxury mega center (Stanel World) in Awka, Anambra State. The facility boasts an impressive farmers' market with standby home delivery vehicles, French bakery, pharmacy store, automated car maintenance center, car wash, 1000 sitting capacity chapel, warehouse, supermarket, staff quarters, laundry, spa, and mega-event center.
Also, he commissioned his N1.5 billion capacity mega gas plant, which is strategically situated between the state-owned university, Nnamdi Azikiwe University, and Anambra State Women Development Centre along the 9th Mile – Awka expressway. Among the products he sells include STANEL Tyres, STANEL engine oil, STANEL gas cylinders.
He is the Owner of the Famous Chicken Republic
Stanley is known for being patriotic, following his continuous interest in making huge investments in his home country, Nigeria. Mr. Uzochukwu, through his business interests, acquired the Chicken Republic franchise that covers the entire South East region. This arm of his enterprise, which the Nigerian famous musician Flavour labeled as 'Europe in Awka,' employed more than 700 youths off the streets of Anambra state at its inception. The Chicken Republic is fully equipped with UBA ATM Gallery.
The Stanel Group CEO is Largely Involved in Philanthropic Activities
Stanley Uzochukwu is a well-known philanthropist in Anambra State. He has made it an obligation to continue putting smiles on the faces of orphans, widows, prison inmates, internally and physically displaced persons in Nigeria. At the end of every year, he distributes cash and material gifts to the less privileged.
During the commissioning of his mega gas station in 2017, he seized the opportunity to touch the lives of 1000 widows with material gifts and cash. Some of the items shared during the occasion were live cows to widow and orphanage groups, brand new Toyota cars to physically challenged persons, thousands of bags of rice, indomie noodles, loaves of bread, wrappers, groundnut oil, salt, toiletries, writing materials for school children, etc.
In 2018, Stanley Uzochukwu endorsed three Nigerian celebrities, Chief Chiwetalu Agu, Chioma Chukwuka, and Uti Nwachukwu, naming them brand ambassadors of Stanel Group. He received a Special Recognition Award from Naval War College Nigeria. He was awarded so during a security tour to some selected facilities in his office at Stanel World, Awka, Anambra State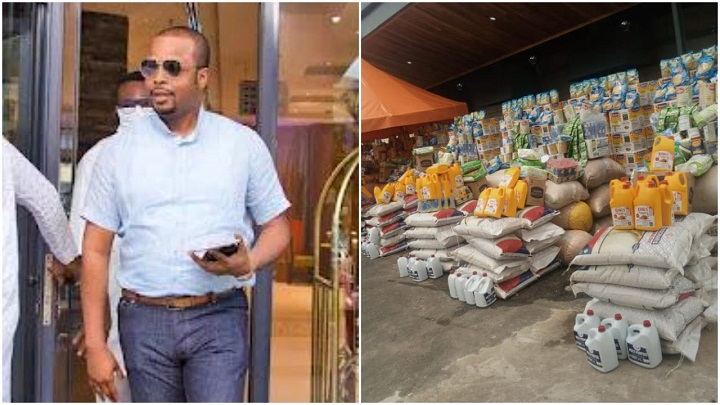 The Nigerian business magnate and philanthropist won the Forbes 2017 African Achievers Awards for his outstanding achievements in job creation, reaching out to widows, orphans, Internally Displaced Persons (IDPs), Prison inmates, and people with disabilities. He was also awarded for his contribution to child education in his home country, Nigeria.
Stanley Uzochukwu is Married to Irene Tallen, and They Share Four Children
The CEO of Stanel Group is married to a Nigerian socialite, Irene Tallen. Irene is the daughter of Pauline Tallen, a politician, the former Deputy Governor of Plateau State, and minister of women affairs. There is no information regarding how the couple met and when they tied the knot.
Together, Stanley and Irene have four girls. Their first three were triplets, and later on, they had another baby girl. The young entrepreneur keeps his marital and relationship life completely out of the media; hence, there is no information about his wife and children nor even their photos on media platforms.