Joint Admissions and Matriculation Board JAMB was created in 1978 with the sole aim of conducting matriculation examinations for entry into universities in Nigeria. This was to tackle the problems that came with students writing different exams for different universities to gain admissions. The JAMB examination has since become a norm that yearly, students seeking to attend tertiary institutions will write the exams. Before then, however, these students will do Jamb registration after meeting some requirements.
Requirements For JAMB Registration
Every candidate must meet certain requirements to become eligible to write JAMB. This requirement is different depending on whether a candidate is applying for UTME or Direct Entry (DE).
General Requirements
Candidates must have up to 5 O'level credit passes, including Mathematics and English Language, in not more than two sittings.
You'll have to visit a CBT accredited centres, where you'll upload your biometrics.
National Identification Number (NIN)
Candidates must fill the online application form appropriately by giving personal details such as phone numbers, Local Government, academic qualifications, and email addresses.
JAMB ePIN registration payment
Direct  Entry Requirements
An applicant should have a minimum of O'Level credit in 5 subjects in not more than two sittings
2 passes at an advanced level examination, including IJMB, Cambridge, JUPEB, or Institute of Baccalaureate with SSCE/GCE credits equivalent in 3 subjects.
A candidate is expected to have a minimum of passes in 2 major subjects in NCE, NTC/NBC credits, or equivalents in 3 other subjects and ND.
JAMB does not accept anything lower than a lower credit grade in National Diploma (ND).
Provision of the JAMB registration number previously used by the applicant in which they used to gain admission for NCE or ND programmes.
How To Create JAMB Profile To Get CBT Code For Registration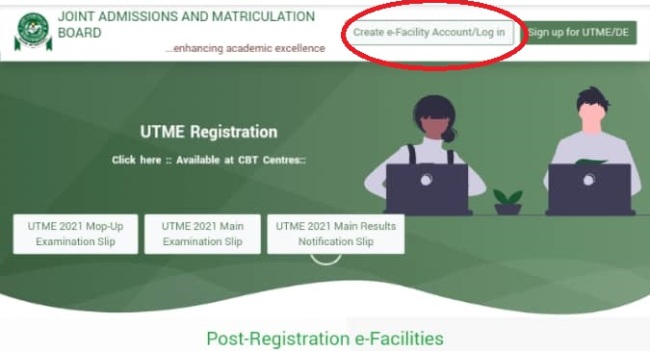 You Can Use Email To Get The CBT Code
Visit the JAMB official website for e-facility
At the top right-hand side of the page, you'll see "Create e-Facility Account/Log in" and "Sign up for UTME/DE."
Click on "Create e-Facility Account/Log in."
Enter your email address and password if you had previously created or click on create an account if you're a new user
Fill the available form with your email address
Select a secret question and answer it
Click on Verify email to continue
Go to your email, search for a message from JAMB and open it. If you can't find it in your inbox, check your spam.
Open the message and click on the provided link that reads, "Click here to continue your profile creation.
A code will be sent to your mail, which will serve as a unique code for your CBT registration.
Getting Your JAMB Profile Using Phone Number
Your phone number will also serve as a unique identification for every transaction and other vital things you'll do in the course of your registration.
Using the same phone number, you will send your National Identification Number (NIN) to 55019 via text message (e.g., NIN 10987654321),
A code will be sent to you, which you will use to get a JAMB form, followed by an e-PIN which you will use for your registration.
What To Know About Registration Processes at CBT Centres
If you intend to register for the Joint Admission and Matriculation Board examination, it is worthy of note that it is only the Computer Based Test Centres (CBT) and Professional Registration Centres (PRC) that are qualified to have you registered online.
At the accredited centres, you are expected to present your e-PIN, and the registration will entail the following:
Pay your registration fee
Other centres will ask that you fill an already printed for them to upload, while others will verbally ask as the registration is going on.
You'll give the institutions of your choice and course of study
Only candidate with awaiting results are not expected to provide their educational qualification, grades, and dates.
If awaiting, you'll need to upload the results as soon as possible of JAMB CAPS using your login details. You can follow this link to gain access.
Upload your certificates
Provide the registration number in which you used to gain admission to any institution if you're applying for DE.
Give UTME subjects that you intend to write during the examination. The Use of English is, however, compulsory to all applicants.
Scan through your uploaded details to adjust any mistake
Whether or not you provide your biometrics at any point during the registration, you should authenticate before confirming.
Receive the reading text and CD from your registration centre for free.
When Does JAMB Registration Start and How Much Does It Cost?
There has never been a specific date for the commencement of JAMB registration in Nigeria as the date changes yearly. For instance, in 2018, 2019, and 2020, JAMB registration started in early January until late February. Nonetheless, in 2021, the registration began in early April and ended in May. Although JAMB has not given out the dates for the commencement of 2022 and 2023 registrations, it may come from April to May.
It is also worthy of note that JAMB registration often depends on when a new session will start. The starting of admissions in Nigerian tertiary institutions change in the progression of time depending on whether there's any strike or delay due to natural forces such as COVID-19, among others.
How Much Does JAMB Registration Cost?
On its own, the JAMB registration form costs ₦3,500, but when added with other spendings such as CBT, a candidate will spend nothing less than ₦4,000.
Breakdown of JAMB Cost
1. UTME Registration
Fees – ₦3,500
CBT Service Charge – ₦700
2. DE Registration
Fees – ₦3,500
CBT Service Charge – ₦700
3. Nation Open University of Nigeria (NOUN Registration)
Fees – ₦3,500
CBT Service Charge – ₦700
4. Distance Learning Registration
Fees – ₦3,500
CBT Service Charge – ₦700
5. Sandwich Registration
Fees – ₦10,000
CBT Service Charge – ₦700
6. Part-Time Registration
Fees – ₦10,000
CBT Service Charge – ₦700
7. Application for Correction of Data
Fees – ₦2,500
CBT Service Charge – ₦100
8. JAMB Result Slip
Fees – ₦1,000
CBT Service Charge – ₦100
9. Retrieve Registration Number
Fees – ₦1,000
CBT Service Charge – ₦100
Ways To Pay For JAMB Registration
Method 1: Bank Payment
Give your profile code at the bank and pay by cash or card
The candidate will receive an e-PIN
Method 2: POS Payment
Do not pay this at random Point of Sales (POS). Instead, pay at the JAMB office or CBT centre.
You'll receive an e-PI afterward.
Method 3: Payment Via Mobile Money Operators
At any accredited CBT centre and other outlets, pay with cash to get your e-PIN
Method 4: Use ATM to Pay
You can only do this using only the bank that is accepted for JAMB payment listed in C(I) or Interswitch Channel.
Select Bill Payment
Click on JAMB
Enter Profile Code and Pay
Method 5: Pay Online
Go to JAMB's official website
Click Purch of the year's application (e.g., Purchase of 2022 application document)
Enter profile code
Select payment method (Interswitch or Remita)
Make payment and receive your e-PIN
Method 6: Pay at Foreign Centres
After a visit to the official website of JAMB, create a profile and continue with the processes as shown on the dashboard until you get to the payment page.
Make your payment with any authorized card and complete registration
What Visually and Hearing Impaired Persons Should Know Before Registering For JAMB
Blind Applicants
For blind or visually impaired applicants, it is important to note that anyone who's registering you at any registration centre will have to indicate during your registration that you are blind. This will let JAMB give you the option of writing the examination through CBT mode or Read Examination Aloud.
For these special candidates, it has been announced that the examination board takes full responsibility for accommodating, feeding, and transporting them to the examination centres.
Deaf/Mute Applicants
As in the case of visually impaired persons, the deaf or mute applicants are expected to state their impairment during registration. This will help them get the needed attention and help at the time of the examination.
In addition, blind, deaf/mute, and applicants in prison, if indicated during registration, they can be allowed to not sit for the Post-UTME examination given by different institutions.
How To Register For JAMB Outside Nigeria
As of 2014, Nigeria's Unified Tertiary Matriculation Examination was allowed in 7 countries. Along the line, another country was added to the list to become 8. Once a candidate is a foreign student or has stayed out of Nigeria for more than 6 months, they will automatically register for JAMB in the designated countries.
This attracts a fee of $20 or its equivalent in each of the countries.
Steps to Follow For Foreign Registration
Candidates for any of the eight countries can download the application form from JAMB's website.
When the form is appropriately filled by the applicant, they can submit it in the countries' venue.
Venues for Foreign JAMB Submission of Form
Nigerian Consulat, Cotonou, Benin Republic
Nigerian High Commission, Accra, Ghana
Nigerian Embassy, Abidjan, Cote D'IVoire
Nigerian Consulate, Beau, Cameroun
Nigerian Embassy/Permanent Mission, Addis Ababa, Ethiopia
Nigeria Consulate, Johannesburg, South Africa
Nigerian High Commission, London, United Kingdom
Steps To Follow When Registring In the 8 JAMB Accredited Countries
Create a profile
Login to the profile
Check the left side of the page and click on the year's Foreign UTME/DE registration.
Check the guided questions before making payments.
Make your payment and complete the registration online.
How To Get Your JAMB Registration Slip For UTME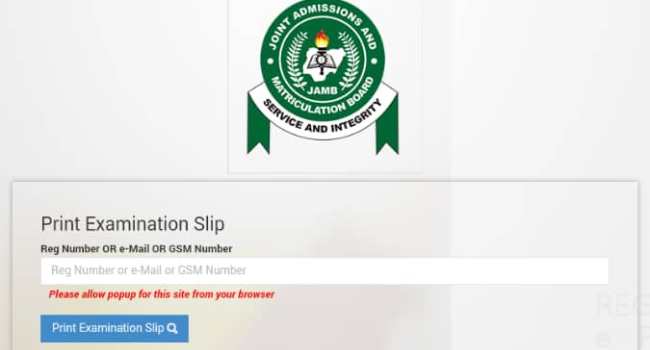 There are 2 basic ways to print your JAMB registration slip. 1 is through your mail and the other is through the JAMB portal. You can also use the same procedure when you Here's how to get your registration slip:
Go to the JAMB portal using this link
Enter your registration number, email address, or the number you used during the registration
Click om print Examination Slip
Enter your password
Click on Login
Search for print UTME main examination slip
Insert your registration number
Click Re-Print
Print out your slip
Why The Registration Slip is Important
The slip usually contains candidates' scheduled time, date, and venue.
Also, you will need the printed slip to be allowed into any JAMB centre to sit for the examination.
The slip is the only paper you'll be allowed to take into the examination hall. People who will calculate may find it useful.
How To Retrieve Your JAMB Number
Method 1: Check The Email You Used For Jamb Registration
Usually, the registration number is available on the registration slip. In a case where you misplace the slip, you can log into your mail and search the message you received from JAMB during registration. You can do this following this process:
You can check your inbox or spam for the message
For easier access to the message, go to search and type in JAMB, the message will appear.
Open the message and locate an attachment
Download the attachment, and on it, you will find your registration number
Method 2: Use The Phone Number You Used During Registration
During registration, you filled in your phone number. Using the same number, type into the empty space provided on the website of JAMB that gives you the opportunity to reprint your slip. There you will find your registration number under registration details.
Method 3: Check the JAMB Change of Institution/Courses Slip
If you have ever changed a course, the slip also contains your registration number alongside other vital information that your initial registration slip carries.
JAMB Frequently Asked Questions (FAQs)
1. How do I recover a lost ePIN after payment?
Send UTMEPIN or DEPIN to 55019 for UTME or Direct Entry, respectively. You can use the same process in a scenario where you have successfully paid, but you are yet to receive an e-PIN.
2. Do I Change course before or after writing JAMB?
You can change course or institution if you participate in UTME. Candidates are also advised to change course or institution before Post-UTME.
3. How many times can I change course after JAMB registration?
At the time of this writing, you are allowed to change course only 2 times.
4. How do I log into my JAMB account with the registration number?
Once you visit the Joint Admission and Matriculation Board, check for the UTME page and click on it. It'll take you to where you will enter your registration number followed by your password.
5. Can someone register JAMB for me?
No. No one is allowed to register or sit for the exam for another person. During the registration, you will need to enter your biometrics which may be used during the exam.
6. What do I do if I forget my password?
Visit JAMB's log in page and click on forgot password to reset it.