Mercy Aigbe's net worth is estimated at $1.1 million (around N450 million). The 53-year-old actress made her millions through her acting career, businesses, endorsements, and other endeavors. She currently lives in a mansion located in Ogudu, Ojota, Lagos.
Mercy Aigbe is a very influential Nigerian actress, producer, director, fashionista, businesswoman, and philanthropist famous for her Yoruba indigenous movies. The actress has gained a prideful place in the heart of Nollywood lovers, given her show of skills and talents in interpreting movie roles. Away from acting, the actress is a serial businesswoman who has lent her hands to various endeavors to build wealth and fortune for herself. Here's the truth on how the mother of two generates her income.
How Mercy Aigbe's Net Worth of $1.1 Million was Built-Up
The Edo State native grew up together with her family in Lagos State and had her education there. Upon graduating from the University of Lagos with a degree in Theatre Arts, Mercy made her first acting appearance featuring in several soap operas, including the popular TV drama series Papa Ajasco. She continued starring in some other TV series until she made it into Nollywood.
Mercy Began Her Professional Acting Career in 2006 at the age of 28
Mercy Aigbe had always wanted to act, which prompted her to study Theatre Arts at the University of Lagos. During the days, she took part in some of the school dramas, and today, she is among the actresses practicing the course they studied in the university. She got her big break in the 2006 Yoruba movie Ara produced by Remi Olupo.
Her perfect role interpretation skills brought her to the limelight just with her first movie in the industry. Since her movie debut, Mercy has continued to get more prominent roles in English and Yoruba movies. Through hard work and persistence, Mercy Aigbe has shown her capabilities in the entertainment industry by diversifying into film production.
She produced her first movie titled Date Night in 2017. The movie, which she also starred in as Joyce, featured other top actors such as Uche Jombo, Bolanle Ninalowo, Lateef Adedimeji, Kenneth Okolie, etc. Her movie production credit includes; Hunted Pleasures, Shekesheke, Kini Igbeyawo, 77 Bullets, Agbeke Ayoba, and Dara.
Mercy Aigbe's Most Famous Movies
Ara (2016)
Satanic
Okanjua (2008)
Afefe Ife (2008)
Ihamo (2009)
Ìpèsè (2009)
Atunida Leyi (2009)
Iró funfun (2009)
Igberaga (2009)
Oju ife (2009)
Mafisere (2009)
Omoge Osas (2012)
Ile Oko Mii (2014)
Victims (2015)
Flaky Ijaye (2017)
Little Drops of Happy (2017)
The Screenplay – 2017
77 Bullets (2017)
Second Acts (2018)
200 Million (2018)
Heaven on my Mind (2018)
That Which Binds Us (2018)
Lagos Real Fake Life (2018)
The Reunion (2019)
The Big Fat Lie (2019)
Other Business Endeavors That Contributed to Mercy Aigbe's Net Worth 
It is widely known that acting is the main source of Mercy Aigbe's net worth. That notwithstanding, the truth remains that her wealth did not only come from her acting roles. She has good business acumen and has since made ventures into other avenues of making money.
She Launched Her Fashion Store in 2014
Mercy Aigbe has a very outstanding fashion sense and never ceases to serve it all hot to her fans. Given her love for fashion, the actress decided to entirely go into the world of fashion as a business by opening a luxurious clothing store, Mag Diva Boutique, in November 2014.
Mercy's boutique, whose head office is in Lagos, has another complement store known as Asoebi Mercy, a store dedicated solely to the sales of asoebi. She has also extended her clothing line to the city of Ibadan.
Furthermore, the actress expanded her business portfolio by launching a skincare line known as Flawless by Mercy. Flawless by Mercy deals in several bleaching organic products that treat stretch marks, spots, knuckles, and other skin problems. She revealed that she joined this line of business as a result of the requests she constantly gets from her fans.
She Owns a Film School
Having developed so much passion for acting, Mercy Aigbe, in 2016, founded a film school dubbed Mercy Aigbe Gentry School of Drama. The school offers a four-month training course in scriptwriting, acting, movie making, stage management, etc. The students are provided with grounded and experienced instructors who help them structure and develop their skills to meet the Nollywood standard and succeed in the industry.
Endorsement Deals Contributes to Mercy Aigbe's Net Worth
With the level of fame Mercy has attained in the entertainment industry, she has attracted endorsements deals from several notable brands. She has enjoyed and continues to enjoy lucrative deals which contribute to her income. She bagged her first endorsement deal in 2014 as a brand ambassador of Elephant Gold Rice.
Below is a list of all the brands she has endorsed so far.
Prestige Cosmetics
Elephant Gold Rice
Shape You, a fitness company
Edalaf Brother Limited, an IT solutions company
Realvest, an investment platform
Leisure Court, a real estate company in Abuja
Naija Taxi, a transport company
BK Unique Hair
HNK Interiors
Mummy Glee
G Text
Mary Make
She Also Makes Money From Her TV Show, 'The Switch With Mercy'
In 2020, the entertainer launched a new TV show on YouTube, The Switch with Mercy Aigbe. This is also a means through which she gives back to her fans. In the show, Mercy Aigbe is seen paying visits to her fans in their homes and spending a lot of time with them. She revealed that she is nervous about the project but, at the same time, super excited to connect with her fans one on one.
This is her first time as a talk show host, and according to her, the show has a special place in her heart. Moreover, it allows her to connect and express her gratitude and appreciation to her fans for their love and support over the years. Needless to say, this is a decent avenue through which she generates more income. All these are part of the endeavors that contribute significantly to Mercy Aigbe's net worth.
Is Mercy Aigbe The Richest Yoruba Actress?
Mercy Aigbe's net worth has undoubtedly found her a spot on the list of successful actresses in Nollywood; nevertheless, she is not the richest Yoruba actress in the industry. Other Yoruba actresses that have earned massively from their careers and became the richest and highest-paid include Funke Akindele ($7.2 million), Omotola Jalade ($7.2 million), etc.
Although she is not the richest Yoruba actress in Nigeria, Mercy Aigbe's net worth places her above many other well-known actresses like Toyin Abraham $500,000, Fathia Balogun ($400,000), Iyabo Ojo ($370,000), Mide Martins ($400,000), and many others.
Mercy Has Won Several Awards and Recognition
Mercy Aigbe is a multiple-award-winning actress. She has bagged numerous awards both from her excellent acting roles and as a fashionista. Her effort in the fashion industry has earned her recognition by Links and Glitz World Awards. Below are all the awards and recognitions she has received throughout her dual career.
City People Awards honored her as the Best Actress in Yoruba.
2015- Fashion Entrepreneur of the Year at Links and Glitz World Awards
2010- Best Actress in a Supporting Role (Yoruba)
2012- Nominee as the Best Actress in an Indigenous Movie (non-English speaking language)
2012- Award of Excellence at the Global Leadership Awards for Excellence (GLADE)
2014- Best Indigenous Language (Yoruba)
2013- Woman of Style at the MoreKlue All Youths Awards
2014- Yoruba Movies Academy Awards (YMAA) nominated Mercy Aigbe for Best Actress in a Lead Role
City People Entertainment Yoruba Movie Personality of the year
2015- Fashion Entrepreneur of the Year Awarded by Links and Glitz World Awards
2016- City People Movie Award nominee for Best Actress of the Year (Yoruba)
2017- Role Model Awards at the All Youths Tush Awards
2017- Greenview Awards nominates Mercy Aigbe for Best Supporting Actress
2018- Nominee for Most Searched Actress at the NET Honours
2018- Most Popular Actress nominee at the NET Honours
2019- Nominated for the Best Actress in a Supporting Role (Yoruba) at the Best of Nollywood Awards (BON)
2019- Mercy Aigbe Wins Award for Most Popular Actress at the NET Honours
Mercy Aigbe's Luxurious Lifestyle and How She Spends Her Money
The Nollywood-established actress has grown to become incredibly successful in her acting career and various businesses. She has made a lot of money; hence, it is worthy to say that she is currently living her dream life. In addition to living in an expensive mansion and driving exotic cars, Mercy Aigbe's net worth of over 450 million Naira affords her constant travels overseas.
She mostly travels for treatments and vacations at intervals. Also, one of her daughters, Michelle, is receiving her university education in London, so Mercy seizes any opportunity she has to visit her in London. Meanwhile, it is speculated that she has a house of her own in London, considering how often she travels.
The Actress Lives in a Mansion in Lagos
In 2018, Mercy Aigbe spent a fortune to acquire a mansion that is reportedly worth N200 million in a choice neighborhood in the city of Lagos. It was also in December of the same year that she parted ways with millions of Naira to get for herself a Toyota Prado vehicle. The actress quickly took to her Instagram to share the good news and let her fans know she is now a house owner.
Categorically, the actress stated that she purchased the house with her hard-earned money for herself and her kids. However, this prompted a lot of rumormongers to say that the property was bought for her by one of the southwestern state governors in Nigeria.
To give more credence to this rumor, a few of her colleagues in the film industry reportedly reached out to Mercy's ex-husband Lanre Gentry to verify if he is sponsoring the actress's most recent lavish lifestyle. But, the man outrightly denied having a hand in funding any of her luxurious living.
On her part, the award-winning actress was prompt enough to deny and debunk all the rumors, maintaining that all that she acquires are results of her hard work, and there is no sugar daddy politician anywhere sponsoring her. Furthermore, she added that her second house is under construction on Lagos Island and urged the naysayers to watch her space for bigger achievements.
Mercy Aigbe's Cars
It has become a norm for celebrities in various fields to express their wealth through the automobiles they move in. Mercy has invested a good part of her fortune in acquiring some of the best cars one would dream of having.
In Mercy Aigbe's garage is an Acura MDX SUV, which is currently has a market value of $45,000. The car was presented to her by her ex-husband Gentry on the occasion of her 39th birthday in 2016. Really, this is a luxurious car that has exotic interior designs with other sophisticated features.
Toyota Land Cruiser Prado
Toyota Land Cruiser Prado took its spot in Mercy Aigbe's garage in 2018. The luxurious large-size car allows for a comfortable off-road performance. Significantly, it is powered by a V6 engine. The actress did not reveal how much she bought the car.
Another exotic automobile the actress cruises in is a red-colored Toyota Corolla. The car is said to have cost her N8 million to acquire. The vehicle is very comfortable and suitable for Nigerian roads. Hence, she is mostly seen in it on regular occasions and events. It has a low rate of fuel consumption.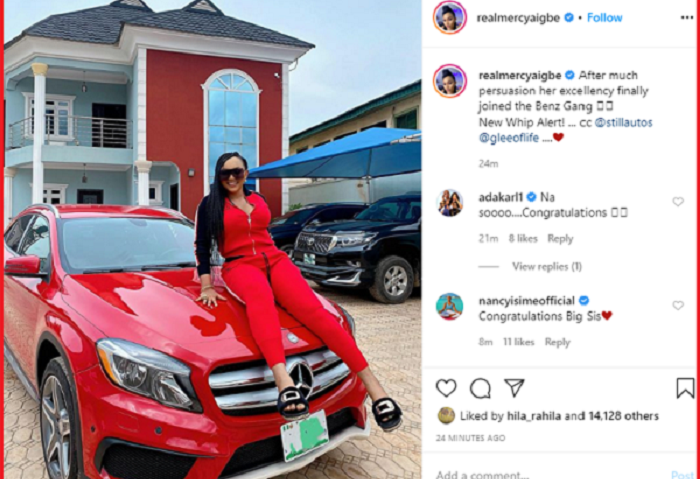 In May 2020, actress Mercy Aigbe shared on her Instagram page the news of her new Benz. According to her caption, After much persuasion, her excellency has finally decided to join the Benz gang. This happens to be the latest ride in her garage. The SUV is reportedly worth N16 million.
She is Involved in Philanthropy
Mercy Aigbe also spends her money on charity work. In 2017, she teamed up with Nollywood star and politician Desmond Elliot to draw people's attention to the plights of Nigerian widows. They made a headline of the nationwide movement to end such hardships.
Recently, Mercy gave a helping hand to a street bread seller named Omoge Abisoye. Omoge took to Instagram to advertise her bread business and told how proud she is in the business and how she would appreciate an opportunity to expand it. Fortunately, luck smiled at her as actress Mercy came across her post and requested her bank account details.