Omotola Jalade Ekeinde's net worth is estimated at $7.2 million. The actress has made a lot of money from acting and has earned top spots as one of the richest actresses in Nigeria. Asides from acting, the ace screen goddess earns decently from the other business endeavors that have kept her on the global map.
Over time, the Nollywood industry has produced famous actors and actresses who have gained so much love and respect from fans. One of such famous actresses is Omotola Jalade Ekeinde, a Nollywood long-established actress who has maintained her stance in the industry with a career log of 27 years.
The Primary Source of Omotola Jalade Ekeinde's Net Worth Is Her Thriving Acting Career
The Yoruba-native Nollywood actress, famously known as "Omo Sexy," grew up in a family of five; her parents and two younger brothers. She was born into a middle-class family wherein her late father worked at YMCA and the Lagos Country Club and her late mother at J.T Chanrai Nigeria.
Omotola studied Estate Management at Yaba College of Technology. Having bagged a degree in Estate Management, Omotola's initial ambition was to work in business management. However, she later changed her career direction and turned into an actress.
She Started Acting at the of Age 17 in 1995
The 45-year-old Nigerian actress, singer, former model, and philanthropist started her professional acting career in 1995, even before she graduated from the university. Then, following her graduation and while waiting for her results, Omotola had a brief career in modeling to earn a living.
As aforementioned, Omotola's entrance into the Nigerian film industry was by chance. She was introduced to Nollywood when she accompanied a friend to an audition. Unfortunately for her friend, she lost the role and suggested that Omotola goes for it. Omotola got the role even though her mother never wanted her to be an actress; she eventually gave in after many convictions.
Her debut role in the industry was in the 1995 film Venom of Justice. The film directed by Reginald Ebere set the stage for Omotola's flourishing career. Reginald gave her the lead role and has since been cited as the one who launched her career in Nollywood.
Later in the same year, she got her first significant role in the critically acclaimed movie Mortal Inheritance. In the movie, she played the character of a sickle-cell patient who fought so hard for her life despite the difficulties of survival but was able to overcome the disease and have a baby.
Movies That Contributed to Omotola Jalade Ekeinde's Net Worth and Fame
Omotola Jalade is considered Africa's biggest box office actress. Moral Inheritance, wherein Omotola had her first significant role, is regarded as one of the ever made Nigerian's best movies. Since the launch of her career, Omotola Jalade has featured in more than 300 blockbusters.
Some of the movies which catapulted her into an A-list status earned her many awards and, in turn, contributed to her impressive net worth include Blood Sisters, Kosorogun, All My Life, Last Wedding, The Woman in Me, My Story, Games Women Play, and a host of others.
Furthermore, Omotola had her first cinematic movie role in the 2010 film Ije. The film, which also starred Genevieve Nnaji, was shot at different locations in Jos and the US. Ije became the highest-grossing Nollywood movie at that time, which was later broken by the movie Phone Swap.
In 2012, she starred in the blockbuster thriller Last Flight to Abuja, a film that beat some Hollywood blockbusters like Think like a Man, Spiderman, Ice Age, Madagascar, and The Avengers, to become the 2nd highest-grossing movie in West African cinemas in 2012. The sales of these movies contributed highly to Omotola Jalade Ekeinde's net worth.
Highlights of other blockbuster movies that made Omotola Famous
Lost Kingdom (1999)
Brave Heart (2005)
Blood Sisters (2003)
When Love Dies (2003)
A Kiss from Rose (2004)
Die Another Day (2004)
Careless Soul (2007)
Koosorogun (2002)
Yankee Girls (2008)
Ties That Bind (2011)
Ije: The Journey (2010)
Games Women Play (2005)
My Last Ambition (2009)
Hit the Floor (2013)
Alter Ego (2017)
Blood on the Lagoon (2014)
The Tribunal (2017)
The Island (2017)
Did Omotola Jalade Retire From Acting?
In 2015, the screen goddess celebrated her 20th career anniversary in the Nigerian entertainment industry. She happened to be the first Nigerian celebrity to feature in Times Magazine alongside Kim Kardashian, Michelle Obama, and other prominent global personalities.
Apparently, Omotola Jalade Ekeinde is no longer a familiar face on our screens. This development left many people wondering what could be the reason. The Blood Sister role interpreter disclosed the reason behind her unregular appearance in Nollywood movies in recent times.
According to the actress, the reason for her recent absence from movie scenes is the inability of directors to pay her. In her words, Most can't afford me, some can't afford what it takes to have me on set. It is a new terrain, and all will balance out soon. She revealed this in a question and answer session with her fans on her Instagram page.
Other Contributors to Omotola Jalade's Net Worth
Apart from her blossoming acting career, Omotola Jalade Ekeinde has other streams of income through which she built her whopping net worth of $7.2 million. She has tried her hands in various things which turn out successful and contribute to the wealth she lives in today.
Her Music Career
The Nollywood curvaceous actress took a lot of people by surprise when she ventured into the world of music in 2005. She launched her music career with the album's release titled Gba, featuring singles like Naija Lowa and The Things You Do To Me.
Her second album, Me, Myself, and Eyes, was produced in 2010 by Paul Play and Del B and featured Feel Alright, Get Busy, Barren Land, Missing You, Through the Fire, and others. Her song Barren Land was subsequently adopted for human rights by Amnesty International, a UK-based non-governmental organization.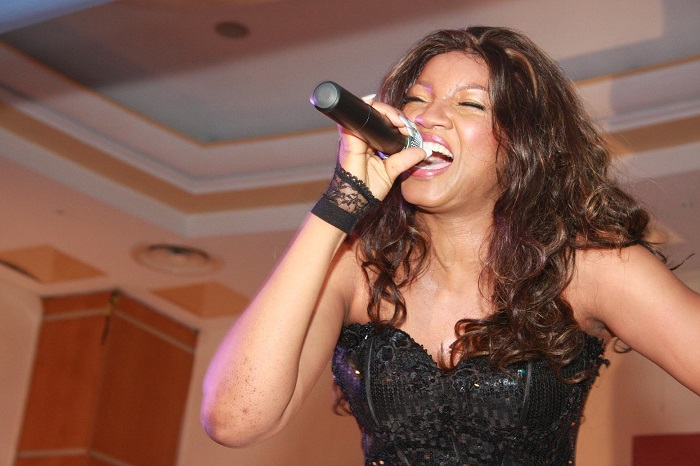 Speaking about how and why she ventured into music, Omotola Jalade said that she has always had an interest in singing but working with the UN World Food Programm motivated her to launch the career. She began working on her third album in 2012 and worked with a few notable producers in Atlanta under The Bridge Entertainment.
After her third album, Omotola went on a hiatus from singing because she got a lot of discouragement from releasing more songs. However, later in 2021, the multi-talented actress disclosed her intention to return to her music career. This time around, she will put more effort into it and wouldn't accept any form of discouragement from anyone.
She Owns a Reality TV Show
Iconic actress Omotola Jalade launched her reality TV show  Omotola: The Real Me in 2012. Although this is a little divert from the usual Nigerian movies, the beautiful actress is doing what she knows how best to do. She became one of the first Nigerian celebrities to launch a reality TV show that aired on Africa Magic Entertainment, an M-Net subsidiary broadcast on DStv. The reality shows exclusively offered her fans a closer look at her personal life.
Endorsement Deals
Omotola Jalade Ekeinde's net worth was achievable through many mouthwatering deals she continues to sign. The Nigerian leading actress has bagged many deals with several big brands within and across the country. Below is a list of the brands she endorses.
Scanfrost Appliance
Knorr Cube
Pampers Baby Diapers
B016 hair range
Konga.com
Summary of Omotola's Income Sources
Acting and Directing
Music
Reality Show
Endorsement deals
Omotola is a Recipient of Numerous Awards
Throughout her acting career, Omotola Ekeinde has won more than 40 awards on domestic and international levels. A famous recipient of multiple awards, the press dubbed her the real Africa Magic.
1997- The Best Actress English at The Movie Awards
1997- The Best Actress Overall at The Movie Awards
2003- Best Actress at the City People Awards for Excellence
2004- Best Actress & Grand Achiever at Global Excellence Recognition Awards
2004- Best Individual & Symbol of Creativity at CEON
2006- Most Friendly Actress at Youth Benefactor's Awards
2010- Best Actress-Africa Collaboration at Ghana Movie Awards
2011- Actress of the Year at Eloy Awards
2011- Pan African Best Actress at Screen Nation Awards
2012- GIAMA Humanitarian Award at Golden Icons Academy Movie Awards
2012- Popular Online Choice at Nollywood Movies Awards
2013- Ebony Vanguard Award at Music Video and Screen Awards
2013- 100 Most Influential People in the World by the TIMES Magazine
2014- Member of the Order of the Federal Republic
2016- Female Entertainment Personality at City People Social Media Awards
2016- Best Actress at Toronto International Nollywood Film Festival
2017- Best Actress at Nollywood Travel Film Festival
2017- Most Influential 100 People of African Descent at the United Nations by MIPAD
2018- Movie Icon of the Year at City People Movie Awards
2018- Best Actress in Movies/TV Series at Africa Magic Viewer's Choice Awards
Comparing Omotola Jalade Ekeinde's Net Worth With That of Genevieve Nnaji
As long as Nollywood is concerned, Genevieve Nnaji is a queen and one of the most hardworking actresses. With a net worth estimated at $10.5 million, Genevieve is considered the most successful and wealthiest actress in Nigeria. Besides her flourishing acting career, the Nollywood queen earns big through her endorsement deals with the biggest international brands such as Amstel Malta, Lux, Range Rover, and Etisalat in Nigeria.
The long-established actress who came into the film industry in 1987 when she was eight has made a name for herself through her brilliant skills in interpreting roles. She also accrued her net worth from a few other businesses she runs by the side, like her clothing line, St. Genevieve, Genevieve Supermarket and Salon, etc.
It is true that these Nollywood stars, Genevieve and Omotola, have in no small measure influenced the Nigerian movie industry, yet, Genevieve has been taking the lead in terms of their net worth. She is richer than Omotola Jalade with $3.3 million.
Other successful and famous Nollywood actresses behind Genevieve and Omotola are  Ini Edo ($4 million), Mercy Johnson ($2 million), Rita Dominic ($3.5 million), Kate Henshaw ($1 million), etc.
Omotola Jalade Ekeinde's Net Worth Affords Her a Luxurious Lifestyle
Multi-award-winning actress Omotola Jalade is simply a fulfilled woman. With her admirable life of luxury, you can say she is living the life of her dreams.
Omotola Jalade Ekeinde Drives Exotic Cars
Her wealth allows her to live the life many could only dream about. In Omotola's garage, here is the list of exotic cars you will find.
Acura QX SUV
The Nollywood actress acquired an Acura QX SUV that has a customized plate number with her name boldly written on it. This car is reportedly worth ten million Naira as of the time she bought it. It is unknown when she bought it, but this is one of the old cars that she's rarely seen in.
Rolls Royce Phantom
In 2018, To celebrate her 40th birthday in a grand style, Omotola Jalade purchased for herself a gold-colored Rolls Royce Phantom whose selling price stands around N171 million. This bespoke acquisition got the media buzzing on the occasion of her birthday. The car has a customized plate number that reads Omotola @40.
Some of the unique features that come with it include 664 lb-ft of torque and a twin-turbocharged 6.7 Litre V12 engine that produces 563 horsepower. It can go from 0 to 60 mph in 5 seconds and reach a top speed of 155 mph.
Limousine
The ace actress is usually seen cruising around the town and attending media and social events in a Limousine. However, it is not exactly known if she owns the car or it is rented. The price of this luxury limousine is hard to estimate as it greatly depends on the customization of its owner.
In addition, Omotola and her husband surprised one of their daughters with a BMW coupe to celebrate her 22nd birthday. The car is estimated to be worth around N8 million.
She Lives in a Mansion in Lagos
Level changed for actress Omotola Jalade Ekeinde and her family in 2017 after moving into her new mansion located at Oniru Estate, Ajah, Lagos State. According to inside sources, the billionaire actress packed into her new mansion from Iyana Iba Bungalow, where she lived for 22 years.
She reportedly had all her four children at her old house. The only detail about Omotola's new mansion is that it is custom-built to the high taste of the celebrity couple. Aside from this, it is not public knowledge how much the house is worth or the special features and design it has.
Omotola Jalade is Actively Involved in Philanthropic Works
Omo Sexy is applauded for her numerous humanitarian gestures. She is remarkably known for her fierce human rights campaigning efforts which are centered on her NGO project, The Omotola Youth Empowerment Program (OYEP). The platform brings youths together for empowerment walks and conventions.
In 2010, Omotola supported Charles Odii's SME100 Africa in empowering young women in society. She has since been active and participated in the Walk the World project campaign in Liberia with President Ellen Sir Leaf-Johnson.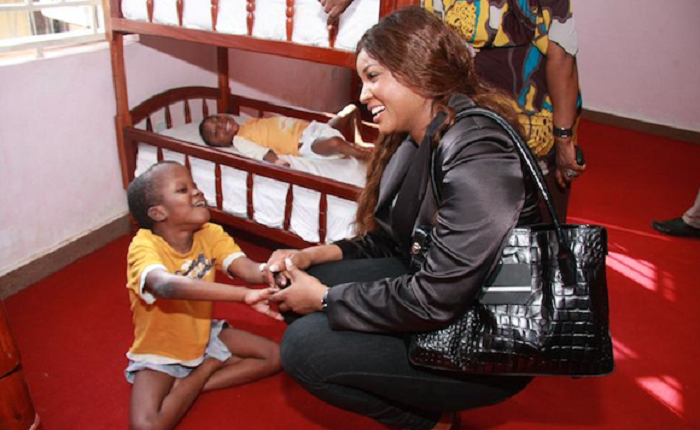 Furthermore, she lent her voice to the Rewrite The Future Campaign of Save The Children UK. In 2011, Omotola became an Amnesty International campaigner and participated in missions in Sierra Leone. In June 2020, she visited the orphanage home in Tanzania Mitindo House, where HIV-infected children are housed with cash and material gifts.
Recently, the actress held a campaign for The Niger Delta in Nigeria, which gave rise to the video where she asked Shell and the government to own up, clean up, pay up, and take responsibility for the oil spills in Niger Delta.
Omotola Jalade's NGO platform also operates in memories of her late mother, and one of its popular projects is the 20 widows makeover. In commemoration of the 2021 World No Tobacco Day, Omotola Jalade and a few other Nollywood stars pledged to stop smoking in their movie scenes giving its negative influence on the younger generation who look up to them.