Bolanle Ninalowo and Bunmi Ninalowo's love story aptly describes what it means to love and find a reason to love again even after going through a rough patch. Sometimes, lovers quarrel and find it difficult to settle their differences, thereby ruining their chances of reuniting. And this is all too common in the Nigerian entertainment circle. But for Bolanle and Bunmi they came back better and stronger after they split. Their bonding seems to have become stronger now than when their relationship started.
Bolanle's Wobbling Music Career Dealt A Heavy Blow On His Marriage With Bunmi
Bolanle Ninalowo met his wife, Bunmi, when he visited Nigeria in 2004. Ninalowo, in a recent interview with the Punch, stated he had visited Nigeria after a long stay in the United States. According to him, Bunmi was in his neighborhood; he approached her, and they started talking. When the two lovers met, they were in their early twenties; Ninalowo was 24 years old then while Bunmi was 23 years old. They quickly took a liking to each other and grew from being friends to lovers.
The couple's love for each other grew at a fast pace, such that they moved in together barely two weeks after they met. Bolanle's good looks must have been the eye-catch for Bunmi, or perhaps she saw something special in him which has kept them together even after their over a decade split. The couple relocated to the USA, got married sometime in 2004, and plan to return to Nigeria and have a traditional marriage.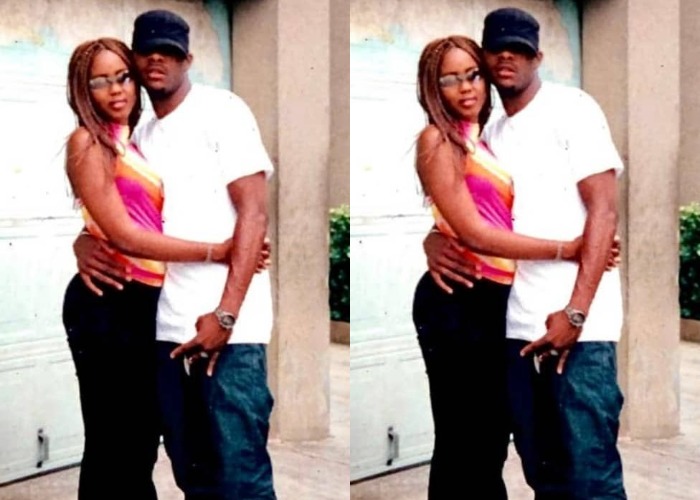 Back in the USA, Bolanle, also known as Nino B, was not into acting then; rather, he pursued a career in the American entertainment industry as a musician, albeit a struggling one. Thus, he has been married to Bunmi long before he became a celebrated Nigerian actor. Perhaps, for them, it was love at first sight.
During his stay in the "land of opportunities," he attended the Dery University in the United States, where he earned a bagged Bachelor's Degree in Accounting. He further bagged a Masters in Marketing from Keller Graduate School of Management also in the USA. All together, Nino B spent 15 years in the USA studying and trying to erk out a living.
His dream was to make a name for himself in the entertainment industry over there. He went into the music industry but couldn't realize his dreams as his music career in the States was filled with ups and downs. During this time, his wife deserted him, and the couple was apart for twelve long years. During their separation, Bunmi and their two kids lived in Atlanta while Bolanle was trying to resuscitate his ebbing music career. During these trying times, Bolanle met many women; still, he never committed himself to any of them in a serious relationship.
The Couple Reunited In 2017 And Has Been One Big Family Since Then
43-year-old Bolanle Ninalowo and Bunmi his 42-year-old wife lived together for 12 years before Bunmi got fed up with the marriage and walked away. However, after a few years of being apart, they were reconciled with the help of their family members and friends. It is interesting to note that neither of them got married to another partner during this time. For Bolanle, his family didn't want him to have children from different women.
During this period, he was able to turn his life around from being an unsuccessful American musician to a celebrated Nigerian actor. He acted in a couple of top Nollywood films like Husbands of Lagos (2015), Picture Perfect (2016 film), Coming From Insanity (2019), and Breaded Life (2021).
Following his reunion with his wife in 2017, he avoided things that would set them apart. Nino B said, "I don't welcome unwanted female attention. My greatest wish was to reunite with my family before 40." He disclosed that when they were separated, he heard Bunmi cry, and he vowed never to make her cry again. Having reunited with his wife, he has been doing everything possible to ensure his family stays together; this is probably why he champions her and their children at any given opportunity.
Meet The Ninaolowo's Two Lovely Children
Bolanle Ninalowo is a fulfilled man in all ramifications, and his marriage to Bunmi produced two children; a girl and a boy named Aliyah Ninalowo and Morakinyo Ninalowo. Though not much has been revealed about the Niniolowo kids, we know Aliyah, who is the elder, was born on 7th March 2006 and is aged 17, while the younger Morakinyo was born 2 years later on 2nd July 2008 and is now 14 years old.
Aliyah Ninalowo Is An Aspiring Model
Nickname: Teenandi, Myteenandi
Age:

17 years old

State of origin: Lagos State (Ikorodu)
Occupation: Student, brand influencer, and model
The couple's kids are growing up pretty fast, and all thanks to their parents, who continually give us glimpses into what goes on in their lives. At least we get to see pictures and videos of the adorable family moments they share and what have you. For Aliyah, though still a teenager, she has already begun carving out a career as a brand influencer, hair promoter, YouTuber, and fashion model. She is being managed by Diesel360pr, the same management company that manages her father's career.
Morakinyo Ninalowo Is The Couple's Youngest Child
Age:

14 years old

State of origin: Lagos State (Ikorodu)
Occupation: Student
Unlike his sister, Morakinyo Ninalowo has not revealed what career he wants to pursue. Apparently, he is still too young to be concerned with such a matter. The lad still has a lot of growing up to do, but should he decide to pursue a career in the entertainment industry, there is no doubt that his parents will guide him alright.
What Does Bunmi Ninalowo Do For A Living?
Age:

42 years old

State of origin: Lagos State
Occupation: Entrepreneur and brand influencer.
Today, Bunmi Ninalowo is one of the most admired celebrity wives in Nigeria for many good reasons. For one, her love story with her husband, separating and returning afterward, has endeared many people to her. Though relatively unknown until recently, her husband has been able to use his successful acting career and public image to promote his wife's public image and career. Bunmi is now recognized as a brand influencer and entrepreneur. On her Instagram page – queennino_b, she frequently promotes various beauty products, fashion designers, and makeup artists.