Toyin Abraham (born 5 September 1982) is a 41-year-old Nigerian actress and filmmaker from Auchi, Edo State. She is known for her starring roles in several Nigerian films such as Alani Baba Labake and Ebimi ni among others.
The Nollywood actress is one of the numerous hardworking individuals and on-screen sweethearts who bring uniqueness and brilliance to the Nigerian film industry. She is currently a leading light in the industry and has directed and produced numerous movies, including the popular Fate of Alakada. From the Yoruba tribe of Nigeria, the veteran actress was previously known as Toyin Aimakhua before her name change in 2016. Her skills in delivering on-screen comic roles have made her fans' favorite, and she has been active in the industry since 2003.
Quick Profile Of Toyin Abraham
Full name: Olutoyin Abraham Ajeyemi
Date of Birth: 5th September 1984
Age: 39 Years Old
Place of Birth: Auchi, Edo State
Nationality: Nigerian
Marital Status: Married to Kola Ajeyemi
Children: A boy child (Ire)
Education: Olabisi Onabanjo University, Osun state
Occupation: Actress, Producer, Director
Years Active: 2003- present
The Actress was born in Auchi, Edo State, But Was Raised in Ibadan, Oyo State.
Toyin Abraham was born Toyin Aimakhua on 5th September 1984 in Auchi, Edo State, Nigeria, but grew up in Ibadan, Oyo State. Her father, B.E Aimakhu, is a retired staff of the Ibru organization, while her mother is a pastor.
Toyin started her primary education at Oba Kenzo Primary School in Edo State, Benin City but could not finish because her father retired. As a result, the family moved to Ibadan, where she continued her education at Queen's Staff School. Afterward, she enrolled at St. Anne's secondary school, Ibadan, where she completed her secondary education.
In 2005, Toyin got admission to Osun State polytechnic, Iree, where she had her Ordinary National Diploma (OND). She proceeded to Ibadan polytechnic, where she obtained a Higher National Diploma in Marketing. Toyin later furthered her education at Olabisi Olabanjo University, where she bagged a degree in philosophical science.
Toyin Abraham is the Most Famous of Five Siblings
Toyin allegedly has four siblings, three sisters, and an elder brother, but only talks about one of the three alleged sisters, and there is no information nor photos of the other two. Learn more about Toyin's two known siblings below.
David Abraham
David is Toyin's elder brother and is happily married to Oluwakemi Abraham with kids. He runs Xplicit dance group, an arm of Explicit Home of Favour Initiative, a charity group established in 2005 to empower individuals from impoverished backgrounds/families. David started the foundation with only four children, but today, the beneficial members are over 58, and they are all from humble backgrounds while some are orphans.
However, David intentionally does not associate himself closely with her sister, actress Toyin, because he takes the position of a pastor and caregiver and wouldn't want to get involved in any scandals or controversies related to the entertainment industry. Thus, he could not be described as famous but does decently well for himself.
Fatima Ogunsanya (Aimakhu)
Fatima, the immediate elder sister of the star actress, is married to Olaniyi Ogunsanya with three kids. Fatima also lives a private life and is hardly seen with her actress sister. Toyin and Fatima have a striking resemblance that people sometimes mistaken one for the other. On her birthday, actress Toyin flaunted the photos of her sister on her Instagram page with heartfelt and passionate birthday wishes.
She expressed how her sister has been her best friend right from their childhood days and made it a very memorable and unforgettable one. She added that she loves her with all her life and thanked her for always giving her the right advice that keeps her away from trouble. The two are very fond of each other, and Fatima also lives a wealthy lifestyle.
She is Happily Married To Popular Nigerian Actor Kola
Toyin Abraham has a blissful married life with popular Nigerian actor Kola. The couple has known each other for years but based on friendship. However, the two started dating not long after Toyin's first marriage crashed. On 14th July 2017, the couple announced their engagement, with the actress flooding her Instagram with their engagement photos. To date, it is not known if the actress and her beau have walked down the aisle. However, on 14th August 2019, the couple welcomed a baby boy named Ire. It is noteworthy that it's Toyin's second attempt at marriage, as she was previously married to Adeniyi Johnson.
Her Marriage to Adeniyi Johnson Ended On the Grounds of Infidelity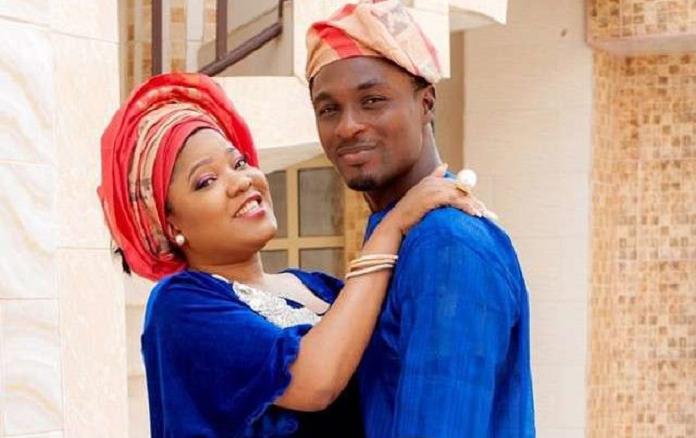 Star actress Toyin was first married to Adeniyi Johnson, also a Nollywood actor. The couple met in 2012 and had their wedding in July 2013. Unfortunately, the marriage lasted only two years, and the couple went their separate ways. Although there are many claims and different views regarding why their marriage crashed, the main reason, according to the actress, remains infidelity. Actress Toyin allegedly caught her husband Adeniyi in the act and decided to call the marriage quits without turning back. They didn't have any kids from their union.
A Look At The Most Famous Movies of Toyin Abraham
Toyin took off her acting career in 2003 when a Nigerian actress, Bukky Wright, came to Ibadan for a film shoot. At the time, Toyin was still a student, but her for acting made her take out time to be part of the audition. Her performance was highly exceptional, and actress Bukky was very pleased and asked her to be part of the movie production. She continued attending many other auditions, which allowed her to play minor roles as an assistant actress.
The actress's comic roles in movies have unarguably doubled her fans and brought many of her movies to fame. However, out of her numerous movies, these three made he most famous: Alakada Reloaded (2017), The Ghost (2018), and Fate of Alakada (2020)
Alakada Reloaded (2017)
Alakada reloaded is a 2017 Nigerian comedy film that made massive sales upon release. The movie is the third part of the popular Alakada and Alakada 2 and portrays a young girl from a poverty-stricken home who, to cope with her inferiority complex and fit into the trends in society, goes around to tells fables of her wealth and social standard. Starring Kehinde Bankole, Lilian Esoro, Bolaji Amusan, Alakada Reloaded is rated +13 and lasts for one hour and 43 minutes. The film has gathered over ₦70 million domestic gross, making it one of the lists of highest-grossing Nigerian films.
The Ghost and the Tout (2018)
Released on 11th May 2018, The Ghost and the Tout is a Nigerian ghost film and one of the movies that added to the popularity of the admired actress. Starring in the lead roles is Toyin Abraham alongside Racheal Okonkwo and Omowumi Dada. Within one week after its release, the film had already collected ₦30 million. In the movie, Isla (Toyin) is an exuberant woman who had the ability to see a ghost who needed her assistance to send a message to the people he left behind. Her life took a different dimension as she became enslaved to the ghost while solving a murder case.
Fate of Alakada (2020)
A sequel to Alakada Reloaded is Fate of Alakada, also known as The Party Planner. This is the fifth part of the Alakada franchise released on 1st October 2020. The movie is rated +16 with a duration of 1hr 53 minutes, starring Toyin Abraham, Broda Shaggi, and Calabar Chic in the lead roles. Having her way through any situation, Yetunde (Toyin Abraham) poses as an event planner responsible for throwing glamourous and extravagant bashes. The film has gotten exceptional positive reviews with a box office success of over ₦112,149,600 million, making it one of the highest-grossing Nigerian films in 2020.
The Screen Diva Has Other Popular Movies
Actress Toyin has produced and starred in many popular movies, some of which include:
The Therapist (2021)
The Prophetess (2021)
The fate of Alakada (2020)
Small Chops (2020)Dear Affy (2020)
Elevator Baby (2019)
'Diamond in the Sky (2019)
Don't Get Mad, Get Even (2019)
The Millions (2019)
Bling Lagosians (2019)Kasanova (2019)
Nimbe (2019)
The Ghost and the Tout (2018)
Seven and a Half Dates (2018)
What just happened (2018)
Disguise (2018)
Alakada Reloaded (2017)
Mentally (2017)
London Fever (2017)
Celebrity Marriage (2017) featuring Tonto Dikeh, Felix Ugo Omokhodion, and Jackie Appiah
Wives on Strike: The Revolution (2017)
Okafor's Law (2016)
Love is in the Air (2016)
What Makes you Tick (2016)
Ebi mi ni (2013)
Alakada (2013)
Toyin Abraham Has Won Several Awards and Nominations
Over the years in her career, Toyin has made a name for herself, and this can be seen through many nominations and awards she has won. Below are his awards and nominations.
Awards
2014- Best Actress 'Alakada,' Ben TV Awards.
2014- Best Indigenous Actress, Nigeria Entertainment Award.
2017- The Best Supporting Actress Feature Film 'Hakkunde' Five Continents International Film Festival.
2017- Best Actress in Nollywood, Moreklue All Youths Award (MAYA).
2017- The Best Female Act, Nigeria Entertainment Awards (NEA).
2017- Best Actress 'Alakada Reloaded' Exquisite Lady of the Year (ELOY).
2018- Best Supporting Actress 'Tatu' Africa Magic Viewers Choice Awards (AMVCA).
Nominations
2013-Best Supporting Actress (Yoruba) 'Ebimi ni,' Best of Nollywood Awards.
2018-Best Actress in a Supporting Role 'Esohe,' Africa Movie Academy Awards (AMAA)
2019Best Actress in a Supporting Role 'Diamond in the Sky,' English Best of Nollywood