Since gaining fame in the Nigerian gospel music industry in 2008, Frank Edwards or Rich Boy (as he is fondly called) has remained one of the most popular gospel artists in the country. The Enugu State-born artist is such a great talent and is particularly loved for the danceable hip-hop gospel songs he sings, a not-so-common genre in the industry. One would think that with his level of commitment to the Christian faith and his good looks, the artist could easily find a lady to whom he would get married. Contrarily, the eligible bachelor has not been as lucky on marriage matters as he has been with his career. Although Frank Edwards is still hoping to get married, he is currently single, and his state as a bachelor is apparently not out of choice, as we have come to learn.
Frank Edwards is not Married for Many Reasons
Although his fans love and support him greatly regardless of his marital status, many people are still concerned about Frank Edwards' unmarried state. For obvious reasons, they wonder why the singer is yet to settle down. Frank might have the same concern as those who care about him and would probably provide answers if he had them.
Born on the 22nd of July 1989, the gospel singer was raised in a devoted Christian home; he became an ardent believer and did not intend to ruin his calling by making marital mistakes. According to him, one has to be strict to avoid scandals. At 34 years old, it is fair to expect that he should be married by now, and he has equally revealed that he wishes he was married, even though he has other things that are more important to him than marriage.
He Prioritizes His Ambition Over Marriage
In an interview, the "Omema" crooner stated that he prioritizes his ambition and purpose over marriage. According to him, if a person has a vision and purpose, marriage can help promote them. He also added that it is important to tread carefully so as not to offend God.
Although he tries not to sound desperate about leaving the bachelor's club, he has revealed in different interviews that he hopes to do so soon. In the same interview, he stated that he no longer enjoys going into the kitchen in the middle of the night to find something to eat.
Frank Edwards is not Married Because of His Personality as a Gospel Minister
Speaking about how his ministry has contributed to his being unmarried, he said meeting people and getting to know them is important before discussing marriage. Still, he is often not in the cycle where he meets people. Most times, when he manages to find himself among people, he tries to be mindful about what he says so that other people do not start making references to his personality as a gospel artist and Man of God.
He lamented that people only pay attention to the spiritual calling of ministers, forgetting that they are humans and would get married too. Besides, how is he supposed to get to know people and marry if he does not request phone numbers as regular guys do?
His Spiritual Upbringing is also Another Factor
Frank also thinks his very spiritual upbringing may have contributed, and he plans to work on himself to become more outgoing. However, he believes above all that God will help him.
Apparently, the only reasonable explanation to the single state of the singer is that he is waiting for God's appointed time and would not want to rush into a marriage that will turn out to be his downfall rather than lifting him to better things.
Although Single, Frank Has Had Girlfriend(s)
One cannot tell exactly how many girls Frank Edwards has been with, but the singer has had at least one (possibly more) relationship. Oftentimes, he does not give full disclosure about his relationship status or partner to avoid misinterpretation by the media. Although Frank Edwards is not married, he has dropped traceable relationship hints on a few occasions, and despite trying to be careful, he has been linked with a few women.
Frank and a Teenager named Chisom
His first rumored relationship was said to be with a Nigerian teenage girl named Chisom. Frank was said to be in love with the young girl who was schooling in the United States during that time, but the relationship did not work out, and they went separate ways. Some people speculated that they were even engaged, but there is no confirmation about this story.
Frank and Sharon Oyakhilome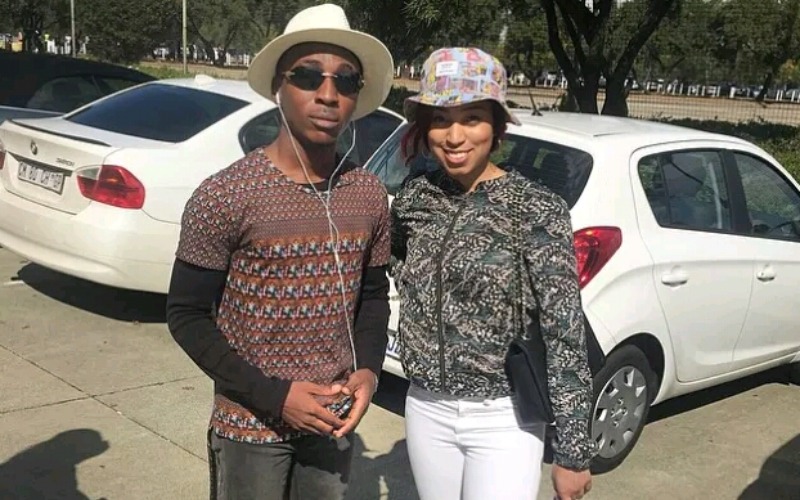 Later, the media alleged that the singer had a romantic relationship with Sharon Oyakhilome, the first daughter of prominent tele-evangelist Chris Oyakhilome. This allegation was fueled by Frank, who was out of the country at the time, was seen having fun and sharing pictures of himself and Sharon Oyakhilome. Despite the excitement that this rumor fueled among fans and members of the Christ Embassy Church (Chris Oyakhilome's church), neither of them came out to confirm or debunk the news.
However, Sharon got married in 2018 to Phillip Frimpong in an elaborate wedding held in Lagos State. Whether Frank and Sharon were just friends or dated for a while is known to date as neither of them ever addressed the rumors.
Frank Edwards Opened Up on Who He is Dating
After holding back for very long, Rich Boy in 2016 revealed a lady he claimed had a special place in his heart. In one of his previous posts on Instagram, he revealed that he did not like broadcasting his relationship for fear of things getting twisted by the media. However, he declared that he did not care anymore and wanted the world to see that he had a very loving person in his life, a lady with the Instagram handle @ada_ume. But our search shows that the post has been taken down from his page, indicating that things did not probably work out between him and the lady.
Still on matters regarding his relationship and marital status, Frank had an interview with Olubori Godgift Blog in 2019. In his conversation with the interviewer, he stated that he was "out of the market," a term used by people who are either married or engaged soon. He emphasized that although he has not been wedded yet, he needs people to know that he is taken so those praying for life partners would direct their prayers better. It's been a few years since the interview, and the singer is yet to reveal who the supposed partner is, and there has been no wedding either.