Frank Edwards is a gospel singer and powerful songwriter, whose songs are sung in every part of the country and provides a go-to danceable gospel alternative for hip-hop-loving Nigerian Christians.
From very humble beginnings in Enugu state in the South Eastern part of Nigeria, the Rocktown Records boss has risen to prominence in the Nigerian gospel music scene and also in the entertainment circles generally.
He released his first album, "The Definition" in 2008, which came out as a huge success. In fact, so resounding was its success that songs from the album such as Chukwu Okike, etc, still resonates in Christian congregations till today. The 14-track album was distributed by Honesty Music and 'Rich Boy' (as he is popularly called by friends) has not looked back since.
Frank Edwards is a recording artist and producer. He also plays several musical instruments including the piano, the guitar even the drums.
Early (Musical) Life
Frankie was born Frank Ugochukwu Edwards in the south-eastern state of Enugu, Nigeria on the 22nd day of July 1990. Born in a family of seven, his obvious talents and love for music began to blossom at the very tender age of 7 while his picked up piano lessons from who else but his father.
It may also be impossible to believe now that the Rich Boy hawked items on the streets of Enugu at a very tender age. At age 10, he started singing. First in his local church and then combined with his now fine-tuned keyboard skills, he began to perform outside his church and play on the largest stages in the country.
Christ Embassy Role
The truth is, Frank Edwards songs would not be as popular as they are today without the influence of Christ Embassy Church. He became a born-again Christian in his teenage years. Obviously very talented, he joined the Christ Embassy, aka Believers LoveWorld Inc. founded by television evangelist, Pastor Chris Oyakhilome and that was the beginning of his journey to a life of fame and relevance.
Soon he joined the church music team, thanks to his skill set with musical instruments. He became an integral part of the church music ministry, LoveWorld Records, which gave him a platform to sings alongside gospel music greats such as Buchi, Samsong, Sinach, etc.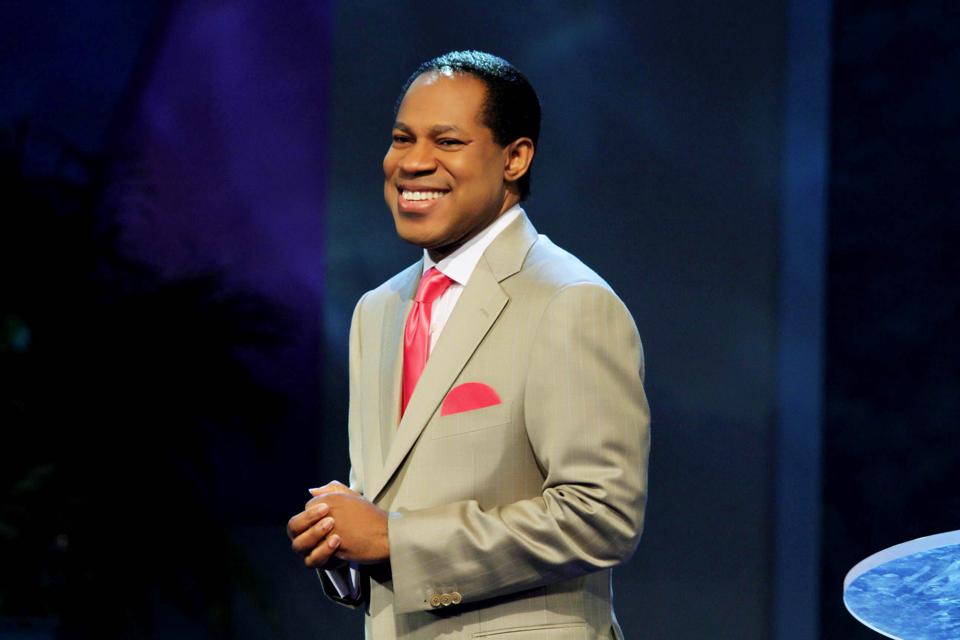 He became a member of the Presidential band of Pastor Chris and also his personal keyboardist. Frank Edwards also fondly refers to Pastor Chris as the man who taught him how to sing, his pastor and mentor and it's not difficult to see why.
Growing up, Frank Edwards planned to be a pilot. He never saw a future for him in music, let alone singing. When he joined the Christ Embassy Church, he loved the way Pastor Chris sang and it did so much to inspire him towards pursuing a life in music.
Again, when he recorded his first album, it was purely independent of the LoveWorld Records. But upon listening to it, Pastor Chris took it upon himself to promote the album. He marketed it among the church folks and encouraged them to patronize the CD. He also invited him (Frank) to perform live in the church and during his programmes.
As a matter of fact, the first time Frank Edwards ever stood before a crowd was through Pastor Chris Oyakhilome's platform.
Frank Edwards Relationship Life
Frank Edwards is single and not yet married and so for a celebrity of his standing, we always want to know when and why. Even though details of his relationship life has been more or less successfully kept off public eye, a star will not hide for so long.
Some time ago, it was revealed that he was head over heels in love with one Chisom –  a Nigerian teenager, who was schooling in the United States at the time. It was said that they actually got engaged but it didn't end up so well as the couple broke in 2012.
More recently there have been online reports about a budding romantic relationship between Frank Edwards and the first daughter of Pastor Chris Oyakhilome, Sharon. And even though the couple has not confirmed nor denied this, the teeming members of the Christ Embassy Church a.k.a. Believers LoveWorld are excited about the news as can be deduced from their interactions on social media.
His Songs, Albums & Record Label
"The Definition" (2008) was Frank Edwards debut album and his gospel music career kicked off from there. Two years later, he released his second album, "Angels on the Runway". The coming year, 2011, saw him release the third one, "Unlimited" and "Tagjam", was released later in the same year – in November 2011. Today, Frank Edward has seven albums, many EPs and a host of other hot singles which are played across all church denominations in Nigeria and beyond. His album, Frankincense, featured another popular and widely known gospel minister, Nathaniel Bassey and also an international gospel artist, Micah Stampley. As a result, the album topped the iTunes album charts, toppling both Beyonce's Lemonade album upon its release.
His songs brought a whole new vibe in the gospel music industry in Nigeria as it had a flair of rock, fuji and pop all blended into one sound. He cooks his unique sound from the stables of his own music record label, Rocktown Records and he has other gospel artists who have signed up to the label such as Soltune, Nkay, Divine, Gil Joe, David, King BAS and so on.
On His Collaboration with Don Moen…
When asked in an interview how he managed to get a collaboration with the US-based renowned songwriter and worship leader, Don Moen, Frank Edwards said it happened by coincidence. He said he was invited to a programme where Don Moen was ministering and as he tried to take a picture with him, the gospel legend actually told him (Frank Edwards) that he was his fan and would like a collaboration. Today, the rest is history!
Career And Awards
Frank Edwards is hottest gospel rock artist in Nigeria currently and since he came into the fold, he has been scooping one award after the other, while shattering records along the way. Since 2009, Frank Edwards has won several gospel music awards in Nigeria including the Nigeria Entertainment Award (NEA) in 2009, 2014, 2016. He won the Rock Artist of the Year in 2010 at the Nigerian Gospel Awards.
2012 was a big year for him in terms of numerous awards and recognition. He won the Best Gospel Artist West Africa, Best Gospel Rock Artiste and West Africa Best Male Vocalist at the African Gospel Awards in 2012. He won three nominations The Male Artist of the Year; The Song of The Year; The Best Male Vocal at the Nigeria Gospel Music Awards 2012 the same year – which was a milestone. As if those were not enough, he won the Hit Song of the Year 2012 at the Loveworld Awards and was rewarded with a cash prize of $10,000.
In 2013, he won Africa's Best Male Gospel Artiste in the Africa Gospel Music Awards (AGMA). He also has won the City People Music Award for Gospel Artist of the Year for two years on a row – 2015 and 2016.
See Also: Steve Crown: Everything You Need To Know About The Gospel Artist
Frank Edwards a music video in 2016 in his album "Frankincense" titled "Onye" (The Story). The song according to him is a description of how his life has been and how grateful he is to God for what he has become.
Watch Frank Edwards "Onye" below: