Linda Ikeji does not have a husband but her baby daddy is a man identified as Sholaye Jeremi, a successful businessman who is in the oil and gas sector.
To many people, especially that of her gender, the famous Nigerian blogger is a role model who they look up to. Linda has succeeded tremendously in her diverse fields of endeavors, but the story is not the same in regard to her love and relationship life. Shortly after the arrival of her baby boy in 2018, she revealed who her baby daddy is. How much do you really know about this man and what happened to the relationship?
Who Is Linda Ikeji's Husband, Is She Married?
As of the time of writing this post, Linda Ikeji is not married and has never been married before. Although the celebrity blogger has never admitted to being in any romantic relationship, she has definitely dated some people in the past and one of such people is the father of her 4-year-old son, Jayce Jeremi, who was born on 17th September 2018 in Atlanta, Georgia, USA.
Her Baby Daddy is a Delta-State Native
Sholaye Jeremi is someone who loves his privacy and lives a private life. He hails from Delta State, Nigeria, and was born on 4th July 1978. He is a well-established and very successful businessman with dealings in the oil and gas sector.
According to reports, the oil tycoon is a well-known acquaintance of Forte Oil Chairman, Femi Otedola, and Nigeria's Minister of State for Petroleum Resources, Ibe Kachukwu. Also, he is said to be a well-recognized contractor and powerbroker of several oil dealings across the country and beyond.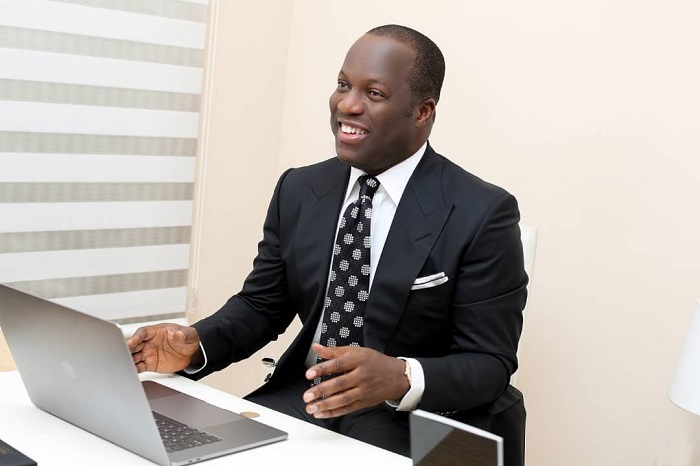 Given his penchant for living a private life, there is not much information about Sholaye Jeremi's family background and personal life. Meanwhile, it was rumored that Sholaye was a married man before he met Linda Ikeji but she was quick to debunk the rumors in her tell-it-all blog posts. She maintained that he was single at the time they met and started dating. Meanwhile, while Jayce is Linda's first child, the baby boy is not his father's firstborn. The billionaire businessman previously had a son who is allegedly living in the US with his other family.
Linda Ikeji and Sholaye Jeremi Met in 2015
According to Linda, she met Sholaye Jeremi on the 26th of December 2015 at Wheatbaker Restaurant, Ikoyi, Lagos, shortly after she moved into her Banana Island mansion. As of then, she was 35 years and Sholaya was 37. She explained that it was literally love at first sight for her as she fell in love immediately with Shola given the fact that she had been single for almost four years and was definitely searching for love.
Without much ado, the duo became an item and things continue to go all rosy for them. Linda made it known that he even came to meet her family and let out his marriage intention with her but all turned out to be an empty promise. Sadly, the once cozy relationship took a nose-dive as things started falling apart between them.
According to Linda, Sholaye first began to complain that he is not okay with her public life and so was scared of the attention he got for being with her.
Their Relationship Crashed After She Became Pregnant
The couple broke up in 2016 but tried to get back together but it still did not work. Nevertheless, they were keeping in touch as friends, and in 2017, they secretly began dating again. Linda revealed that the last straw that broke the camel's back was in 2018 after she got pregnant. Sholaye became aggressive and started treating her with so much hate. Hence, she decided to totally cut him off.
Meanwhile, following their breakup, the rumor mill had it that her baby daddy engaged her and wedding plans were seriously going on but the rumor finally turned out to be false. Another rumor came up that the oil mogul left Linda because he fell in love with Elizabeth Elohor Aisien, a former beauty queen and event planner who is also separated from her husband. Elohor is a former Miss Nigeria UK winner and CEO of Elite Model Look and Beth Modelling Agency.
Linda Ikeji Received Backlash from Fans Following the Birth of Her Child
A serious backlash was rained on Linda Ikeji after the news of her pregnancy hit the internet. Having been known as an advocate of "celibacy", the mother of one was slammed and seriously dragged for practicing just the opposite of the sermon she preaches.
Linda Ikeji also organizes female empowerment programs all over the country and strongly teaches total abstinence from sex which in her opinion dispossesses women of the maximum concentration they need to make great achievements they need in life.
Some of the young women who looked up to her and saw her as an idol felt highly disappointed that after her preaching against having children out of wedlock, she went ahead to get pregnant on the same basis. In response to the whole saga, the billionaire blogger made it known to her fans that her pregnancy came unplanned, and further claimed that she has never advised anyone against having sex before marriage but only advised young women against having numerous sex partners and sleeping with men for money.
In anyways, while some accepted her claims and went on to congratulate her on the birth of her son, others simply saw it as an act of hypocrite which is prevalent in the lives of the present-day celebrities.
Besides Her Baby Daddy, Linda Ikeji Has Been Linked To Other Men
Even though Linda Ikeji does her best in keeping her relationship life out of the public eye, she has been romantically linked with a couple of men who are mostly big names in the Nigerian entertainment industry.
Reports have it that she was in a relationship with Nigerian-based radio presenter, Dan Foster, also known as Big Dawg, before she made it to the spotlight. There was also a revelation that Dan Foster had been regretting leaving her for another relationship because he took her for granted during the time they were together
Other men that had been linked to the celebrity blogger include Mavin Record boss Don Jazzy, and film producer and director Acquilla Njama. However, in the midst of all these speculations, Linda never denied nor accepted any of them, thus, leaving everyone in a muddle.
Her Controversial Search for a Husband
In December 2020, Linda Ikeji took to her Instagram to announce that regardless of her acquisitions and accomplishments, she is still searching for a husband. The mother of one describes herself as a very strong and independent woman, yet, does not sideline the fact that she still needs a man in her life as a partner. She made this revelation a few months after she celebrated her 40th birthday
Linda further described the qualities she would want in a man which include a man who will love and support her career, a kind-hearted man who has respect for women, and a man who has a job and his own money. She strongly believes that God will definitely make her wish come true someday.