Pastor Chris Oyakhilome (universally known as Pastor Chris) (born 7 December 1963) is the founding president of Christ Embassy (aka Believers' LoveWorld), an evangelical Christian ministry with headquarters in Lagos, Nigeria. The 59-year-old is not just one of the most famous and influential religious leaders in Nigeria but also among the richest pastors in the African continent and the world.
His ministry is, however, more expansive and international in nature. It includes a healing school and a global daily devotional known as "Rhapsody of Realities." Aside from all these, Oyakilome is also one of the most controversial men of God whose lifestyle and teachings have received huge criticism. To know more about this charismatic Nigerian pastor, here is an in-depth look at the clergyman and his ministry.

Pastor Chris Oyakhilome's Profile Summary
Full name: Christian Onehirokpeana Oyakhilome
Nickname: Pastor Chris
Gender: Male
Date of birth: December 7, 1963
Chris Oyakhilome's Age:

59 years old

Nationality: Nigerian
Religion: Christianity
Marital Status: Divorced
Chris Oyakhilome's Husband (Wife): Anita Ebhodaghe (1991 – 2016)
Chris Oyakhilome's Children: Sharon Oyakhilome, Charlyn Oyakhilome
Parents: Elder T.E Oyakhilome and Angelina
Siblings: Rev. Ken Oyakhilome, Evang. Katty Worghiren and Pastor Linda Okocha
Chris Oyakhilome's Height in Inches: 5 feet 10 inch
Chris Oyakhilome's Height in Centimetres: 155 cm
Chris Oyakhilome's Weight: 120 lbs (70 kg)
Chris Oyakhilome's Net worth: $50 Million
Famous for: LoveWorld Inc.
Pastor Chris Oyakhilome is 59 Years Old and Hails from  Edo State, Nigeria 
Christian Oyakhilome was born on December 7, 1963, to the family of Elder T.E Oyakhilome and Angelina, and he was raised in Edo State, Nigeria. While not much is written about his family, we know for a fact that he is the first son of his parents, and he has a brother named Ken Oyakhilome, who is also the pastor of Christ Embassy Huston Texas branch. He also has two sisters; Evangelist Katty Worghiren and Pastor Linda Okocha.
Katty is the minister and director of Loveworld music and arts ministry, the ministry arm of the Believer's LoveWorld (BLW) Inc., while Linda is the zonal pastor of Christ Embassy Port-Harcourt zone2 and the regional pastor of Christ Embassy South-south region of Nigeria.
Pastor Chris and his siblings were raised in a household that espouses a pure Christian message, with his father known to be one of the pioneers of the Assemblies of God Church in Benin City. Until his death in 2008, he was the Dean of studies at the Loveworld Ministerial College(LMC), where he taught and mentored many great men of God. Chris' mother, Angelina, is also a faithful Christian, a deaconess who did everything to make sure her children follow the ways of the Lord, and they are now doing great in society.
The Preacher is a Certified Architect
In addition to being into a family that revered God, Chris Oyakhilome had parents who valued education and did their best to give their children the best. Chris had his schools in Edo state. After completing his primary and secondary education, he gained admission to study at Bendel State University, known as Ambrose Alli University (AAU), as a tribute to its founder, Governor Ambrose Ali.
Upon completing his four-year course at the university-based in Ekpoma, he bagged a B. A degree and was later offered an honorary Doctor of Science award from AAU and another in divinity from the Benson Idahosa University. Unfortunately, it is unknown if Chris pursued his career in architecture or worked with any firm or company before becoming a full-time pastor.
How Pastor Chris Oyakhilome Started his Ministry
Being born in a Christian family with parents who are dedicated to the service of God was a big edge for Chris, who was not left with an option to deviate from the Christian believes he has grown to know. Chris was only nine years old when he joined his father to attend and hold crusades. However, it was at the university that he would start to forge his spiritual path. While studying, he felt an urge to spread the word of God, so he established a student fellowship organization called Youth For Christ, where he first demonstrated his leadership and inspirational teaching abilities.
The Youth For Christ group grew to become one the largest and most popular organizations on the campus, and its members included choir leader Reverend Tom Amenkhienan who is now the highly esteemed Director of Christ Embassy Abuja Ministry Center. With more members Trouping in, the group soon became a foundation for the now-famous church, Christ  Embassy.
The Birth of Christ Embassy (aka Believer's Loveworld)
Christ Embassy was established in 1987. As Pastor Chris's youth group expanded beyond church services to other evangelical and charitable activities, Believers' LoveWorld Incorporated, later shortened to LoveWorld Inc., came into being to bring together all of the multifaceted aspects of the mega-church.
Under his guidance, the LoveWorld ministry took advantage of the new technological opportunities at the time and opened several tv stations that still exist to this day. By establishing the LoveWorldSAT in 2003, Chris became the first to pioneer a Christian-based television network from Africa to the rest of the world.
LoveWorldSAT has a 24/7 nonstop free-to-air network broadcast out of Africa to the rest of the world. The success of this television ministry has led to the launching of several television outlets around the world, including LoveWorldTV in the UK, LoveWorldSAT in South Africa, LoveWorld PLUS in Nigeria, and LoveWorld Canada in Canada. LoveWorld USA is one of Pastor Chris Oyakhilome's most recent tv channels which he launched in 2017 with his long-time friend Pastor Benny Hinn.
Other Successful Achievements of Chris Oyakhilome's Ministry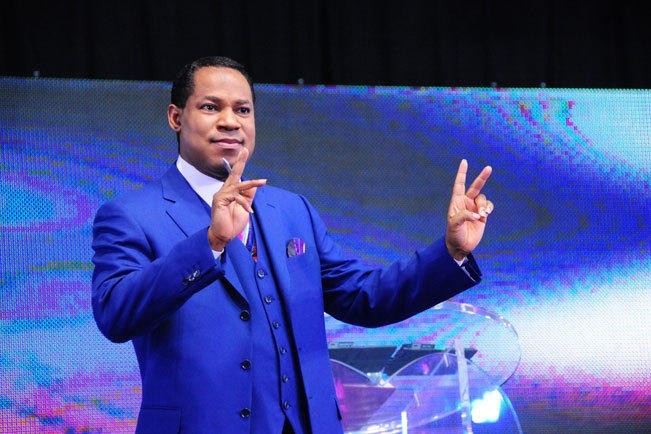 With over 13 million followers across the globe, Pastor Chris Oyakhilome's ministry is listed among the largest you could get in the world. The megachurch has ministries in Nigeria, South Africa, Canada, the United States, and the United Kingdom. It is also said that Loveworld has over 145 branches on five continents. The ministry success and fame have also attracted several other ministries around the globe to participate in some of its programs and conferences like the International Cell Leaders' Conference (ICLC), which holds in the middle of every year, and the Pastors and Partners Conference (IPPC), held every November in Lagos, Nigeria.
His Healing Ministry
Oyakhilome's healing ministry is one of the major facets of Chris Oyakhilome's ministry. It is dedicated to helping people receive their healings from various ailments every year. Through its flagship TV program, "Enter the Healing School with Pastor Chris," viewed by millions on several satellites and terrestrial TV stations worldwide, people share testimonies of their healing and miracles while watching.
Pastor Chris is also the host of "Atmosphere for Miracles," a programme airing on major television networks worldwide, especially in the United States of America, the United Kingdom, and Asia, Europe. The programme brings God's divine presence right into the homes of millions worldwide.
The International School Of Ministry (ISM)
This is another facet of Chris Oyakhilome's ministry. It is an academic institution that trains and equips ministers of the Gospel of Christ from all walks of life. The institution prepares these ministers to carry the good news message of eternal life in Christ Jesus to the world with great demonstrations of God's miraculous power. The institution holds quarterly online programmes specifically designed to provide continuous learning and training for ISM alumni, Ministers in the ISM Network, and other ministers of the Gospel.
There is also the Global Ministers' Cells is a special forum of the ISM, specially designed for ministers of the church to maintain a much-needed connection with their creator and enjoy rich fellowship with like-minded ministers. It is said that LoveWorld has over 45,000 ISM Global Ministers' Cells are operational in 250 countries and territories of the world,
Chris is also a Great Author
Pastor Chris Oyakhilome is also a prolific author with a formidable sales machine. A significant proportion of his personal fortune comes from book sales. This should be easy to see as he has a formidable sales machine at hand that many other inspirational book writers do not have. His well-publicized healing and miracle meetings attract tens of thousands, and this is where you will find his books and inspirational messages in the form of audio CDs and DVDs on sale.
Chris has written a daily devotional Bible called the Rhapsody of Realities, translated into hundreds of languages. He recently launched The Pastor Chris Digital Library, where you can find many of his great works and inspiring ideas. Harnessing today's technology, this collection is available via a downloadable app.
A list of his books include:
The Oil And The Mantle
Prophecy
Your Rights In Christ
Now That You Are Born Again
Join This Chariot
When God Visits You
Gates of Zion
Your Right In Christ
None of These Diseases
How To Make Your Faith Work
How to Make Your Faith Work Good
How To Pray Effectively
The Power of Tongues
Holy Spirit And You
Healing From Heaven
The Seven Spirits of God
Rhapsody Of Realities Topical Compendium
Seven Things The Holy Spirit Will Do For You
The Power Of Your Mind: Walk In Divine Excellence
The Seven Spirits of God – Divine Secrets to the Miraculous
How Famous Is the LoveWorld Founder Now?
The Nigerian televangelist is the most followed African personality on Twitter. The preacher certainly knows the power of social media, and he has already racked up over 1,000,000 followers on the social micro-blogging site: Twitter.
According to Twitterholic.com, this ranks his account (@PastorChrisLive) first in Africa by followers and 1,268th in the world. Another interesting Twitter fact about Pastor Chris is that unlike other influential Twitter users such as Barack Obama, who follow thousands of other "Tweeps," the Reverend does not follow a single person! By December 01, 2013, @PastorChrisLive had tweeted 1,738 updates. On Instagram, where he also not following anyone, Pastor Chris Oyakhilome has over 62,000 followers.
As if being at the forefront of using mainstream social networking media to spread the Christian gospel wasn't enough, Pastor Chris Oyakhilome launched his social networking site called Yookos. Launched in 2011, the site enabled users to meet with friends across the globe, play games online, and stay updated with global news. It was initially established to convey spiritual messages among members of the Christ Embassy but was later expanded to allow public access.
Controversies Involving Pastor Chris Oyakhilome 
In addition to being one of the most famous pastors in the African continent, pastor Oyakhilome has also been linked with several controversial issues, most of which have led to him being lashed severally by the public. One of the biggest scandals the man of God has been involved in is his 22-year-old marriage that fell apart right after his former wife, Rev. Anita, filed divorce charges in London on alleged adultery, amongst other things. Although the true reason for the couple's separation was later revealed, the widespread news about his Alleged infidelity went to great lengths to tarnish his image, with many labeling him a hypocrite and fake.
Initially, the Loveworld minister Anita who became Oyakhilome's wife in 1991, filed for a divorce from the preacher on the claims of 'unreasonable behavior and other reasons. But a copy of the court papers for the divorce process filed at the  Principal Registry of the Family Division (PRFD) of the High Court of Justice shows that Anita left her marriage because of behaviors that suggest that she cannot 'reasonably be expected to live with him. Pastor Anita, however, accused her husband of having an inappropriate relationship with some of his female staff members. The pair officially finalized their divorce on February 8, 2016. They are decided to share custody of their two daughters after the separation.
Meanwhile, in a public notice advertorial, through his counsel, Kemi Pinheriro, Chris denied the adultery claim and labeled the allegation as wicked, malicious, and intended to bring his personality and the Christ Embassy Church to the public ridicule. He further noted that media reports of the divorce were a complete distortion of facts, warning that he might be forced to take appropriate legal action to protect his reputation and his church.
His HIV/AIDS Healing Controversy
Over the years, Pastor Chris's faith healing claims have courted many controversies. His claims that he can use faith to heal medical conditions, including HIV/AIDS, have caused controversy and attracted widespread criticism worldwide. In 2011, South Africa's Advertising Standards Authority (ASA) banned the Christ Embassy church from airing claims of faith healing following a complaint filed by the Treatment Action Campaign (TAC).
TAC claimed that Pastor Chris' church used television and other media to spread false claims that people attending their services could be healed of various diseases, including heart disease and HIV/AIDS. TAC even presented evidence that a woman who had been infected with an extreme variant of drug-resistant TB stopped taking her medication after Christ Embassy church in Johannesburg convinced her that she had been cured.
TAC said the woman died later and even infected her children with the deadly disease. The campaign claimed that the famous man of God was leading people to believe that they no longer have to adhere to treatment or seek appropriate medical care. The healing claims went viral at the time the South African country was facing a dual HIV/TB epidemics, and thus, many organizations found the statement as a way to undermine the country's effort to reduce the spread of the diseases to the barest minimum. In his usual no response mood, Chris never replied to the public allegations, nor did he clarify the misunderstanding, so it is unknown how the minister and his church were able to resolve the issue.
His Tax Scandal With the UK Government 
Pastor Chris Oyakhilome and his Christ Embassy church were in 2019 indicted by the UK Charity Commission on the grounds of non-compliance to tax obligation, management misconduct, and undisclosed assets. A five-year-long investigation into the finances of the United Kingdom (UK) branch of Christ Embassyrevealed that the church was involved in an alleged fraud, mismanagement, and other things.
The church was also accused of owning several undisclosed assets, among other things. This brought more public backlash on the popular church and the founder, as he was fingered as being responsible for letting all of that happen under his watch. While it is not clear how the ministry resolved its issue with the UK government, the controversy came barely a year after the Charity Commission flagged Christ Embassy as "charity insolvent" because the church was "unable to pay its debts."
The COVID-19 and 5G Scandal
Pastor Chris Oyakhilome, earlier in 2020, got himself into a controversy with the UK government following his broadcast against the 5G network, which was being implemented worldwide, and claimed that the implementation of this new network would have a very serious health hazard on society.
On December 1, 2020, in a 29-hour programme called the Global Day of Prayer, Loveworld aired, the minister was heard making claims about the coronavirus pandemic. The minister reportedly claimed that the coronavirus outbreak was somehow caused by 5G and that it was 'planned,' that the 'sinister' vaccine could be used to implant 'nanochips' that can control and cause harm to members of the public. He also alleged that the 5G network— the fifth generation of wireless communications technologies supporting cellular data networks —  and agenda was an initiative of the antichrist.
After several criticisms, including his co-ministers in Christiandom, who expressed their disappointment at his false information concerning the pandemic, the clergyman decided to backtrack on his initial stance and revealed he was a tech enthusiast and is interested and amazed by the possibilities of the fifth-generation network. He also added that he was only opposing the initiative because of its perceived health risks and the seeming silence of authorized regulators to speak on its advantages and disadvantages.
Meanwhile, following his initial claims, the UK government fined Oyakhilome's TV Station £125,000  for airing conspiracy theories On COVID-19. According to a statement by the broadcasting authority in London, Ofcom, it sanctioned Loveworld for breaching the country's broadcasting code by disseminating misinformation on COVID-19.
His thoughts on Masturbation
Rev. Chris Oyakhilome once again became the subject of discussion for several millions of users on social media right after he preached that Masturbation was not a sin. During a question and answer session on his popular LoveWorld TV channel, the Christ Embassy founder said that masturbation in itself was not a sin against God but that Satan uses it to oppress the mind and make them feel ineffective and inefficient in the sight of God.
Chris' reference of masturbation as a sin to one's body and had nothing to do with God was highly criticized by many Christians worldwide who disagreed with him. Several other clerics and followers on various social media platforms also chastised the man of God and claimed his preaching about masturbation was preposterous. Despite growing criticism, the man of God insisted that masturbation is not a sin.